As society is becoming increasingly centered on cyberspace, the importance of utilizing social media is growing. As of 2021, social media is now more important for businesses than ever.
Over the past years, social media platforms have changed from being focused solely on bringing people together. Now, social media platforms can act as a way to expand businesses through marketing and advertising.
Because of this growing phenomenon, many services allow business owners to get the most out of marketing through social media. One of the best services available to do this is Madgicx.com.
About Madgicx.com
Madgicx.com is an online marketing platform that allows businesses to advertise using multiple social media sites.
Madgicx.com allows business owners to optimize all aspects of their advertising campaigns. These aspects can include:
Budgeting.
The launch of specific advertisements.
Having access to a built-in audience.
Madgicx.com is a bit different from other marketing platforms, as it is the first multi-channel marketing site to use AI. The use of AI eliminates the need to update or complete advertisements manually.
AI technology can help create advertisements, launch them to an appropriate audience, and establish a built-in audience to boost your reach.
Top Reasons to Join Madgicx.com
As Madgicx.com is an innovative marketing platform, there are many reasons to join the site and start using it for business. Many of the featured services through Madgicx.com are powered with AI technology to eliminate unnecessary manual labor.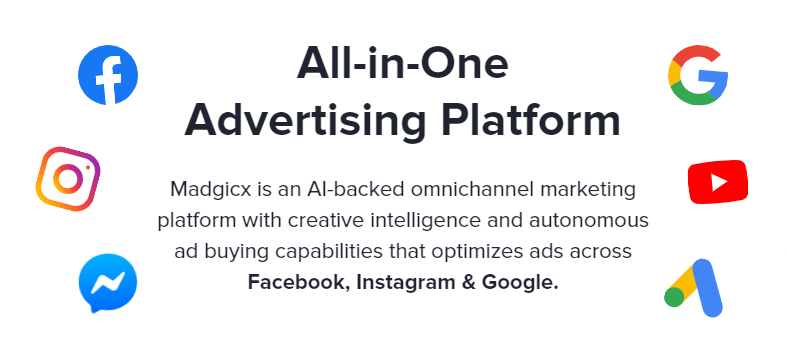 Facebook Management
Upon signing up for Madgicx.com, the site will then ask you to link your business' Facebook account. You can choose which features of the Facebook page that Madgicx.com will have access to.
You can also link your Madgicx account to your business's Instagram account if you are also running advertisements through Instagram.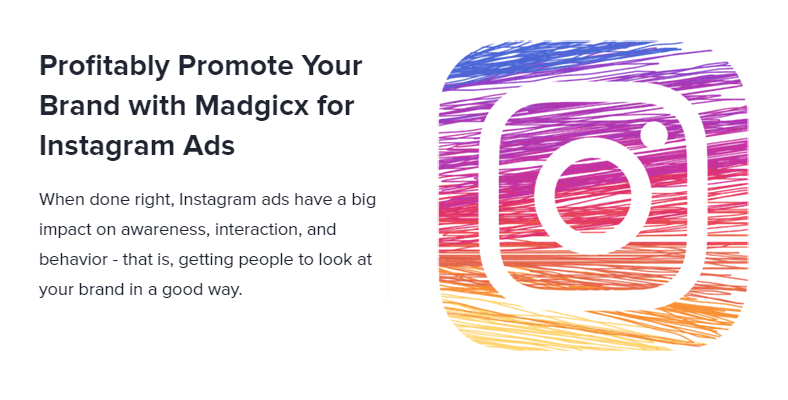 The sign-up process is quick and informal, allowing you to get started on a campaign as soon as possible.
You can sign up for more than one account as well, and the initial sign up process for Madgicx.com is free of charge. You will also get an offer to use featured services on a 7-day trial.
Facebook Pixel
Through Madgicx.com, you will get access to what is known as Facebook Pixel.
Facebook Pixel is a code that you can add to your Facebook page. When you add this page, Facebook Pixel will track the visitor activity of your page.

Tracking the activity means that the Facebook Pixel will record the actions taken by those who visit your site. With this information, the Pixel can help guide your advertisements to the right audience.
AI Audience
One of the things that Madgicx.com does best is using AI to improve a business and its audience reach.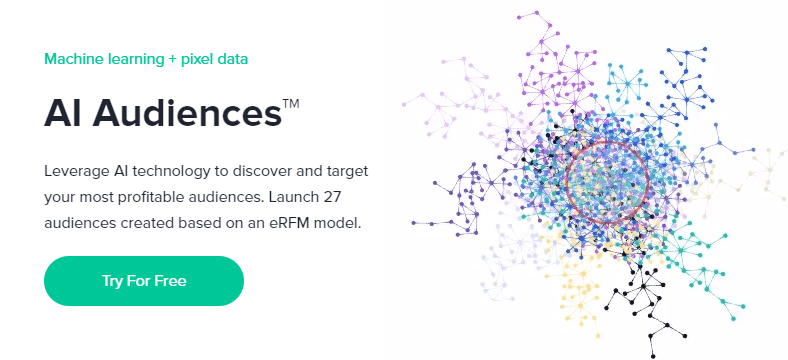 Madgicx.com allows one to launch an advertisement to a built-in audience of over 100 people. Having a pre-established audience is a great benefit for any business, no matter how big or small.
The more people an ad reaches, the more likely people will share it online, thus getting the brand name more publicity. Those who are scrolling through social media are more likely to be interested in a product that already has a decent amount of views and likes, as opposed to 0 views and likes.
Ad Launcher
For a marketing campaign, having an efficient ad launcher is one of the most important features. Madgicx.com has an easy and quick ad launcher that allows you to set up an ad in essentially one click.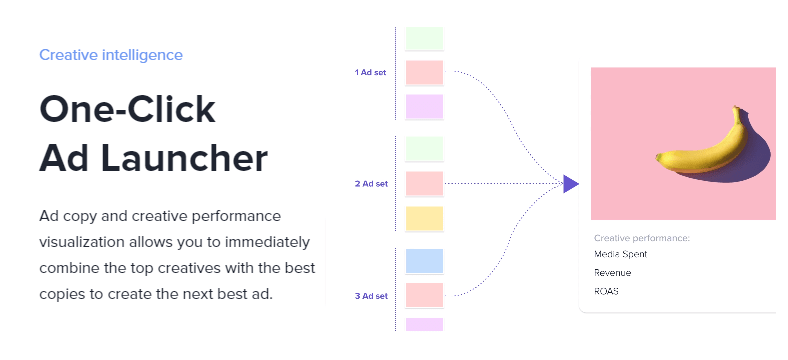 Audience Studio
Using the audience studio through Madgicx will allow you to target a specific group of people with your advertisements.
By being on the lookout for different audiences, you may discover a niche that could be profitable to you and your company. Being able to stay on top of rising and lowering trends is important for marketing, and the audience studio makes this task much easier.
Strategic Dashboard
The strategic dashboard on Madgicx.com provides businesses with the details and analytics needed to stay up-to-date on their advertisements.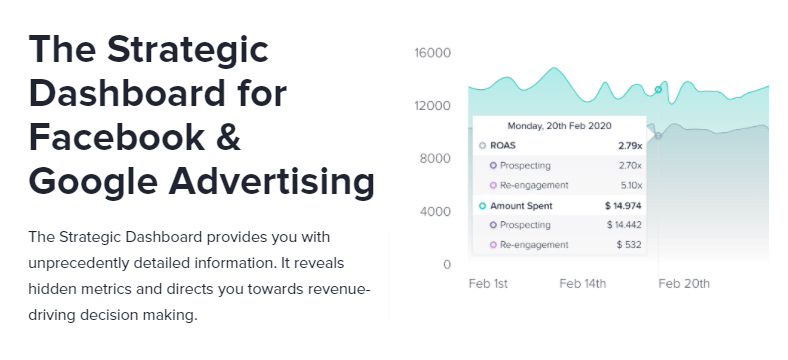 The dashboard also allows businesses to view the monetary analytics of their ads. Business owners can keep a close eye on their ads' progress without having to sift through multiple sites.
Creative Insights
Madgicx.com uses AI-powered technology to effectively generate creative and detailed advertisements based on the information given by a business.
Through Madgicx, you will have access to analytics for the current marketing trends to keep you up-to-date on what is popular or not.
Smart Filters
Smart Filters are another feature that Madgicx offers as part of their many services. Smart Filters will guide you in effectively interacting with your audience throughout different stages.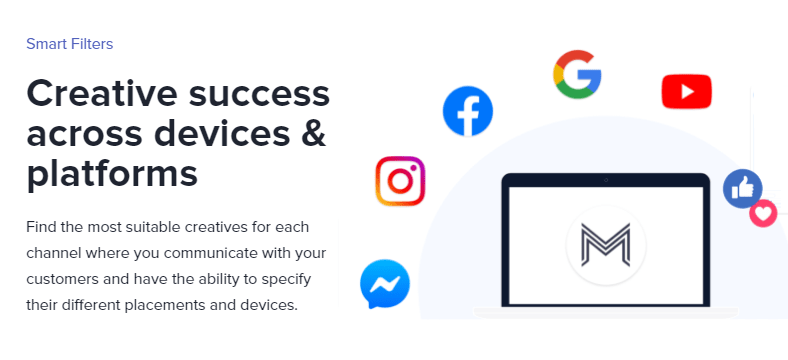 Smart Filters will also inform you of the most successful channels to advertise your company through, based on what your company provides to its audience. Knowing which social media platforms will help your ads garner the most attention will help eliminate wasted time.
You can also find out how your ads will fare across the globe by using Smart Filters. Promoting your services on an international level can greatly increase business if you advertise in the right countries.
Madgicx Mobile
Many social media sites are available on desktop and mobile applications.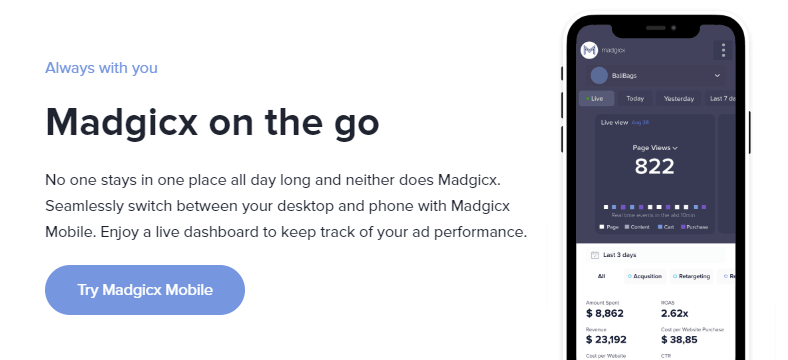 To match this, Madgicx has created a mobile app that allows you to access information for your ads anywhere you go. The app has all of the details you will need to be displayed on simple and easy to understand dashboards.
Business owners will monitor the statistics of their ad campaigns in real-time and get updates any time they check their phones. And the best part about the app is even if your 7-day trial expires, the app will remain free to use.
Madgicx.com Commission/Costs
Those who sign up for Madgicx.com will get a free trial of 7 days. This trial does not require you to enter any credit or bank information so that you won't get surprised with a renewal charge at the end of your free week.
While there is an estimated minimum amount of money you will need to spend for each plan, the amount of profit you make will depend on how much money you invest.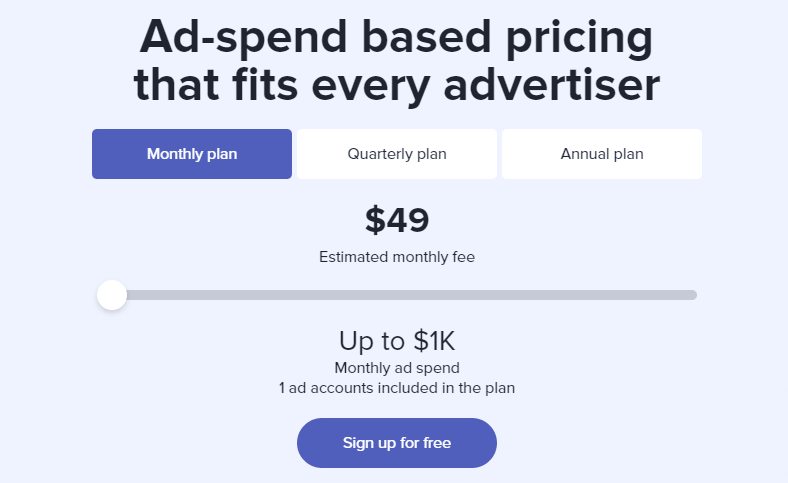 Madgicx charges you based on monthly, quarterly, and annual subscriptions. The site also charges based on how many advertisement accounts you want to set up with Madgicx.com.
Keep the length of time for each plan in mind when considering how many advertising accounts you want. While it is cheaper to get one ad account for a year instead of a month, you will only be allowed that account for an entire year unless you choose to spend more money on accounts.
Madgicx.com pricing page will give you a scale that allows you to gauge how much money you can make based on how much you pay.
Customer Support
Madgicx.com has a stellar support system.
The customer support page is filled with FAQs, demos, and much more information to help you navigate the site.
Questions about how to use certain services are also easily answered at the Madgicx help center. There is a Madgicx blog where you can dive into the many tips and tricks on utilizing the app in the best way possible.
Each blog post is incredibly informal and can give you insider information on using not just Madgicx.com, but online marketing in general.
Even if you have any questions that you find can't be answered through the help center, an automatic customer support line is available 24/7. This line responds quickly and efficiently to answer whatever questions you may have left.
The History of Madgicx.com
Madgicx.com is a modern and innovative way to market through multiple social media platforms. The platform was founded in 2018 and had been running strong ever since. The co-founder of Madgicx, Yahav Hartman, wanted the services to be run almost completely by AI.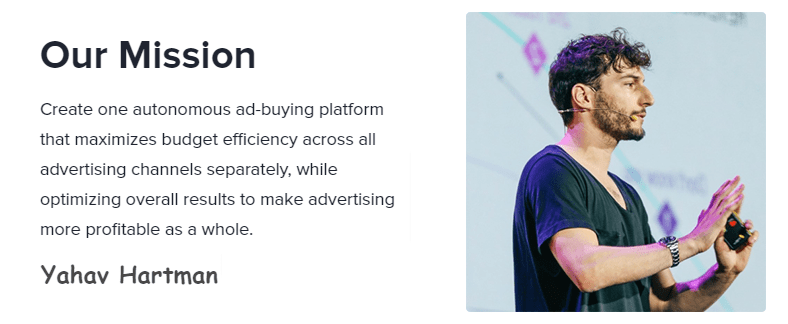 There have been many success stories from those who have used Madgicx, and currently, there are more than 25,000 users for the site.
Madgicx has a consistent and talented team running the site to ensure that each service is still effective and that every business owner has their needs met. The services that Madgicx provides can assist both small businesses and large companies alike.
Final Thoughts
Madgicx.com is a marketing service platform that uses AI-based technology to improve marketing campaigns' speed and success across social media platforms.
The innovative platform has brought success to many companies and helps make the marketing process smoother through its many featured services. Madgicx has low starting costs and allows you to gain profit from your investments.
With over 25,000 satisfied users, Madgicx.com is an easy and modern way to utilize social media marketing. Today, signing up will allow you a 7-day free trial that does not require you to enter your credit card information.
Whether the paid services work for you or not, you will always have the option to continue your business with Madgicx.com.