Mailerlite was founded in 2005 with the concept of being a web design agency. But upon introduction to email marketing, Mailerlite switched gears in 2010 and found its mission to provide businesses with simple and effective email solutions and software opportunities.
Mailerlite has a team of over 130 individuals working from 40 different countries, making the company a collaboratively remote environment. Those that work for Mailerlite are developers, designers, writers, speakers, and talent. This organization is adamant about customer satisfaction and feedback. The designs and products available in Mailerlite have been crafted for the comfort and convenience of consumers.
The "Lite" in the company's name further symbolizes their mission and goals. On their official website, MailerLite defines "Lite" as "denoting a simpler or less challenging version of a particular thing." This organization wants to simplify everyday work for businessmen and women. With an easy and simplified design, MailerLite is accessible to all people and prides itself on making things easier on its consumers.
There are many reasons to join MailerLite. From easy marketing to simple campaign result tracking, MailerLite is here for all of your business needs.
Top features and reasons to join MailerLite
Mailerlite has various exceptional features that can convince any individual or company to join Mailerlite.com. Some of the top features include:

Email Campaigns
With MailerLite's drag and drop feature, you can easily send exceptional emails.


Sell Digital Products
With this feature, companies can sell any products or subscriptions virtually and enable features to promote or build these products.


Automations
Automations allow you and your partners to send out well-timed and audience-targeted emails.


Websites
MailerLite allows you to create your dynamic website to promote your business, products, or services.


Track Results
With this essential feature, your organization can see how your performance is with customers and allow you to change tactics to better suit your business.


Signup Forms
This additional feature allows you to grow your audience with subscription forms.

In addition to these features, Mailerlite is also easy to connect with other applications like WooCommerce, WordPress, Shopify, and more.
There are other integrations available alongside MailerLite to make your communication and workflow between your employees and partners more effective and efficient. Further features that can sync up to MailerLite include Facebook Audiences, Zoom, Eventbrite, and many other features.
With its ability to create your website, newsletter, or landing page, you can explore various templates that best suit your design and needs. With over 1,000,000 customers worldwide, Mailerlite is well-trusted.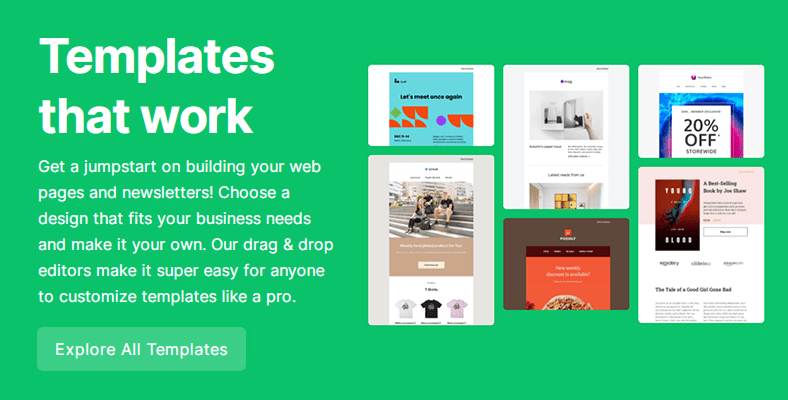 As one of the top email marketing services available, Mailerlite prides itself on ensuring its customers have all they need to succeed. MailerLite allows you and your organization to send emails, build sites, collect research, and sell products easily and quickly.
Other reasons to join Mailerlite are the resources it provides. From video tutorials and email marketing guides to free online courses called MailerLite Academy, this organization does not stop once you sign up for it. They are continuously there to help you and support your business's growth and future.
Not only can you connect with experts to gain further knowledge on any aspect of your business, but you can also connect with a similar-minded community through MailerLite. With a private Facebook group of over 14,000 members, users can share their experiences and wisdom on all things MailerLite.
MailerLite Commission/Costs
There are a variety of plans when it comes to MailerLite.com. You can compare the different plans and decide which one is right for you on their website. The three plans include the following:
Free: $0/month
Growing Business: $9/month with a 30-day free trial
Advanced: $19/month with a 30-day free trial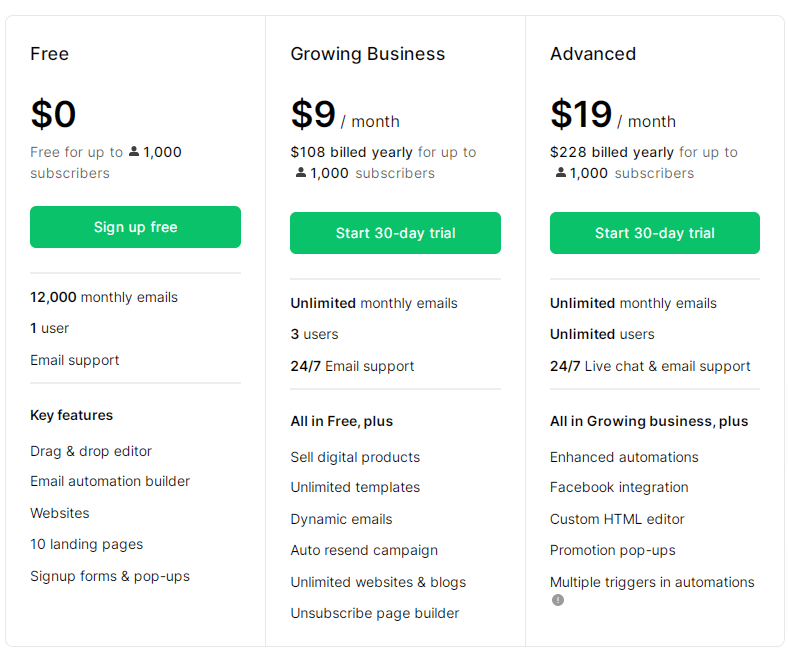 With the Free Plan, customers have up to 1,000 subscribers, 12,000 monthly emails available to send, one seat, one website, ten landing pages, and more features. However, this Free Version also lacks some of the features the Growing Business and Advanced Pricing offer.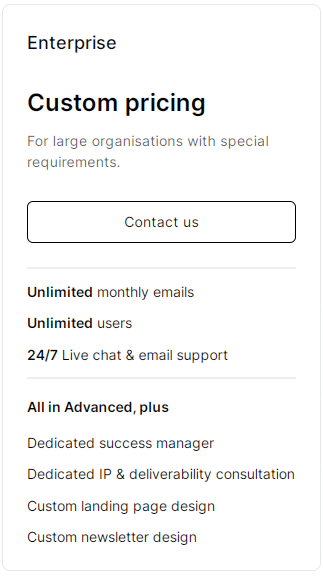 With the Growing Business Plan, you will have an unlimited amount of emails, audiences, websites, landing pages, pop-ups, and more to use or create. However, with this plan, you do not have access to the same features as with the Advanced Plan.
With the Advanced Plan, customers are the top priority. All features that can be used for their company's growth, protection, and succession are open and available. While all options are dependent on your circumstances and the organization's end goal, the Advanced Plan does give customers all they need at a reasonable price compared to competitor sites.
Comparing these three plans is essential to understand what will best serve your own company and allow it to prosper. With the free 30-day trial options, you might want to give either the Growing Business Plan or Advanced Plan a test run to see if the resources provided are ones you need or are ones your organization can succeed without.
Customer Support
With 24/7 Customer Support, Mailerlite is always there if you need it. With around-the-clock availability, any individuals that have questions or issues with Mailerlite can connect with someone right away.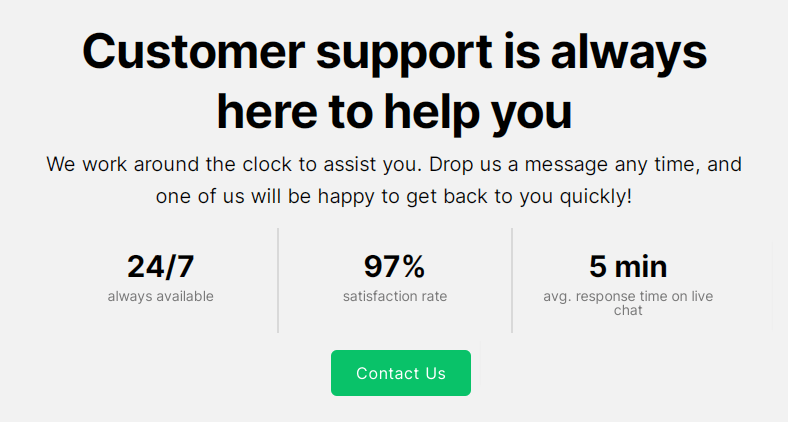 Their average chat response time is 5 minutes, making them incredibly easy to connect with. And with a 97% satisfaction rate, Mailerlite is for its customers through and through. However, it should be noted that with the Free and Growing Business plan support will be limited compared to customers with the Advanced Plan.
24/7 Live Chat Support is unavailable to those with the free plan, and email support is considered a basic level of support. 24/7 Live Chat support is also unavailable to those with the Growing Business Plan.
Philosophy
With a smooth interface, advanced tools, and reasonably cost software, MailerLite has more pros than it does cons. MailerLite is at its core, user-friendly and the organization itself prides itself on its five values:
We treat people right
We're passionate about MailerLite
We take responsibility
We simplify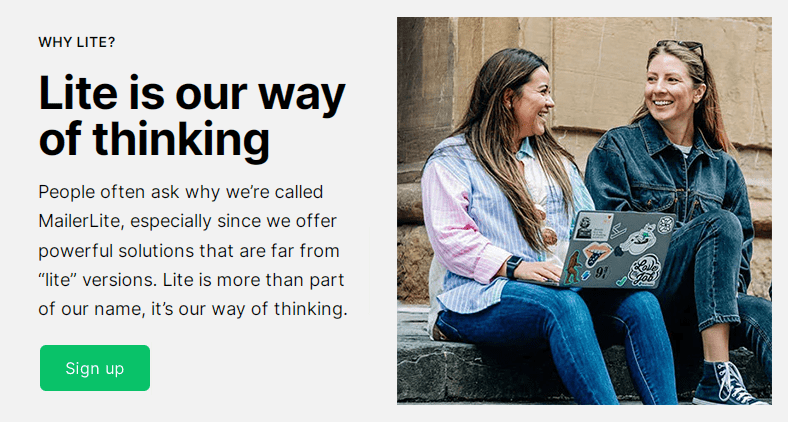 At MailerLite, these core values are reflected in everything they do. They consider themselves a "human-to-human business" where your success is their success. Inspired by their work and seeing customers do well, MailerLite is constantly improving its product to better serve its community and appreciates all feedback.
Moreover, by taking responsibility for when they fall short as in missing deadlines or messing something up, they are showing transparency and community through and through.
What makes MailerLite so beloved and trusted compared to other email marketing software companies is its products and services are simplified and easy to comprehend. As they say, "We keep it Lite."
Lastly, MailerLite's philosophy is to remain optimistic even in negative circumstances. With a positive attitude, they can better communicate and support their customers during any issue.
Recognition
MailerLite has also been recognized by numerous organizations for its exceptional service and professionalism. SaaSworthy acknowledges MailerLite as the fastest growing and most searched SaaS company, while GetApp found that 92% of people refer loved ones or colleagues to MailerLite.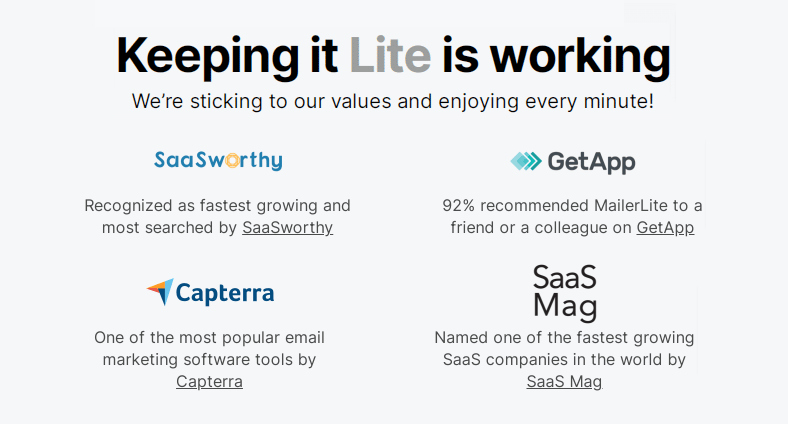 MailerLite has also been well-regarded by Capterra as one of the top influential email marketing software companies, and SaaSMag named it one of the highest growing SaaS companies worldwide.
Not only is MailerLite well-regarded by its users, but it is also recognized in a high-quality and respectable light by other software companies.
Conclusion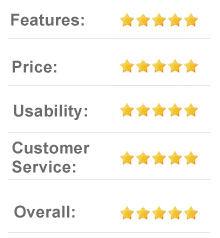 Still unsure if MailerLite is the right avenue to go down with your business? The organization offers a 30-day free trial to their premium features to allow anyone on the fence to see firsthand the benefits and advantages of their company versus similar networks.
This 30 day-free trial includes premium access and main features, including Live Chat, Email automation, auto resend, website builder, and more. It also allows you to initially send up to 12,000 emails per month and 1,000 subscribers. You deliver customer support at every hour of the day through email and can upgrade anytime once you see a small glimpse into the world of MailerLite.
MailerLite is constantly and consistently updating. Spring 2022 is the most recent version of the site and app. MailerLite is truly always becoming better and more adaptable.
If you run your own business, or if you're looking to start one, MailerLite has the tools you need to succeed. With its customer-orientated policies and future-thinking outlook, MailerLite is here to stay, ready to assist you and your business as you forge into the digital era.