Manage Engine specializes in software as a service, referred to as SAAS. Saas is an alternative to installing and maintaining a purchased software. Instead of directly downloading, you purchase a subscription and access it through the internet.
Manage Engine provides businesses with tools for IT and tech support.
History of Manage Engine
Manage Engine is an offshoot of ZOHO Corp. ZOHO Corp was founded in 1996 by Sridhar Vembu and Tony Thomas. Formerly known as AdventNet Inc., Manage Engine is the Enterprise IT Management Software Division of ZOHO Corp.
In 2002, Manage Engine, now working under its new name, became its own division of ZOHO Corp. This change allowed them to focus exclusively on IT management solutions.
With 20 years of service, Manage Engine offers a wide variety of complete, easy solutions for common and uncommon IT management problems. All the tools offered by Manage Engine were designed with contextual integration. They keep consumers in mind as they aim to make IT management accessible to all.
Top Features of Manage Engine
Manage Engine aims to make IT management accessible to all consumers, even those who might be lacking in the technology know-how department. All of their tools were built from scratch with contextual integration – meaning that their tools are easy to use and understand.
They offer tools designed to help with all facets of IT management, from mobile devices and desktops to servers and networks. They also offer tools to assist with active directories, apps, service desks, and security.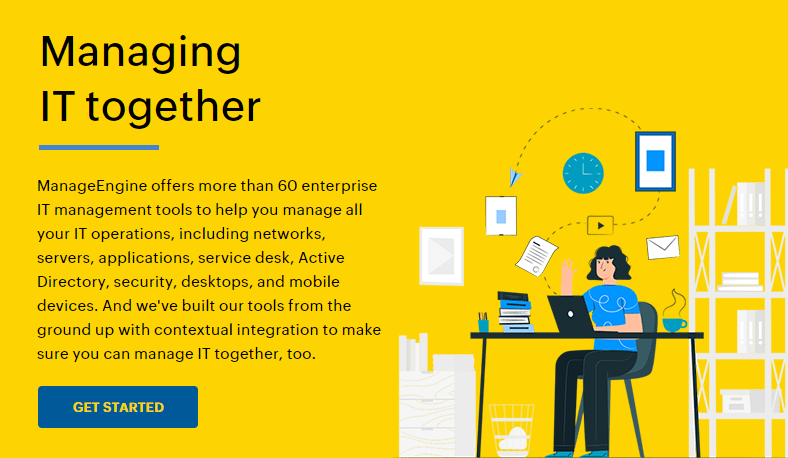 The wide variety of tools and programs offered makes sure that anyone who needs help with IT management will find something to help them on Manage Engine.
The website is easy to navigate, and the products they offer are organized by category, reducing the need to search endlessly for what you're looking for.
If you struggle to find the exact product you need, the Manage Engine website has an integrated support chat that directly connects you with a staff member. The staff members manning the chat are friendly and can help you find what you need in no time at all.
Manage Engine provides free tools and services that can help you determine if their products are a good fit. They offer free trials of over 50 products, so you can try them before you buy. They have on-premise options but also offer public or private cloud options for remote needs.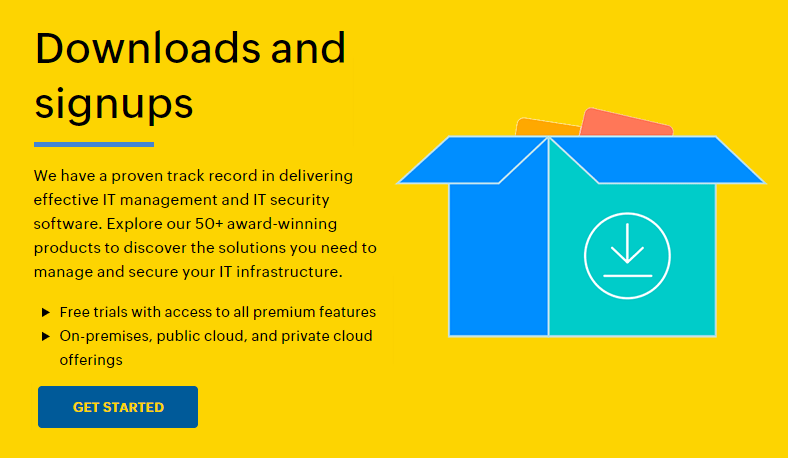 The free trials are all download-based. Just pick the product you'd like to try, and the secure download will quickly allow you to access and explore the software without the need to wait. In a quick-paced world and work environment, this is an unbelievable advantage.
Manage Engine also updates its products, and the downloads for any updates are free to product owners. This ensures that your system continues to operate smoothly.
Manage Engine Costs
Manage Engine's products are priced based on the tier chosen. There is a free trial tier for nearly all of their products to help you choose the best product for your individual needs. Beyond the free trials, Manage Engine offers three purchasable tiers for most of its products.
Standard Tier
The standard tier at Manage Engine is designed for smaller companies, or as an introduction to new software. While this tier offers slightly fewer features than the higher tiers, the price reflects that.

The pricing across this tier can vary slightly depending on the product but generally runs around $450 – $600.Get Started
Professional Tier
For mid-sized companies or those looking for a wider variety of features and bonuses, the professional tier is a solid choice.

Pricing in this tier can vary from $700 to $1000. Some of the products in this tier require a quote. The quote is free to receive and based on several criteria including the number of users and the storage option chosen.Get Started
Enterprise Tier
The most expensive tier offered by Manage Engine also comes with the most features. This tier was designed with large businesses in mind. Pricing in this tier depends on many factors, including the number of people who will be accessing the product and the features that you need. Manage Engine provides free quotes to any party who is interested in this tier. The enterprise tier starts at around $1000 for most of their products, but this is subject to change based on the quote you receive. Get Started
It's important to note that not only do the tiers range in price, but the price of each tier can vary based on which product you're using. Manage Engine offers free quotes to consumers interested in their products.
By offering free quotes, Manage Engine removes any confusion over pricing. The tier based structure used to give a baseline for pricing helps to ensure that you're receiving a quality product at a price that won't break the bank.
Customer Support
Manage Engine offers an array of support options. These options are listed under the support tab on their website.
Manage Engine's website holds a searchable knowledge base, where you can search for the problem you're having or the product you have questions about and find information to help. The knowledge base is a great feature, as it brings solutions from the company directly to your screen.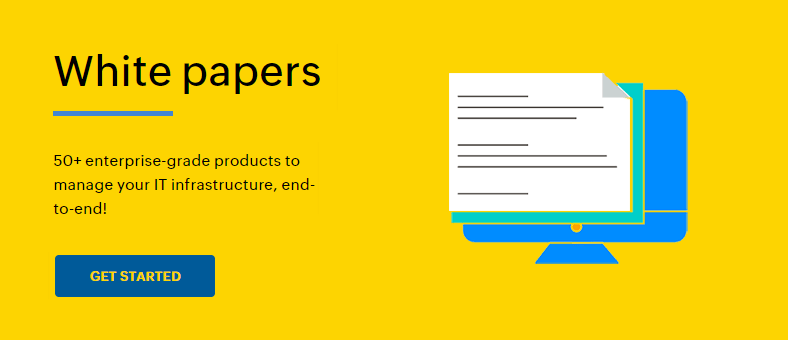 Under the resource subheading of the support tab, you'll also find a section known as white papers. The white papers section is an array of helpful information broken up by each individual product. White papers are also searchable, making it easier to find the product you're looking for help using.
To best utilize the white papers search for the product in question. This section also includes articles about each product and helpful tips from the developers.
The resource subheading also includes system requirements for their products, neatly organized and in one location.
The system requirements section is perfect for people who use more than one Manage Engine Product, as it removes the need to search multiple pages for the information and support you need.
The product documentation section houses FAQs, user guides, and product information organized by category and then product. Product documentation is a perfect section for general questions and troubleshooting, and easy navigation is a huge time saver.
The service pack section holds all the product updates that have come out and are fully searchable. The search feature helps to find the exact product you need to update. This section includes the changes they've made and often includes accessibility updates.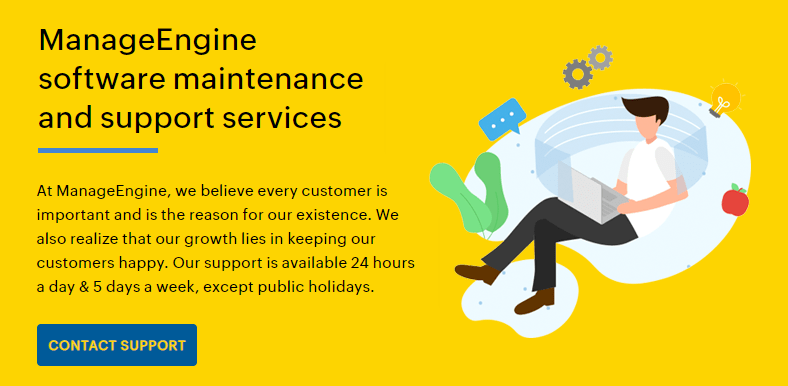 Beyond the searchable customer service solutions and options, Manage Engine offers a fully staffed customer service department. The customer service department is available 24 hours daily from Monday through Friday, though they are closed on public holidays. They offer product demos and live support, as well as product training.
Manage Engine offers several ways to receive live support on any issues you may be having. They have options to receive help from customer service through video calls, traditional phone calls, and email support.
A large number of options helps to ensure that no matter the time or your preferred form of communication, their customer service department will be able to help you!
Conclusion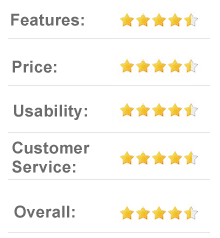 IT management is a vital part of modern-day business. Manage Engine offers a wide variety of free and paid products carefully designed to make IT management accessible to all consumers. The contextual integration of their products provides clarity and ease of use.
Business today exists in a fast-paced world. The plethora of customer service options ensures that you can fix any problems without a long wait. The ability to host on-premises or through the cloud means that whether remote or in-person, your business's IT management will be seamless.
Manage Engine has a well-designed website with an integrated support chat. Providing ready-to-read information and solutions and a well-staffed customer service department, Manage Engine ensures that any problems that arise will be quickly resolved.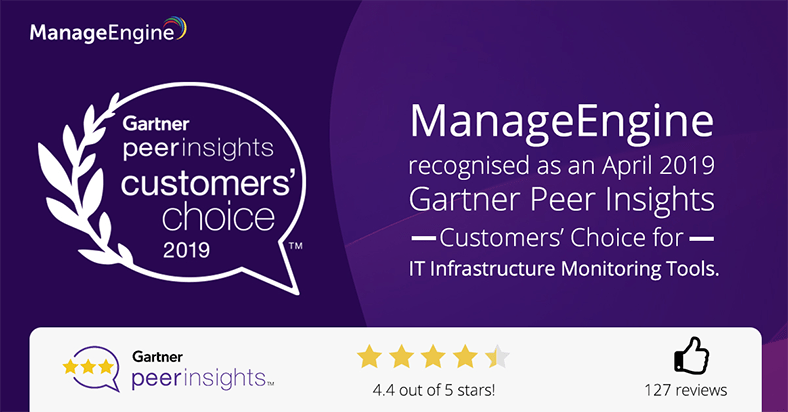 Manage Engine offers a variety of products, and the tiered purchase system guarantees that you will get the product you need at a price that won't break the bank.
With twenty years of service, a dedicated team, and hundreds of products to choose from, Manage Engine provides a one-stop-shop for any IT management needs you may have. Do not hesitate to check their website and save yourself any regrettable decision.