If you're looking for a cryptocurrency exchange that offers leveraged trading and high liquidity, Margex.com is an excellent company to consider.
You can trade with up to 100x leverage, but new traders can stay safer by dipping their toes in the leverage trading world with as little as 5x leverage.
In this guide, we'll help you understand the ins and outs of Margex.com to help you determine if they're a good fit for your cryptocurrency financial goals.
About Margex.com
Margex's goal is to make cryptocurrency trading easy and accessible for everyone, regardless of their financial situation. They founded their company in 2020, but in less than two years since they've been in business, they've achieved impressive statistics.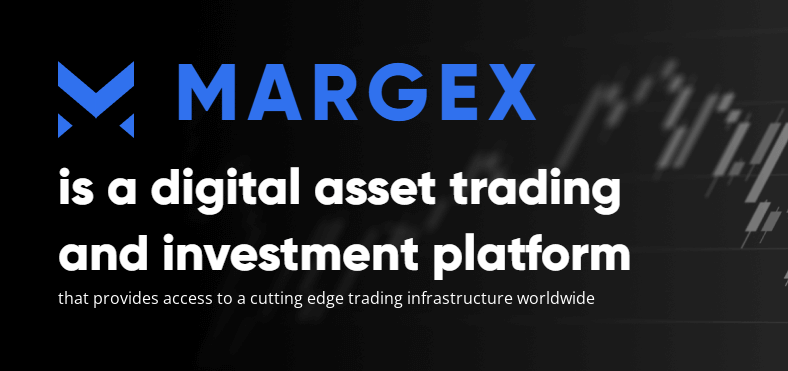 Examples include:
99.99% service uptime
8 millisecond average order execution time
Capacity to make 100,000 trades per second
As a result of low fees and the option to trade up to 100x leverage, Margex is a popular choice for traders new to the crypto world and those who don't have a high starting capital. Furthermore, the minimum deposit is only $10.
Traders living in Australia, New Zealand, the United Kingdom, and Singapore can use Margex.com. The exchange supports each of these country's fiat currencies.
Margex only works with high market cap cryptocurrencies so that their users don't have to worry about pump and dump scams. Currently, they offer six coins, including Bitcoin and Ethereum.
Top Features of Margex.com
Choosing a trading platform isn't a decision you should make on a whim. So, below are some of the key features of Margex.com that will help you as you do your research.
Long or Short with 100x Leverage
Trading with leverage is one of the best ways to quickly grow your cryptocurrency account. It's also an avenue to fast-track losses if you don't know what you're doing; in early September 2021, about $4 billion in Bitcoin leveraged long positions became liquidated.
Luckily, Margex offers a resource to help manage your risk, which will cover next. But, for now, know that you can long or short on their platform with up to 100x leverage.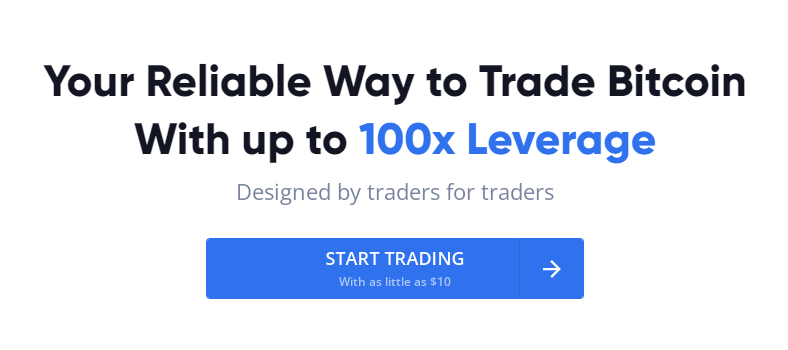 As a rule of thumb, you should leverage long trades when the market is bullish and short trades during bearish trends.
Margex's homepage offers a user-friendly table where you can visualize how much money you can earn with a leveraged trade versus a non-leveraged trade.
For example, if you use 10x leverage on a long trade using $100 of your capital, you'll gain $30 if the price increases by 3%. In contrast, you would've only earned $3 on that same trade without leverage.
Let's look at an even more lucrative option. If you use $1,000 of your own capital on a 100x leverage trade, you'll end up with $3,000. You would have earned $30 without leverage. What a difference!
Manage Risks with Isolated Margins
Leverage trading on many crypto platforms is challenging for new users to understand. In fact, it's so difficult that with the click of a button, you could accidentally invest in a coin and lose your money seconds later.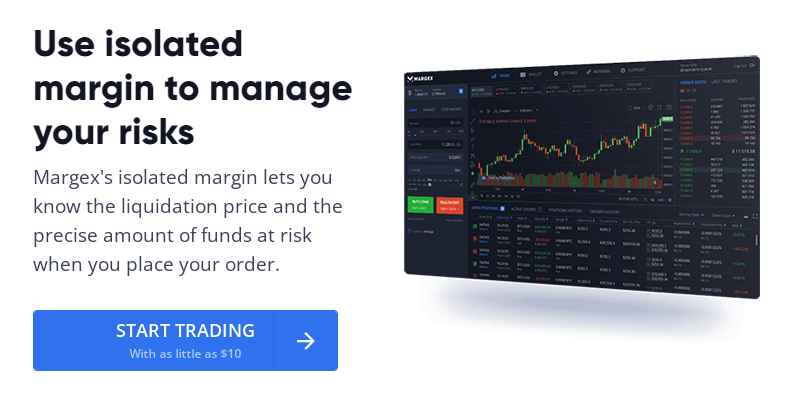 Margex understands that trading with leverage can result in loss, and it doesn't try to hide this from its users. So, they're upfront about the liquidation price and how much you could end up losing if you choose to place your order.
The trade will remain on standby until you agree to the conditions.
Because of the risk involved with leverage trading, we recommend starting with a small amount of your capital and low leverage (for example, 10x versus 100x).
Price Manipulation Protection
There is no shortage of pump and dump scammers preying on crypto traders looking to make a quick buck.
According to Bloomberg, crypto traders lose billions of dollars each year to scams. In fact, between the last quarter of 2020 and the first quarter of 2021, the number of scams rose around 18%.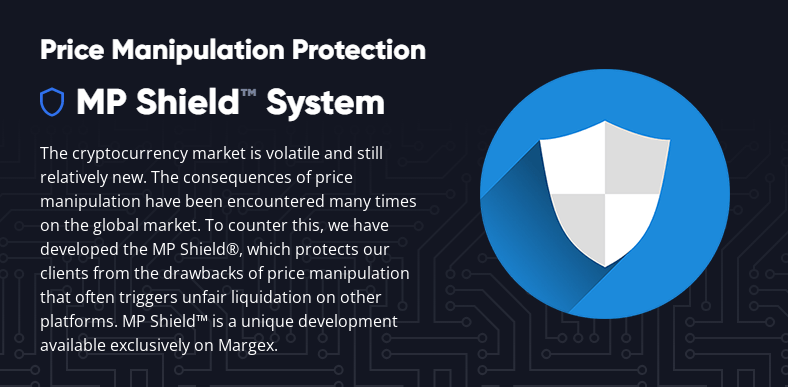 So, to maximize trading safety for their customers, Margex developed the MP Shield System. The foundation of this system involves relying on liquidity for more than 12 providers so that there's a constant supply of traders. As a result, you can get in and out of trades fast.
Furthermore, Margex won't offer you the opportunity to trade artificially inflated cryptocurrencies. That means you don't have to worry about falling victim to a pump and dump scheme. They also keep an eye out for suspicious trading activities.
All in all, Margex's AI-powered algorithmic technology helps give its users peace of mind when trading.
Secure Platform
Unlike so many cryptocurrency exchanges, Margex doesn't ask you for your personal information. That means you can trade 100% anonymously.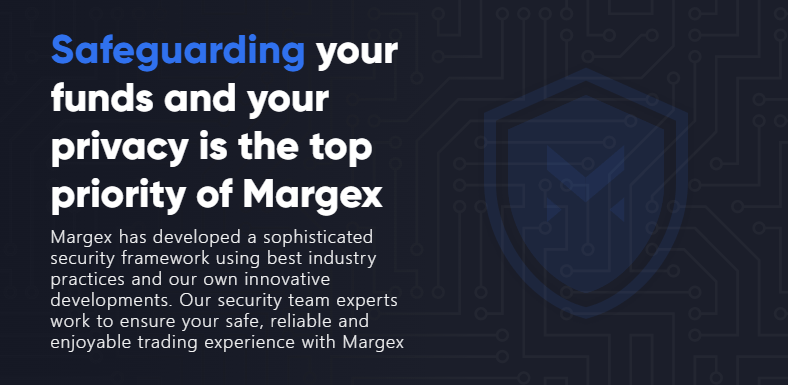 Although Margex has top-of-the-line security protocols in place, should a hacker access their system, you won't have to worry about them getting a hold of your personal information and linking you to a cryptocurrency account—something that large crypto holders fear.
They also offer bank-grade multi-layer security and hold their cryptocurrency in a cold wallet. That way, should a hacker enter their system, they can't take all of Margex's client assets.
Excellent User Experience
Margex's Trading Terminal is an intuitive platform for trading crypto. They offer large buttons where you can choose "Buy/Long" or "Sell/Short," making it obvious the trade you choose.
You can also use a scroll bar to choose from 5x to 100x leverage. Furthermore, you can select to buy and sell at limit, market, or stop market.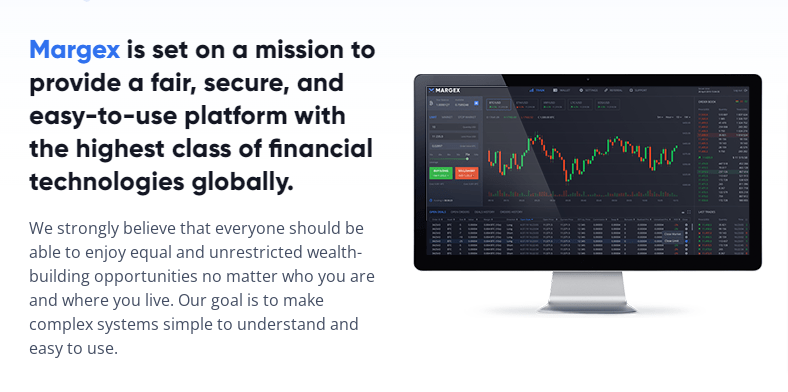 These are cornerstone tools for traders to help you take profit and mitigate losses.
If you're confused about what any of the terms on the Trading Terminal mean, Margex offers an excellent guide to walk you through them.
You'll also have access to a live order book, which is crucial to helping you find a good buy or sell point for a trade.
In fact, you'll be able to go more than $40,000,000 deep into the orderbook, giving you an accurate picture of the market for the cryptocurrency you trade at any given time.
Margex.com Costs
You'll encounter two fees when using Margex.com, both of which are competitive in the crypto exchange space. They include:
Funding fees involve leverage since you'll need to pay interest to finance a leveraged trade. You can expect the funding rates to vary, as they depend on market volatility and the ratio of longs to shorts.

Margex requires you to cover financing costs every eight hours. However, they won't charge you a funding fee if your position gets closed before the cut-off time.
When you execute a trade, that trade will be subject to a maker fee (less expensive) or a taker fee (more expensive). Limit and conditional take profit orders almost always qualify for maker fees.
In contrast, taker fees occur with market orders and conditional orders that become a market order when they execute. In either case, you can expect a flat 0.019% for maker fees and a 0.06% rate for taker fees.
You can view a full breakdown of Margex.com's trading and funding fees here.
Customer Support
Margex.com makes it easy to get in contact with them. They have a clear "Contact us" button at the bottom of their website, along with a chat feature in the sidebar.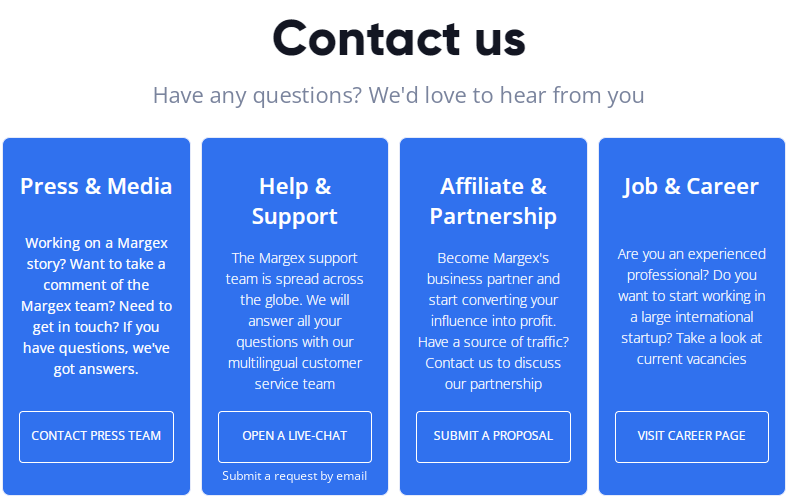 If you have an urgent question, you can rest easy knowing they have a 24/7 customer service team available through their live chat. Alternatively, you can submit your question or request via email.
Margex.com Regulations
At this time, Margex.com doesn't have anyone regulating it. That's because it operates out of Seychelles, where they don't need to have licenses or regulations to manage a trading platform.
That said, the company's development of their MP Shield System helps offer users some peace of mind that Margex is protecting them from pump and dump schemes and other suspicious trading activity.
Final Thoughts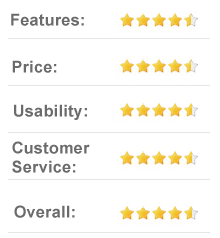 Margex.com is an excellent cryptocurrency exchange for people new to trading or traders looking to use large leverage.
Its user-friendly platform makes it easy for beginners to navigate while offering powerful tools like a $40,000,000+ deep live order book to help more experienced traders make quick decisions.
Although there isn't a government that regulates them, Margex.com takes transparency and security into its own hands with its MP Shield System. They also offer 24/7 support should you need any help.
Using leverage to trade crypto is an exciting and potentially lucrative opportunity. By starting with small amounts until you gain more experience, Margex can be a powerful tool for helping you reach your financial goals.