Masterworks is a fine art investment platform based in New York City. On the Masterworks platform, artworks are treated as an asset class that investors can purchase shares of.
In the past, investing in fine art was a luxury and privilege of affluent individuals. Today, Masterworks allows everyday investors to participate in the exclusive world of fine art investments.
There are a few key aspects you should know before creating an account with Masterworks: their fees, projected profits, and investment options.
Fees
Fees at Masterworks are high. There is no account opening fee, which means the platform makes its profits on transaction fees.

Masterworks policies regarding fees can be confusing, especially for users unfamiliar with the art market. Masterworks's transaction fee policies are a drawback to the platform, but there is help available for confused investors.
Masterworks provides users with a dedicated customer service representative who can help plumb the murky depths of the fine print of the fine art investment world.
Projected Profits
Projected profits at Masterworks are high because the platform works predominantly with recognized "blue-chip" artists. "Blue-chip" is an adjective used to describe artists with an established fine art history whose artworks have historically sold for considerable sums of money, often in the millions.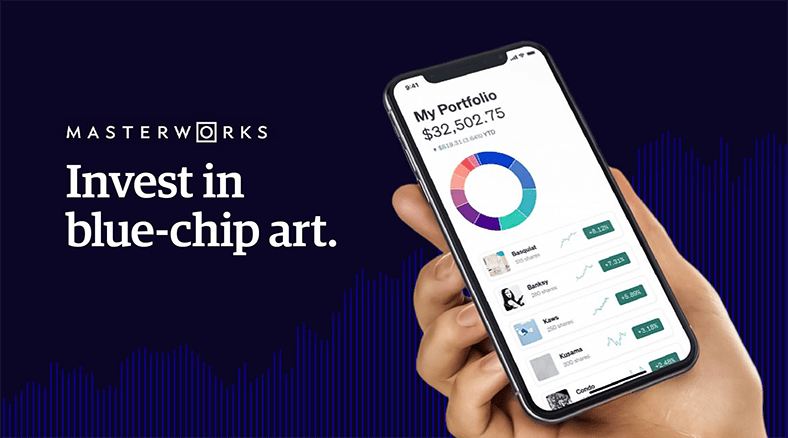 While users can expect a handsome return on their investments, there is a catch.
On average, investors have to wait three to ten years before an artwork becomes profitable. The long investment period makes the artwork shares purchased on Masterworks an illiquid asset.
Masterworks understands that the long appreciation times of fine art investments can deter otherwise interested investors, which is why they developed their revolutionary secondary market where users can buy and sell shares of artworks before the artwork is sold. This trading option is only available to US-based investors.
Investment Options
Masterworks has a wide variety of investment options. The trading platform offers investors an extensive catalog of renowned artists and artworks. Some of the established and legendary artists Masterworks advertises include Banksy, Picasso, and Kaws.
About Masterworks Investments Platform
Masterworks opened the world of fine art investment to the average consumer with the introduction of artwork shares. Their zero-dollar investment account opening option makes the platform attractive for interested first-time art investors. Keep in mind that Masterworks makes up for the cost of providing free account opening services with high transaction fees.
Masterworks's investors can purchase shares of famous artworks in twenty-dollar increments. All of the artwork investment options on Masterworks have been professionally authenticated and are securitized—meaning that artworks are safely stored at an undisclosed location.
Investors on Masterworks also can buy and sell their artwork shares to other investors. This share trading option affords investors a degree of flexibility previously unheard of in the fine art market. As of the writing of this article, the ability to trade shares of an artwork is limited to US investors.
Masterworks is a great investment option for investors looking to diversify their portfolios, but that does not mean the platform is without fault.
Before opening a Masterworks investment account, prospective users should be aware that the art market is unregulated. Unregulated markets have no practical controls over market fluctuations that occur as a result of supply and demand relationships. Masterworks does not have any control over the unregulated nature of the art market.
Additional drawbacks to opening a Masterworks account include a mandatory fifteen-minute phone interview for account set up, the illiquid nature of fine art investment, high fees, as well as, complicated fee policies.
Masterworks Pros
Ability to invest in shares of famous artworks
Zero dollar investment account opening option
Professional artwork authentication and securitization
Ability to trade artwork shares in the US
Masterworks Cons
High transaction fees
More liquid than traditional fine art investing; less liquid than other investments
Subject to the art market's unregulated nature
No international artwork shares trading options
How Does Masterworks Work?
Before investors can purchase shares of an artwork, the Masterworks team performs a long and detailed analysis of thousands of artworks by hundreds of artists. Artworks are selected based on an artist's reputation and sales history. Once artwork has been professionally vetted by the Masterworks art team, it becomes available to investors.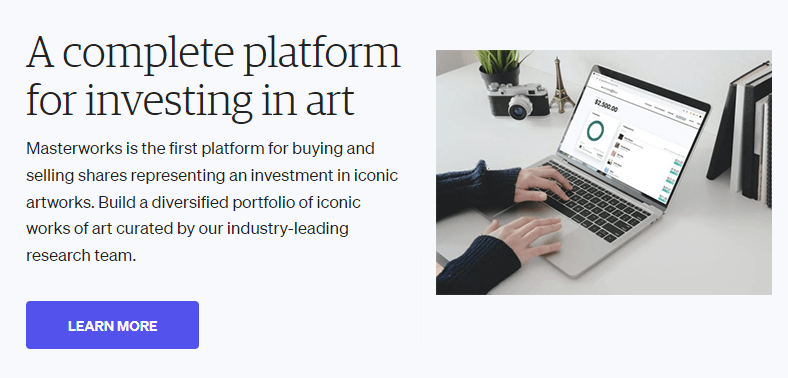 Once artwork is posted, investors can purchase shares in twenty-dollar increments. The process of investing in shares of artwork was pioneered by Masterworks and is called fractional art investing. Once artwork is sold, investors receive a portion of the sale in proportion to the number of shares they hold.
Masterworks takes care of the artist and artwork vetting process, as well as the subsequent storage and sale of artworks. Masterworks users need only select an artwork they feel will be a worthwhile investment. US-based Masterworks users can also allow trade shares of artwork to other investors on the secondary market.
Summary of How Masterworks Works
Masterworks art team vets artworks
Investors purchase shares of listed artworks in twenty-dollar increments
Investors wait for the artwork to appreciate or trade shares with other investors
Masterworks Secondary Market
Remember how we mentioned that investing in fine art is an illiquid asset? Masterworks rightfully predicted that investors unfamiliar with the illiquid nature of fine art investments would be turned off to their platform, so they created a secondary art market where investors can trade their artwork shares to other investors. This process is known as fractional art investing.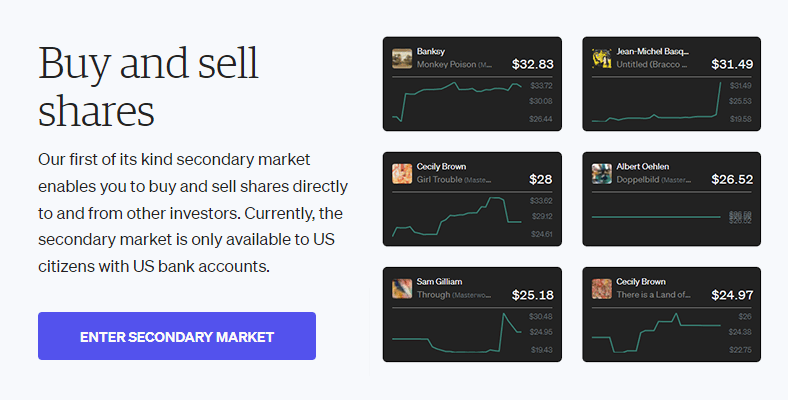 Fractional art investing allows Masterworks users based in the US to buy and sell their artwork investment shares which means that users do not necessarily need to wait for the artwork to sell to see a return on their investment.
Masterworks Usability and Interface
Masterworks was founded in the digital era, meaning all of the digital conveniences and intuitive design aesthetics of the current digital era can be found on the trading platform.
Straightforward directions make linking your bank account and other logistical tasks simple and quick.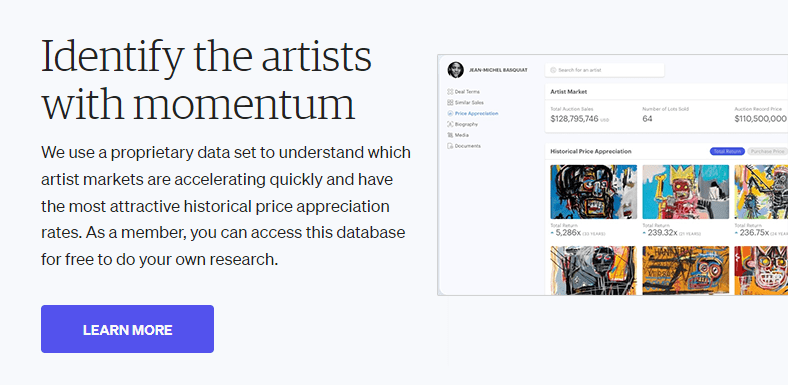 One feature of the Masterworks platform that may frustrate some is the mandatory fifteen-minute interview required to open an account with the platform.
Masterworks Usability Pros
A minimal barrier to entry
Intuitive website design
Easy to complete logistical account tasks
Masterworks Usability Cons
Mandatory fifteen-minute phone interview required for new accounts
Masterworks Customer Service
Masterworks is unique because it provides its investors with a dedicated customer service associate.
Given the complexity of fine art investments, having dedicated customer service support is indispensable. A dedicated customer service representative can help new investors navigate the complex user and transaction fees of the Masterworks platform, as well as help them catch potential blind spots in user investment strategies.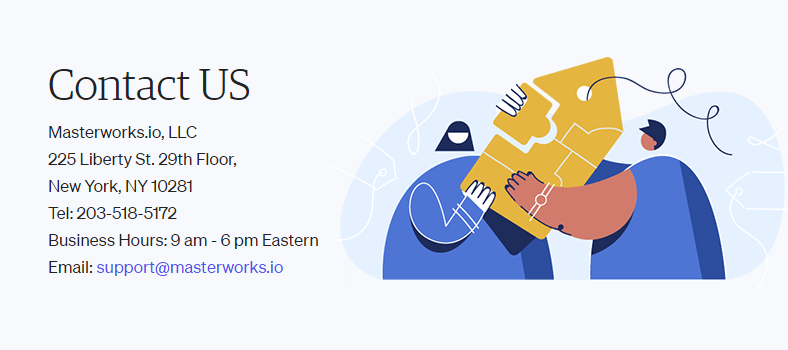 Masterworks customer service can be reached by phone at (205)-518-5172 Monday through Friday, 9 AM to 6 PM EST. If those hours don't work for your schedule, Masterworks customer service is also available by email at support@masterworks.io.
Third-Party Customer Service Reviews
Third-party information regarding Masterworks's customer service experience is somewhat limited (the business is not accredited by the Better Business Bureau) which makes it difficult to get an objective opinion on the investor experience at Masterworks.

This knowledge gap in the trading platform's user experience will likely be filled in as the platform gains in popularity. If you are wary of becoming an investor with Masterworks, we would recommend waiting until more user reviews are posted on third-party review websites like TrustPilot.
Masterworks Customer Service Problems
The Masterworks reviews currently available online list a few problems with customer service, but most are benign.
Some users have voiced distaste for Masterworks's customer service, lamenting the frequent phone calls and correspondence team. In our opinion, Frequent correspondence is preferable to none at all, but we leave that judgment up to you.
Masterworks users have also expressed concerns about customer service experiences from the other end of the spectrum—that is, not enough communication. It is worth noting that of Masterworks's 400,000 plus users, only a handful have posted lackluster reviews.
Masterworks Contextual Considerations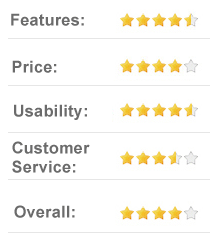 How do patches of color on a canvas command such a high price?
People left scratching their heads at an abstract expressionist painting may be blown away that squiggles and patches of color can fetch a price of over ten million. To which we say, fair.
It is difficult to determine the value of an object with only aesthetic utility, which is fortunate for the art industry giants Christie's and Sotheby's, but less fortunate for novice art investors.
Masterworks does a superb job of selecting only the most secure art investments for its investors, but the platform is not impervious to the unregulated nature of the art market.
Masterworks is a great investment opportunity for investors looking to diversify their portfolios that have a strong foundation or for investors who love art. As with any investing platform, you must have realistic expectations.
Links: https://news.artnet.com/news-pro/fractional-ownership-is-turning-art-into-stocks-but-not-everyone-stands-to-make-a-profit-2101458
https://www.trustpilot.com/review/masterworks.io
https://www.ideelart.com/magazine/most-expensive-painting
https://www.artandobject.com/news/how-money-laundering-works-art-world
Reference links: https://themillennialmoneywoman.com/masterworks-review/#:~:text=Masterworks%20is%20a%20fine%20art,%2C%20glitz%2C%20and%20glam%20world.
http://www.everflows.net/Masterworks.ioabout/how-it-works