Motion Array is an online library of moving image clips and other artistic materials. It provides unlimited download memberships and various extra tools and services for all types of video creators.
For video makers who desire all their creative resources in one location at an affordable price, Motion Array might be a good pick. The platform provides video templates, presets, and innovative workflow features.
Keep reading to learn more about how Motion Array can help your creative business!
History
Tyler Williams, a motion designer, and Eri Levin, an animator and video creator established motion Array in 2013. Initially, they developed video templates, principally Adobe After Effects designs, to supplement their income while assisting other creatives in affordably enhancing their material.
Then, Levin and Williams transformed Motion Array into an all-inclusive platform for video making and post-production. Besides the basic video presets, and templates, creatives started accessing stock music, stock footage, and extra workflow tools.
In 2020, Artlist, a company that licenses stock media, bought Motion Array for $65 million, and the platform started functioning on its website.
Motion Array Top Features
Here are the key features of Motion Array.
Stock Footage Archive
The stock footage collection is one of the most useful resources for the bulk of creative work. Over 100,000 stock video clips and about 54,000 motion graphics are accessible on Motion Array's Stock Video page, neatly organized into tabs.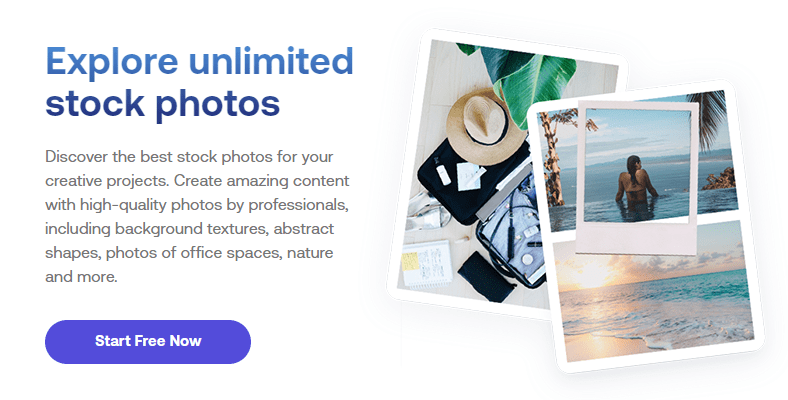 This stock video's quality begins at 2K, but you can access files with even more than 5K. These resolutions are appropriate for professional use and provide considerable editing versatility.
Although their library is smaller than others, they cover many of the most sought-after video genres and topics in depth. Their files are accessible through MP4 and QuickTime players.
Video Templates and Presets
The platform's collections of downloadable themes and graphic templates make it easy to produce interesting films and add visual appeal to your material. These assets are well-arranged on the website as per the software they operate on. Therefore, it's easy to navigate the site and time-saving to create your videos with Motion Array.
Stock Images & Audio
Motion Array doesn't just feature video material. They provide additional stock file libraries that are useful for completing video projects, such as:
Audio
The audio collection includes sound effects and stock music. Over 24,000 SFX files and approximately 100,000 royalty-free music tracks files are available.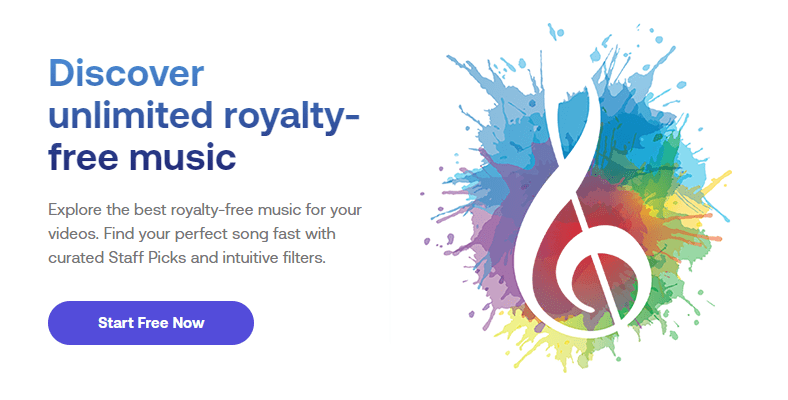 Images
The collection of still images has about 95,000 photographs in various styles and depicting numerous popular topics. Most images are in JPG format and have a high resolution.
Motion Array Additional Resources
Motion Array has a major emphasis on being a center for video creators. They prove everything a freelance video maker could require for his production workflow. Therefore, their services extend beyond downloadable stock assets to incorporate various workflow options, including:
Portfolio Site Builder
They provide a simple website developer that video filmmakers and editors can use to build a high-quality online portfolio. There are easily modifiable website templates available.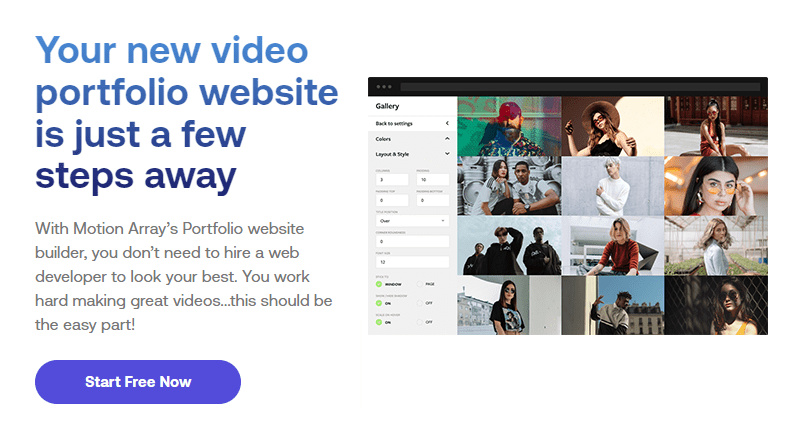 In just a few clicks, you can have a completely functional site showcasing your finest projects, social network links, email links, brand's color, logo, etc. Besides, you can use the platform as your website's host.
Video Collaboration
This video collaboration feature allows creators to showcase their video work in progress and get feedback from others in real-time. On this panel, you could add an unrestricted number of collaborators, which expedites the completion of tasks.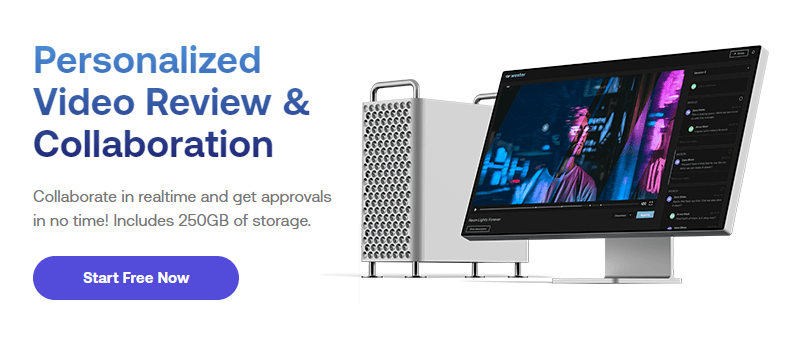 There are tools for receiving client input, including real-time opinions, password protection, a means to mark jobs as completed, version control, and more. These features guarantee the exchange is secure and speed up the approval process.
You could also add your brand's logo to the collaborative board and link it to your Motion Array portfolio or domain. Besides, the feature is compatible with mobile and desktop.
Adobe Integration
Motion Array also provides an installable Adobe connection so that the store is accessible straight from Adobe applications. It's currently compatible with Photoshop, After Effects, and Premiere Pro. But, they say it will soon be compatible with Audition and Premiere Rush.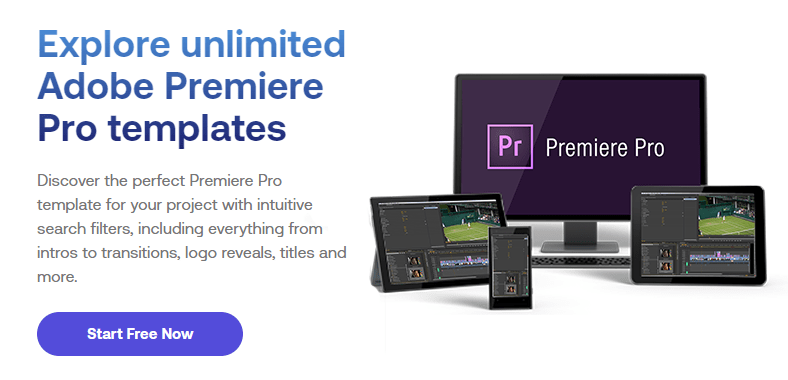 This feature aims to streamline your creative process when you make project changes in Adobe's editing software. Nevertheless, it competes directly with Adobe Stock, Adobe's exclusive stock material provider.
Plugins
Lastly, Motion Array offers a collection of about 50 custom plugins for Premiere Pro. Every plugin has its own set of transitions and effects. Creators can easily download their preferred plugin and install and use it in their post-production phase.
How Does Motion Array Work?
Using Motion Array is straightforward. You must first create a user account on their site. Then, choose between the free membership plan, which is quite restrictive, or opt for a monthly or yearly plan.
After signing up, you can begin downloading. On the platform's main page, there are five major media categories. These include Templates, Photos, Audio, Presets, and Videos.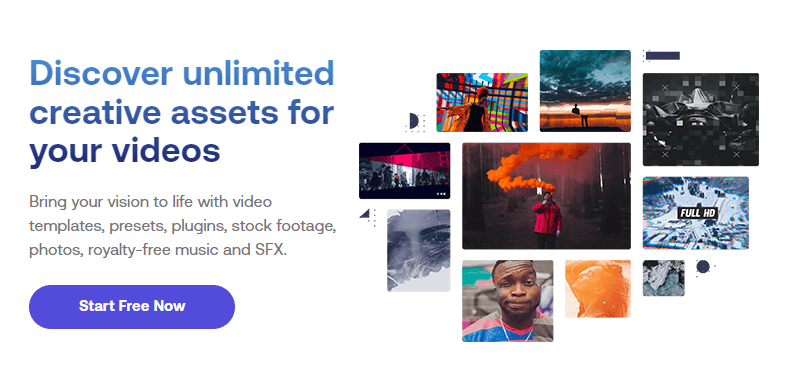 More subdivisions will display when you place the cursor over one of these categories. Videos, for instance, are separated into Motion Graphics and Footage. Click on the major category or any accessible subcategories to explore the relevant media library.
Every library contains a curated collection of documents selected by the library's staff. You will also find a 'search bar' for locating materials using keywords.
A drop-down menu allows you to arrange information by various criteria, such as the most popular, latest, or date uploaded. To refine your search results even more, you can use the additional filters that appear on the display's left side. But overall, navigating the categories is quite simple.
How Is Motion Array's Pricing?
New members can become familiar with the platform through a free trial. You could access a plethora of free resources for a month. Additionally, you will get access to limited customer assistance.
However, if you'd like to take full advantage of Motion Array, you should join the paid subscription options. Here's a breakdown of the three pricing options:
Monthly
$29.99
One user
Unrestricted creative tools
Video review feature
250GB storage
Exclusive plugins
Portfolio site builder
Annual
$20.83
One user
Unrestricted creative tools
Video review feature
250GB storage
Exclusive plugins
Portfolio site builder
Team
$18.75
2-20 users
Unrestricted creative tools
Video review feature
250GB storage
Exclusive plugins
Portfolio site builder
Pros & Cons of Motion Array
How do you know if Motion Array is right for you? Here are some pros and cons of the company.
Motion Array License
This platform uses a standard global license. Therefore, if you have a paid subscription to Motion Array, you can use any files you download for any purpose, professional or personal, without paying any further fees.
Motion Array's terms permit you to utilize the downloaded files in as numerous projects as you choose, without limitations on project distribution or size. You're free to use the materials in any way you see fit.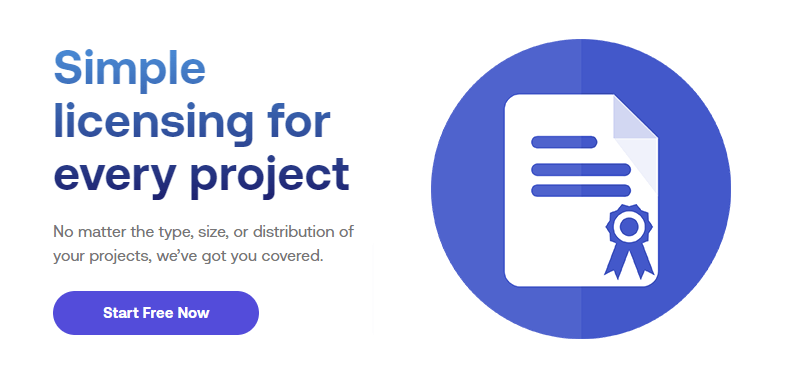 Common applications include broadcasts, social media advertising, commercials, and YouTube (monetization included). Also, they allow corporate messaging, live events, feature films, and communications for charitable organizations.
There are several limitations to Motion Array, which are typical to licensing that's royalty-free. These restrictions include no redistribution, no resale, and sensitive use.
One key limitation is the downloaded resources are only applicable for new projects so long as your subscription is active. If you cancel your Motion Array subscription, any media you've previously utilized in a project is cleared and licensed. You can no longer access any assets and must reactivate your subscription to use them again.
Final Thoughts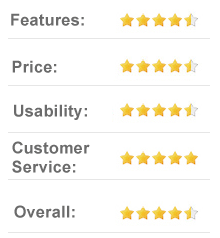 Motion Array is a great and cheap way for creators to get their hands on high-quality video materials. With a continually expanding selection, you won't locate a better deal elsewhere at under $30 per month.
The dynamic is more intriguing now that Artlist and Artgrid manage. The complete Artlist library (video and audio) is available for subscribers to enjoy.