MXC.com is a digital asset trading platform and started operations in 2018. The founders and key members of the company have immense experience in digital asset trading and other critical areas of finance.
The trading platform provides a safe environment for users to engage in various digital asset trading activities. Some of these operations include, among others, margin, contract trading, and PoS staking. The company has strong values in protecting the financial details of its users. In particular, safety and confidentiality top the professional value list for MXC.com. The company boasts an ever-growing list of finances and currencies to suit the needs of different clients.
Plus, the company can legally operate in various countries globally and accommodates different languages. MXC.com's sustainable practices in finances have seen it scale great heights of the digital asset industry. A good example would be in 2018 when the company's growth took up close to 5 percent of the digital global market niche. The platform is legit, as many people use it to earn income, and they process millions of transactions each year.
Top Features/Reasons to Join MXC.com
Joining MCX.com has a few benefits, and users gain access to premium features for digital trading assets. Some of these features of MCX.com include:
Reliable Mega Transaction Technology
MCX realizes the importance of providing its users with technology that offers fast responses and is reliable. The platform features a mega transaction matching engine technology. The goal of this technology is to present the most lucrative digital assets to its users fast.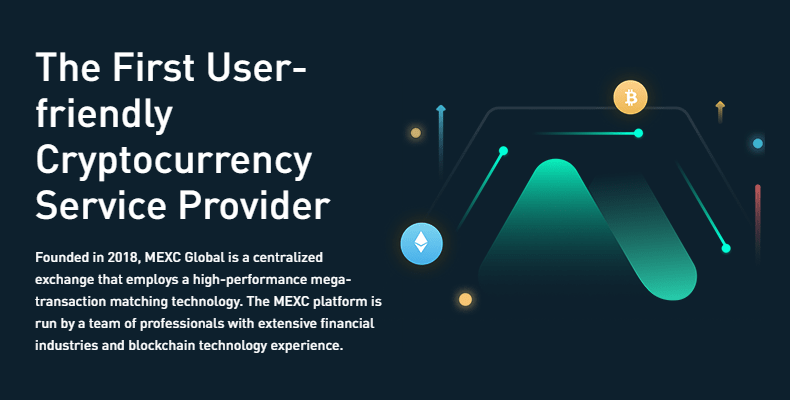 The advent of blockchain technology means people no longer have to rely on third parties to facilitate transactions. MXC offers the ideal solution for managing the several transactions associated with increased user demand with the mega transaction technology. So, users get some free time to focus on other essential procedures in managing digital resources.
Super Node to Handle Multi-User Procedures
MXC uses a Super Node system to maintain an extensive base of customers. This program's benefit is that it provides sufficient community autonomy. The autonomy is effective at handling connections and data flows for systems users. That's a resource that has allowed the company to leverage any new developments in the digital asset niche and promote the healthy development of the blockchain community it supports.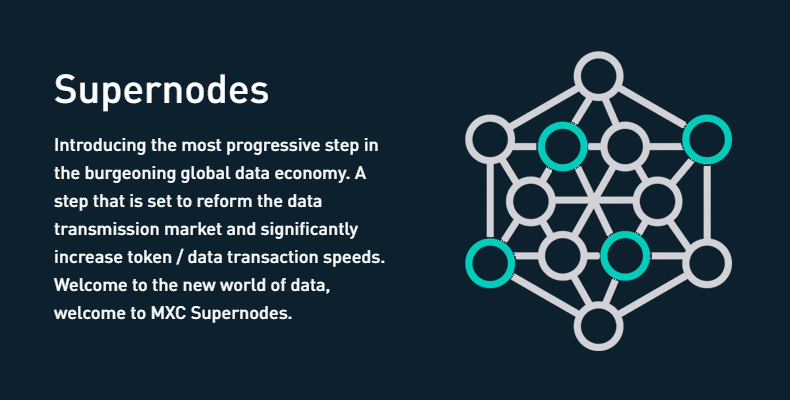 Also, the semi-distributed architecture of the nodes makes it easy to decentralize the data processed in the system. So, each node in the system does not experience excessive overhead levels, which is vital in the digital market.
Support for Token-Based Rebates
Rebates are an essential aspect of any legitimate digital trading platform. Users of the MXC system that have tokens have access to various privileges. Some of the benefits include asset appreciation, rebates, voting, supervision, and others. Furthermore, the system also rewards system users a significant portion of trading rebates and mining privileges.
Advanced Security Protection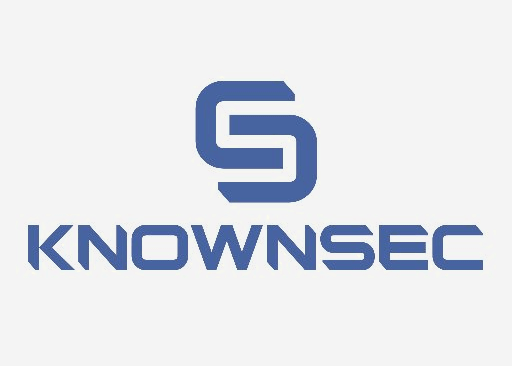 Since users of the system share various types of personal information, MXC has gone to great lengths to protect these details. The company has protected all its assets through third-party companies. It's a technique that allows the company to outsource security issues and provide the ultimate user experience. The security firms that MXC partners with include Knownsec with the world's top security companies, such as Palmim. The security firm focuses on providing secure storage for digital currencies and supporting various types of blockchain transactions.
Supports Various Digital Asset Trading Procedures
The digital asset trading system has also integrated various financial resources to support the needs of its users. It's a company with immense experience in the digital trading industry, which is evident in its expansive digital assets. The company provides services such as trading, token circulation, and time deposits. These resources offer effective and efficient methods of circulating digital assets on the site.
Offers Multi Compatibility and Unique Online Experience
Digital asset traders likely own different types of devices. These can include devices such as laptops, Apple, and Android devices. So, MXC is compatible with all these systems, and it runs smoothly.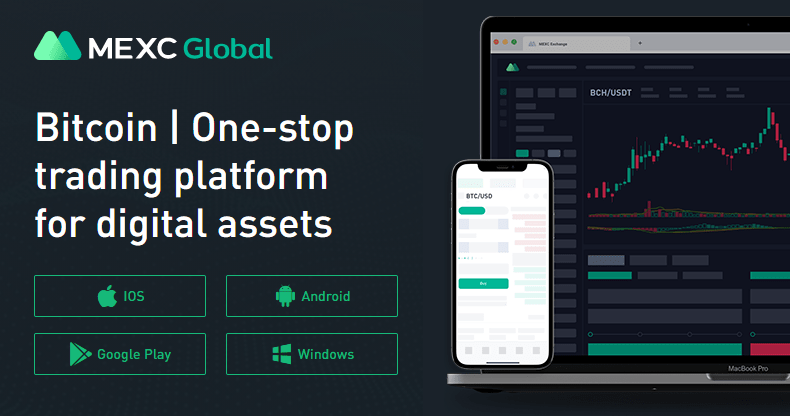 The company also has a well-organized site and comes with helpful information and features for easy access. Creating a user account and placing a deposit in your wallet is also simple. The support staff is also available to help a client address such challenges conveniently.
Security and Confidentiality
MXC maintains an extensive technical team that features reliable security risk control measures and a powerful anti-DDOS system. So, the site is never likely to suffer from downtimes or compromised user data.
The security systems are diverse include layered architectures and multi-signature resources for these purposes. So, each investor's wallet is always safe from any form of illegal access. MXC.com doesn't share user data with other parties.
MXC Commission/Costs
Transparency sits at the heart of the values of MXC, especially as handling digital finances involves various factors. And each process at MXC is transparent. They don't have any hidden fees or charges on the withdrawals or deposits a client makes.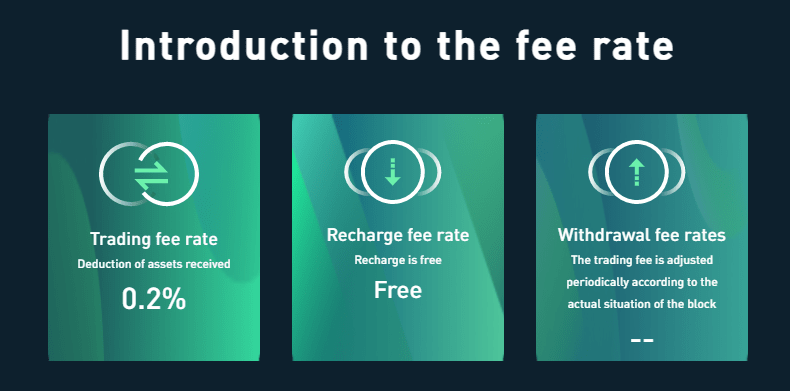 The company provides a receipt for each transaction. Here are some of the fees you should expect at MXC.
Zero deposit fees – the company does not charge its clients for placing deposits.
Trading fees – MXC also has a 0.2% transaction fee, and this does not include the assets received by the user.
Withdrawal fees – the withdrawal fee changes often based on the situation of the block.
How to Buy Coins from MXC
The process of buying coins and getting them to your wallet is a simple process on MXC. A few key steps to expect include:
Create a user account, and complete the verification process.
Log in to your account, and click on the "Buy Crypto" tab.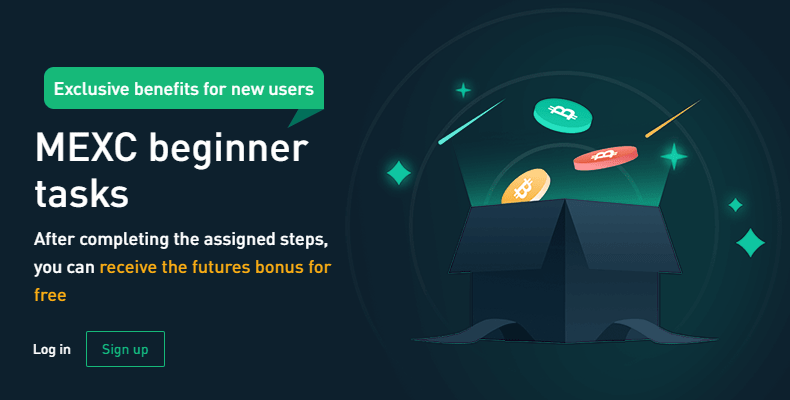 Purchase the cryptocurrency through your preferred mode of payment. However, there are some terms associated with buying particular currencies and the accepted payment methods.
Key in the amount you want to purchase, and then click on the "Submit" tab.
Next, pick your preferred service provider, and click on "Agree" on the disclaimer tab. Finally, the purchase of your cryptocurrency should be complete.
Customer Support
MXC customer support team features financial professionals with immense experience in the digital asset industry. Some MXC staff members have worked with the most prominent digital companies, such as Huawei and Alipay. All staff members have amassed years of experience in digital asset finance trading and marketing.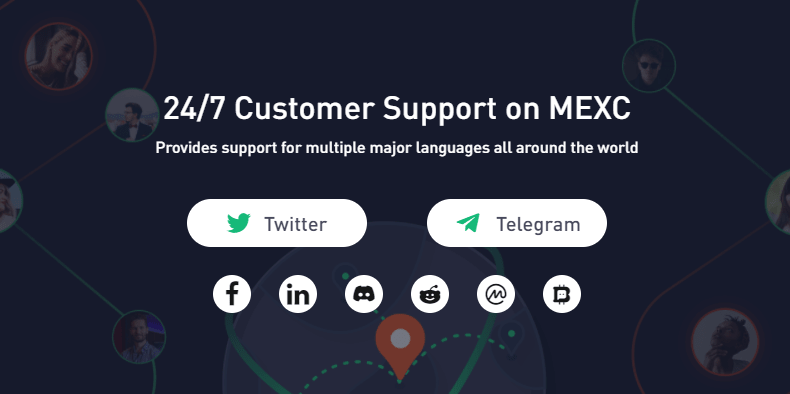 The platform is home to both novice and advanced traders. Users are likely to come across different challenges when trading. That said, new users may experience difficulty navigating certain parts. So, the company has a friendly and reliable team of customer support who are ready to respond to all customer queries.
The customer support team responds fast, and each of them specializes in different types of challenges. A few common support categories at MXC.com include:
Business inquiry – the support team here provides advice to businesses that want to transact with MXC. business@mxc.com.
Listing Consultation – they can address various issues relating to listing a new asset or company.
Complaints and suggestions – this support team focuses on recommendations, compliments, and complaints from users.
Advantages of Using MXC
The site is safe and stable. It features a multilayered architecture system and robust security protocols.
MXC has robust systems that can support millions of transactions at the same time.
The financial transactions that occur through the firm are transparent and legitimate.
It offers multi-currency support for Ethereum, Bitcoin, and other types of finances.
Disadvantages of MXC.com
The system requires basic experience in digital trading assets.
It could be available with a training course for novices
MXC Exchange FAQ
Conclusion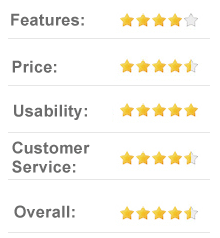 Overall, the MXC trading platform is a safe and reliable platform for people interested in digital trading assets. The company has an ever-growing list of clients and digital currencies. MXC uses token-based rebates and node technology. The digital asset company supports numerous cryptocurrencies and languages and is ultimately a good platform for people looking forward to making the most of the digital asset market.