NAGA is a digital broker specializing in social trading. Introduced in 2015, this German-based firm offers an online space for traders to engage with their peers and discuss current market trends and conditions through personal, group, and public chats. NAGA users can invest in over 500 instruments, including cryptocurrencies, commodities, forex, CFDs, indices, and more.
NAGA had one of the most successful and fastest Initial Public Offerings in 2017 in Germany, when they reached more than $50 million within a few months of the firm's listing on the Frankfurt Stock Exchange. With over 500,000 users and 800 markets worldwide, this digital broker is taking social trading to new heights.
With benefits like NAGA's social trading tools, the ability to trade cryptocurrency, and products like the NAGA MasterCard and NAGAX wallet, NAGA is considered a leading name in the social trading space.
Top Features of Naga.com
NAGA has revolutionized the market and continues to offer unique services. Some of the top benefits for using NAGA that we've found include: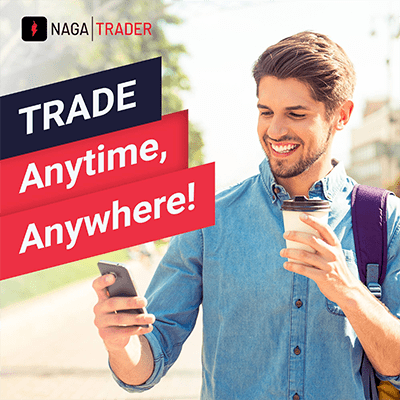 No minimum deposit
Leaderboard guides traders on who to copy
Real Cryptos and Real Shares available
Payment service is affordable, fast, and efficient
Offers a multitude of NAGA-proprietary services and assets
1000:1 leverage for traders outside of the EU
Protection against a negative balance no matter a user's location
Regulated and compliant
Available in 20 languages
Customer service available 24-hours, five days per week via telephone, email, and live chat
One of the best features NAGA offers is its proprietary social trading platform called NAGA Trader, which gives users access to experienced traders whom they can follow and copy. Traders can hop onto the leaderboard to help them decide who to copy, then use the NAGA trader platform to easily copy the trades of those they've decided to follow. They can even automate the process.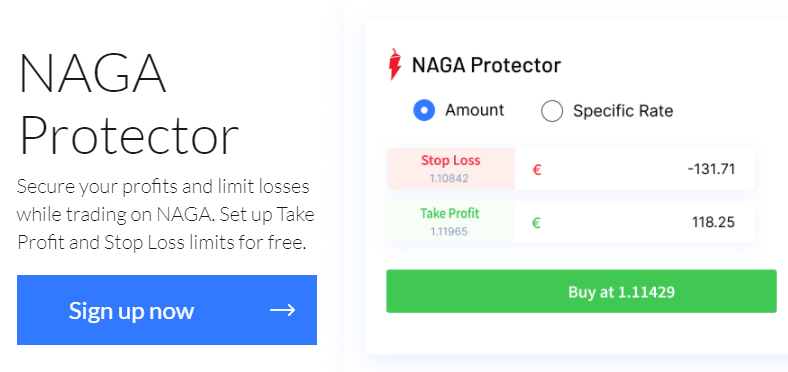 Additionally, there is the NAGA Protector, an integrated stop loss/take profit tool that clients can apply to each trade. And for clients who like trading on-the-go, they can take advantage of the free mobile trading app, available for iOS and Android.
Naga.com Account Types
NAGA offers a few account types. Consider your experience level, trading style, and market participation to find the best one for you.
NAGA Demo Account
If you want to familiarize yourself with the trading software and understand how everything works before you invest, you can easily open an unlimited demo account. Provide your email, full name, and telephone number, and you'll be trading virtual money, risk-free, in no time.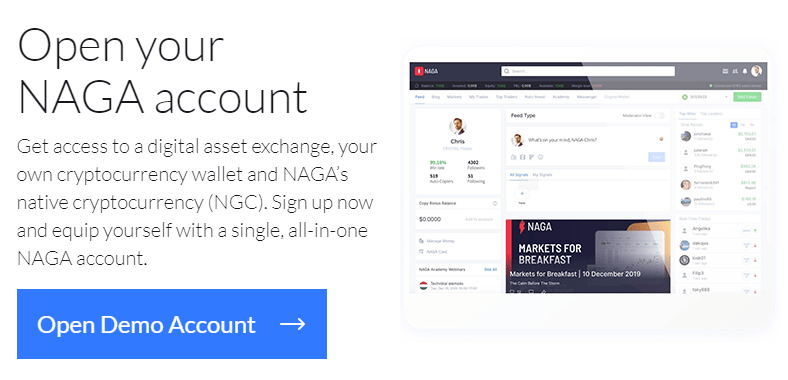 You can switch to a live trading account at any time and move back to a demo account should you need to. You can even hold both a demo and live account simultaneously, allowing you to test your trading skills in a demo environment where no risk is involved.
NAGA Standard Account
The standard account starts at the basic level and requires no minimum deposit, so it's an excellent place to start when you're ready to switch from demo to live. The account is tiered, and based on how much you deposit is what types of features and cost benefits you have access to.
Clients will start to see benefits when they earn Naga Achievements. The NAGA Achievement Program rewards traders each time they reach a level. Basically, the more you trade, the more chances you have of earning exclusive rewards and becoming a NAGA Influencer.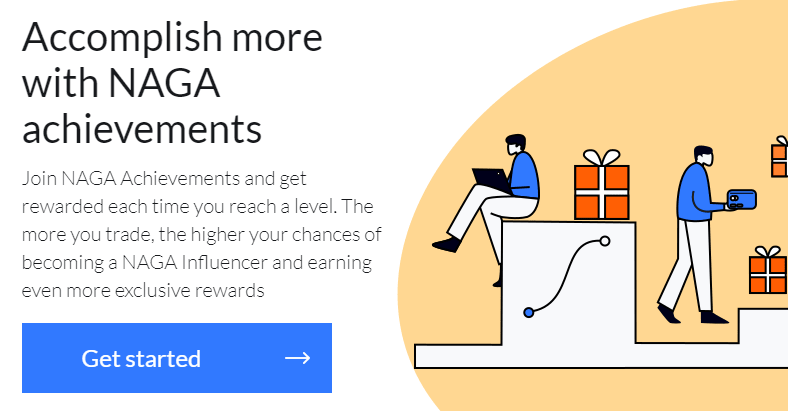 Also, the more you deposit, the more benefits you'll get. Achievements include:
Iron Trader: 5 NGC or $250
Bronze Trader: 50 NGC or $2,500
Silver Trader: 225 NGC or $5,000
Gold Trader: 600 NGC or $25,000
Diamond Trader: 1500 NGC or $50,000
Crystal Trader: 5000 NGC or $100,000
Awards include lower spreads, reduced commission on stock CFDs, a higher commission earned per copier, market insights and signals, free webinars, NAGA cards, and free transactions.
One of NAGA's unique features is that they are not strictly USD-based so that clients can fund their accounts with numerous currencies. These include EUR, GBP, PLN, CHF, and USD. This level of flexibility allows traders to fund their accounts with currencies that match their location, which gets rid of bank charges and currency conversions.
Naga.com Commissions and Fees
NAGA is commission-free when trading most instruments, including Commodities, Cryptocurrencies, Forex, and Futures. NAGA takes profits from the competitive spreads, which are displayed on the website. You can get started with a standard, basic account that requires no minimum deposit.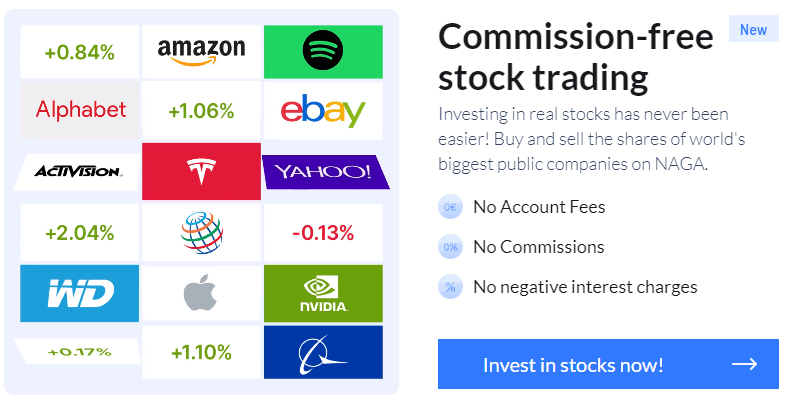 NAGA offers floating spreads at a standard rate of 1 pip (EUR/USD), but you can lower the value through the NAGA Achievements Program. For EU traders, shares trading comes with 0% commissions.
As for trading fees, NAGA Markets enforces a few.
Overnight Fees
As a CFD provider, NAGA charges overnight fees on nearly every asset. This is a standard market practice, and the fees are charged at the closing market hour every day. Before deciding on a platform, check the charge amount.
Real Trading
This is only applied to stocks when using MT5 or NAGA Markets trading platforms and is for EU traders where there are no commissions when opening or closing a position. They do not apply rollover fees, and you can earn dividends if the business distributes them. Also, you can invest in over 400 shares from nine stock exchanges at Naga Markets.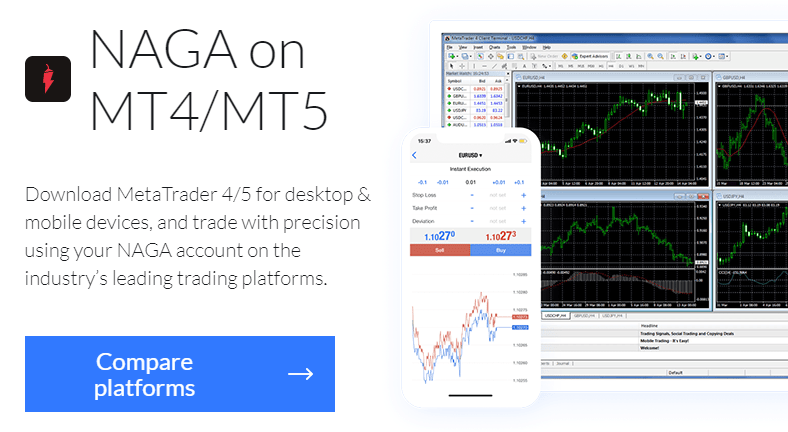 Inactivity Fees
Most brokers want to see a commitment to their firm through account activity, so when the account goes unused for a set length of time, the firm generally applies fees. NAGA kept this general rule, as well, but as of July 1, 2020, NAGA does not apply inactivity fees. However, NAGA may reserve the right to close your account if there are insufficient funds.
Naga.com Customer Support
Multilingual customer service is available 24-hours a day, Monday-Friday via call, email, and live chat. Customers can also get in touch through Facebook, Twitter, and Instagram. The staff is quick to respond and helpful.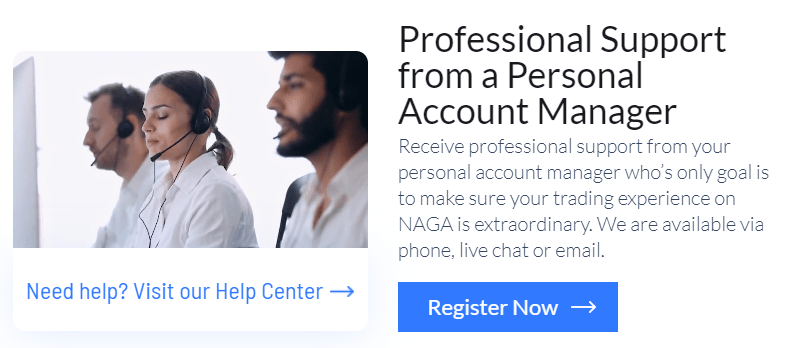 The company's website also offers a comprehensive database of educational materials and support services. Clients have access to an economic calendar, earnings reports, video tutorials, daily lessons, webinars, and blog posts covering various trading topics. Additionally, the website has an extensive searchable help section.
Naga.com Regulations
NAGA Markets is authorized and regulated by the Cyprus Securities and Exchange Commission (CySEC) under license number 204/13. The CySEC is the supervisory and regulatory authority for investment service firms in Cyprus.
NAGA is a trademark of the NAGA Group AG, a FinTech company based in Germany and publicly listed on the Frankfurt Stock Exchange.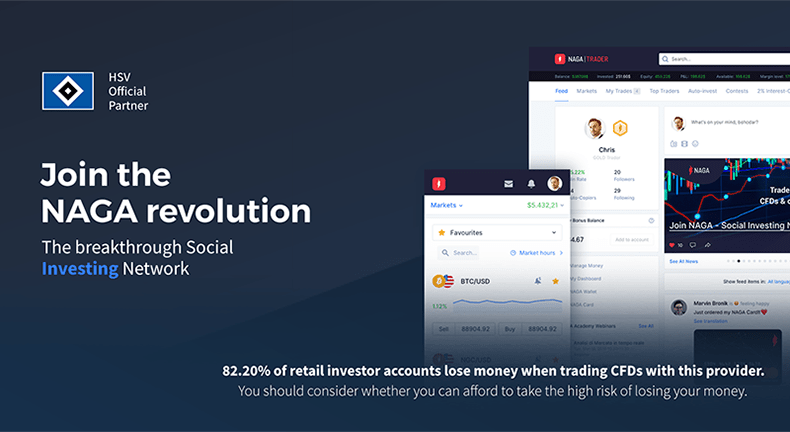 NAGA holds a cross-border CySEC license and is incorporated under the laws of St. Vincent and the Grenadines as an International Business Company (IBCN24501IBC2018).
NAGA prohibited countries include Belgium, Canada, Cuba, Iran, Iraq, North Korea, Sudan, Syrian Arab Republic, Turkey, United Kingdom, and the United States.
Final Thoughts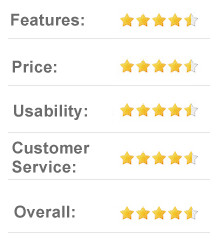 NAGA leads the way in social network trading and offers unique opportunities for traders of all levels, but especially beginners. Due to the vast amount of tradable instruments, educational resources, and low-risk options, NAGA is a revolutionary broker for those still getting their feet wet.
That's not to say that they aren't a good fit for intermediate or advanced traders, though. They may only have two platforms, but the proprietary platform and mobile trading app are easy and convenient to use. Plus, NAGA is winning the cryptocurrency game, offering over 15 assets, making it a standout broker for those interested in the crypto market.
Finally, the company is regulated and reliable and continues to pave the way for social trading. NAGA has incredible growth potential and is one to watch.