Feeling overwhelmed by having your notes, tasks, and projects scattered across different platforms? Notion.so offers an all-in-one workspace to consolidate everything you need. This productivity software developed by Notion Labs Inc. is a powerful hub for task management, project tracking, note-taking, and more.
Let's dive into the inner workings of Notion.so – how it can streamline your workload and make organization a breeze. Ready to revolutionize your workflow?
About Notion.so
Notion is a popular productivity software that offers an all-in-one workspace for organizing documents, projects, and tasks. Its user-friendly interface and comprehensive features make it a go-to tool for individuals and teams looking to streamline their workflow and enhance collaboration.
From customizable templates to integration with other tools, Notion provides users with the flexibility they need to create their ideal workspace.
Overview of the company's history
Notion Labs Inc., a tech startup, burst onto the scene with the innovative Notion web application. The company launched its productivity and note-taking platform in 2016, but it truly made waves in March 2018.
This was when Notion 2.0 emerged championing versatility by merging notes, tasks, and wikis into an all-in-one tool for users. Its unique integration of databases and documents set it apart from competitors and fueled the company's rapid growth.
Over time, their team size expanded as they refined their product offering based on user feedback and technological advancements.
Mission and purpose
Notion operates with a clear mission: to make software toolmaking ubiquitous. As part of their agenda, they put their mission first, pushing towards wider accessibility and customization within the software development industry.
They believe empowering users continues beyond providing robust tools; it means allowing everyone to mold and design their own.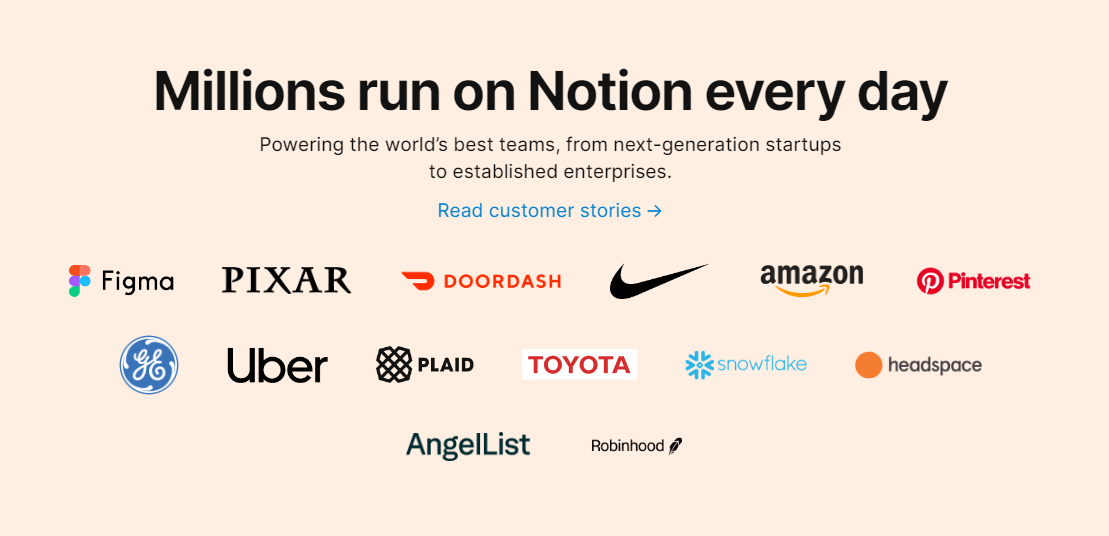 The birth of Notion AI is evidence of this commitment. The company has meticulously developed this tool to enable even the average tech user to construct and customize software tools personally tailored for them.
With such dedication to its purpose, Notion elevates collaboration and creative freedom among its users!
Top Features of Notion.so
Notion offers a range of powerful and versatile features that make it the go-to workspace for organizing documents, projects, and tasks. With its all-in-one functionality, customizable templates and databases, seamless integration with other tools, and AI Writer feature, Notion provides users with a highly efficient and flexible platform for maximizing productivity.
All-in-one Workspace for Documents, Projects, and Tasks
Notion puts everything you need right at your fingertips, acting as an all-in-one workspace for documents, projects, and tasks. Its seamless project management experience lets you integrate your notes and docs into your workflow.
It's a connected workspace designed for both individuals and teams. With Notion, managing different tasks doesn't have to be chaotic anymore! This platform allows you to blend everyday work apps into one unified system.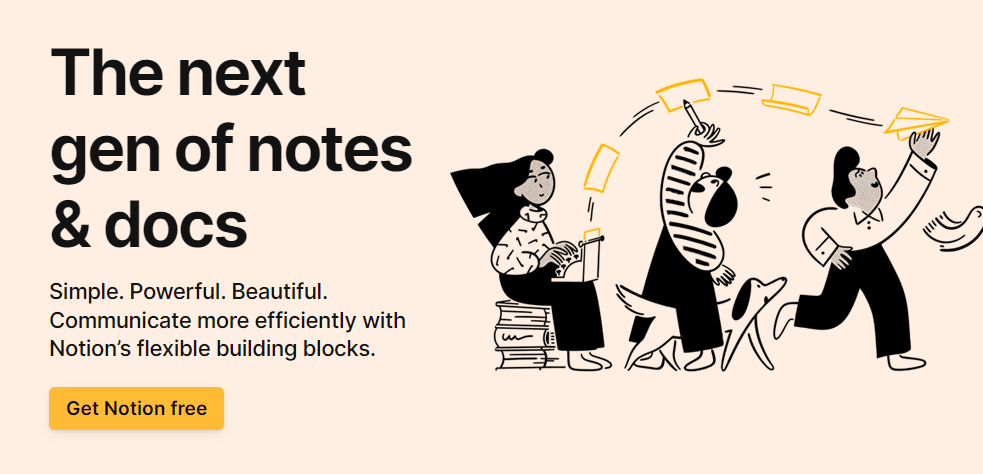 You can organize information and create personalized content in a virtual home that fits your needs from a workspace tool.
Security is also a top priority for Notion, with enterprise-grade security measures ensuring your data is always protected. Encryption protocols, regular security audits, and user-specific permissions ensure that sensitive information remains confidential and secure. Users can focus on their tasks and projects, ensuring that their data is safeguarded against unauthorized access.
With the closely integrated projects, supporting documents, wikis, notes, or even knowledge database – everything required is housed under one roof!
So if it's about managing diverse assignments or creating immersive write-ups, look no further than Notion.
Customizable Templates and Databases
Notion offers a range of customizable templates and databases to make your workspace truly personalized. With Notion, you can configure your templates and databases to suit your needs.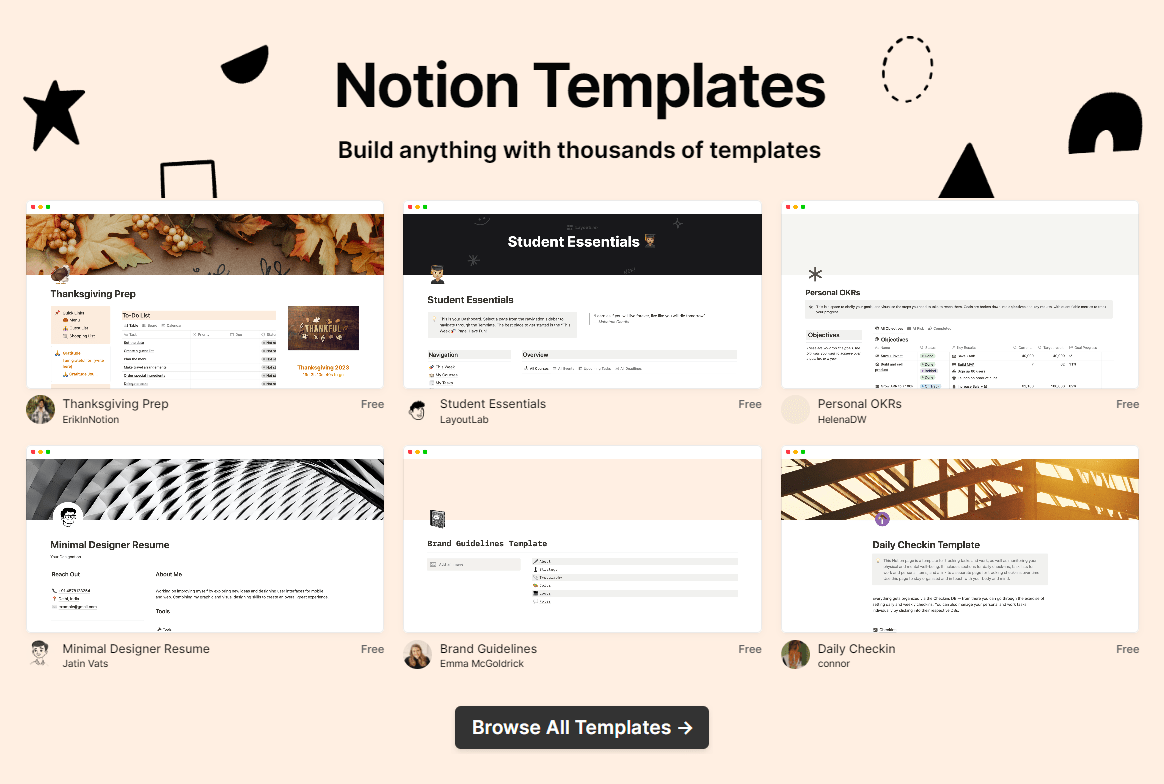 Whether you're looking to track personal goals or collaborate on team projects, Notion's adjustable features allow you to tailor the platform exactly how you want it. The ability to modify properties and views makes organizing information easy and finding what you need quickly.
So go ahead, and create an individualized workspace with Notion's customizable templates and databases that adapt to your unique workflows.
Accessibility
Accessibility is another highlight of Notion's design. The platform is accessible across various devices, ensuring users can access their workspace anywhere. The responsive design adapts to different screen sizes, offering a consistent user experience on desktops, tablets, and smartphones.
Integration With Other Tools
Notion goes beyond being just a standalone workspace by offering seamless integration with other popular tools like Jira, Google Drive, and Slack. This means you can connect these tools to your Notion workspace and further enhance your workflow.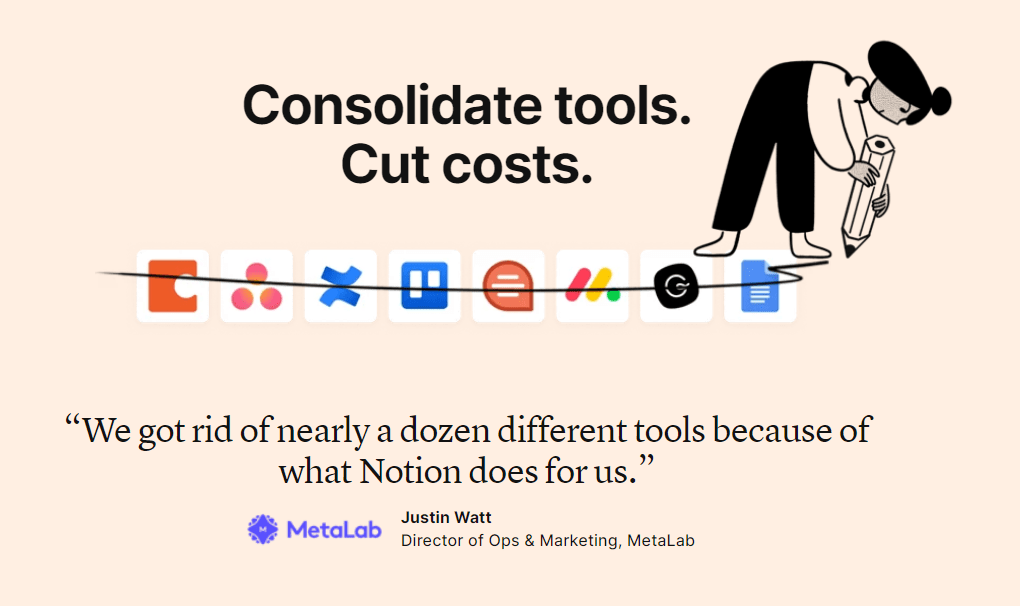 With the help of Notion's API, you can easily pull information from third-party apps like GitHub or Jira and keep all your relevant data in one place. By breaking down silos between teams and supercharging your workflow, these integrations ensure you have everything you need at your fingertips.
So whether collaborating on projects in Jira or accessing files from Google Drive, Notion makes it easy to connect all the tools you use daily.
Moreover, Notion's API is continuously evolving, adding new features to enhance its functionality and usability. Users can create custom integrations and automate workflows, ensuring that Notion remains a flexible and adaptive tool catering to diverse professional needs and requirements.
AI Writer Feature
Notion's AI Writer feature is a game-changer for your productivity. With artificial intelligence at your fingertips, you can automate tedious tasks and get more done quickly.
This feature assists you in note-taking and document writing, helping you write better and faster. Whether you're working on blog posts or job-related content, Notion AI makes it easier than ever to produce high-quality writing.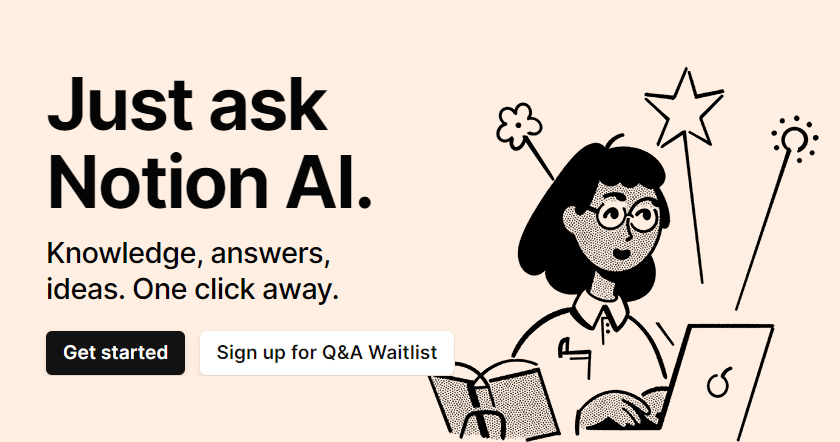 Moreover, with the integration of machine learning algorithms, Notion's AI Writer is becoming increasingly sophisticated, offering users personalized writing assistance. It adapts to individual writing styles and preferences, ensuring that the generated content is aligned with the user's tone and style, enhancing the quality and consistency of written communications.
And the best part? It's not just limited to writers – teams from sales, marketing, development, and operations can all benefit from this versatile tool. So unleash your creativity and let Notion's AI Writer take your work to new heights of efficiency!
Pricing
Notion offers a freemium pricing model, allowing users to use the basic features for free or upgrade to one of their paid plans. Let's dive deeper into the available plans and costs so you can decide which option is best for you.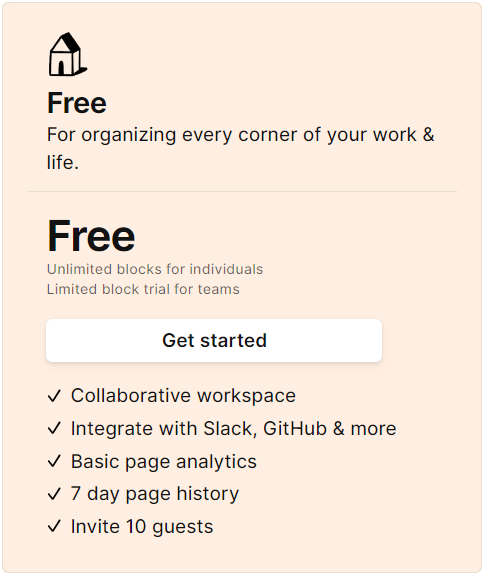 Freemium Pricing Model
Notion utilizes a freemium pricing model, which means that they offer a basic version of their platform for free while also providing the option to upgrade to paid plans with additional features.
This strategy allows them to acquire more customers and generate revenue by selling premium services. With the freemium model, Notion provides value to users at no cost, ensuring that everyone can benefit from their platform while offering enticing premium features for those who want an enhanced experience.
Available Plans and Costs
Notion offers a range of pricing plans to suit different needs. For individuals, a Free Plan provides unlimited blocks for documents, projects, and tasks. Teams can also use the Free Plan but with limited block trials.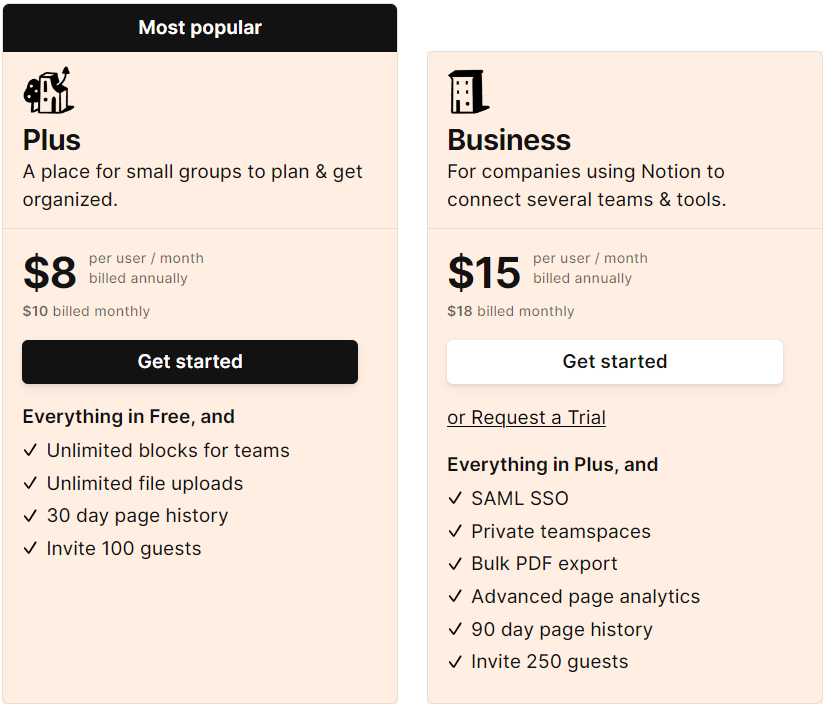 The Plus Plan is $10 per month per member if you're looking for more features and capabilities. For businesses, the Business Plan costs $15 per month per member. And for larger enterprises with specific requirements, pricing for the Enterprise Plan varies accordingly.
Additionally, all Notion plans can add on the AI Writer feature for an extra monthly cost of $10 per member. With these various options, you can find a plan that suits your budget and workflow seamlessly while enjoying the benefits of Notion's powerful workspace solution.
Customer Support
Notion provides excellent customer support to assist users with questions or issues. From live chat support to an extensive knowledge base, Notion ensures its users receive the help they need promptly and efficiently.
Whether you're a beginner or an experienced user, their dedicated team is always ready to provide assistance and ensure a seamless experience. So, if you ever need help while using Notion, rest assured that their customer support has got your back!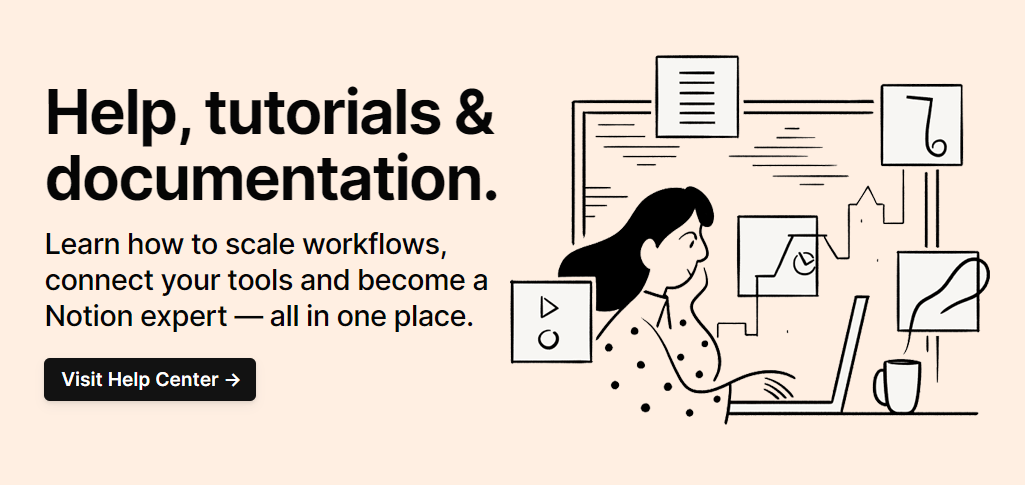 Notion understands the importance of assisting its users. They offer a range of support options to help you become proficient in using their platform. From learning resources for workflow optimization to integration techniques for connecting different tools, Notion has you covered.
You can also find information on security measures and practices through their Help Center. Just keep in mind that as a user, you are responsible for managing your data – from creation and usage to storage and processing guidelines and proper data destruction procedures.
And if you're on one of their paid plans, customer support can assist you whenever needed. So rest assured, Notion is there to support you every step of the way!
Conclusion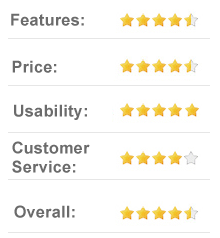 Notion is a versatile and user-friendly productivity platform that offers a wide range of features to help you stay organized and productive. With its customizable templates, collaboration tools, and integration with other apps, Notion is the perfect choice for individuals and teams looking to streamline their workflow.
Whether you're managing projects or taking notes, Notion provides a seamless experience that will enhance productivity. Try it today and see how it can transform your work process.