Olymp Trade is a binary options broker that's growing in popularity. Currently, their membership has reached over 25,000 clients. Olymp Trade launched in 2014 and has consistently made improvements to its trading platform.
Olymp Trade has won several awards over the years as well. In 2019, Global Brands Magazine named the 2019 Best Mobile Trading Platform and Best Customer Service Broker.
Olymp Trade took home several awards in 2018 as well and has made it their goal to stand out among the industry.
So, let's help you decide on whether or not Olymp Trade is right for you. There are tons of scans flooding the market, so let's make some critical distinctions here. In this review, we'll cover everything you need to know about this binary options broker before you dive into an account.
What is Olymp Trade?
Olymp Trade takes a hard interest in helping beginners out by offering tons of education on trading. They strive to help people like you and I, not just professionals, get into investing as a hobby or severe income stream.
Their free resources help beginners learn strategy-based trading, familiarizing members with the financial world, and assisting everyday users in getting a knack for thinking like a trader. As a member, you'll have access to webinars and video tutorials, interactive courses, and strategies handed down from experienced financial analysts.
The platform also focuses on short term trades lasting from 15 seconds to 3 hours. Within the platform, members can set specific expiration times, allowing them full control over their businesses, and the option to cancel losing trades at any time.

Olymp Trade is a binary options trading platform that's been growing a following of over 25,000 members since 2014, continually working on updating their platform to suit their members' needs.
Top Features and Products of Olymp Trade
Olymp trade features tons of user education to brush up on their knowledge of the financial world and learn strategies for active trading. The platform also features short term trades that are great for letting beginner traders get their feet wet.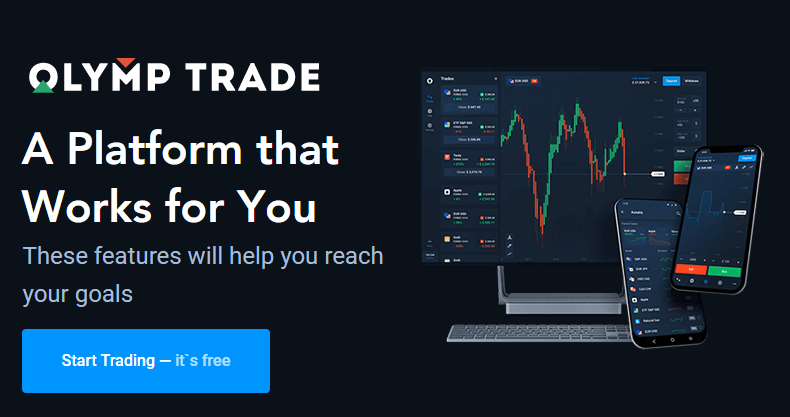 At Olymp trade, you can also use a free demo account. When you register your account, you'll be given 10,000 virtual coins to use in demo accounts. This way, you can start and learn along the way, without the risk of actually losing your money.
If you're an experienced user, you can simply use the demo accounts to feel out the interface.

Olymp Trade Fees and Payments
Here's what you can expect as far as fees and opening deposits.
Standard Account

---

To open a standard account, you need only to start with as little as $10. Olymp Trade is an excellent platform for beginners since you can start with a low initial deposit. When you begin investing, you can trade-in amounts between $1 and $2000. You must withdraw at least $10. However, there is no maximum.

Under the standard account, you can make one withdrawal per day, and each withdrawal will take about three days to process.

VIP Account

---

To open a VIP account, you must begin with an opening deposit of $2,000. When you sign up for a VIP account, you'll open the door for more benefits over the standard account. For starters, you can trade up to $5,000 with the VIP account where the standard account you can trade up to $2,000.

With a VIP account, you gain access to a VIP consultant. The VIP consultants have access to our experienced financial analysts, who can provide you with additional education and help you understand trading on a deeper level.
How Do I Open an Account with Olymp Trade?
To open an account, you'll go through a verification process. If you don't finish the verification process, you won't be able to withdraw your money. Here's what you'll need to do.
You can begin by gathering the required documents. You'll need a photo of yourself holding your passport or another identification card. You'll need all information to be visible in the picture. You can take a selfie for this photo, as long as it's from the shoulders up and completely visible (not blurry).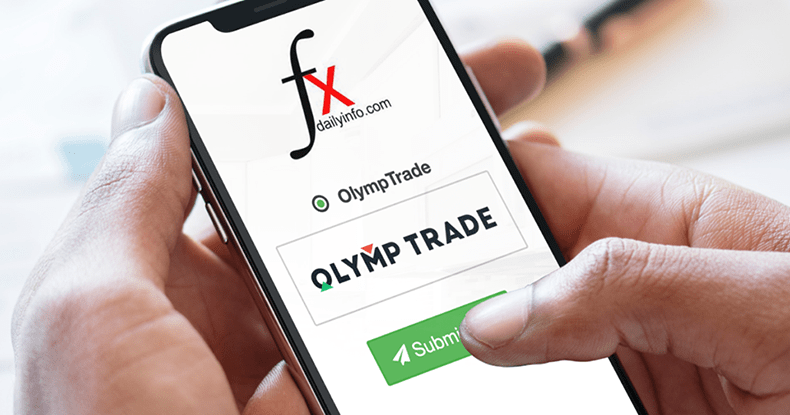 You'll also need a scan of the card you're going to use. You only need to have a photo of the front of the card, not the back. You need to have your name visible on the card and the first six digits, along with the last four digits visible.
If you are using an electronic wallet, you need to take a photo or screenshot of your electronic purse. The information that needs to be visible in your account number, account owner's name, and shows the deposit you made to Olymp Trade.

Next, you can send all documents (after you receive a verification request) to the email kyc@olymptrade.com along with your login (which is the email you signed up with). You'll receive an email notifying you that the process is complete.
If you have any trouble with the verification process, you can use customer support for additional help.
The Platform
The Olymp Trading platform is simple to use and very user-friendly. The interface has a clean feel and provides several links to make finding things easy. You have access to Olymp Trade via iPhone and Android apps, the desktop application, or the main website.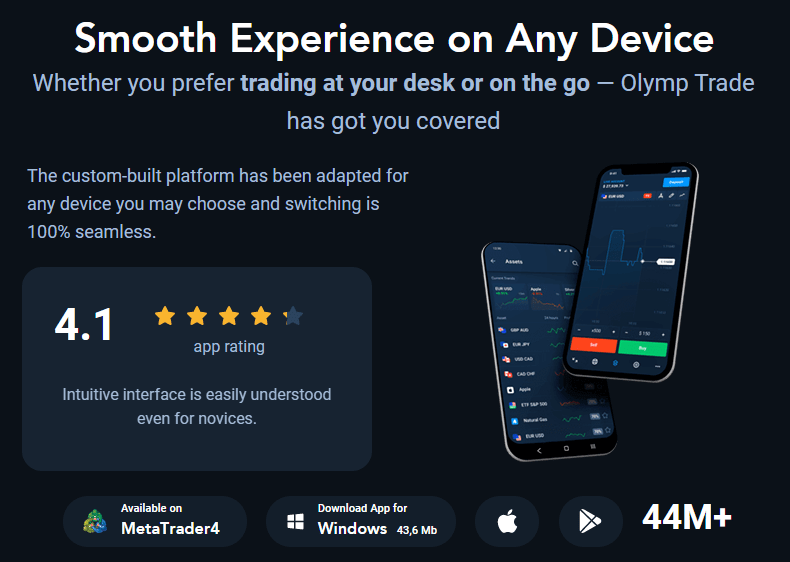 Being able to access your account anywhere, at any time, is a great perk with the mobile apps. The mobile apps can be beneficial, primarily since the platform focuses on short term trades.
The website is easy to use and straightforward and helps you keep track of your trades so that you can be successful. On your main page, you'll find an easy to decipher chart, which you can customize by choosing colors and graph type.

At the bottom of the main page, you'll find the help chat and more information regarding open and closed trades.
Funding and Withdrawals at Olymp Trade
To fund your account, you can use bank wire transfers, credit and debit cars, cryptocurrencies such as bitcoin, and e-payments such as Skrill and Neteller.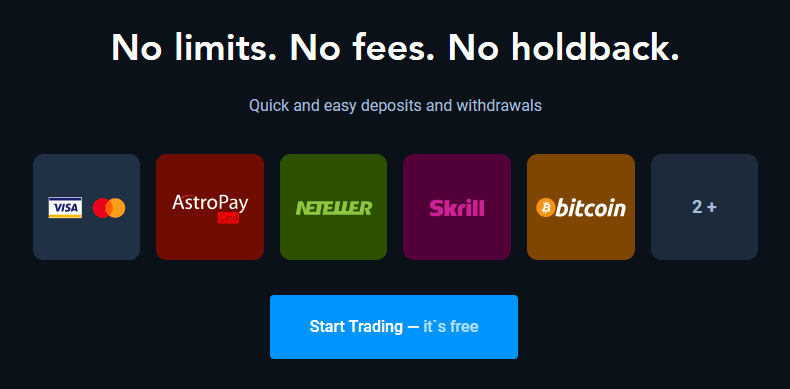 There are no fees assessed when making deposits, but you must deposit at least $10. Funds will deposit relatively quickly, but wire transfers can take a few days longer. If depositing cryptocurrencies, they tend to be available more quickly.
If you have a standard account, withdrawals take anywhere from 1 to 3 days, while VIP account holders will have access to withdrawals within hours.

Customer Support
Olymp Trade offers multi-faceted customer services that are available 24/7. Members can reach customer support via phone, live chat, and email. VIP account holders have additional customer support benefits.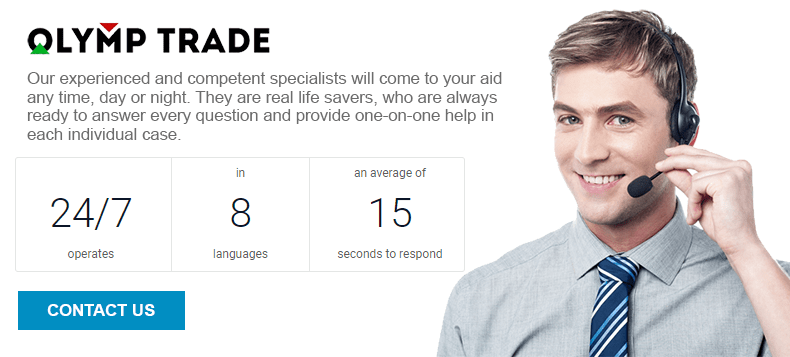 Finacom backs Olymp Trade, so if you're unable to resolve an issue within 14 days, you can file a dispute with FinaCom. Customer service tends to resolve issues long before getting to this point.

Am I Eligible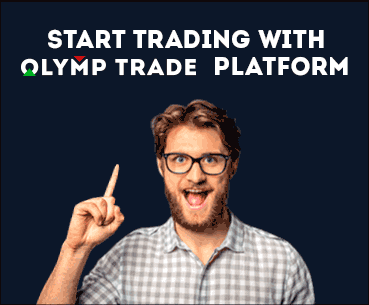 Olymp Trade allows members to join who are residents of most countries within Asia, Africa, and Latin America. Traders from other regions such as Vietnam, Philippines, Sri Lanka, Thailand, Egypt, Malaysia, Indonesia, Ukraine, Brazil, India, Nigeria, Singapore, Kenya, South Africa, and Pakistan are also allowed to join.
Olymp Trade is, unfortunately, unable to extend membership to residents of the UK, Russa, Japan, Canada, Europe, Australia, the United States, and Israel.
Olymp Trade makes every attempt to accommodate all users. At this time, the Olymp Trade is available in multiple languages, including English, Spanish, Hindi, Indonesian, Malay, Portugal, Thai, Vietnamese, Chinese, and Arabic.

Pros and Cons
Here are some of the pros and cons of using Olymp Trades
Pros

---

Company is long-standing, established in 2014
Regulated by the International Financial Commission
Low minimum deposit ($10)
Secure deposits and withdrawals via wire transfer, credit card, cryptocurrency, and E-wallets
Various asset types including commodities, stocks, ETFs, indices, and cryptocurrencies
Mobile app available
Expiry times 1 minute, 5 minutes, 10 minutes, 3 hours, and custom times

Cons

---

Uploading a photo ID is a little finicky, ensure that your photo is from the shoulders up
If you choose a credit or debit card to fund your account, you'll need to scan the card
You must provide a photo of your electronic digital purse if using an electronic wallet
The Verdict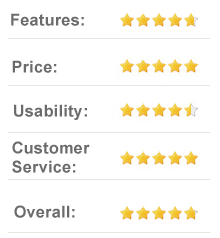 Both beginning traders and experienced traders find that Olymp trade is user friendly and a great place to start. Options for beginning users seems to be the main focus on this platform. More experienced users may find the lack of trading options to be lackluster.
However, for those experienced traders, the option for a mobile app with the binary trading platform can be enticing. For new traders, the amount of resources and educational materials makes Olymp Trade a great option.
Finally, we enjoyed the simple, uncluttered design of the interface that's user friendly. Rather than having too much going on, the main page of the interface focuses on precisely what you need to pay attention to as a new trader, which can make it superior to other options.