OpenSea is the largest marketplace for selling and buying NFTs. It's a startup that rose to popularity at a breakneck pace, and it's currently the best option for those who want to invest in NFTs.
About OpenSea
OpenSea.io was one of the first players in the NFT market, and it's currently the largest marketplace for these digital assets, with over one million collections and more than 34 million unique NFTs listed.
Before we discuss OpenSea further, we should briefly explain what NFTs are.
NFTs or non-fungible tokens are digital assets. They can be images, audio files, or even in-game items. These items are interesting because they use the same blockchains as some cryptocurrencies to verify their authenticity.
While users who invest in cryptocurrencies get coins that are interchangeable, NFT collections give users the opportunity to buy digital items that are unique. The blockchain guarantees that you're the only person who owns this asset, and the rarity is what drives its value.
OpenSea.io is currently the largest marketplace for buying and selling NFTs. This NYC-based company has been around since 2017.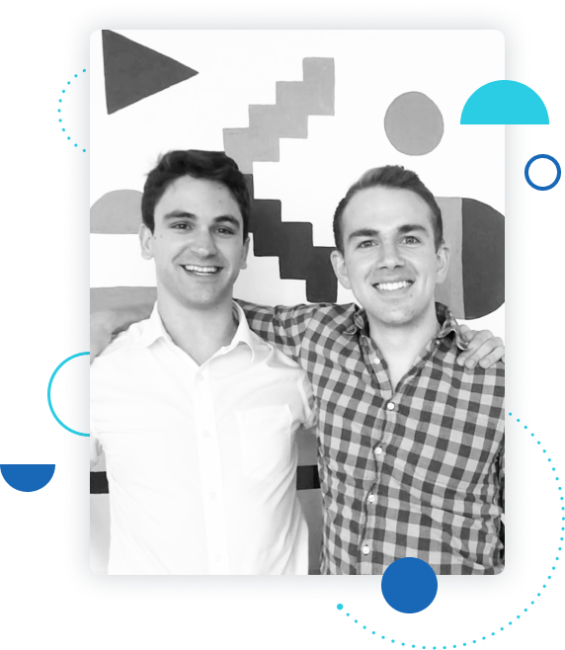 The two founders, Devin Finzer and Alex Atallah, both have a background as software engineers. Devin Finzer had already launched two companies prior to OpenSea.
The startup initially attracted investors in the crypto space but grew at an impressive pace once NFTs started becoming more popular. It raised an impressive $100 million in its latest round of funding, with investors like Mark Cuban or Kevin Durant.
OpenSea has played an important part in making NFTs more mainstream through its user-friendly interface and collaborations with celebrities like singer Shawn Mendes or NFL player Rob Gronkowski.
Top Features of OpenSea
OpenSea quickly grew to become the top NFT marketplace by offering a user-friendly experience.
A Traditional Marketplace
Even though OpenSea sells a new type of asset, the startup didn't seek to reinvent the concept of online shopping. Users will find features they're familiar with to browse for assets and make purchases.
The marketplace interface makes it easy to explore available assets through search tools and filters. Users can look up collections, use a price filter to see NFTs in their price range, or even select NFTs backed by a specific blockchain.
The category filter is interesting because it helps users explore different types of digital assets, from artwork to virtual trading cards or even domain names. Even though NFTs remain the primary focus, these tools are worth mentioning since they could help you diversify your digital asset portfolio.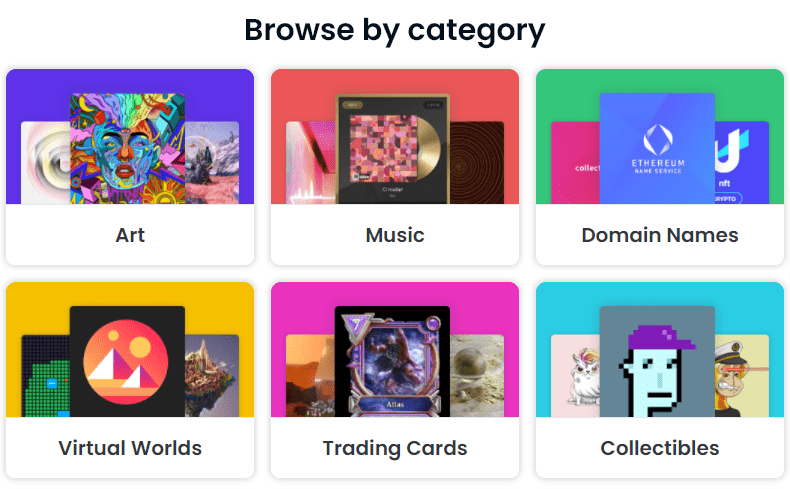 Buying an NFT is just as easy as ordering a product on an eCommerce platform. You can purchase some NFTs instantly, while others will require you to bid on them. The bidding process is simple and similar to what you would find on eBay.
The only requirement for using OpenSea is to have an Ethereum wallet connected to your account. You can use different services to create a wallet, but OpenSea links to MetaMask and refers to this service multiple times in its documentation. It's unclear if there is a partnership with MetaMask or if OpenSea endorses this wallet provider because it's reliable and easy to use.
OpenSea recently launched a mobile app. The app offers a user-friendly experience and allows you to browse for NFTs and purchase digital assets on the go.
Creating and Launching NFT Collections
OpenSea became a significant player on the NFT market by offering tools developers can use to create and launch their own collections. It's important to note that there are no specific requirements to become an NFT creator. Anyone who knows a few things about coding and creating digital artwork can launch a collection.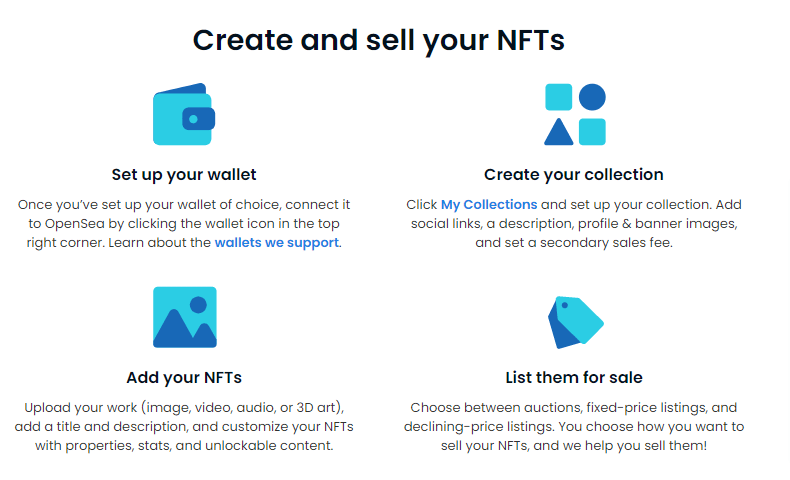 OpenSea uses the ERC721 standard to authenticate ownership. This standard adds a layer of security when buying or selling NFTs.
There is a GitHub repository with the code you'll need to turn your digital files into NFTs and upload your collection to OpenSea. You will also find detailed documentation for adding metadata to your digital assets and help users learn more about your collection.
Once you have created your NFTs, the process for listing them on the marketplace is straightforward. OpenSea has detailed tutorials for every step of the process of launching a collection, but keep in mind that you will need a few technical skills, such as executing code from Github.
As a content creator on OpenSea, you will receive a fee every time users buy and sell your creations. You can adjust this fee when launching your collection.
Making Data Available
OpenSea is more than a marketplace. It's also a reliable source of information about the NFT market.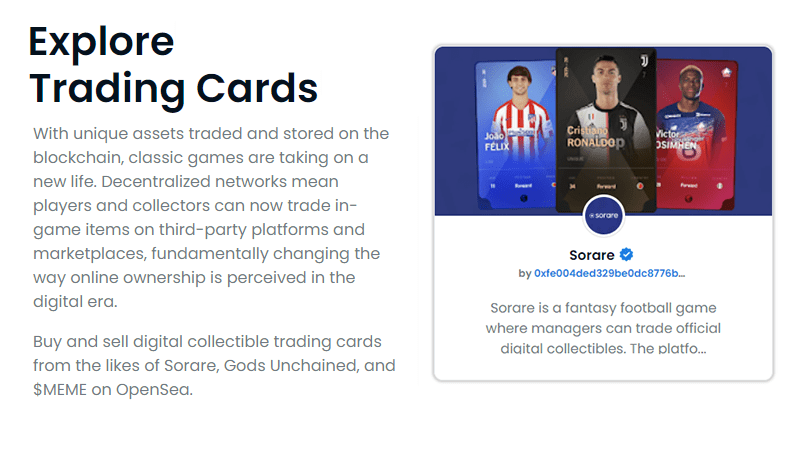 Because the value of digital assets can change quickly, it's important to stay up to date with the latest trends and pricing data.
You can find a portal with statistics that reflect trading activity for different NFT collections. This tool features a user-friendly interface and gives a good overview of current market trends.
Learning More about NFTs
NFTs can be intimidating if you're new to collecting digital assets. Thankfully, OpenSea has a collection of resources to help you get started. The resources are very comprehensive and make learning about NFTs fun.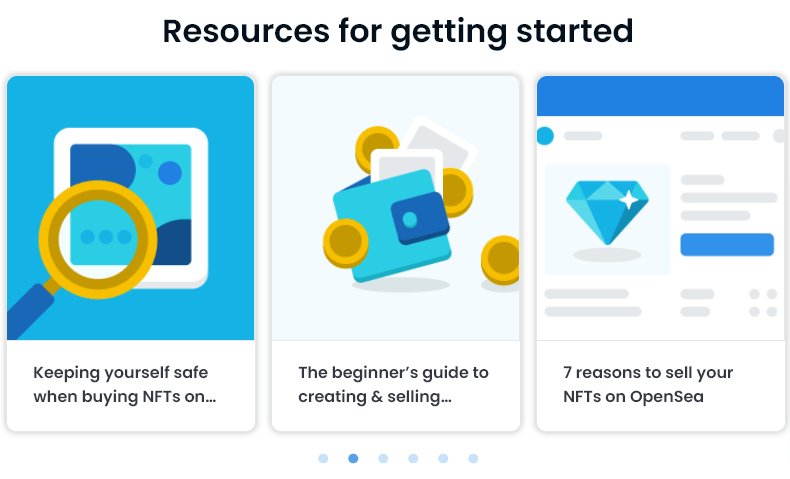 You'll find a help center with some guides that address common questions. There is also a blog where you can keep up with the latest trends.
OpenSea also has an active community on a Discord server that you can join to learn from other users.
Commissions and Costs
OpenSea will take 2.5% of every sale. The largest portion of the sale proceeds will go to the seller, and a smaller portion will go to the initial content creator for the NFT.
OpenSea doesn't charge any additional fees, but because you'll be using an Ethereum wallet to buy or sell NFTs, you will pay different gas fees for using the Ethereum blockchain.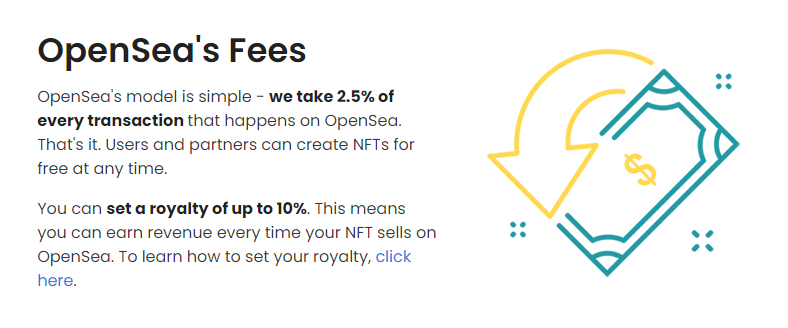 You will pay a one-time fee for connecting your Ethereum wallet to OpenSea. If you're listing NFTs on OpenSea that you created on another platform, you'll have to pay a contract approval fee for each item.
Other actions result in gas fees, such as accepting an offer from a buyer, canceling a bid, completing a purchase, and more.
Customer Support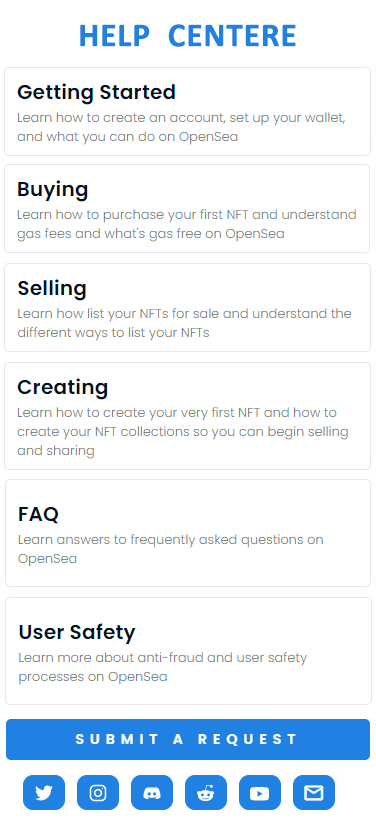 If you need help with buying or selling NFTs, your best bet is to check the help center and look for an article that answers your questions. Developers can find extensive documentation with instructions on creating and selling collections.
There is also a helpful tool for checking the status of the marketplace in case you run into technical problems.
There is an active community of OpenSea users, and you can get help through the marketplace's Twitter page, on its Discord server, or via its official subreddit. You can sometimes get an answer from an OpenSea developer on these platforms, but there are no regular hours for customer support and no guarantee that you'll get an official answer if you use these channels.
However, you can click on 'submit a request' in the top right corner of the help center page to send a ticket. This link will take you to a page where you can explain the issue you're experiencing, but there is no information about how long it will take to get an answer.
Overall, OpenSea stands out with the quality of the articles and documentation it offers but falls short by not offering a more traditional customer support experience with a phone number you can call or a live chat feature.
OpenSea is growing at a fast pace and actively recruiting new employees, so it's possible that it will improve its customer support experience in the near future.
It's also worth noting that launching a collection can be technical. Unless you know how to work with an API and Github repository, following the documentation can be challenging.
Licenses and Regulations
It's important to keep in mind that OpenSea is only a marketplace for NFTs. Due to the nature of these assets, the blockchain that backs them up will verify their authenticity.
However, OpenSea doesn't guarantee that the NFT listed on its platform is authentic. It's up to the users to look at the metadata and verify the authenticity of the assets.
Final Thoughts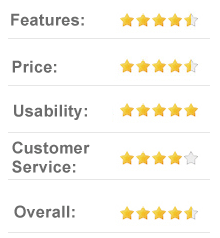 OpenSea is a promising startup that is making waves in the NFT market. It stands out by offering a safe and user-friendly experience for those who want to buy or sell NFTs, or even launch their own collection.
It's currently the largest NFT marketplace in a space with little competition. It will be interesting to see if OpenSea launches new features and continues to grow as more startups enter this market.