Need help managing your remote workforce spread across the globe? Enter OysterHR.com, a comprehensive global employment platform bridging this gap. This article will explore how their efficient, easy-to-use HR software can simplify your international hiring and payroll management process.
If you're ready for an effortless way to handle distributed team management, keep reading!
About OysterHR
Founded with a mission to revolutionize global HR management, OysterHR is a distributed HR platform that enables companies to hire and manage talent worldwide. Their advanced technology and user-friendly interface provide seamless solutions for remote workforce management, international hiring, payroll management, and more – all in one centralized platform.
History and Mission
Oyster HR's inception is rooted in the digital age's rise, where globalization and the need for remote collaboration became more prevalent. Founded by forward-thinking Tony Jamous in 2019, who recognized the increasing demand for streamlined global HR processes, Oyster HR was created to tackle the challenges of international employment.
With its foundation in technology and commitment to breaking geographical barriers, the platform rapidly gained traction among businesses seeking a seamless approach to global hiring.
OysterHR evolved into a comprehensive platform that enables growing companies to hire remote workers on a massive scale, making international hiring no longer an obstacle.
Aiming to create a more balanced world, OysterHR gives visionary HR leaders the tools to find, hire, manage, and develop top-notch talent worldwide.
The motto? Crafting a more equal world one remote hire at a time!
Today OysterHR stands out as a cutting-edge global employment platform. This groundbreaking tool lets businesses hire top talent worldwide without restrictions or setbacks.
Oyster HR efficiently combines EOR/PEO services, HRIS, payroll management, and more into one user-friendly system. With its focus on the evolving landscape of global employment and the future of work, it is paving the way for international hiring practices.
Top Features
From hiring full-time international talent to automating workflows, OysterHR has everything you need to streamline your global employment process.
Hiring Full-Time International Talent
Expanding your company's talent pool on a global scale is a breeze with OysterHR. The platform breaks down international boundaries, making it simple to scout and hire full-time employees from across the globe.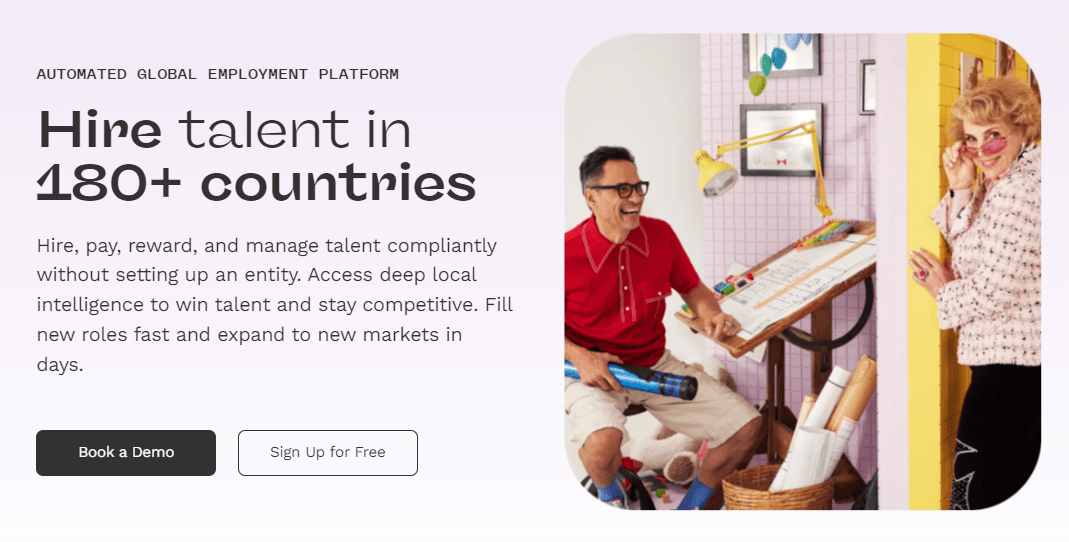 This approach diversifies your team and helps uncover hidden opportunities based on new perspectives offered by international hires. It's important to understand though, that hiring overseas comes with its own legal obligations you'll need to meet as an employer.
Fortunately, this task becomes less daunting thanks to OysterHR's comprehensive features that streamline the global hiring process while keeping in line with international employment laws.
Hiring Global Contractors
Hiring global contractors through OysterHR.com opens up a world of talent for your company. With access to a diverse pool of international independent workers, you can easily overcome local skill shortages and find your needed expertise.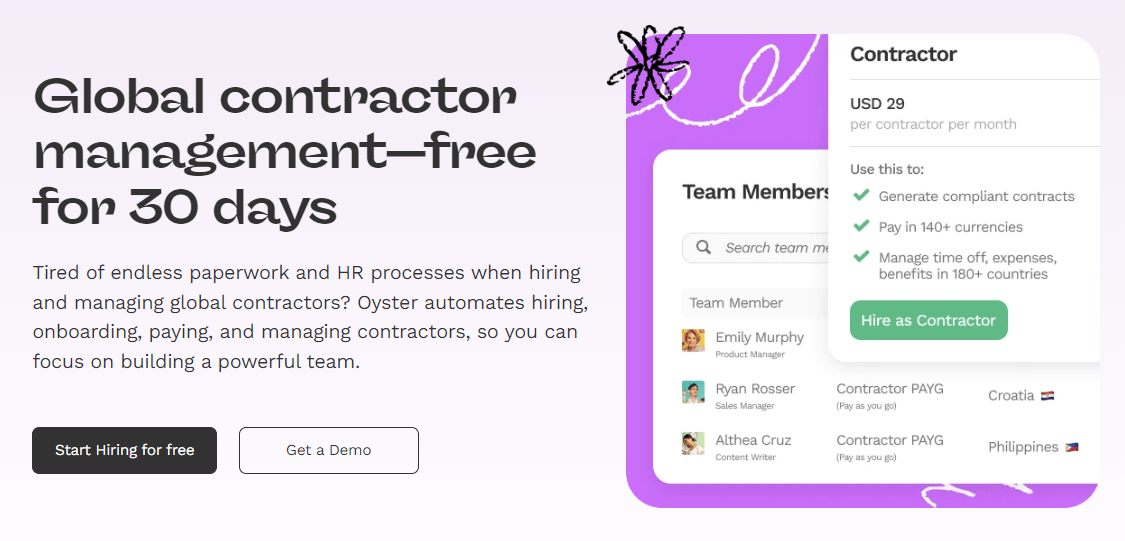 The platform allows you to find, engage, pay, manage, develop, and care for your contractors in over 180 countries. Plus, OysterHR.com ensures compliance with global regulations and offers the convenience of paying your contractors in their preferred currency.
Expand your workforce with outsourced contractors from around the globe and build a virtual team that meets all your business needs.
Automated Workflows
OysterHR's global employment platform offers automated workflows that streamline and simplify hiring processes. With workflow automation, you can efficiently connect with candidates and bring top talent to your organization.
By automating HR workflows, OysterHR helps you save time and resources while ensuring compliance with international hiring practices. From onboarding to payroll, the platform provides seamless automation that enables fast-growing companies to manage and grow their employees effectively.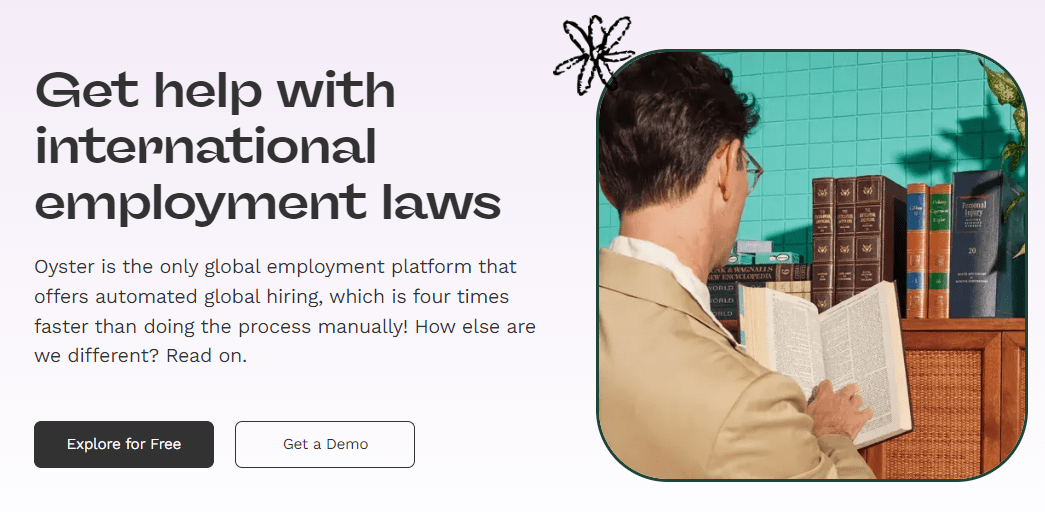 With OysterHR's HRIS system, you can streamline your global HR workflows through automation. The platform simplifies candidate management with recruiting automation features, making finding the right fit for your company easier than ever.
Say goodbye to manual paperwork – OysterHR's onboarding automation ensures a smooth transition for new hires, while multi-country payroll systems offer hassle-free solutions for managing payroll across borders.
Employee-Centric Solutions
OysterHR.com offers employee-centric solutions that put your employees at the center of everything. With an employeecentric approach, OysterHR is committed to ensuring employee satisfaction, engagement, and wellbeing.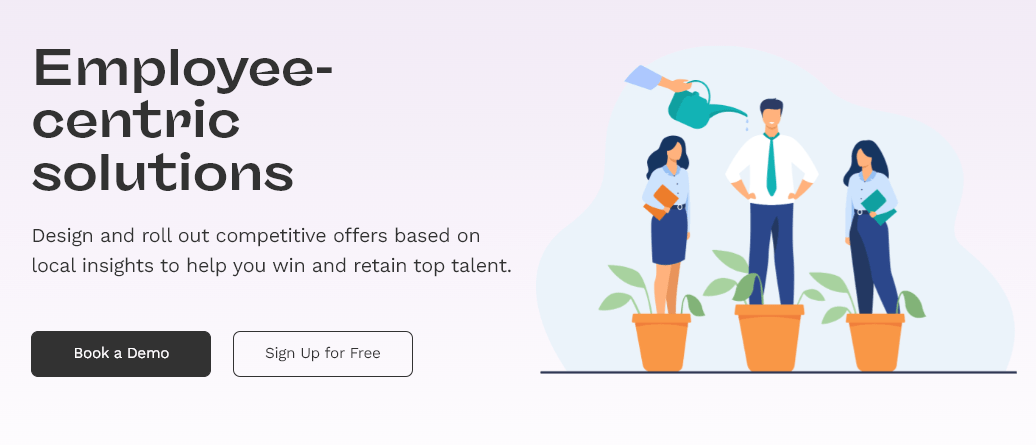 The platform empowers employees by providing opportunities for development and recognition. You can enhance retention rates and build a more motivated workforce through employee-centric solutions.
Take advantage of features such as personalized benefits packages and innovative programs designed to meet the unique needs of your employees. Transform your workplace into an environment where your employees thrive with OysterHR's employee-centric solutions.
Global Compliance & Protection
OysterHR.com understands the importance of global compliance and protection, offering watertight safeguards for companies operating worldwide. They provide locally compliant contracts in over 180 countries, ensuring your organization meets all necessary legal requirements.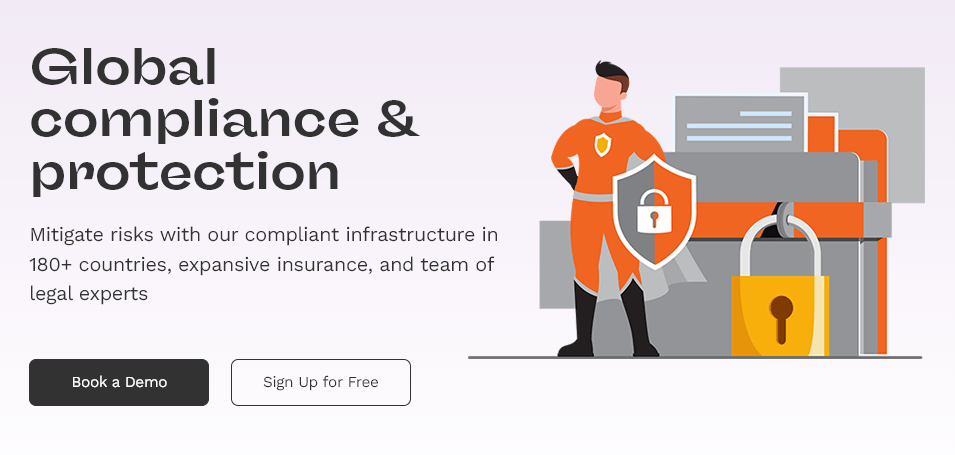 Their platform is specifically designed to help visionary companies navigate multi-country payroll compliance and overcome the challenges of paying international employees across different jurisdictions.
Their expertise in compliance and regulatory support ensures that you stay on top of tax and social security withholding regulations in each country where you have employees.
Employment Cost Estimation
In international hiring, OysterHR stands out with its feature that allows companies to get a clear estimate of employment costs before hiring.
The employment cost calculator is a handy tool for businesses, providing insights into hiring costs in various countries. It aids in budget management and ensures that companies make informed decisions while expanding their global teams.
Efficient Onboarding
OysterHR revolutionizes the onboarding process with speed and efficiency at its core. For certain countries, the platform can have a contract ready to sign within 48 hours.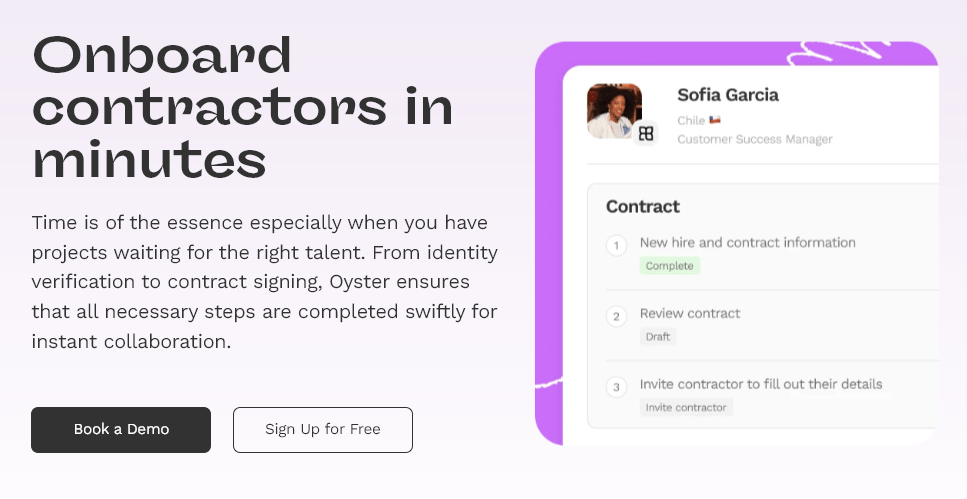 This swift process ensures that businesses do not lose out on top talent due to lengthy onboarding procedures and that new employees can quickly immerse themselves in their roles, contributing to the company's goals.
Legal Expert Assistance
Navigating through the complex landscape of international employment laws is made simpler with OysterHR's dedicated legal team.
Expert legal assistance ensures companies hire compliantly, meeting all local requirements seamlessly. The legal support extends to various countries, allowing your business to be globally compliant, safeguarding against legal complications.
Multi-Country Payroll
Running international payroll becomes a breeze with OysterHR's intuitive platform. It's designed for simplicity and efficiency, allowing businesses to handle payroll in multiple countries with just a few clicks.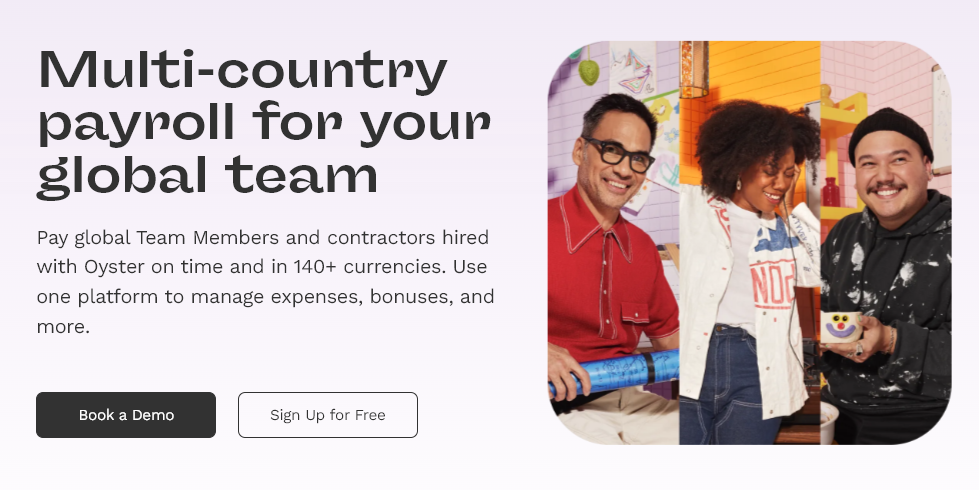 Every aspect, from currency conversions to tax deductions and compliance, is managed efficiently, giving companies the ease to focus on core business functions.
International Payments in Over 120 Currencies
With OysterHR, global payments are streamlined. Companies can pay their international team in over 120 currencies, ensuring compliance and contentment among employees who receive their wages in their preferred currency.
This feature eradicates the complexities of currency conversion and international transactions, offering a seamless payment process for both employers and employees.
Payroll Cost Management
Financial management is streamlined as OysterHR enables businesses to manage all their invoices in one place.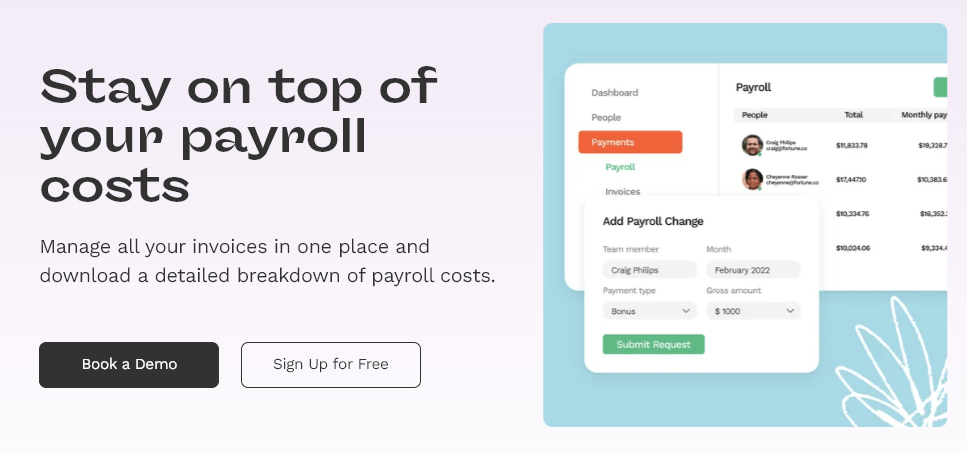 Companies can download a detailed breakdown of payroll costs, facilitating better financial planning and budget allocation. This transparency in cost management aids in organizational efficiency and financial health.
Expense Management
OysterHR's built-in expense management feature empowers team members to make necessary purchases for remote work efficiently. The streamlined process for approving and reimbursing expenses ensures that employees are equipped with what they need, fostering productivity and job satisfaction.
Pricing
OysterHR.com offers flexible pricing tiers to meet your hiring needs. With seat-based subscription pricing, you can efficiently hire 5+ team members with ease. The pricing starts at USD 499 per monthly employee when paid annually upfront.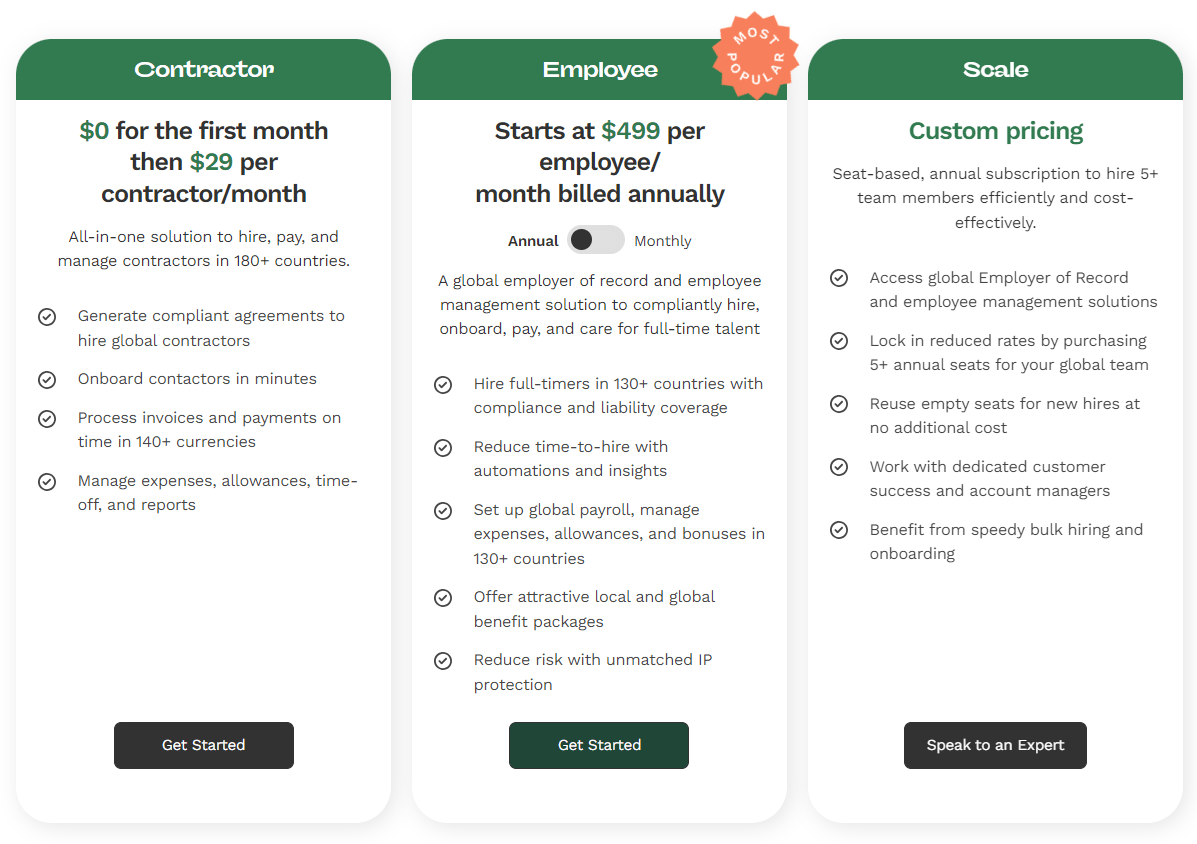 Plus, with Oyster Scale, you can enjoy reduced rates and locked prices when purchasing 5+ seats for the year. And that's not all – OysterHR.com even offers employee stock options, giving you the opportunity to buy company stock at a discounted price compared to the open market value.
So, whether you're building a global team or expanding your workforce internationally, OysterHR.com has the right pricing tier for you.
Customer Support
OysterHR.com offers dedicated customer support to ensure a smooth experience for users.
OysterHR.com values its customers and is committed to providing exceptional customer support throughout your global employment journey.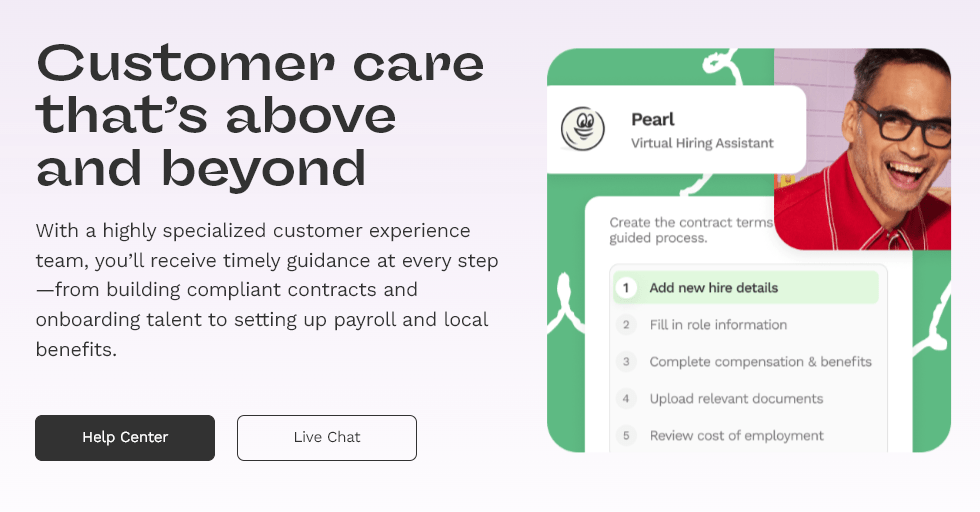 Whether you need help with troubleshooting, guidance on using the platform, or expert advice on global compliance and protection, they've got you covered. With in-app support and continued assistance from a dedicated team, you can rest assured knowing that they will help resolve any issues or answer any questions as quickly as possible.
At OysterHR.com, their goal is to make your experience seamless and stress-free by providing top-notch customer service at all times.
Conclusion & Final Thoughts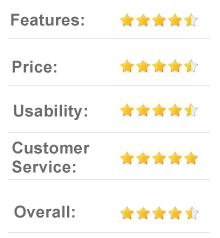 In conclusion, OysterHR.com is revolutionizing the way companies hire and manage global talent. With their distributed HR platform and specialized support teams, they make it easy to find, hire, and take care of employees from anywhere in the world.
Whether you're looking to expand your international workforce or streamline your remote team management, OysterHR.com has the tools and expertise to help you succeed. Try their global HR software with a free trial today and unlock a world of possibilities for your business.