After a few years of using another e-commerce site, I finally took the leap and got started with Payhip. I'm glad I did. It truly is an all-in-one solution.
Payhip makes it easy to monetize your digital content, including ebooks, memberships, music, software, courses, videos, and digital art — you can also sell physical products. You sell your products directly to customers and get paid instantly via PayPal or Stripe.
Payhip is similar to Fiverr, Podia, and other similar e-commerce sites, but the fact that you get paid instantly for your sales is one of my favorite things about it. That, plus it automatically handles European taxes (EU VAT) for you.
Payhip seems to cater mostly to bloggers, writers, and artists. But anyone with a product to sell can use it. The site is user-friendly and doesn't require a huge time commitment to learn.
About/History of Payhip
Payhip is a small, UK-based company founded in 2011 that prides itself on helping content creators make a living. The company was co-founded by engineer/designers Abs Farah and Kahin Farah, who at the time felt there wasn't a reliable way to sell digital products or memberships. Today there are over 130,000 users worldwide.
Payhip describes its e-commerce platform as one that "enables anyone to sell digital products or memberships directly to their fans and followers. You can embed Payhip directly into your website, or you can use our storefront to sell your work. Payhip takes care of everything."
One of the other things I like about the site is that it includes helpful tips for content creators, many of which were written by Abs Farah.
Top Features / Reasons to Join Payhip
First of all, it's easy to get started with Payhip. Just enter your email address, input your user details, link your PayPal or Stripe account, and start uploading content.
Let's take a look at the site's two main features: selling digital downloads and selling memberships/subscriptions.
Digital Downloads
Payhip provides embed buttons so you can sell directly on your website. No website? No problem. Payhip will give you a unique store URL that you can share with others via your blog or social media channels. Custom domains are available for free.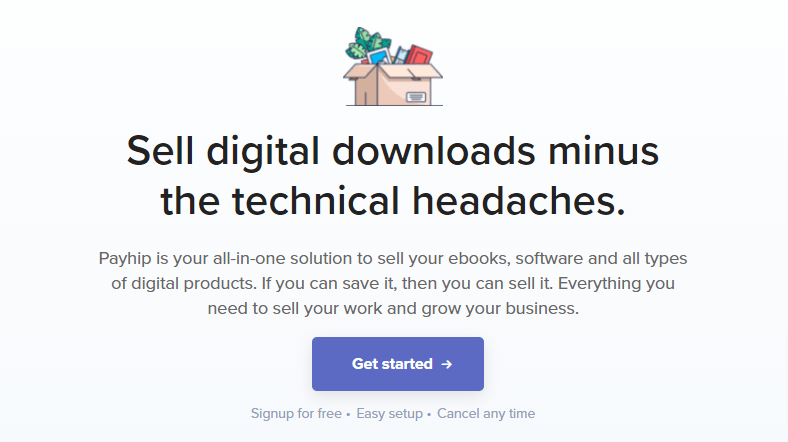 Customers shop your content and place it into the integrated shopping cart. When ready to check out, they can pay via PayPal or from all major credit cards. After they make a purchase, they are automatically presented with a thank you page where they can instantly download your content.
The checkout process is designed to provide a seamless experience whether the customer is on mobile, tablet, or desktop. The process is fast and painless so that you don't lose customers due to a cumbersome system. In other words, Payhip values high conversion rates.
Top features include:

Design flexibility
You can customize the way your checkout looks to fit your branding.

Alert customers to new products and offers
Payhip offers email update capabilities.


Build your list
Payhip allows you to sync your customers to your mailing lists on common platforms such as MailChimp.


The ability to take offers
Want to enable potential customers to make you an offer? Payhip offers a setting for this, and you can set a minimum price.

An affiliate system
Payhip has a built-in affiliate system that enables you to reward others when they refer customers to your products.

The ability to offer custom coupons
You can choose the amount of the discount and include expiration dates; coupons come in handy when running promotional campaigns.

Social discounts
They offer discounts to customers who like or share your content.

Limited downloads
By default, customers can only download a file three times; this helps prevent content piracy.

Software licenses
If you'd like, Payhip will generate, store, and issue keys to protect your software at no cost.

Stamped PDFs
Payhip can use watermarks on each page of your PDFs to ensure that customers don't illegally share.

No storage limits
There is a 5GB per file limit, but storage is unlimited.
Memberships/Subscriptions
Do you have a monthly subscription box for sale? Do you want to create membership options for your community to receive custom content once a month? Do you want to sell a weekly course? These are just a few examples of what you can do on Payhip.
Payhip helps you easily set up recurring payments from customers. It then takes care of customer management, email updates, and content delivery.
How does it work? You set up different plans for your membership, with different pricing, recurring intervals, and more — you are in control.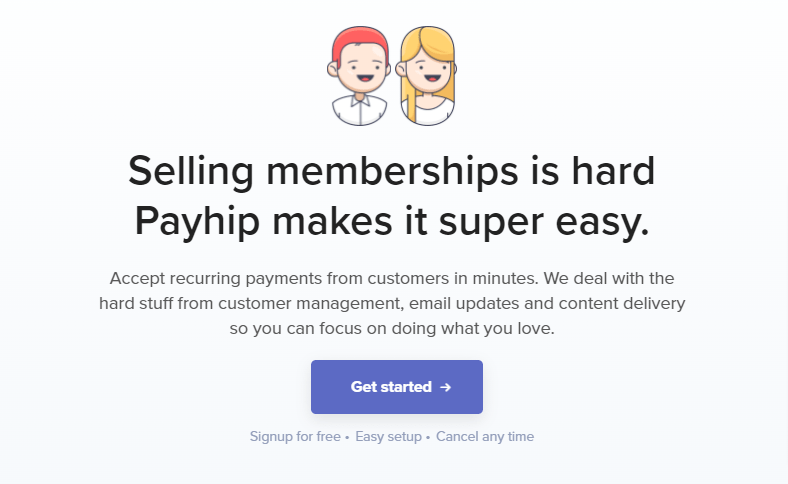 Your subscribers can sign up quickly — all they have to do is give their name, email, and payment details. You can set up accounts to accept recurring payments from members if you so choose.
If you want to provide exclusive content to a certain set of customers — say as a monthly incentive or thank you — you can do that, too. Payhip provides a way for customers to login and access your exclusive content. No coding is required on your part.
One of the nice things here is that customers get their own account, which they can manage on their own. It shows their billing history, credit card details, and type of plan, which they can change themselves. Members can cancel at any time.
Features include:

You're in control of member management
View billing histories and manage cancellations

Pick a billing interval that works for you
Charge members weekly, monthly, annually, or however you choose

Free trials
You can set up free trial memberships before anyone is ever charged a thing.
Payhip Helps You Market Your Offerings
As mentioned above, Payhip has an affiliate system, lets you offer custom coupons and social discounts, and offers the capability to link to your email service provider to manage customer maililngs. All of this is very useful when you're trying to build loyalty and increase your sales.
In addition, when a customer is checking out, the site offers them a related product. Payhip calls this their cross-selling feature.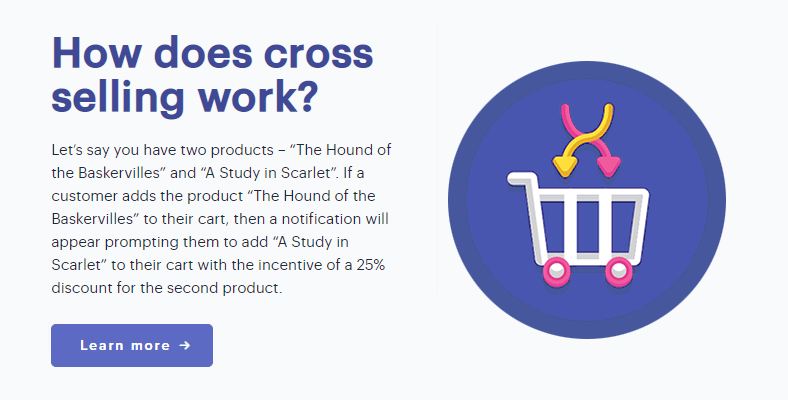 Another cool feature? Payhip lets you build your subscriber list by offering free content. After giving the subscriber a taste of your content, hopefully, they will purchase paid content from you in the future.
Want to see which of your products is getting the most traffic? Where are the visitors coming from? Which products are selling the best? Payhip gives you the ability to go into advanced settings and insert your Google Analytics unique ID to enable ecommerce tracking.
Costs
Payhip offers three plans: Free, Plus, and Pro. Sign-up is easy, and no credit card is required for the free plan.
With all of the plans, you get all features, unlimited products, and unlimited revenue.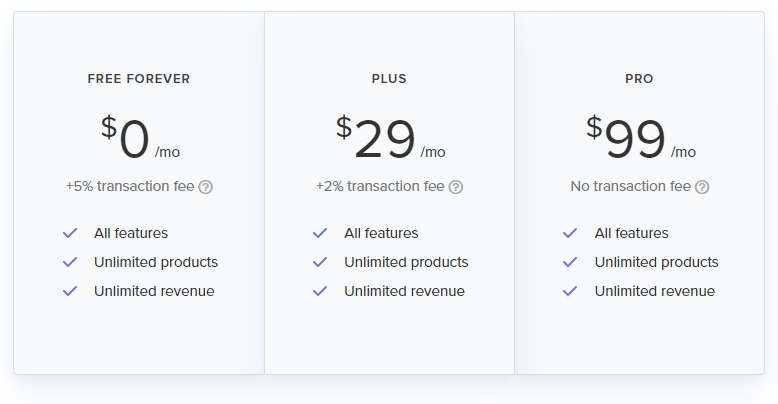 With the free plan, there is a 5% transaction fee.
The Plus plan is $29/month, and there is 2% transaction fee.
The Pro plan is $99/month, and there are no transaction fees.
Keep in mind that you'll also have PayPal or Stripe transaction fees. So if you'll be selling a lot of content through Payhip, it will probably make sense to purchase a Plus or Pro Plan. You can cancel at any time.
Customer Support
Because Payhip is a small company, they pride themselves on being responsive. You can get the help you need by contacting them via email or Twitter.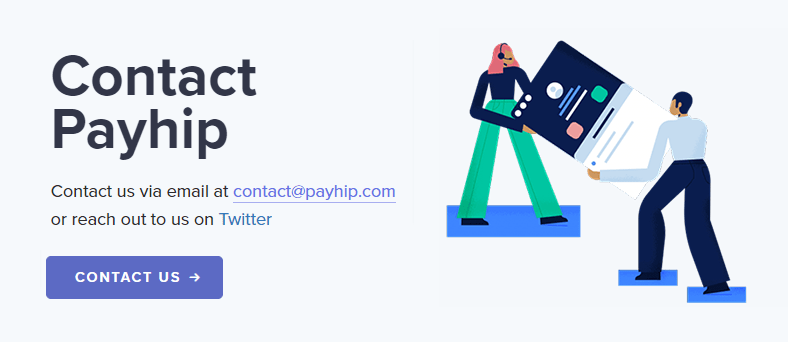 In addition, they have many easy-to-navigate resources on their website that will walk you through setting up, testing, and managing your store. Troubleshooting information is provided as well.
More information is also provided for customers that may have issues with PayPal. You also have the option to make refunds to customers.
Final Thoughts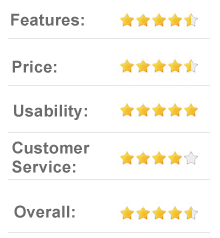 There are no exclusivity requirements to sell on Payhip. So if you're already selling on Amazon, for example, you can list your content on both sites. You really have nothing to lose by giving Payhip a try.
One of the best things about Payhip is that you don't have to be super tech-savvy to use it. It's really come a long way since I first considered it a few years ago. With the new customization features, the robust integrations, the built-in marketing features, the EU VAT coverage, and everything Payhip has done to ensure a positive customer experience, it's a great choice for any content creator.