Storing your photos and documents on external hard drives isn't as great of an option as it used to be—the hard drive can break, something can spill on it, or it could get destroyed in a house fire.
That's why online cloud services are the new best way to store your precious digital assets. However, choosing a reliable service is crucial. Otherwise, you run the risk of sensitive files getting hacked.
For this reason, we love the services that pCloud offers. In fact, they invited hackers to get into their system before making it public, and none of them succeeded.
We'll walk you through how pCloud works so you can determine if it's the right company for your online file storage needs.
About pCloud.com
pCloud.com is a Swiss company that started in 2013. Since then, they've averaged over one million users per year, as their current count stands at 14 million happy pCloud customers.
Knowing that online storage is vital for keeping up with a rapidly evolving tech world, pCloud created a user-friendly interface that allows anyone to store their personal or business files and photos online without undergoing a learning curve.
They pride themselves on being a young team with a strong background in technology. By trusting pCloud with your storage needs, they promise to keep your most sensitive documents safe and secure.
Top Features of pCloud.com
We believe that pCloud is among the best cloud storage companies in the industry. However, it's not the only one. Understanding the ins and outs of an online storage company is crucial before deciding which to choose. So, below are the features that we believe make pCloud stand out from the crowd.
Free 10 GB of Storage
One of our favorite parts of pCloud.com is that you don't have to pay to take advantage of their platform. To show their users their quality service, they offer 10 GB of free storage.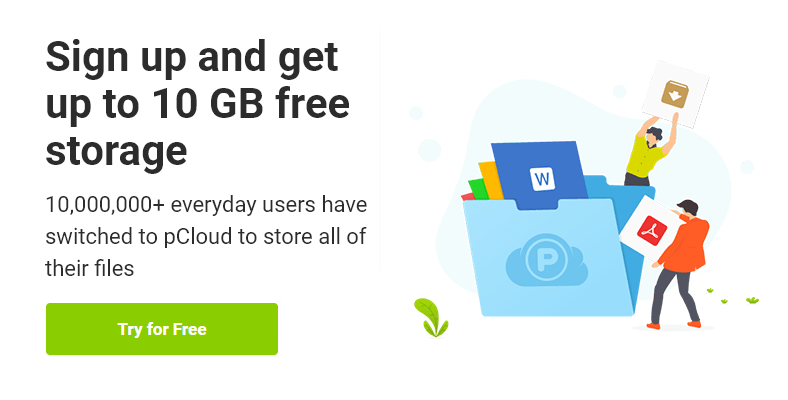 If you're unfamiliar with how much 10 GB of storage is, it's a generous amount. You'll be able to store photos, documents, and short videos with that amount of space.
Furthermore, the files you upload to your free pCloud account will have the same security, backup, and collaboration features as paid accounts.
When the inevitable moment comes that you need more cloud space, upgrading to a paid plan is painless, as you won't have to worry about transferring your files to a new account.
Strict Security Measures
The benefit of storing your photos and files online is that you'll have access to them even if your home gets destroyed in a fire or flood. However, keeping anything online comes with the risk of hackers gaining access to your personal information.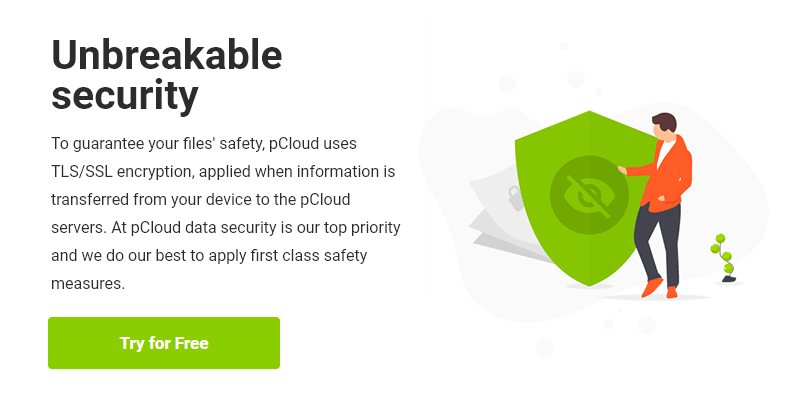 That's why pCloud uses TLS/SSL encryption. They store anything you upload to your account on at least three different servers. That way, your files are always available to you and nearly impossible for hackers to access, thanks to server-side encryption.
Encryption Upgrade Option
pCloud offers you the opportunity to take your account security one step further by adding client-side encryption. By including this feature, you'll be the only person with the keys to access the sensitive documents, photos, and videos you choose to encrypt.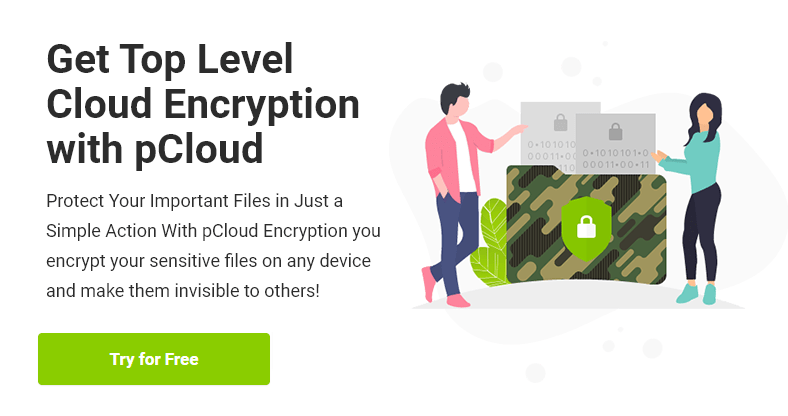 We love pCloud because they built this encryption protection themselves and opened it up to hackers and technology professionals to try to decode.
The aspiring hackers had 180 days to try to get into pCloud's encryption system, motivated by an award of $100,000 for anyone who managed to get in. After six months, none of the 2,860 participants managed to break pCloud's code. Now that's impressive!
Easy File Sharing
Whether you want to share photos of your recent vacation with your parents or a PowerPoint presentation with your team, you can share any file that you have on pCloud with other people, regardless of whether they have an account.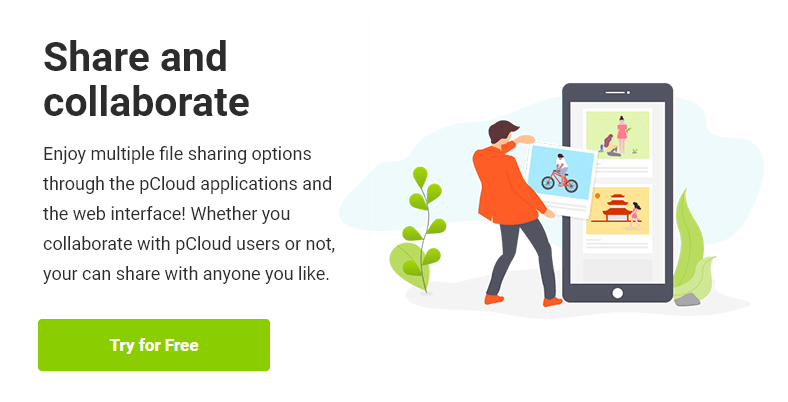 You can quickly create a link to share files with people who don't have a pCloud account. That will allow you to share even large files. You can also have people send files to your pCloud account by making a file request. No one will ever have access to your account during the process, but you'll be able to view the files they upload in a single, organized place.
Automatic Backup
Sometimes you might be doing work on your laptop that isn't directly in the pCloud. However, by taking advantage of pCloud's computer backup, any folders you link from your computer to the cloud will automatically update and backup as you work on them.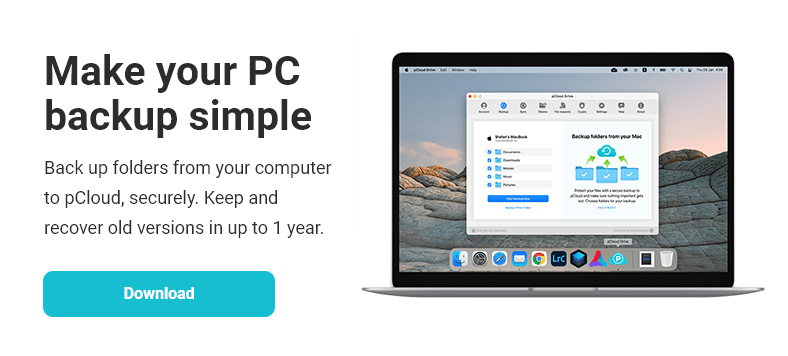 Best of all, you don't have to worry about a file being too big or having to manage speed limits. You can also access your linked laptop files from any device. Therefore, you'll always have the most recent files at your fingertips from any of the following platforms:
Desktop (Windows, Mac, and Linux)
Web browser
pCloud will automatically store all your old files in the trash bin for 30 days. However, if you wish to hold onto those files for longer, you can click on "extended file history," where you'll be able to recover file versions up to one year old.
User-Friendly Interface
No matter how organized you like to keep your files, there comes a time when you may have too many files to keep up with. And if organizing isn't your thing, that's okay too—pCloud makes it simple to find your documents.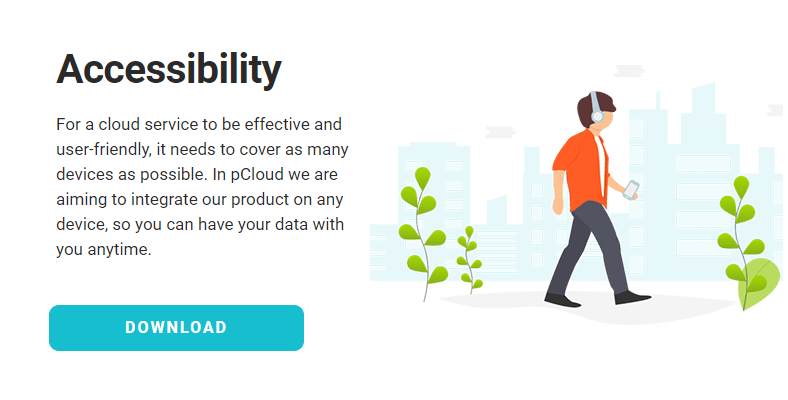 They offer a search tool that will instantly point you to your file or folder when you type in the name of it. You can also filter your documents according to their format. You'll have the following options to choose from:
You can also sift through your trash folder in a similar fashion. And if you're the type of person that hates seeing unneeded files hanging around, you can permanently delete the folders in the trash can instead of waiting for the system to do it for you every 30 days.
pCloud's Fees
Once you need more storage space than the free 10 GB, pCloud offers two payment tiers. They include: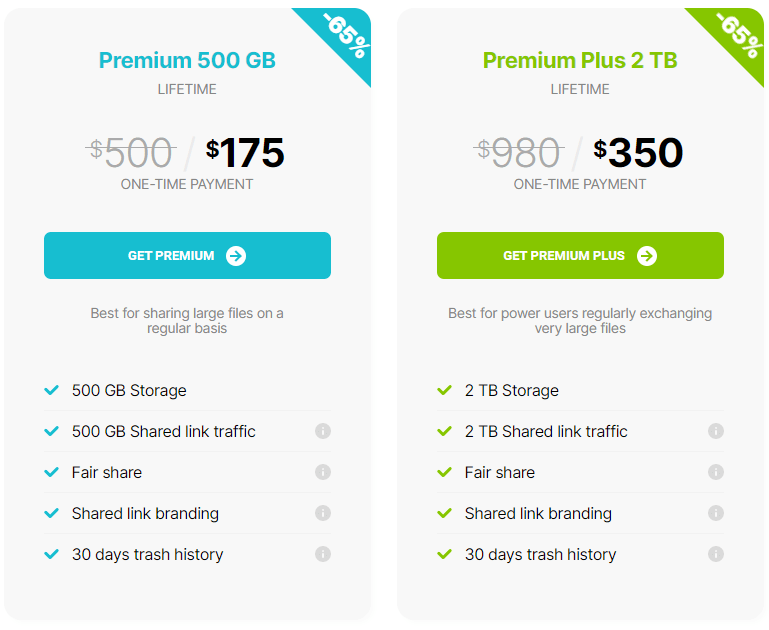 Premium—500 GB of storage
Premium Plus—2 TB of storage
Within each of these plans, you have the choice to pay annually or for life. Naturally, the lifetime plan will save you more money. But it also requires a higher sum upfront; the Premium plan costs $175, and the Premium Plus plan costs $350, which is a 65% discount.
In contrast, the annual plan costs $49.99 per year for the Premium plan and $99.99 for the Premium Plus. You can also sign up for family and business plans, which have discounts for multiple users.
Should you opt to encrypt the files you store on pCloud, you'll need to make an additional annual or lifetime payment. The lifetime payment is a single $125 fee, and the annual payment amounts to $49.99 per year.
Customer Support
pCloud offers customer support strictly through email communication, but they're fast and efficient. You can either email them directly or fill out a contact form on their website.
They offer customer service in five languages, including English and Spanish.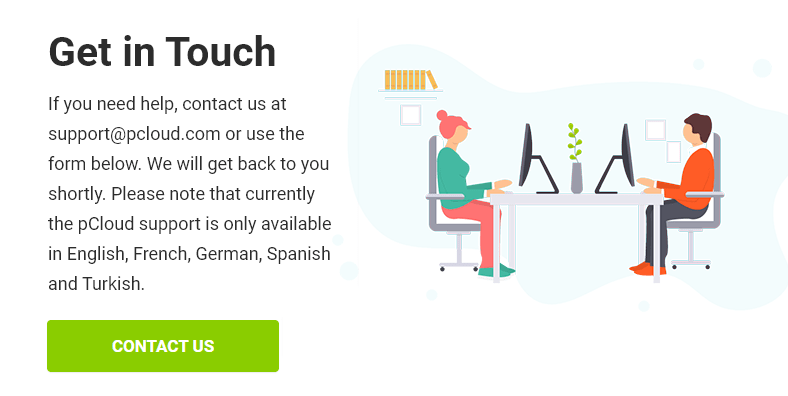 Should you have an emergency such as a person or service that you believe is taking advantage of pCloud's system, you can contact them at their abuse email address for even quicker attention.
pCloud's Certifications
pCloud has a section on their website detailing the certifications they have. They're certified with ISO 9001:2015, which is a third-party quality management service.
They also have certification with ISO 27001:2013, which ensures that pCloud upholds strict safety measures. Together, these certifications ensure you have a positive customer experience, and the files you upload onto pCloud are secure.
pCloud also only works with certified data centers. That's a crucial point, given that the data servers store your files. They have servers in both the United States and Luxembourg, which have the high-level SSAE 16 SOC 2, Type II security certification.
Final Thoughts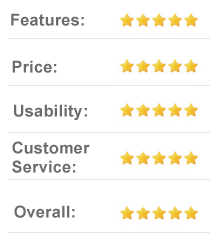 pCloud is a trustworthy company to use for your cloud storage needs. They have top-of-the-line security, and you can enhance this with client-side encryption for an additional fee.
Furthermore, they make it easy to organize and search for files. Since most people will want access to their photos and personal documents forever, their lifetime subscription means you pay once and will never have to worry about where to store your files in the future.
If you're ready to give pCloud a try, we recommend signing up for their free 10 GB of storage so you can test out their service.