Podia is a tool that helps anyone create a membership site or course from scratch. It's used by entrepreneurs, bloggers, and marketers to offer valuable content to their audience for recurring revenue.
Podia offers a drag-and-drop builder, making it easy to customize your website with text, images, videos, and other features. You can also build an eCommerce store where visitors can purchase products from your online storefront using PayPal or Stripe.
This review will cover how it works, some of the features you might want to know about before purchasing, and what you need to get started.
What is Podia?
Podia is an online software platform that offers a wide range of tools to help you get your message out to the world. If you're looking for a quick and affordable way to create an online course, membership site, or eCommerce store, then this might be the perfect solution for you.
Podia features everything in one centralized location, including a content builder, social sharing tools, and an online store. You can manage subscribers and integrate email marketing tools like MailChimp with the platform.
Features of Podia
With Podia, you can use the drag-and-drop builder to perform multiple actions. Let's review the best features offered.
Create Courses
You can use Podia to create a course for your audience. Components include:
Modules (the actual course material)
Assignments (where students submit their work for your review)
Lesson plans (give yourself deadlines for teaching different modules within your course)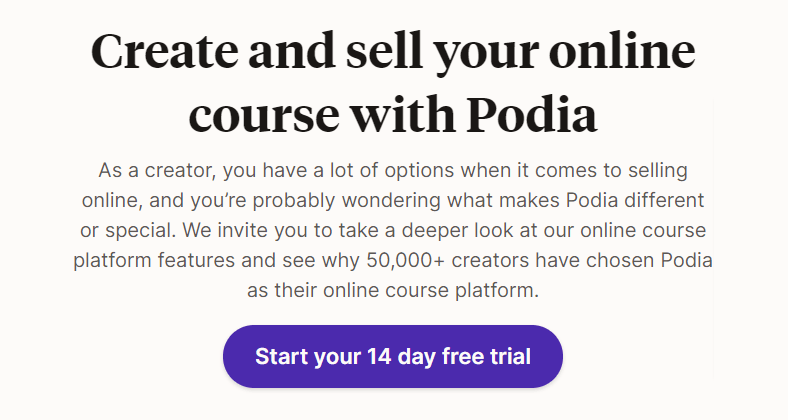 You can also use Podia to sell digital products like ebooks, reports, and whitepapers. This is a great way to establish your authority as an expert in your field and start generating revenue from it.
Drip Courses
Podia lets you design a drip course that sends out each lesson or day's assignment, so your users receive their next piece of content when they expect it.
Pre-Sell Courses
The platform allows you to set up a page where people can securely pre-order your course. You can create a sales page for your course and use Podia to send out automated emails when new lessons are available.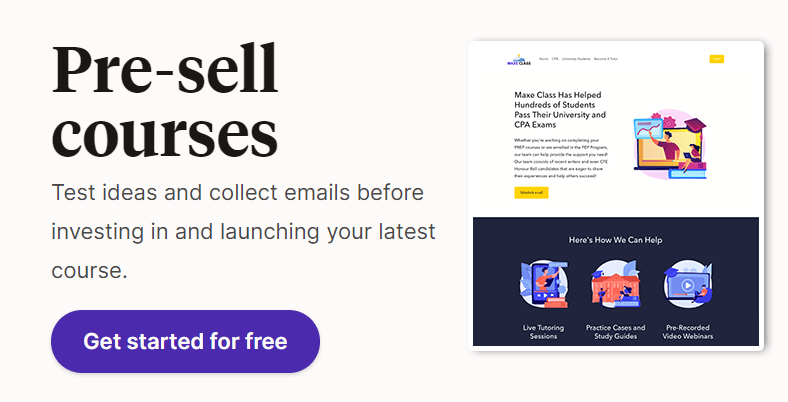 Bundle Your Courses
Podia allows you to bundle your courses for one low price. You can also provide users with discounts when they purchase multiple courses at once.
Offer Coupons and Discounts
Customized coupon codes are available. Use them to run promotions while helping customers save some money. The platform lets you set up an expiration date for specific coupon codes, too.
Build Quizzes
Would you like to create quizzes to engage your audience and test their knowledge about a specific topic? You can design quizzes based on the curriculum you've added to your course to engage users more effectively.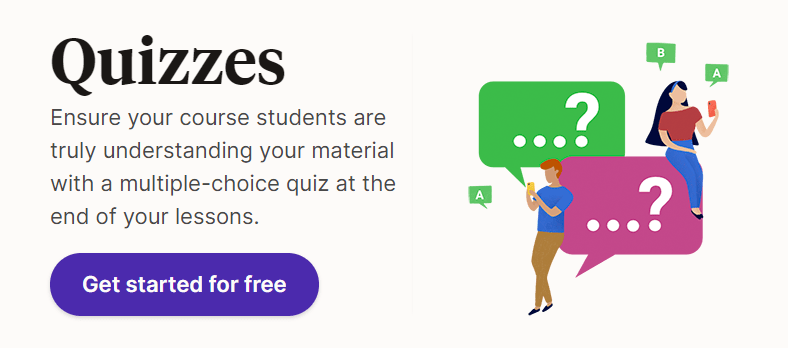 Create Membership Sites
You can also use Podia to build a membership site where users pay monthly or yearly for access to your content. Use the platform to create a free trial period where members enjoy full access before deciding to pay.
Sell Products Online
Podia comes with the option to build a custom online store where you offer both digital and physical goods for sale. The platform lets you accept PayPal and Stripe payments. Focus on growing your business without worrying about how your customers will pay.
Integrate Podia With Your Current Site
You can use the platform to create a custom website. However, if you already have a website, then you can simply integrate it with Podia. The system lets you import information from your website and make it available to your users.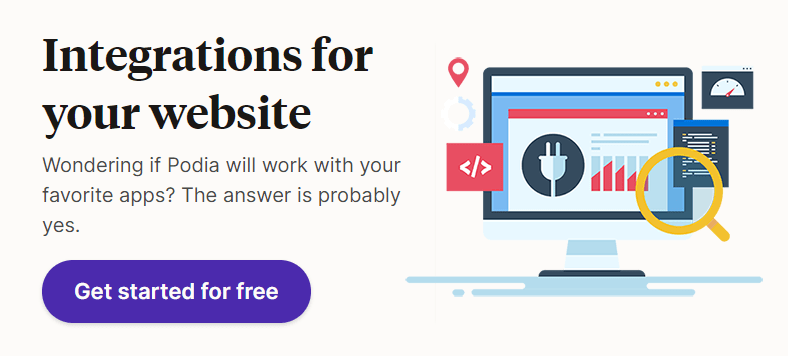 Use Upsells and Cross-Sells
You can use Podia to upsell and cross-sell products. Use the Stripe and PayPal integrations so you don't have to worry about shopping carts, inventory management, or shipping and handling costs.
Never Pay Transaction Fees
The platform doesn't charge transaction fees, even if you sell products or services on your website. You'll only pay the normal fees charged through PayPal or Stripe.
Use Email Marketing Strategies
You can create email lists and send messages to your clients. Podia also integrates with MailChimp, so you can use the data you've already collected to create more successful email marketing campaigns.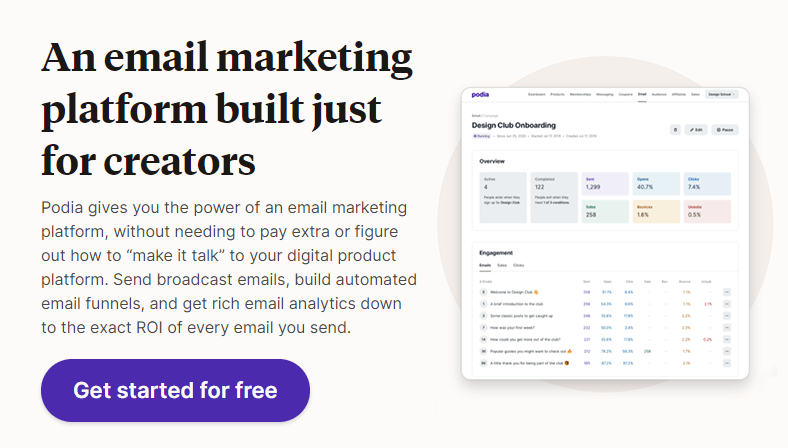 This includes broadcast emails and follow-up emails. Use those two methods so you can stay in touch with your audience automatically or when sending emails about current news. You'll never have to hassle with long code or technical issues either.
Build Custom Forms
When using the email marketing functionality, Podia allows you to build custom forms for your website. This works well, whether it's a membership site, an eCommerce site, or a course website. You can build different types of forms and integrate them with your email marketing campaigns.
Build a Custom Website
The platform lets you build a custom website that can include video, audio, downloadable files, and images. You don't need any experience building websites. Creating your website is as simple as filling in fields.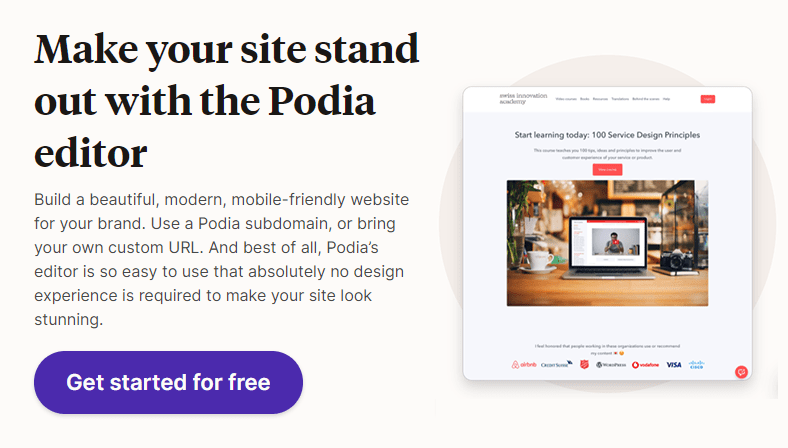 Customize Your Branding
Podia has advanced design features that help you create a unique brand for your website. You can customize the logo, color scheme, and typography to ensure that your site looks like you want it to.
Mobile Ready
Podia is mobile responsive. Your site will work on all devices, and you don't have to worry about compatibility issues.
Market Your Sites With SEO Apps
You can also use Podia to market and promote your website using the platform's built-in SEO apps. This lets you use custom tracking tools that help you improve search engine rankings and bring high-quality traffic to your site. Podia also has a built-in social media share feature that helps convert more users to your site.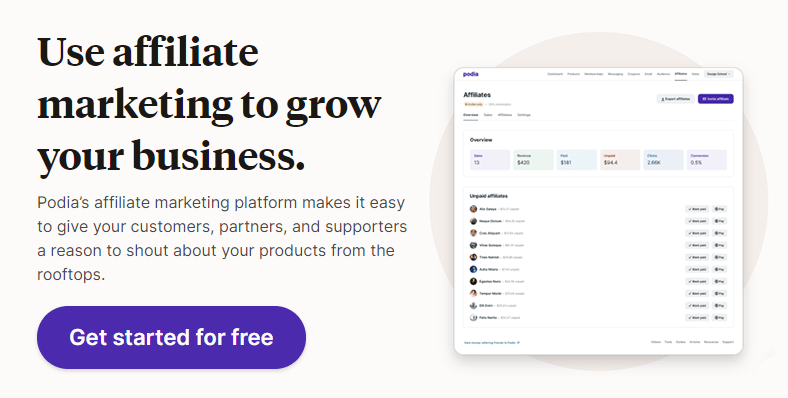 Sell More by Getting Affiliates to Sell for You
The platform includes an affiliate program. There's no need to use different tools or plugins when updating commissions and payments for partners.
Ease of Use
Perhaps the best feature of Podia is that it's incredibly easy to use, even if you're just starting and don't know how to code. The drag-and-drop interface makes it easy for you to add text, images, videos, and other multimedia content to your site.
Podia Pricing Plans
Podia offers three different pricing plans, which cater to different types of users.
Mover Plan
The Mover plan works well for those who want to create a website around a course. It's a solid choice when you only need the most basic features offered by Podia. This plan starts at $39 per month and lets you build unlimited pages and sell an unlimited number of products.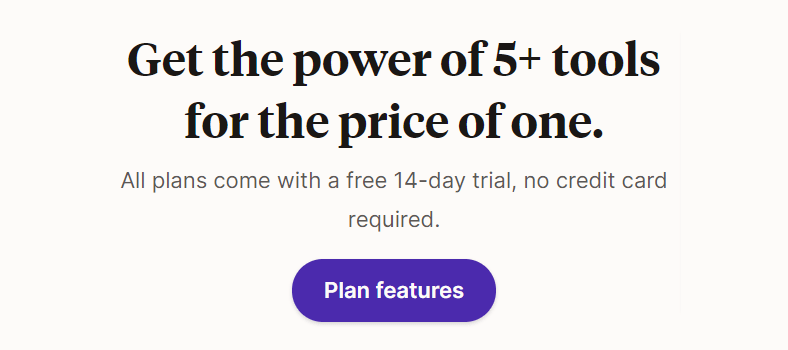 Shaker Plan
If you're looking for more features, Podia lets you upgrade to the Shaker plan. This plan works for users who want more powerful tools. It adds in the ability to build memberships and to use the affiliate marketing feature. The Shaker plan costs $79 per month.
Earthquaker Plan
The Earthquake plan offers a solution for small businesses that need to include additional teammates like a business partner or VA. It gives you the ability to have up to five additional teammates involved with the account.
Podia also gives you a dedicated account manager on this plan. The Earthquaker plan costs $179 per month. It also includes a personalized onboarding call and monthly group creator call.
Podia also offers a 14-day free trial, so you can try the platform for yourself without spending a dime.
Podia Customer Support
Podia offers both email and live chat support. You can contact Podia through the official website, or you can head over to their Facebook page for support.
The platform offers daily Zoom Q&A sessions Monday through Friday. You can check the official website for dates and times.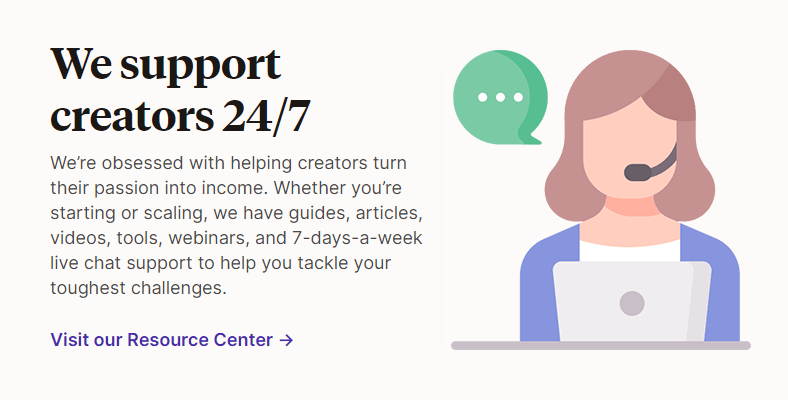 Podia doesn't offer phone support because their team often needs to ask for links, videos, or screenshots. They can provide faster service by sticking to chat and email support.
There's also a full knowledge center that will help you get started with the platform.
Who Can Benefit From Using Podia?
Podia is the perfect solution for anyone who wants to build an online business but doesn't have the technical skills, time, or money needed to code their own website. It's best for these types of people:
Conclusion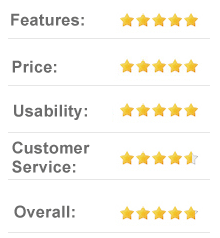 Running a business isn't easy. The amount of work it takes to get the job done is staggering. Many things need attention at once. Podia gives you an easy-to-use platform to build your website and courses all in one place.