If you run a business, you probably use some form of pay-per-click (PPC) ad campaign. The internet has undergone a marketing revolution. Although PPC ads have many benefits, they open the door to fraud.
How PPC Works
To understand how PPC Protect can prevent you from losing money to fraudsters, it's important to know how PPC works, and how people mess with the system. PPC marketing is the largest advertising model used on the internet. Google, Bing and Facebook use this type of advertising.
Every time someone clicks on your advertisement, you pay a fee. It's not quite as simple as that, though. An automated system is used to bid on the price of each click. The simplest way to explain it is if you're willing to pay more per click, your ad is more likely to be presented to your target audience.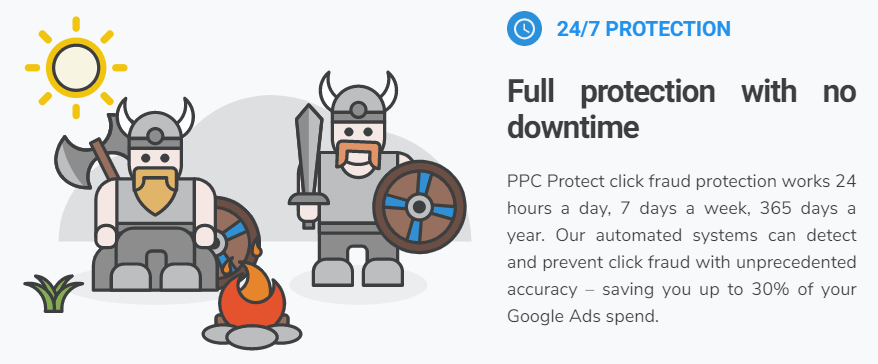 This is all managed by algorithms and automated systems. The advertiser usually just sets a daily budget, which is allocated for each bid. You can often set a maximum cost per click, or CPC, which can prevent you from going over the limit allowed by your budget. This may prevent some people from seeing your ads, though.
When more people are searching for a particular keyword, you're probably going to pay more per click. For example, an advertisement set to show up for the keywords "Christmas recipes" will probably cost less to promote in August than in December.

What Is Click Fraud?
Click fraud is what happens when someone clicks on your ads with no intention to browse your website or purchase a product or service that you offer. This isn't done by unwitting individuals; it's usually a strategy that is performed by:
Click fraud is usually done by bots and click farms, making you blow through your ad budget. You get clicks, but you don't end up with conversions. Moreover, your analytics are thrown off because you have no way of knowing if your ad was clicked by legitimate customers.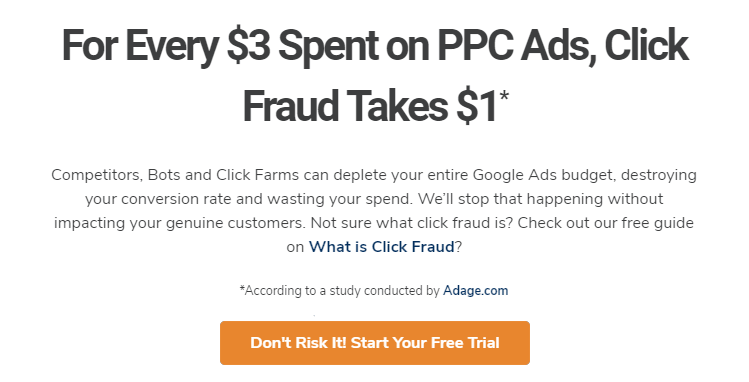 This completely throws off your conversion rate. Even worse, it wastes your ad spend. PPC Protect estimates that for every $3 that you spend on ads, $1 is wasted on click fraud.
The worst part is that you can't always tell that click fraud is happening. In some cases, you'll notice abnormally high click through rates and few conversions. However, click fraud isn't always easy to pinpoint without using the kind of analytical software that PPC Protect provides.

How PPC Protect Safeguards You From Click Fraud
Google does have some practices that protect your AdWords campaigns from fraud. However, these offer minimal protection, and advertisers are often required to bring fraudulent activity to Google's attention before it is investigated. This can take weeks, preventing you from being able to publish your ads and gain leads during that time.
PPC Protect is automated software that stops click fraud from happening in real time. It works by monitoring your ads every minute of every day. Each click is analyzed to determine whether it's suspicious or legitimate. The results are extremely accurate.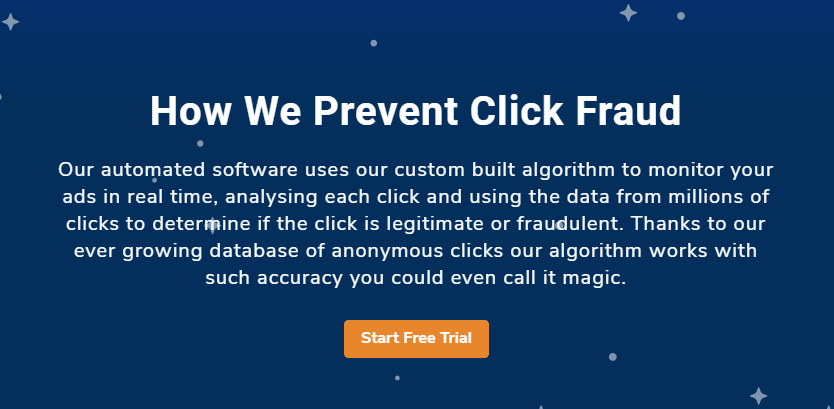 The monitoring funnel is so fast that the user doesn't even notice it. As the click passes through the monitoring funnel, PPC Protect collects more than 100 pieces of data, including the IP address and location of the clicker.
This information is cross-referenced with a database of known fraudulent activity. Artificial intelligence is also used to pinpoint new sources of fraud.
If the click is determined to be fraudulent, the device and/or IP address that it came from will be blacklisted. Your ad will never be shown to that clicker again. Device ID tracking systems continue to protect you even if the same user switches devices or IP addresses.

Features Of PPC Protect
Some of the benefits of using PPC Protect are:
Quick setup
Real-time protection
Experience in the industry
Auto IP blocking
24/7 protection
Customized detection rules
Multiple users
Full traffic monitoring
Fast and dedicated support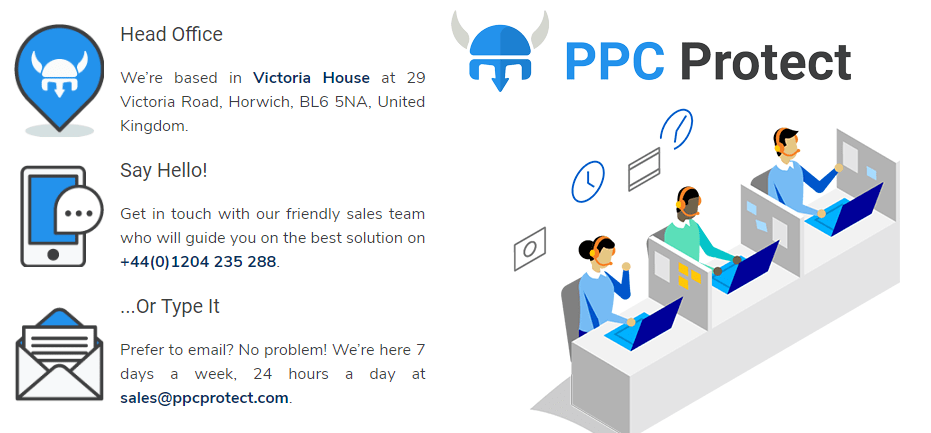 Does The System Prevent Legitimate Customers From Seeing Your Ads?
In some cases, people don't have malicious intent. They simply click on your ads, but they have no intention of ever buying anything. These individuals are wasting your money, and PPC Protect can prevent that from happening.
PPC Protect Is Easy To Use
This system is incredibly easy to use. All you have to do is sign up and install a code on your website. The code fully protects you and enables PPC Protect to do its work.
Something that can hinder the user-friendliness of PPC Protect is the use of third party tracking and data attribution providers. It's not a deal-breaker, but you'll have to contact PPC Protect's customer service to set up a custom tracking template if you use a 3rd party data provider.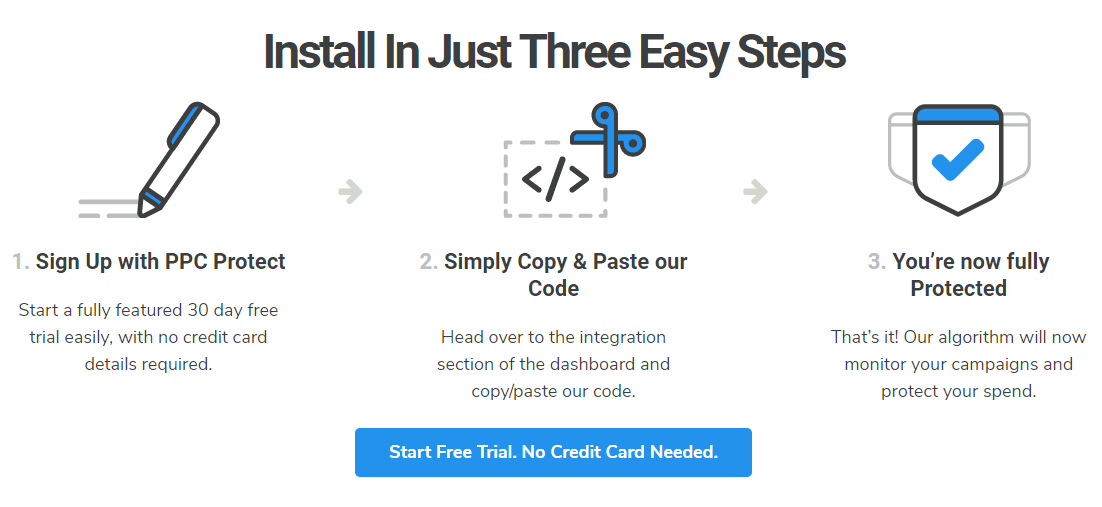 Also, PPC Protect doesn't guarantee that the platform will work with your data provider. It does say that its customers have used the following 3rd party providers successfully:
Marin Software
DoubleClick
CallRail
VisualIQ
Adobe Analytics
ResponseTap
The protection that you get from this service is instantaneous. As soon as you link your AdWords account with the PPC Protect platform and install the tracking template within your account, you're protected.
Pricing
PPC Protect offers a 30-day free trial. You get all the features that the company offers, and you don't have to enter a credit card. This is a great, risk-free way to try out the platform.
If you decide to use PPC Protect beyond 30 days, you can choose different programs depending on your AdWords budget.
Pricing for PPC Protect is as follows:
Monthly Budget and PPC Protect Price

$2,500 budget – $29/month
$10,000 budget – $69/month
$20,000 budget – $129/month
$40,000 budget – $239/month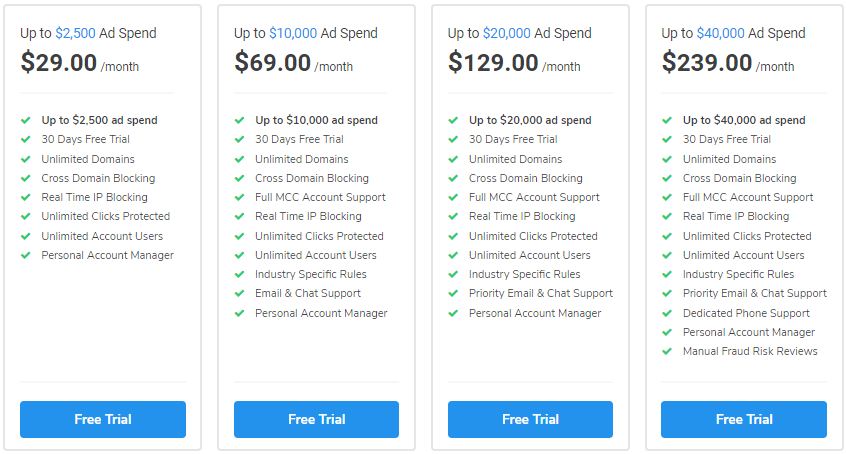 If you pay annually, you'll get deeper discounts. You don't exactly get the same level of service for each price package, though. All of the pricing packages include:
Unlimited clicks protected
The lowest tier allows you to protect only one domain. All of the other pricing options cover multiple domains. You'll get priority email and chat support with the two highest tiers.
I like that the pricing is transparent. The company explains exactly what you'll get with each package. There are no contracts. Therefore, if you find that the service isn't working for you, you can cancel any time.
Whether you've purchased a monthly or annual package, when you cancel, you'll be refunded for the portion that you haven't used. You can also downgrade your package from the user panel at any time if you decide to downgrade your AdWords budget.
What We Like About PPC Protect
Some companies that protect you from click fraud might seem cheaper, but you should check out the fine print. For example, the lowest priced plan might point out where click fraud is coming from, but you're required to manually block those users. PPC Protect does this for you automatically and immediately.
It works just as well for MCC accounts as it does for individual ones. You don't get less protection if you're on a cheaper plan. Therefore, it's scalable for small businesses that are run by individuals as well as larger corporations.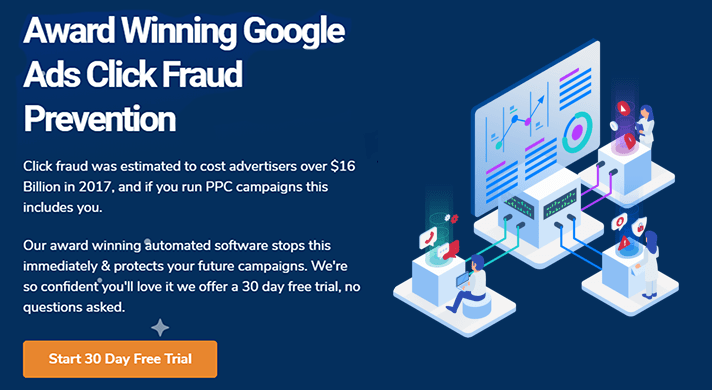 PPC Protect also protects your AdSense account from click bombing attacks. Other programs may only protect you from click fraud via Google Search.
PPC Protect looks at the ads on the display network, which are practically impossible to monitor manually. Ads can be placed on at least 2 million third-party websites that are part of Google's display network. In some cases, unethical webmasters click on your ads on their own sites to boost their earnings.
What We Don't Like About PPC Protect
If your ad budget is higher than $40,000, you'll have to contact PPC Protect for a custom quote. This doesn't mean that they can't take care of you, but the process might take longer. The platform is designed for companies with ad budgets of less than $500,000.

If your budget is greater than that, you can talk to a representative about pricing and benefits. PPC Protect does offer an unlimited budget protection plan. It's not as quick to implement, but I do like the fact that the representatives will take their time to talk to a company in person to set up a high-end plan like this.
Click fraud is a much bigger problem in some industries than others. A 2015 Bloomberg report indicated that click fraud occurs most often in the finance, family and food industries.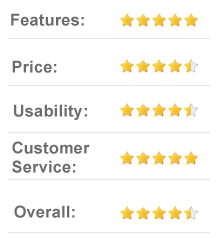 These also tend to have a high cost per click. Search volume is relatively high for these industries.
The business categories that are least likely to be affected by click fraud are sports, science and information. These industries have cheaper keywords and lower search volume. If you're in one of these industries, you might not profit from paying for click fraud protection. The only way to know for sure is to analyze your metrics and decide for yourself, however.