Ecommerce is growing, and so is the demand for drop-shipping. If you've ever looked into starting an online clothing line but didn't have the money to cover upfront costs, Printful.com can help you get started.
Printful is a drop-shipper with experience printing millions of tee-shirts and other products. In this Printful.com review, we will explain the benefits of this service and why this company is an excellent drop-shipping partner for entrepreneurs.
What is Printful?
Printful is a drop-shipping service that allows you to create and sell custom products online on-demand. Drop-shipping is a method of order fulfillment that does not require in-stock products. Instead, products are made on-demand, drastically reducing the upfront costs of starting a business.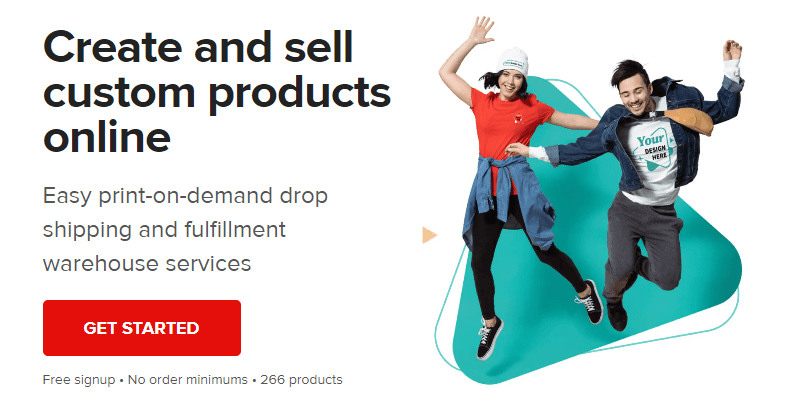 Printful offers a mockup generator that allows you to put your designs on various items, including phone cases, t-shirts, and hats. The website will enable you to work with manufacturers to send items with your customization straight to buyers without holding inventory.
Their service can also help new entrepreneurs get started. The website includes several lessons that help guide users through creating a new business with their services. Courses include information about drop-shipping, printing on-demand, and building an eCommerce brand.
History of Printful.com
Printful began operating in 2013. The company started in the small country of Latvia in northern Europe. Its founders started a social network similar to Facebook for the Latvian people.
This social network eventually created opportunities for additional mini-projects. When the founders switched to focusing on business opportunities globally, they started to offer products that featured inspirational quotes.
But the founders had a difficult time finding a manufacturer to make the products. They eventually began printing posters and ultimately created the best printing and sending service for other small businesses.
Today, Printful has printed over 2 million t-shirts and serves over 300,000 sellers. Global online Print on Demand sales may reach $10 billion by 2025, driving interest from sellers worldwide who want to take advantage of POD opportunities.
Top Features of Printful.com
Printful features optimization for eCommerce entrepreneurs who want to sell high-quality drop-shipped products. The company continues to expand its services and product ranges to meet customer needs.
You don't need extensive business experience to work with Printful. Their website is easily accessible to new entrepreneurs and small businesses.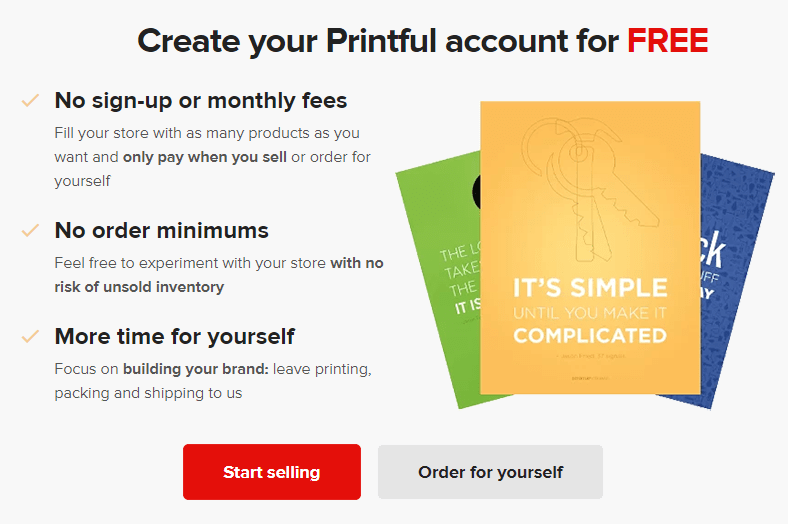 This convenient service model does not require a minimum purchase, allowing you to fulfill one item of small orders. Plus, you don't need to own or manage any inventory. Printful handles all of the printing processes, inventory management, and shipping.
Sellers and buyers appreciate the fast shipping included with the company's service. Products print on demand and get ready to ship within 3-days. They also re-ship any items that are lost or damaged in transit.
Personalized branding allows you to create fully customized items with logo stickers and custom packaging.
Their service provides the products, prints the designs, packages, and fulfills your customer's order by sending it directly to the customers. All you need to do as a seller is send orders to the company.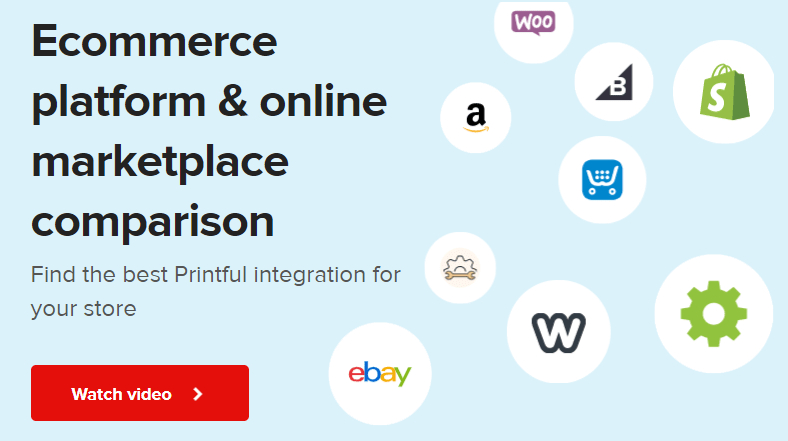 Printful offers several eCommerce platform integrations so clients can use their service on whatever platform they prefer.
Printful is also an exceptionally affordable service that does not have any monthly fees. Meanwhile, competitors that require monthly payments may be unaffordable for start-ups. And transparent pricing allows you to apply their costs to product markups.
Pricing
A key benefit of using Printful is the elimination of upfront costs. Few other printing companies allow you to upload and sell a product on a marketplace without paying any set-up fees.
You can sign up for a free account, design products, and list the custom products on your website at no charge to you. Instead, Printful makes money for every sale you make. The supplier that you purchase from does as well.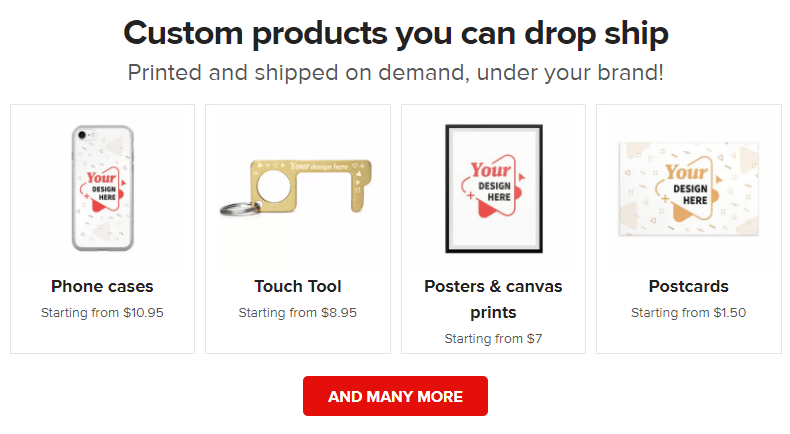 When you choose a product to sell, Printful lists a starting retail price. The website features a vast collection of products made with different materials at diverse price points.
During the product creation process, you can also take advantage of the option to customize your prices. The higher you price a product, the larger your potential profit after you deduct the production costs.
Printful focuses on offering certain products with high-quality requirements. They are an excellent service for eCommerce stores that want to have high-end products.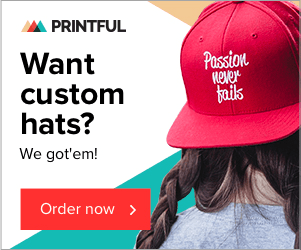 The base pricing for Printful products is around the middle of the road for drop-shippers. Some competitors have lower prices but less quality. Still, Printful is an excellent value for the money.
Most sellers quickly turn a profit for their sales using Printful if they don't price their products too high. But custom printing is more expensive, so customers will typically pay a premium.
You can review the potential profit of a new item before adding a product to your site. If it does not offer a good return, you can simply look for a cheaper alternative and increase the price.
Ease of Use
Specifically designed for creative minds, Printful is compatible with quick and straightforward growth models. Most entrepreneurs report that Printful offers an experience much more accessible than most eCommerce tools used for growing online businesses.
You can easily browse through products, pick custom designs, and have custom orders sent straight to customers. Users appreciate that this service eliminates the hassle usually associated with dealing with intermediaries.
Drop-shipping providers take responsibility for order fulfillment, so you don't have to worry about it. Instead, you can focus your time on the management of your online stores.
Users can also customize packaging and branding without being hands-on during the manufacturing process. The ease of use offered by Printful.com is unparalleled.
Customer Support
There are mixed reviews of Printful customer service online. However, most users agree that the customer support offered by this company is superior to most competitors.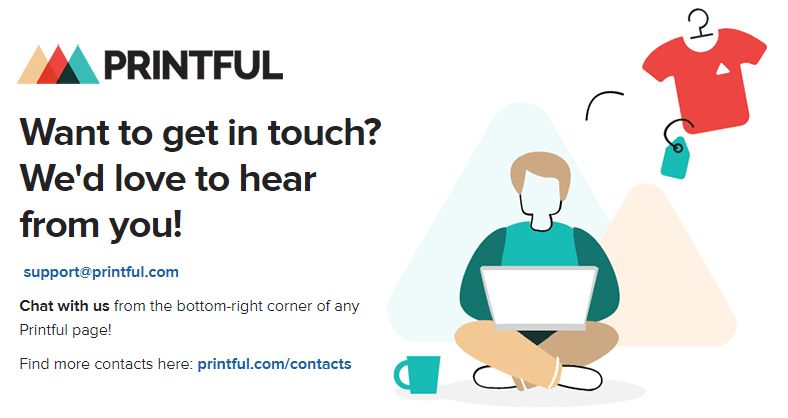 Most frequently asked questions have answers that users can find in the blog and FAQ sections of Printful.com. They also have resources for common problems that entrepreneurs encounter when starting an eCommerce business.
The shipping is fast, and Printful also has an excellent return policy. They take responsibility for most issues where the company is at fault.
Pros and Cons
Printful offers several benefits for potential users, but they do have some disadvantages. Here is a comparison of some pros and cons of using Printful.
Pros:
Excellent quality products with good value
Extensive printing capabilities
No minimum orders or monthly fees
Transparent shipping and product pricing
Customized branding for packaging
Ecommerce platform integrations
Online resources and guides for small business
Fast shipping and re-shipping of damaged items
Cons:
Product selection tailored to apparel, accessories, and homeware
Slimmer profit margins for drop-shipping
Limited branding options
Some products cannot ship everywhere.
Final Thoughts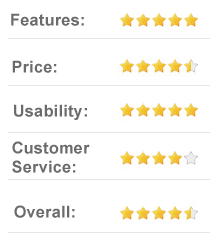 Printful.com is one of the best options for dropshipping accessories, homeware, and apparel in North America. The eCommerce and Products on Demand industries continue to provide online entrepreneurs opportunities, and Printful offers an easy way to get started.
This company allows you to put your custom designs on high-quality products and list them for sale on your website without upfront costs. They are the ideal choice for sellers looking to minimize risk when starting a new business.
The transparent pricing and top features offered by Printful make it easy for sellers to fulfill orders without worrying about managing the entire manufacturing process. If you want to use a drop-shipping method to start your own online business, check out Printful.com today.