There are many players in the print-on-demand marketplace. It is not always easy to select one. Several factors need to be considered when choosing which service is best for your needs.
It would help if you considered the cost of products, the markup policy, the traffic the site gets, and its customization options. Most of all, you need to consider how well a print-on-demand platform fits your specific needs.
Printify is one of the options in the print-on-demand marketplace. We will take a closer look at this company and its services and provide you with the insight that you need to decide if it is the right choice for your print-on-demand needs.
What is Printify.com
Printify is in the Shopify app store. In simple terms, it is a dropshipping provider that you can use to create customized products using text or images that you make. Printify then processes the payment and ships the product to the customer.
It would be best if you kept in mind that Shopify has multiple print-on-demand providers. However, Printify.com stands out for several reasons.
You can easily sync storefronts from other sites, such as Shopify and Etsy, you can select from printers in different parts of the word to create your products, and you can offer a wide array of products.
What to Look for in a Print-on-Demand Provider?
Printify offers many of the advantages that people who use print-on-demand services seek.
You can sell products without needing to have your stock in a warehouse. Printify, and other print-on-demand providers, handle the inventory, perform the printing, and take care of the shipping. These services free you up to focus on marketing, graphic design, and other aspects of your business.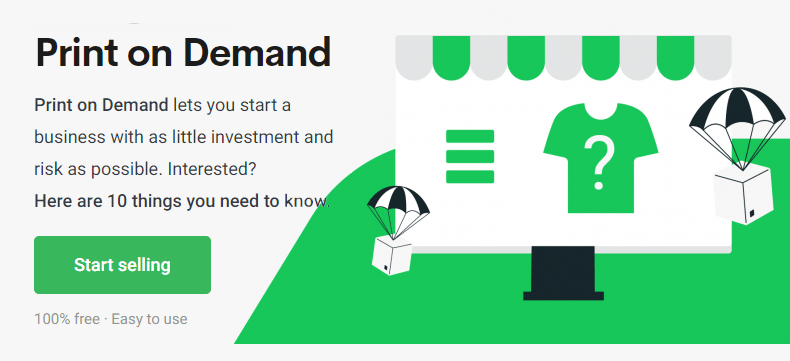 Printify is also a useful tool if you want to have a part-time dropshipping business. You do not need to make a large investment to start a business using this service.
One of the essential things to look for in a print-on-demand business is whether or not they offer all services that you need. The best choice is an all-in-one service that can do everything so that you do not have to worry about shipping, payment processing, or fulfillment.
It is also essential to take a close look at your print-on-demand provider to see how well they perform in each area.
Finally, you want to find a print-on-demand company that offers many options in terms of pricing options and product choices.
Let's take a close look to see how Printify.com performs in these vital areas.
What Can Printify.com Do For You?
Printify.com is an all-in-one print-on-demand service. You can use them to process and fulfill orders, print products, and ship them to customers.
Printify.com goes beyond all-in-one because it allows you to do several things that you can't do with some other POD providers.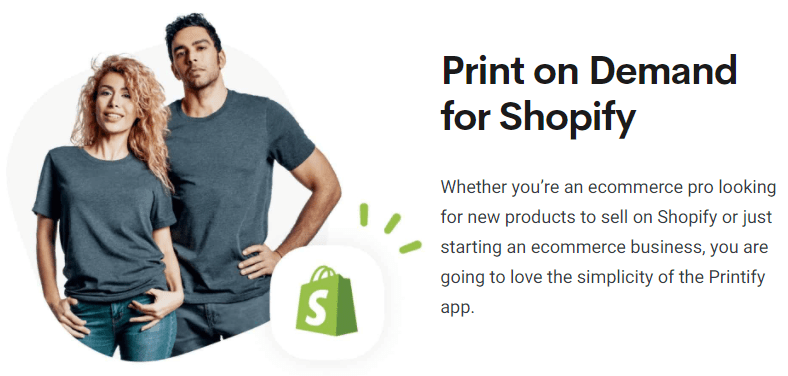 Printify is part of the Shopify app store. You can sync this service with your Shopify storefront if you have one. The sync feature also works with Esty. This feature is a significant advantage because it allows you to market in multiple places. If you already have a presence on Shopify or Etsy, you can take advantage of your existing customers and status to jumpstart your print-on-demand business on Printify.com.
Printify.com is an intermediary. They do not handle the printing themselves. Instead, they work with printers all over the world. This setup provides a couple of essential advantages for users.
First of all, you are not stuck with a single printer or supplier. You can find the one that best fits your specific needs and quality requirements. You can customize your print-on-demand offerings and tailor the marketed products for your existing audience or customers.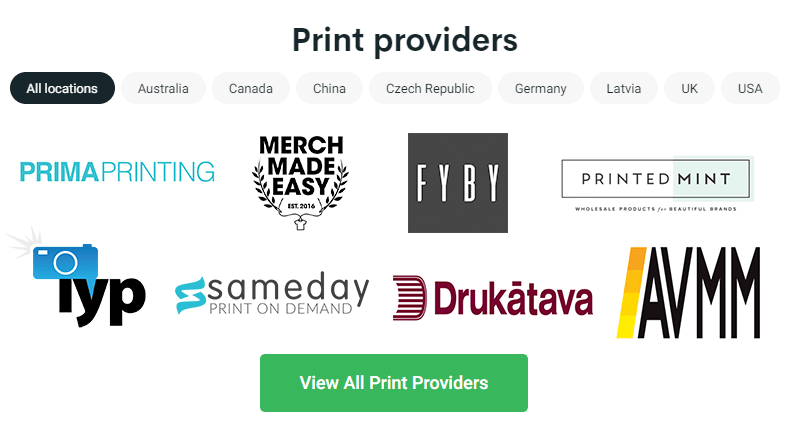 Some print-on-demand companies only have one supplier and printer. The issue with this setup is that you cannot change if you don't like the product selection or print quality. If you want to change suppliers, you need to move to a different print-on-demand company.
The other advantage of having multiple suppliers and printers is that you can have an extensive footprint. Printify.com has suppliers all over the world. In theory, you could be in the United States and accept orders from customers in Australia, the UK, continental Europe, or China.
What Products Does Printify Offer?
Printify offers a vast range of products. In addition to t-shirts and hoodies, you can print your designs on clothing items such as socks, boxer shorts, swimwear, and other types of shirts and leggings.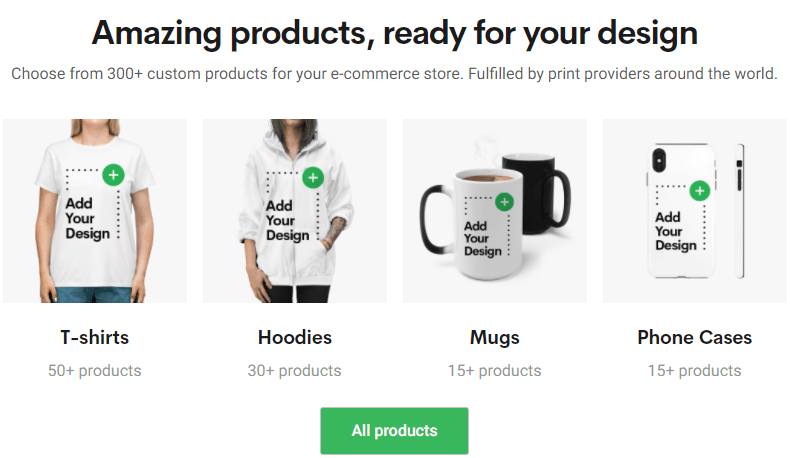 Printify also offers printing on shoes, boots, and sandals. You can even order canvas high-tops. Also, other products include purses, handbags, backpacks, mugs, notebooks, and pet products.
What Does Printify.com Cost?
You can set up a storefront for free at Printify.com and upload an unlimited number of designs. Additionally, you can set up as many as five storefronts.
There are paid tiers, as well. Why would you pay for a Printify account when you could get a free one? The paid services offer some features that are not available at the free level.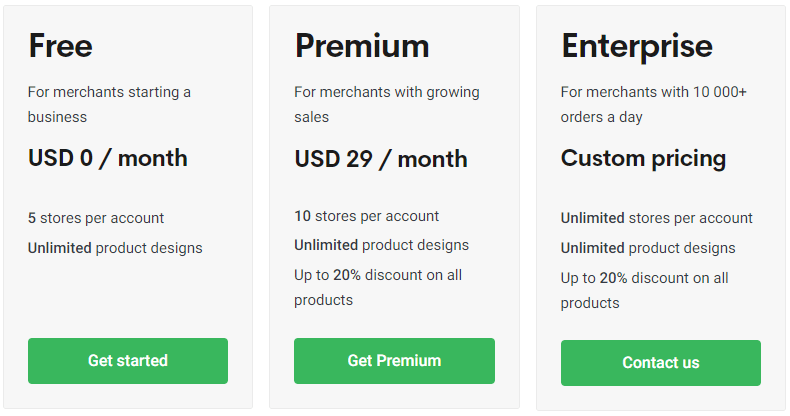 The Premium Tier is $29 per month. You can set up as many as 10 storefronts. More importantly, you get a 20% discount on the products that you sell. That means 20% more profits on everything that you sell. It would only take a few sweatshirt sales per month, for example, to pay for the cost of the Premium membership.
There is also an Enterprise Tier for businesses that have more than 10,000 sales per day. Printify offers custom memberships for these larger businesses. Features include accessing the Printify API to make customized apps and website integration. You also get the same 20% discount that Premium Tier members get.
These tiers mean that your business can be started for free and access better features and get better profit margins as your stores grow.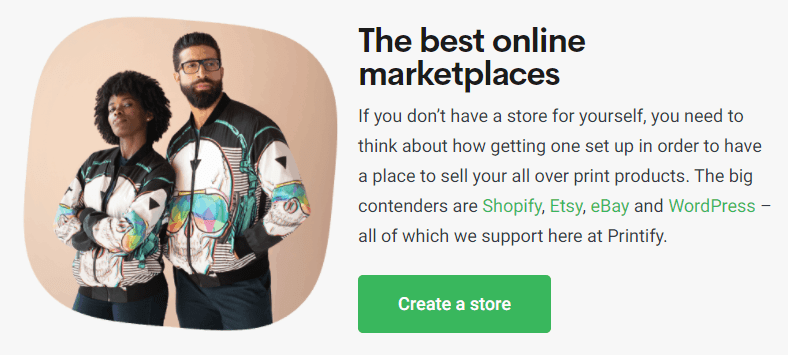 Per-product costs vary by supplier and product type. To figure out your profit, you add the shipping cost and manufacturer's cost. The difference between this price and your retail price is your profit. Premium level members get a 20% discount on the manufacturer's price.
Since you set the retail price on your products, you decide how much profit you can make. However, you need to be sure to set a competitive price that customers will purchase.
How Do You Start a Business on Printify?
The first step is to open an account on Printify via the Shopify app store.
You then prepare the designs that you want to sell in your store using a graphic design or illustration program. You will have to upload the images to your account and then select from the several hundred available products to choose the ones you want to sell.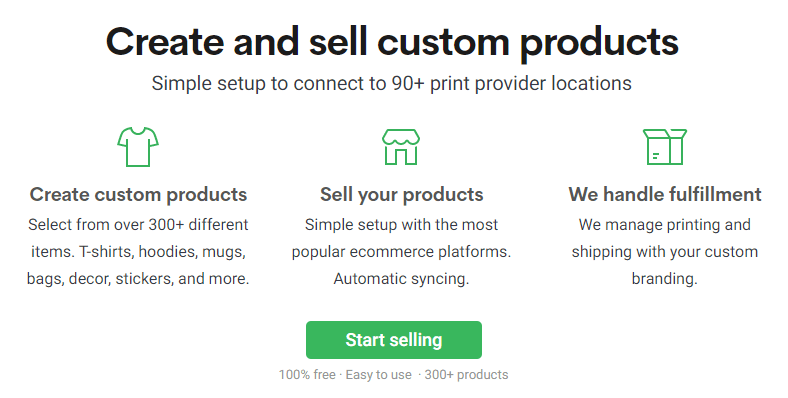 On Printify, you need to choose from available suppliers. You can also take steps to sync your existing Shopify and Etsy storefronts.
You also have to perform marketing to get people to come to your store. Shopify has a variety of tools and options for performing marketing strategies.
Conclusion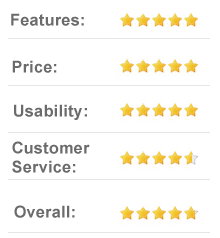 Printify.com is a full-service print-on-demand provider. It is available on the Shopify app store.
The advantages of Printify is that you can sync storefronts on Shopify and Etsy, select from many different printers and suppliers all over the world, and take advantage of the multiple-tier options that you can take advantage of as your business grows.
Printify.com is one of the better print-on-demand options because of all these available features.