If you've never heard of the brand Puffy, they are a quality mattress manufacturer that focuses on temperature comfortable memory foam mattresses. Puffy does not create a paradox of decision-making with too many mattresses to select from.
Puffy focuses more on mastering the two versions of their product along with a few accessories, instead of overloading their line with an abundance of options.
They only offer two models as of now, they are standard Puffy (10 inches deep) and the Puffy Lux (12 inches tall). They also sell an adjustable bed base, a classic Puffy bedframe, with a Puffy foundation—a metal fold out bed frame at the affordable price of $135.
About Puffy Mattresses
Unlike mattresses such a Sleep Number, they only have one level of firmness for each bed, and it ranges right around the middle. If you adore super soft beds, or conversely, particularly firm mattresses, they might not be your best bet.
The Puffy Lux includes body adapting dual cloud foam. This extra layer is said to provide two purposes: an exceptionally comfortable contour for your form, helping to relieve pressure points. The other function being as the brands states on their website, "more well-balanced sleep that maximizes your recovery and physical well-being."
While this second purpose may seem a bit vague, the reviews claim this comfortable mattress is quite supportive, living up to the claim of contouring, and exceptional for sleep.
Evolution of Memory Foam
In the early days of memory foam mattresses, those who tried them out will likely agree that some of the most significant drawbacks were denting and temperature. A frequent complaint was that you would sink into the memory foam and that created a dent in the mattress, making it challenging to move in the night.
For many, though, a more significant downside was that of overheating on a memory foam mattress. Earlier memory foam could hold in body heat and result in furnace-like conditions that would wake you up feeling sweaty and uncomfortable.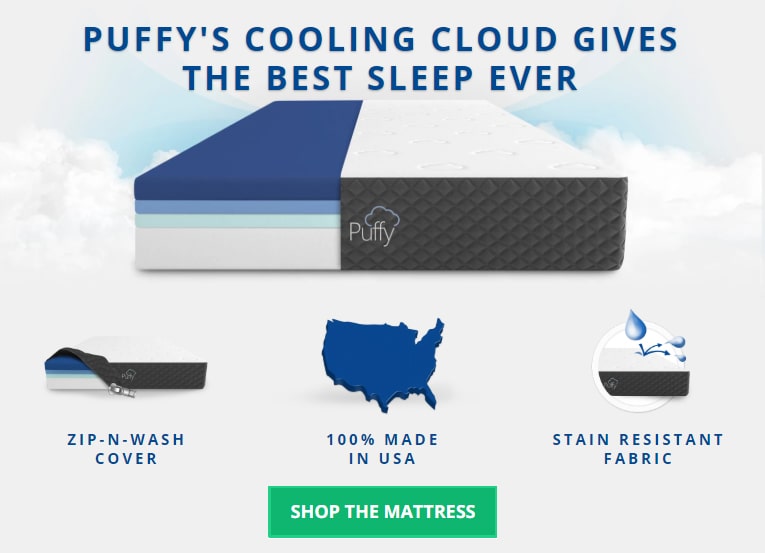 Memory foam has come a long way, and Puffy focuses on their cooling cloud and climate comfort foam to bring you the benefits of memory foam without the overheating discomfort.
The Puffy mattress is also designed so that it never needs a mattress flip. While memory foam used to be known for those indentations or sagging, the construction of Puffy mattresses is made to resist indentations. If you do, by chance, end up acquiring some hollows over the course of owning your Puffy bed, their products are covered by their lifetime warranty.
Trial Period
One of the especially fantastic points of the company is there 101-night sleep-trial period. When you buy a mattress at a store, often the best you can do is sit on it and lie down for a few minutes to test out its comfort. That's hardly an accurate gauge of how a mattress will perform after months of sleep and varying temperatures. How are you supposed to know how you will enjoy the bed a month or two into sleeping on it?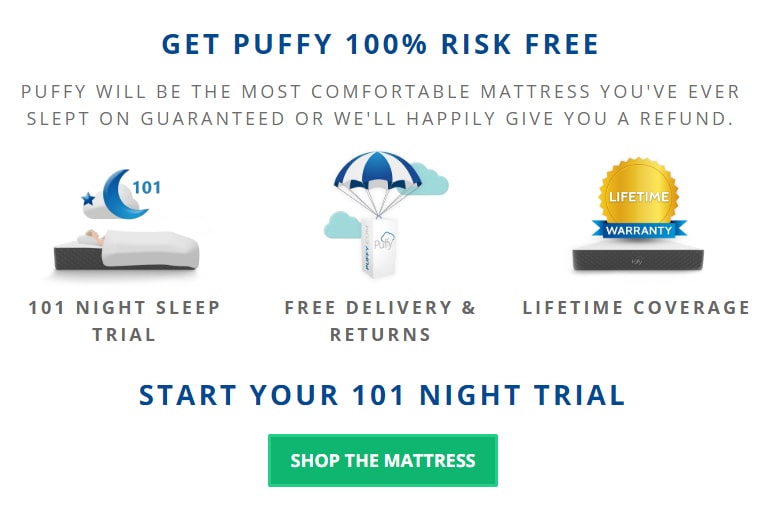 Puffy believes in their product enough to allow you to sleep on it for over three months and they throw in a lifetime warranty. That is a pretty solid vote of confidence in a company's feeling about their goods. The free delivery and returns are just a bonus of convenience in addition to the trial period and warranty.
This free-trial feature is honestly one of the most reassuring things we can find in a brand. When they make it hassle-free to return their product, and they know the majority of people will love it enough to keep it, you don't have to worry much about the quality or design being terrible. The price might be one of the only difficult decision to make for some customers.
Construction and Foundations
We also like that they are 100 percent made in the USA. There are currently no brick-and-mortar stores for Puffy, but the construction and operation of their product and website are both American made. The also mattresses come with a convenient zipper removable, washable cover made of stain resistant fabric.
The cover itself is a notable perk, as washing mattresses is typically not possible, obviously. Being able to throw the removable cover in a washing machine will keep your bed much cleaner for far longer, as long as there are not substantial spills. For those worried about germs in mattresses, or who need something more hypoallergenic, this could make Puffy a brilliant option.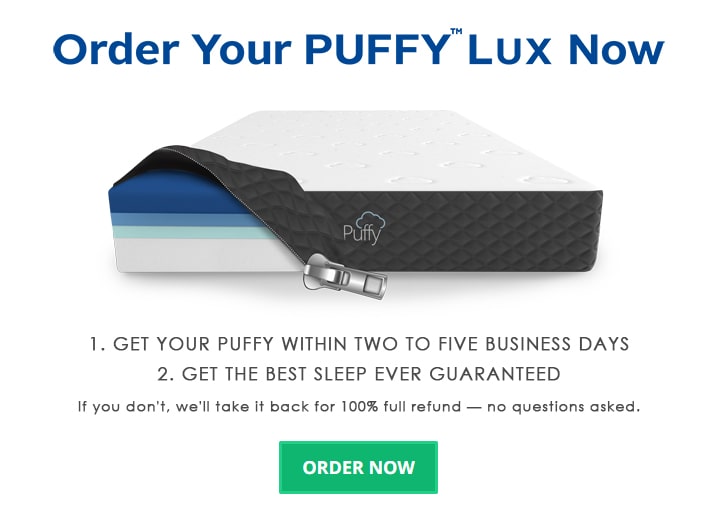 The core support component is a 6 inch PCF HD polyfoam on the original Puffy and a 7 inch HD polyfoam on the Puffy Lux version. The standard Puffy gets 2 inches of gel memory foam and 2 inches of temperature resistant polyfoam. While the Puffy Lux receives 3 inches of memory foam, 1.5 inches polyfoam and 1.5 inches of temperature-resistant polyfoam. The cover is entirely polyester.
On a 1 to 10 firmness scale, the standard Puffy receives a 5, and the Puffy Lux gets a 6. Again, pretty middle of the road on the firmness rating. Most customers seem to find this range just right, though.
One unique aspect of Puffy beds is that they can be used on all sorts of foundations. You can place the mattress on top of a box spring, on slatted frames that are no more than four inches apart, on adjustable bases, and even on the floor.
What Customers Say
The customer reviews are perhaps one of the most expressive aspects of Puffy mattresses. With nearly 8,000 reviews on their website as of this time of writing, the overwhelming majority are five stars.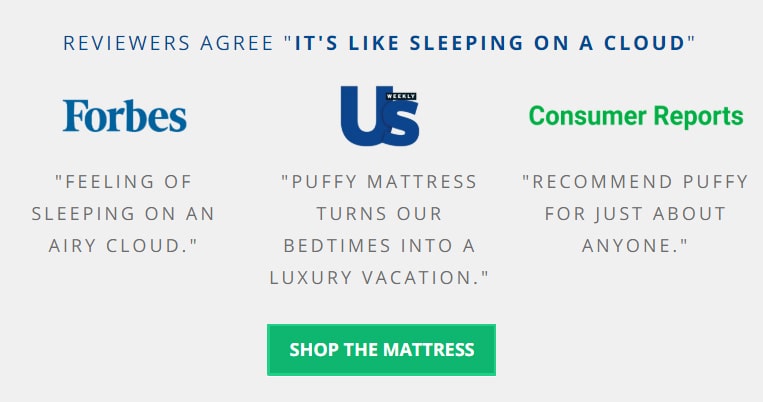 It makes sense considering you are allowed to try out the mattress for a few months and can return it free of delivery charge if it doesn't suit your sleep. However, it's quite telling of the quality of their products and a favorable vote of confidence.
Ratings
Third-party ratings for Puffy mattresses examined various areas. Overall, Puffy mattresses came out as being exceptional or at least good and most explored areas. These mattresses are especially quality when it comes to noise and motion isolation.
Other areas such as temperature, off-gassing of the memory foam, and body conforming rated good or very good. Durability and edge support were one of the only fields noted as only "fair."
Ratings were also excellent for lightweight or average weight sleepers. Those who weigh more than 230 pounds rated Puffy mattresses as fair. The memory foam is designed to be supportive even for heavyweight customers, however more denting and slight pressure points can occur at heavier weights.
Cost
Puffy may not be the most expensive mattress on the planet, but they are definitely pricier than, say, a rollout IKEA mattress. A twin sized original Puffy runs about $495 with the Lux version costing $1,145. Sizes go up to a California king, with the cost of the original in that size running you $1,050, and the California king Lux with a price tag of $1,695.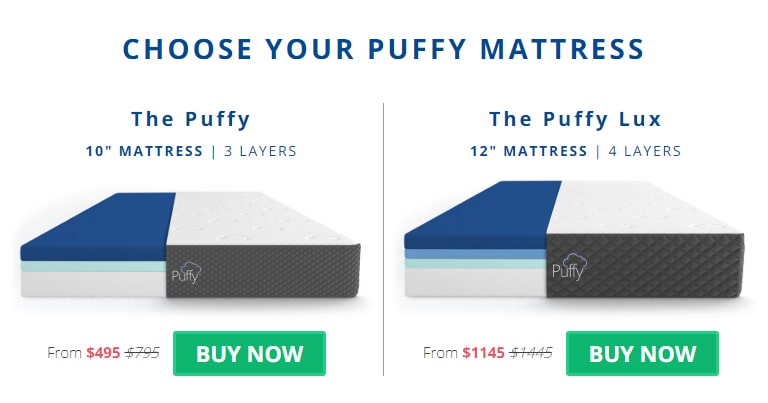 The Cons
On the negative side, the cost can be substantial for those on a budget. Some users also state that there is weak support on the edges of the mattresses if you sleep near the border.
We also aren't a huge fan of only one firmness option being available, but it's possible this is something Puffy may change in the future. If they provided a few firmness choices in both mattresses, they might suit a broader range of customers. For more discerning customers, a potential drawback is that, at this time, there is no white glove service to set up your mattress when delivered.
The Verdict
Overall, we like the concept that Puffy brings to the table with modern mattresses. Memory foam has a lot of great qualities, and the climate control aspects of these mattresses make them more approachable for the average person. Puffy mattresses can also be especially helpful for those living in hot climates but who love memory foam mattresses.

The cost is not the cheapest and may not be reasonable for those on a budget or young people just starting out who can't afford a pricey mattress. Considering how much use your bed gets and how many nights of sleep you can get out of a mattress, we don't think the cost, in general, is it outrageous or unreasonable.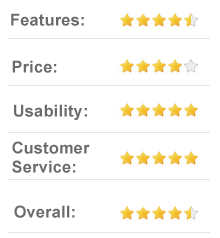 One of the absolute best features of the Puffy brand, in our opinion, is the free trial. This takes a lot of the risk out of purchasing one of their mattresses and is a reassuring vote of confidence by the brand. With the free trial, there really isn't much to lose, and only lots of quality sleep to gain.
These may not be the most ideal mattresses for customers on the hefty side, but even so, a free trial might be worthwhile to see if it works for you. One other side note we like about the brand is that they work with the #JumpForKids charity by donating mattresses to kids in need. What's not to love about that?