Selling products online is not an easy feat. It requires planning, organization, communication, and so much more.
If you have your own business, you know how important your checkout process is in this process. That's why you should know about SamCart.com.
SamCart is a web-based check out platform that is used for both digital and physical purchases for small businesses all around the world.
Our review of the website's offerings goes in-depth to discuss the different plans offered and the different perks involved with the features included in each plan. SamCart offers a 14-day free trial for all plans so that you can make the best and most informed decision for your small business.
What is SamCart.com?
SamCart is a company that provides services to make selling products online as easy as possible.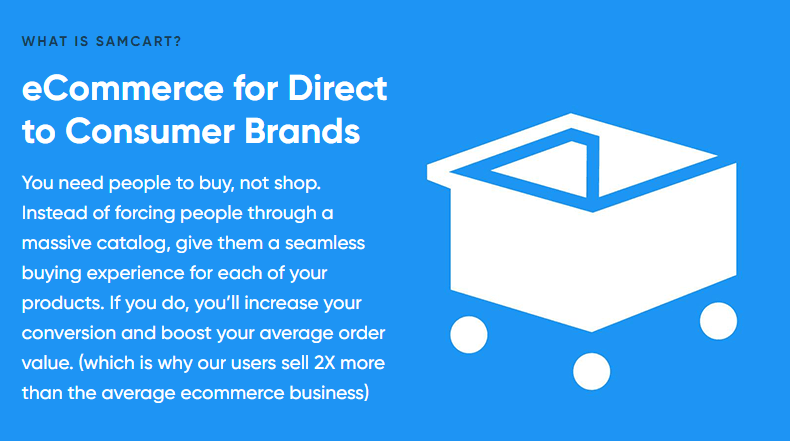 If you register with SamCart.com online, the highly skilled professionals working for the company will help set up an easy-to-use shopping cart software and a 1-page funnel system that makes checking out online simple and easy.
SamCart's features are especially helpful for small businesses and digital marketers because it takes time away from setting up the purchasing process. The extra time can be used on promotions and finding clients who would enjoy the products and services they offer.
History of SamCart.com
Brian Moran, a successful internet marketer, first launched SamCart in 2014. With experience in digital marketing and ecommerce, Moran understood the importance of having an easy-to-use and manageable checkout page for your business.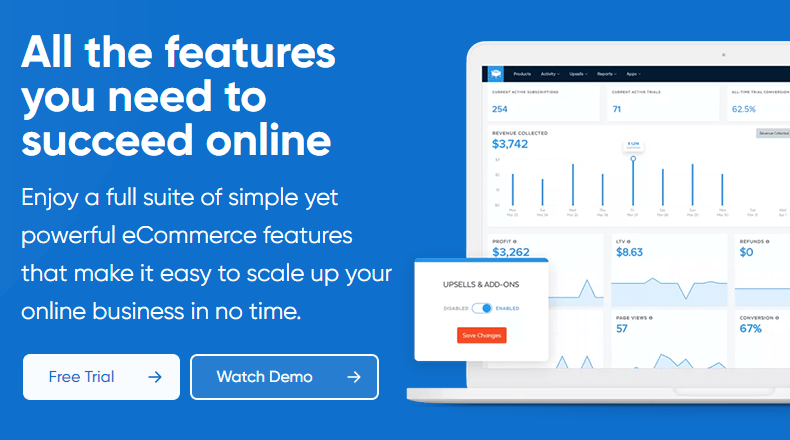 In order to make SamCart what it is today, Moran and his team of employees set out to understand how to make the online shopping experience better for the everyday user. By looking at statistics like the number of abandoned shopping carts and the number of repeat customers, Moran has created a site that can boost sales and streamline the checkout process.
This website is geared to help startup businesses launch their websites and products, as well as assisting established businesses make more profit and expand their customer base.
Top Features of SamCart.com
SamCart.com is one of the most easy-to-use options for customizing your online checkout experience. Some of SamCarts most highlighted features include the following:
Customizable Sales Page Design
Revenue Optimization
SmartCart Add-ons
Core Commerce Customization
Safety Features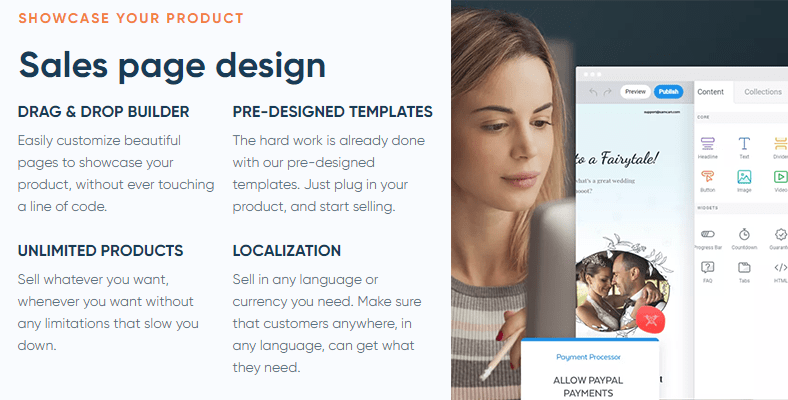 One of our favorite features is the lack of code the users have to deal with. If you use SamCart, you'll likely never see a line of coding, but you will be able to customize your website in countless ways as though it was specially coded for you each time.
The sales page design includes a drag and drops feature that allows you to move parts of your website around to your liking. If that seems overwhelming, there are also several pre-designed templates you can use exclusively with SamCart that will allow you to plug in your product information and begin selling in no time.
SamCart does not limit the type or amount of items you sell. You can conduct business online as much or as little as you like, with the option to contact a representative from SamCart at any time to help with any issues you may encounter.
SamCart is also extremely helpful when it comes to maximizing your sales. Revenue optimization features include one-click upsells, pre-purchase add-ons, smart pixel tracking, and advanced reporting of your sales.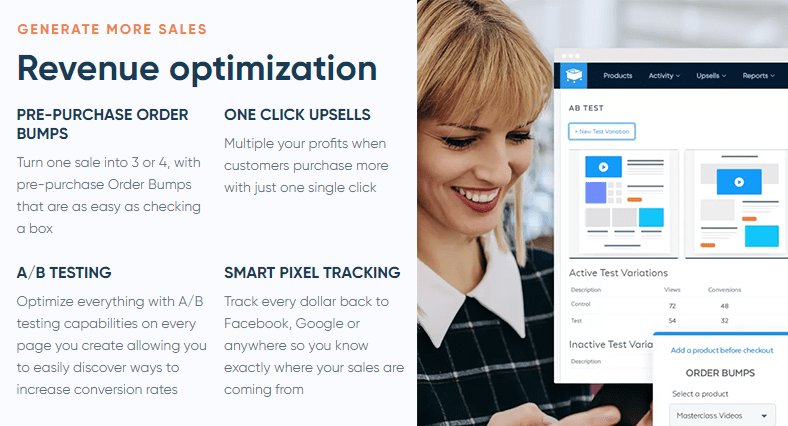 Every revenue optimization feature is included to help increase and understand sales and grow your business. You can change these features daily through your SamCart access, so you can understand what your business needs in order to grow and be as successful as possible.
You can also expand your core commerce goals with SamCart's services. SamCart helps set you up with a payment processor, simplifies tax collection with every sale, offers coupons and several payment options and allows for custom fields to be included virtually anywhere on your site.
SamCart also guarantees the safety and reliability of all of their services. There are representatives available through SamCart's website at any time, which makes the process of working with SamCart that much easier.
SamCart Commission and Costs
There are three plan options to choose from when deciding to work with SamCart.
Those three options are:
No matter which option you choose, there is an option 2-week free trial for every plan.
Option 1: Launch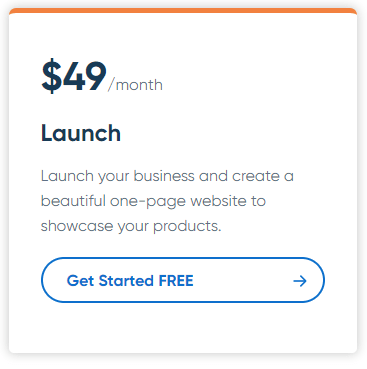 The Launch plan is $49 per month or $270 per year. Annual pricing plans include a discount for each of the three plans offered.
With the Launch plan, you can set up and launch your business with a customizable one-page website that showcases your products to potential clients.
There is only an option for one admin user with the Launch plan. Dashboard and sales reports will be included with this plan, as well as all of the checkout features that SamCart offers.
Those checkout features include the drag and drop template builder, unlimited templates, no additional processing fees, smart pixel tracking, custom thank you pages and SamCart branding.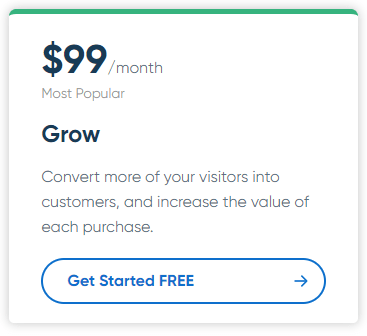 Option 2: Grow
The Grow plan is the most popular plan and costs $99 per month or $950 per year.
All of the same checkout features are included with this plan, as well as upsell and add-on features, advanced reporting options, email integrations, and subscription features.
There is also the option to have up to three administrators on a single profile when using this plan.
Option 3: Scale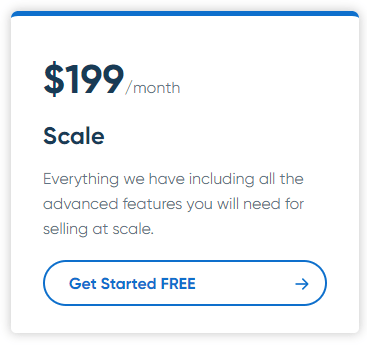 The third option is $199 per month of $1910 per year.
This option includes every single feature SamCart offers. This is the ideal plan to choose if your business is already up and running and simply needs help with organization and streamlining purchases.
The Scale plan is the only plan that also includes applications like cart abandonment follow-up emails, built-in AB testing, affiliate center and subscription saving.
The features included on the Scale plan are guaranteed to help your business improve its point of sale processes and hopefully, increase business to reach a maximum profit.
SamCart Customer Support
Customer support offered through SamCart goes above and beyond to help SamCart customers have the best experience they can with the products offered.
When you visit SamCart's website at SamCart.com, you are almost immediately greeted by a messenger window, where you can communicate with a SamCart representative. You can ask the representative any questions you may have about how to use the customizable features or set up purchasing information.
If the customer support through the messenger window does not clarify the issue completely, you can also visit the SamCart Support Center or submit a question through the online portal.
There is also an email address that you can use 24/7 to contact a representative about any issues you are having. All types of customer support assistance are completely free on SamCart and will involve a real human to answer your questions, not a robot.
Final Thoughts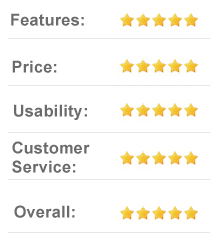 Overall, SamCart seems to be one of the best choices for optimizing online sales of products. Their easy-to-use and customizable system offers countless choices for setting up your website in a way that looks best to you.
The customer service with SamCart is rated as being top of the line, which is why the cost for working with SamCart seems reasonable when you consider all of the perks you'll have when using them.
The security and reliability of SamCart is the cherry on top for us. Ensuring that you and your customer's information is secure and being processed correctly is one of the most important parts of operating your own business and website. Streamlining the checkout process to be easier for both you and customers is bound to have rewards and may even attract more customers for its simplicity and ease of ordering.
If you have any further questions about SamCart.com, you should visit their website and chat with an agent on the website.