As a small business owner, you need plenty of tools for your startup to grow. In this instance, marketing tools are crucial to reach out to the potential targeted audience in your growth journey.
With the growth of marketing dynamics, there are numerous marketing tools. However, only a few are credible that will have your back, like Sendinblue. Sendinblue is renowned for offering unmatched essentials to grow your small business from scratch until it gains a firm grip with target customers.
This piece will review Sendinblue, giving you all details you need to know about the tool, the company, and why you should bank on its services.
About Sendinblue
Sendinblue is a relationship marketing firm that was established in 2007. It has its headquarters in Paris, with offices in Delhi, Seattle, and Berlin.
Sendinblue is the solution to your marketing needs, providing the essential tools for digital marketing. As we know, ecommerce is taking the business world by storm, and you need to have a stable online presence to prevail over various trends.
Sendinblue will hugely establish your online presence courtesy of several strategies that we will see later in the article. This tool is an excellent companion for those seeking to expand their client base and rake in more profits.
Features of Sendinblue
Sendinblue is a versatile platform with accommodative and irresistible features. Signing up for its services is free and straightforward, only requiring you to provide a valid email and password. After signing up, you can log in to your newly created account and start enjoying Sendinblue
Resources.
The following are key features and resources Sendinblue has for you.
The Blog
If you are new to Sendinblue, it is advisable to visit the blog section. Many informative articles here show you how to use this marketing companion and trends for high results.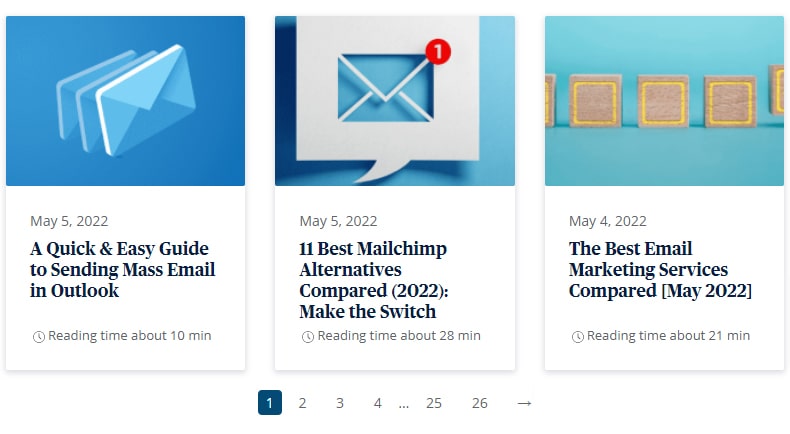 It is an educational resource you can regularly check to stay on top of your online marketing game. Whichever topic you are interested in, you can navigate different blogs without limitations.
Sendinblue Learning Center
If you are desirous to understand how Sendinblue operates, the learning center is the place to navigate deeply. Sendinblue help center contains several articles touching on several topics that may need attention.
Examples of the available pieces in the help center include account management, email campaigns, ad campaigns, deliverability, and more. Pick a topic and learn how to navigate through it.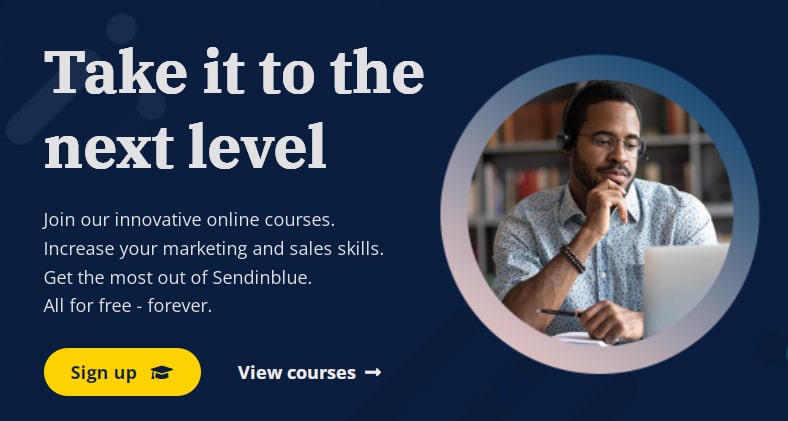 Also, Sendinblue has an Academy with unmatched marketing online courses. The courses mainly cover sales and marketing and will give you the right skills. Signing up for the lessons is free, with four professional teachers being in control.
The module duration is ten minutes, and the courses are available in English, German, French, and Italian. Upon completing your studies, you get a certificate, which you can add to your CV or site.
Sendinblue Platform
If you are looking for product updates of Sendinblue, the platform section has all you are looking for. The updates are necessary for the tool to function well and keep up with the growing needs in the digital marketing sector. You can check for available updates by filtering the month and type of upgrade.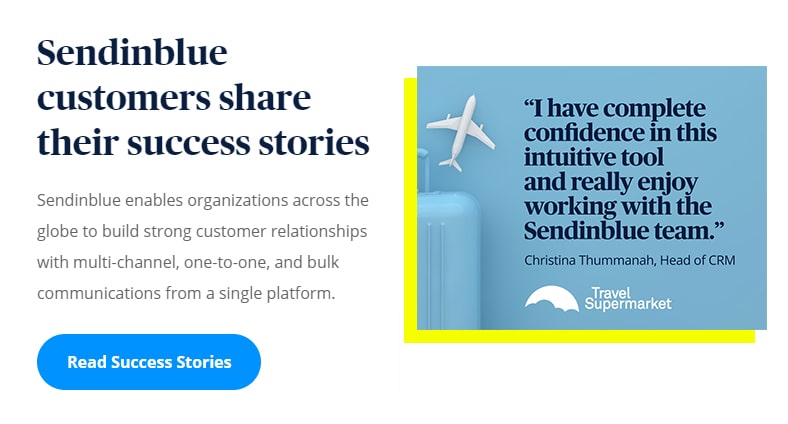 Do you need some encouragement to keep you going? If affirmative, look no further than the case studies menu under the platform section. Here, you find success stories from customers who relied on Sendinblue services.
You may filter the success stories by region, industry, and plan. The encouragement may be the nudge you need to make a move to change your business' pace.
You cannot overlook the plugins feature. It provides you with the necessary integrations to make your WordPress site a marketing powerhouse. Other extras under the platform menu are the service lab and platform status.
Partnerships
At times, you need help to get moving with your marketing campaign. Sendinblue has you sorted, courtesy of the partnerships feature. You can hire a professional from 10000 certified experts under Sendinblue.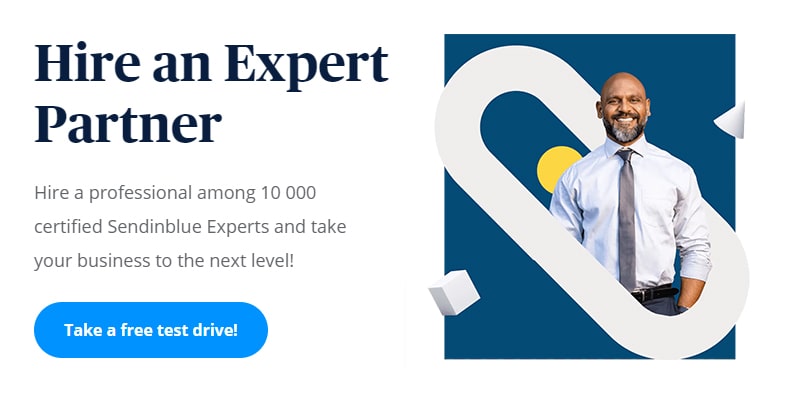 They are highly qualified with an unrivaled track of experience to support you in any area of interest. You sort the experts via country, language, specialties, and budget. You may also join the experts' program as an expert. You offer your knowledge in marketing and earn from it.
Talking about earning, you can get some extra income by promoting Sendinblue. Moreover, you may join the blogger program and earn a commission or go for the incubators and VCs program to enjoy the available perks.
Communicate with Sendinblue
Shifting to the Sendinblue features section, you will find three categories, the first being communicate. These are the communication tools you use for your business. Under this section, you have email marketing, a crucial strategy to go for if you want to expand your reach.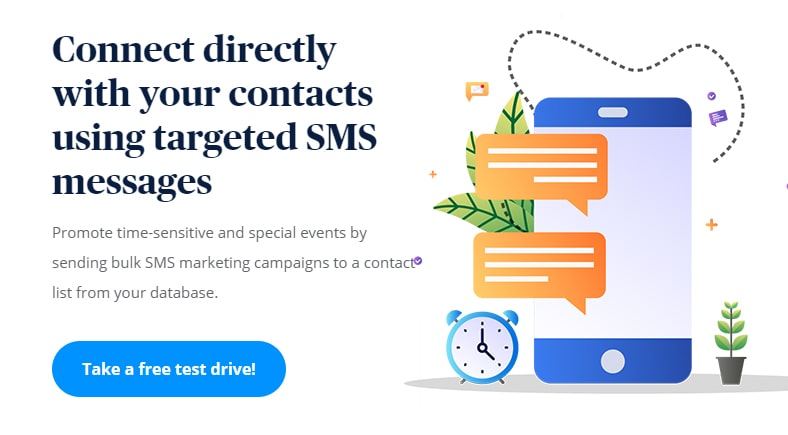 The email API comes in handy if you want to send multiple emails simultaneously. SMS marketing is ideal if you're going to have a personal touch when dealing with clients by using personalized text messages.
The chat feature allows you to connect with your clients and leads in real-time. Finally, you got the inbox feature, where you can interact with your team via a shared inbox.
All these add-ons that Sendinblue provides ensure a productive workflow suitable for business expansion.
Personalize
Under the personalized menu, you have extras such as the CRM, which is essential for the organization of your contacts. As a business owner, you understand the essence of having your contacts well-organized for accessibility.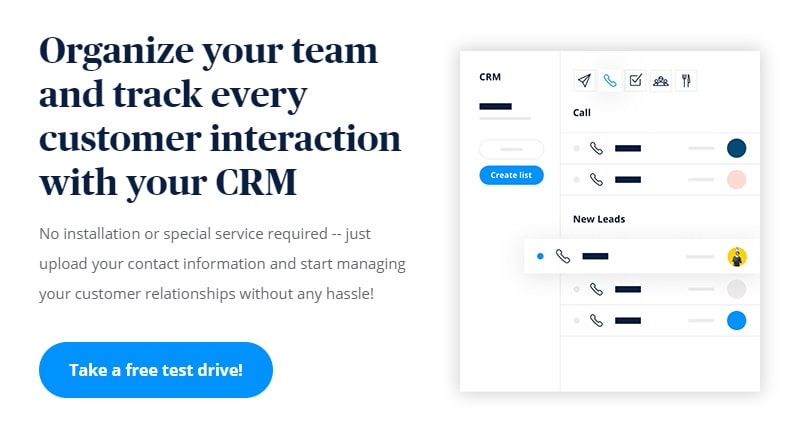 Marketing automation allows you to send direct commands, like sending an email, text, or newsletter to specific clients. This feature is very efficient for your workflow. Transactional emails give a personalized touch to your emails, showing off your brand. Moreover, you nail it on deliverability.
Convert
You can grab the attention of potential clients via eye-catching forms. Mainly this is added to your email contact list to broaden your search. Sendinblue convert section allows you to create and customize landing pages. With a personal touch, you increase your chances of getting clients who can resonate with your mission.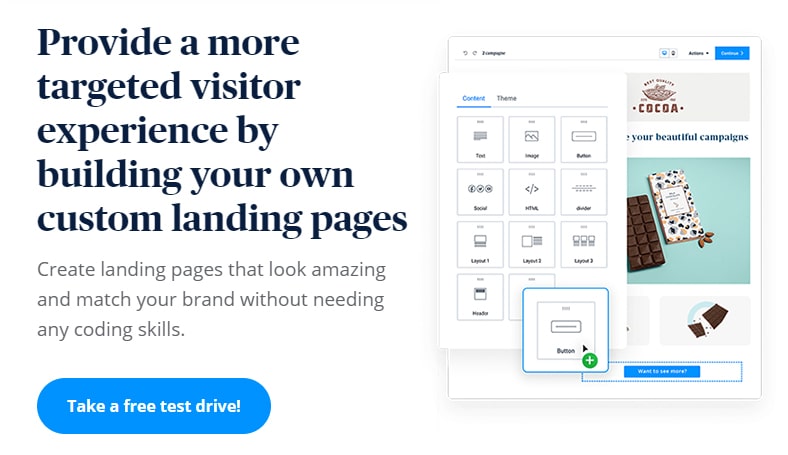 Furthermore, you can use the convert section to create Facebook ads. Facebook is one of the largest social media and ecommerce hubs. Take advantage of it by creating standout ads that will attract clients in droves.
Pricing
You probably wouldn't wish to miss out on Sendinblue discounting offers. After signing up, you should pick a suitable plan to unlock more features. Sendinblue is a versatile tool, with everything for everyone, evident from its pricing plans.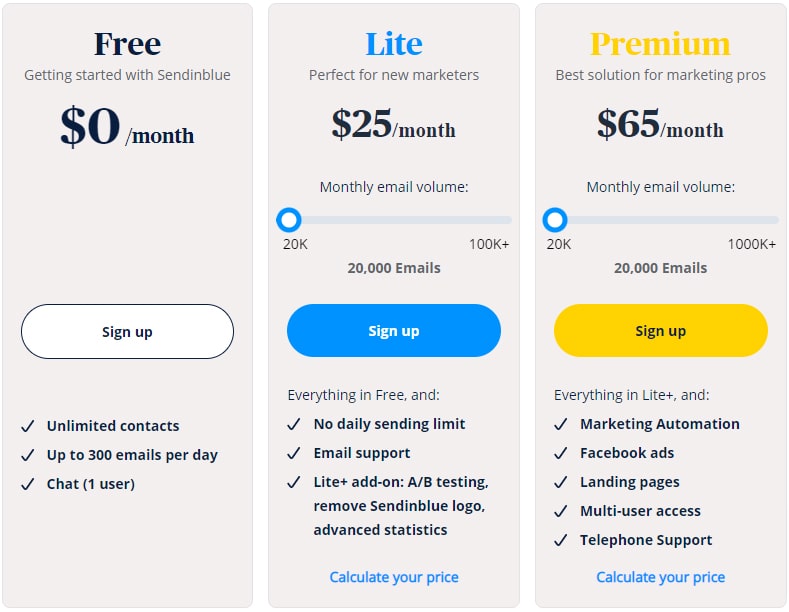 The free plan is excellent for beginners, giving you a chance to learn about the product and how it works. Perks include unlimited contacts, sending 300 emails per day, and a one-user chat.
With time, you should upgrade to the Lite package. You pay $25 monthly for it and get all perks from the free package plus no daily sending limit and email support.
When you get to the marketing pro-level, opt for the Premium package. You pay $65 per month for it and get all the features of the lite package. Additionally, you enjoy Facebook ads, marketing automation, multi-user access, landing pages, and telephone support.
The Enterprise plan is fit if you want a customized package. You get everything in premium with custom email volume, over 20 landing pages, priority support, and 10+ user access.
What to Love about Sendinblue?
The following are some of the things to appreciate about this marketing partner.
Plenty of Add-Ons
From the learning center, conversion tools to communication extras, Sendinblue has it all. The various resources will help with your marketing campaign.
A Free Test Drive
Not many marketing tools offer a free test drive. Sendinblue provides a free trial for you to see its capabilities. You can pick a plan and unlock more perks if you like what you see.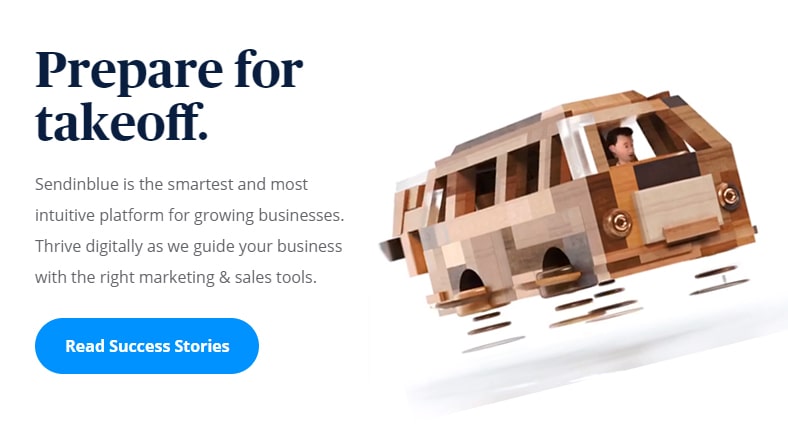 Multilingual Interface
The platform supports English, Spanish, German, Italian, and Portuguese. It shows how versatile it is.
Customer Support
If you encounter any issues while using Sendinblue, you should reach out to the customer support team. You visit the Contact Us section and specify the problem. Communication is via email, though you might also reach out via social media handles, like Facebook, Instagram, Twitter, and LinkedIn.
Final Thought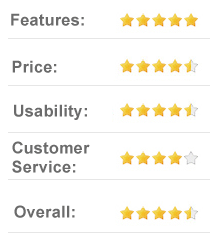 Digital marketing is a concept that is picking fast, and every business should strategize to have it as part of their expansion plan. Sendinblue is a reliable digital marketing tool that will skyrocket your marketing results decently.
It has plenty of resources that, if used correctly, will propel a startup to success. Don't be left behind; sign up on the Sendinblue website and peruse unmatched features today!