As writers, we all know the struggle: some days it's easy to crank out thousands of words and feel good about the quality of our writing. Other days, however, end in staring at a blank screen without a single word.
There are times that every writer wishes they could pass off the job to someone – or something – else. With the increase of artificial intelligence, this has become possible. ShortlyAI is one of the leading AI writing assistants online, but is it worth the money?
In this review, we'll go in-depth about ShortlyAI and whether it's a good investment for days of writer's block. From one writer to another, I'll give you the details of ShortlyAI's system and how it works.
About ShortlyAI
ShortlyAI was founded in the fall of 2020 as an artificial-intelligence-based writing assistant. After a year of initial success, it was bought by Jasper AI and continues to serve writers. Because of the funding from the larger company, ShortlyAI has been able to improve its services and AI functionality.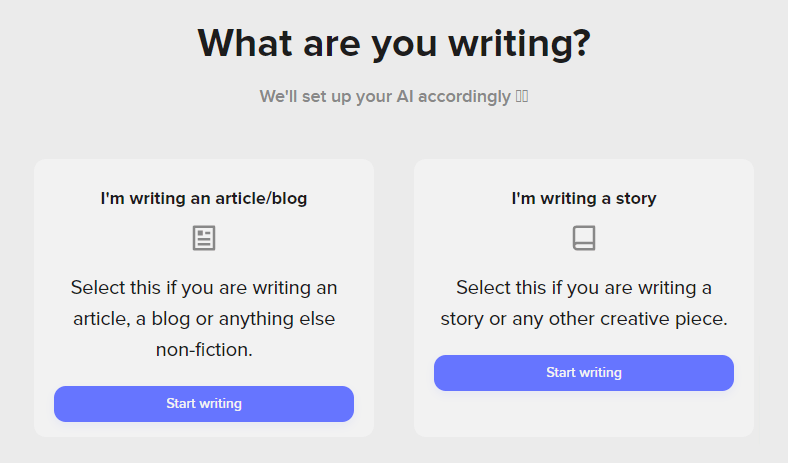 ShortlyAI has consistently been rated as one of the best AI writing assistants. For freelance bloggers, copywriters, or storytellers, this software can save you time and move you out of the rut you may be in. After a brief learning curve, you can use ShortlyAI to create incredible content.
ShortlyAI Pros and Cons
Before we go in-depth with the software, here are some of the main pros and cons of ShortlyAI:
Pros:
An excellent copy with the right inputs
Extremely easy to use
Works across devices
Easy to access the user interface
Unlimited writing
Writes fiction and nonfiction
Cons:
Somewhat of a learning curve
Limited free trial
Inconsistent customer service
Doesn't work as well on smaller screens
Only available in English
The Top Features of ShortlyAI
If you are a writer looking for online writing assistance, it's crucial to look at the software's top features. Here are some of the best parts of ShortlyAI and how they function in reality. While reading this, you can get an idea of whether this software is the right fit for your writing needs.
Article Writing
ShortlyAI was created for freelance and individual writers who write informational or opinion pieces online. The main interface consists of two parts – article writing and story writing. Once you choose article writing, you can input the subject, main keywords, and further instructions and let the AI write most of your content.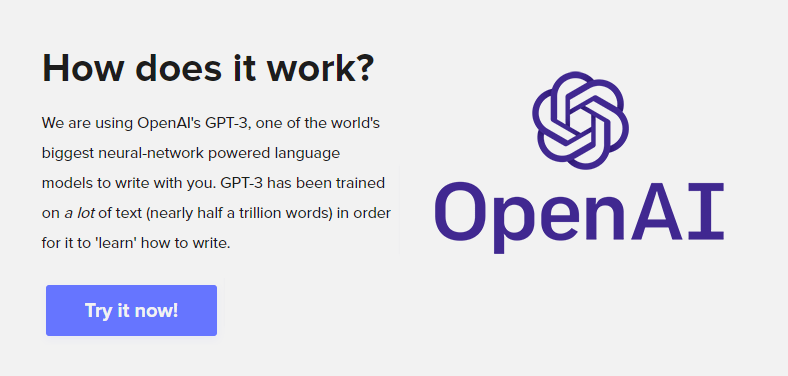 Article writing involves finesse and knowledge of keywords, and it might be strange to trust a computer with the basics of it. However, once you've started an article and clicked the "write for me" button, you may be surprised at the work quality that ShortlyAI can produce.
The computer uses your instructions to complete your sentence, paragraph, or the entire article. Once it's done, you can look through it and edit for details, but you won't need to do most of the copywriting. It may be a rough draft, but the drafting process is complete, and you can simply polish it.
Story Writing
If you're a fiction writer, it sometimes helps to have a boost from an external source. Once you've started a story or a chapter, you may need some help to get it where it's going. ShortlyAI has an entire section dedicated to story writing, which can help stir your creative juices.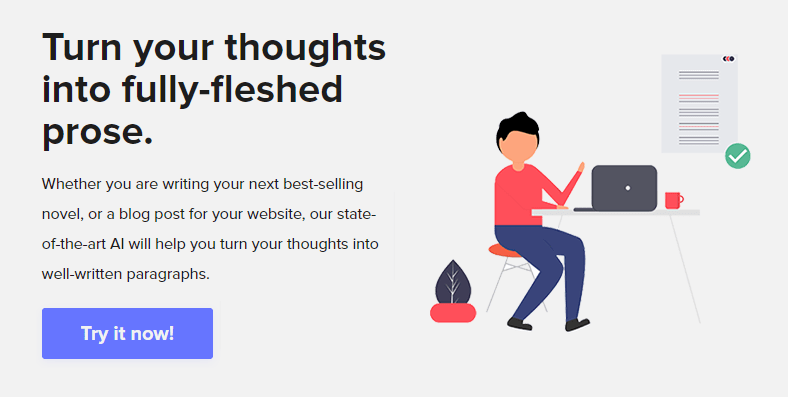 Once you enter the "story" section of ShortlyAI, you can input your characters, details, and potential plot and let the AI write the story. It's open for editing and some changes after, but the bones of the story will be complete for you.
One of the most unique and interesting things about ShortlyAI is that it doesn't always create the exact same story. Sometimes, the computer will come up with a new plotline, subject, or factor that you hadn't thought of, making your story richer and more interesting. This feature is part of what makes ShortlyAI one of the best writing assistants available.
Keyword Integration
ShortlyAI is meant for individuals who write for a living, whether that's fiction or nonfiction. If you write freelance articles and focus on SEO and keyword research, you need a writing assistant that can include the proper keywords. This is a slightly more advanced use of ShortlyAI, but it's possible to do.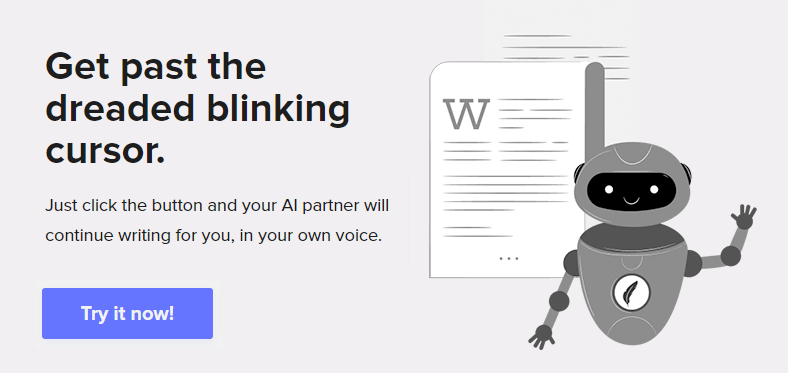 Using ShortlyAI to write keyword-heavy articles works well because artificial intelligence needs some keywords. You can't simply open a blank page and tell the system to start writing – the computer needs to know the subject and tone of your writing.
The more keywords you input into the directions for ShortlyAI, the more you will be able to boost your final results. Keywords work wonders when it comes to views and article reads, and if you are working for a client who requires a certain level of detail, ShortlyAI can provide that. All you need to do is give the AI the proper instructions.
User Interface
The user interface of ShortlyAi is simple and easy to use. It fulfills the main requirements of any writing extension – it's sleek and doesn't get in the way of other work. Once you've requested your article or story, you can continue working on other things and not worry about ShortlyAI.
Once ShortlyAI is installed, it's almost completely invisible until you need it. Depending on your device, you can access the interface with a mouse click or a few keystrokes. The "Write for Me" button pops up easily, and you can click it to complete your sentence, paragraph, or page.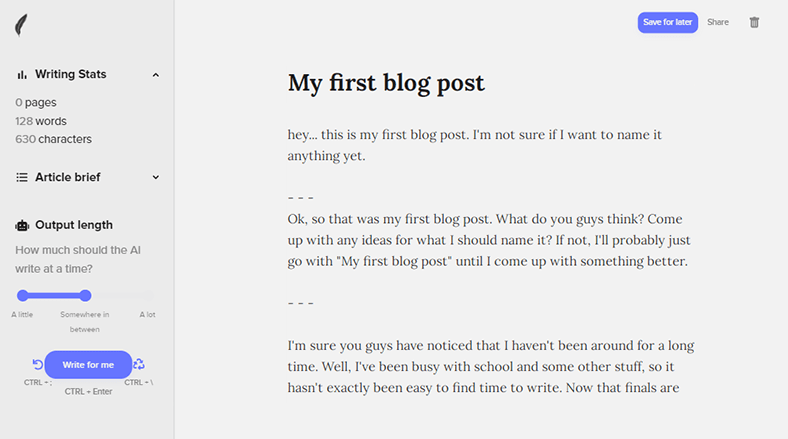 Of course, the main interface is even easier to use. If you don't like extensions or want to write in one app, you can write in the ShortlyAI app without needing to install the extension across your browsers and word processors. It's easier to give the AI instructions this way, and you can choose between fiction and nonfiction.
With ShortlyAI, there is a small learning curve to master. If you aren't satisfied with the software's content, you might need to adjust your keyword input. However, as long as you can properly ask for content, ShortlyAI can provide you with quality writing.
Editing Copy
While ShortlyAI doesn't edit a copy for you, it provides a good rough draft of what you will publish. If you aren't happy with what the AI has written for you, you can repeat the query and add different instructions.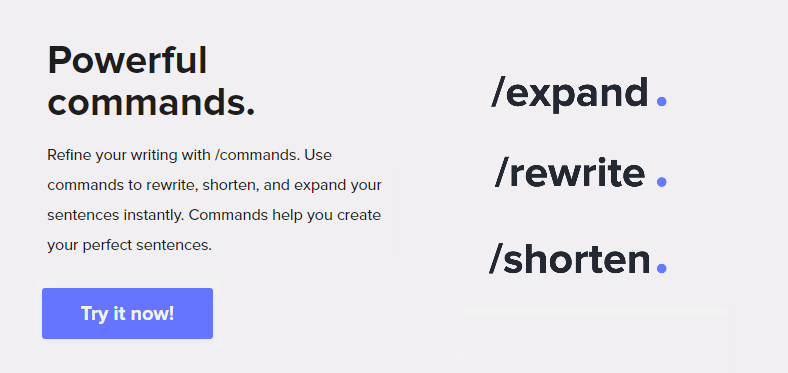 ShortlyAI also has a Refine Commands feature, so you can take the words already written and refine them to more fully express what you need to say. This is rare in AI writing and a huge benefit if you aren't entirely satisfied but don't want to delete the entire work.
Multiple Devices
ShortlyAI can be installed across all of your devices. Whether you write on a laptop, tablet, or smartphone, you can use the service to help you complete articles and write excellent stories.

Unfortunately, this is one of the areas where the service could use a little work. While it works perfectly on laptops and tablets, the AI service can get glitchy on smaller screens or handheld devices. Keep this in mind if you work mostly on a smaller screen before making the purchase.
ShortlyAI Costs
Of course, if ShortlyAI is so great, why shouldn't you try it? If price is an issue, that's understandable, but ShortlyAI might end up paying for itself if it increases the amount of content you can create in a month's time. There is one subscription price for ShortlyAI and a free trial of four articles.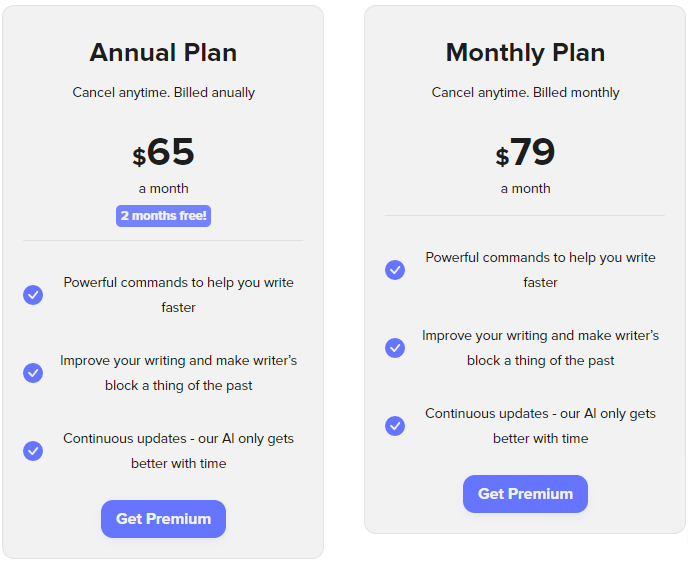 When you sign up for a free trial, you have four attempts before paying the monthly subscription fee. With this, you can see whether ShortlyAI produces the right type of content for your business. A full subscription to ShortlyAI costs $79 a month or $65 a month if you pay for a full year.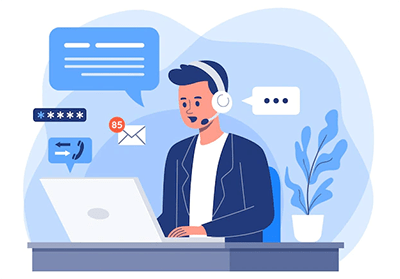 Customer Support
One of the biggest negatives of ShortlyAI is the lack of consistent customer support. If you have issues with your subscription, you can email customer support or call the number on the website. However, this usually takes a while, and the results can vary. This is the area in that ShortlyAI could grow the most.
Final Thoughts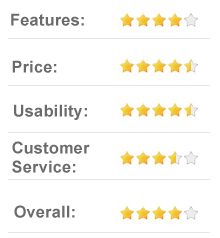 Although the customer support isn't consistent and the AI only writes in English, ShortlyAI remains one of the top options for writers who need a virtual writing assistant. When you need copy written, you only have to input the correct commands and let ShortlyAI complete your article or story for you.