If your company wants to integrate high-engagement content funnels into your marketing stack, you'll need a system for managing contest implementation and data analytics across all of your marketing channels.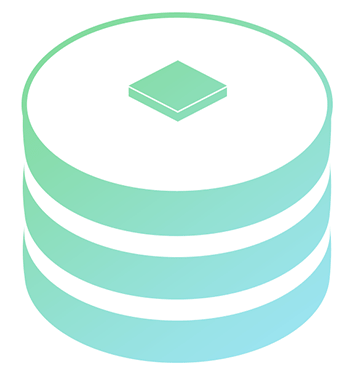 Without a single unified platform for parsing the incoming contest engagement data and determining which efforts have the highest clickthrough, contest-based marketing looks more like a cash outflow than a source of new customers or conversions from existing customers.
That's where ShortStack comes in. ShortStack is a consolidated service for contest and competition-based marketing efforts, complete with campaign planning, team collaboration, data analytics, and contest prototyping across marketing channels.
In this article, we'll review ShortStack and explain how it might be a useful tool for your company's competition-based marketing campaigns.
About ShortStack
ShortStack is a service for creating landing pages, social contests, email outreach, and general marketing analytics. For setting up giveaways and other promotions as part of your company's marketing campaigns, ShortStack is the specialized tool you'll need to thrive.
With ShortStack, all the style elements of your branding will remain fully within your control. You will also have the option to white-label templates and styles from other sources, meaning that you aren't obligated to be an expert at design to make an effective giveaway campaign or landing page.
ShortStack is a great tool if your company needs help with:
Sweepstakes
Giveaways
Contests

Landing pages
Referral systems

User-generated competitions
Content rights management
We'll discuss all of these features in-depth later on, but for now, just keep in mind that ShortStack is one of the only platforms of its kind. As far as contest-management platforms go, ShortStack is a big fish in a small pond, and they're great at what they do.
ShortStack Costs
The costs and price of ShortStack are determined on a per-customer basis via conversations with the company's sales team.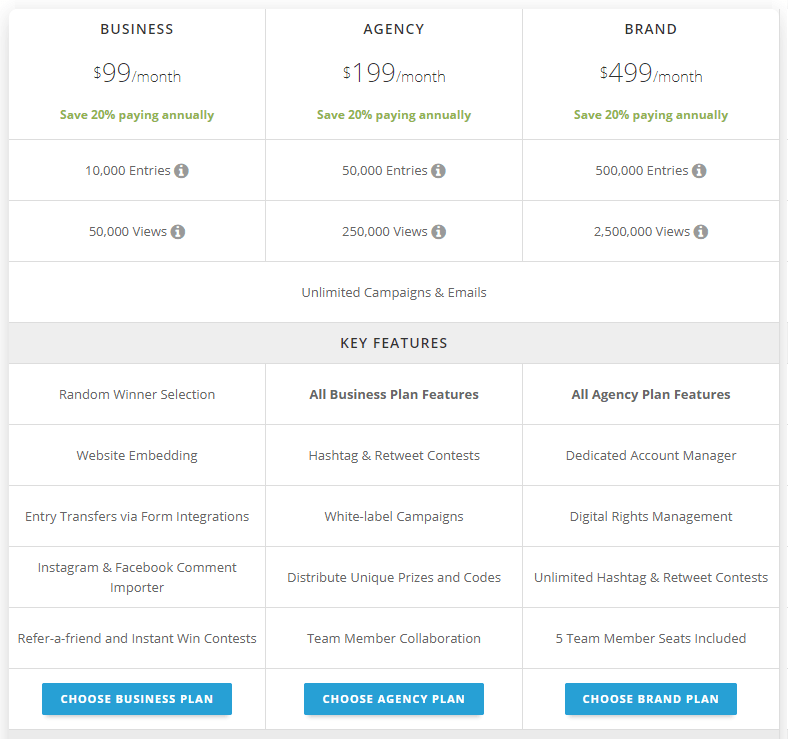 On the bright side, ShortStack is committed to minimizing the costs passed on to your company. In this vein, ShortStack has strong privacy protections, and retains the following compliances:
This means that you won't need to worry about utilizing a vulnerable system for your company's core marketing activities, so you won't have any unpleasant surprises.
Best Features of ShortStack
ShortStack has a handful of industry-leading features that you should know about if your company needs help automating its contest-based marketing workflows. Each of these features is easy to use and easy to integrate with your existing marketing funnel technology, so you won't have any trouble getting up and running with ShortStack.
Landing Page Generation
ShortStack's landing page generation tool provides a handful of templates and tools for making new landing pages for your contests or sweepstakes. While you'll need to import your brand's visual style to get the most out of the landing page tool, once you do, you'll be ready to mint new marketing campaigns rapidly and at a low cost.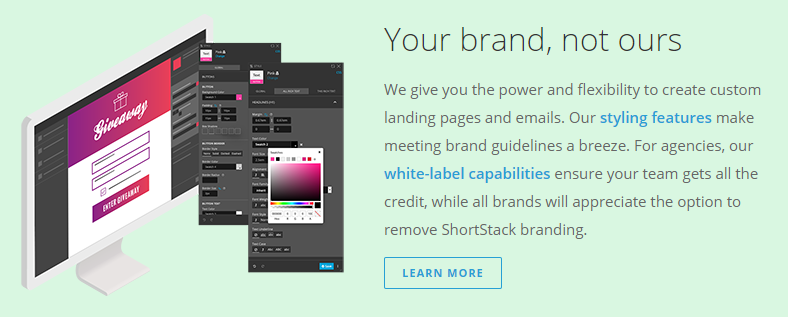 ShortStack's landing pages are embeddable anywhere, including marketing channels like:
This means that you won't need to adapt your contest campaigns to the features of your primary platforms each time you make a new campaign. Instead, you'll input your parameters into ShortStack's system, and the hard work will be automatically done for you.
Importantly, all of ShortStack's embedding integrations are simple to implement. All you'll need to do is copy and paste the relevant code automatically generated from the ShortStack interface. You'll also get help in maximizing the impact of your campaigns over different marketing channels.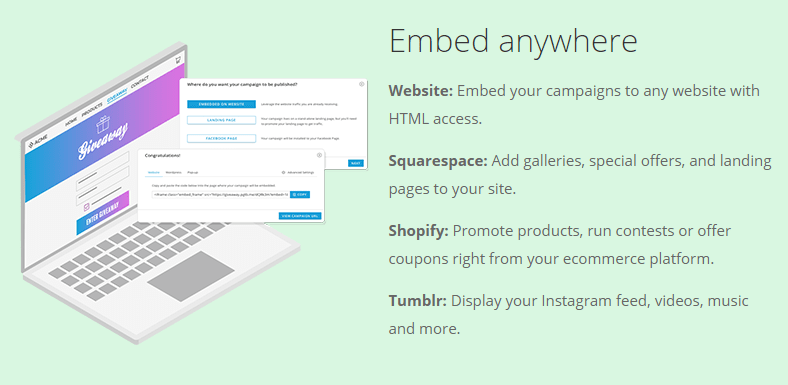 For each marketing channel, you'll see how you can adapt your campaign to make the most out of the features unique to the channel. Your Twitter campaign will be automatically adjusted to perform well on Facebook, or vice versa, if you want.
You aren't forced to use ShortStack's automatic calibration, but it's one of the best features the service offers to increase your conversion rates and also your engagement rates for all of your contest-based marketing campaigns.
Hashtag Contests and Points for Action Contests
For contests on Twitter and Instagram, there's no better feature than ShortStack's Hashtag Contests system. Hashtag contests are easy ways of gathering user-generated content, and with the ShortStack campaign manager, you can easily collate all of your user-generated content into a blogroll or another piece of marketing content.
In other words, using ShortStack's hashtag contest manager, you can use your users to feed the marketing funnel in other channels, creating a web of reinforcing content.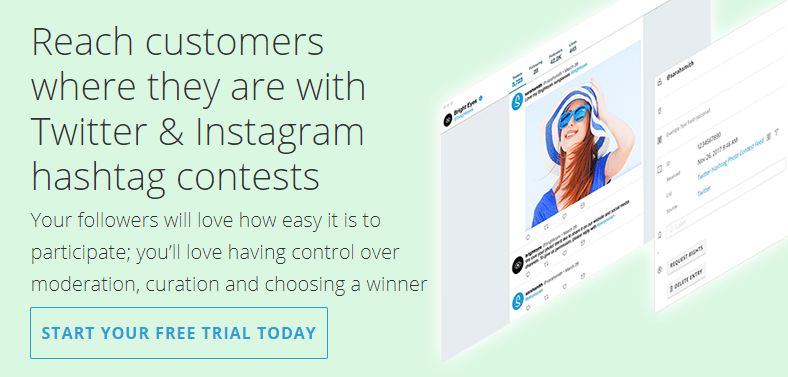 Hashtag contests also work great for sweepstakes and giveaways because they can make your brand's campaign go viral.
Points for Action contests are also implemented in ShortStack. Using ShortStack's tracking analytics system, users who perform the specified actions generate points which they can then potentially redeem for brand rewards.
Unlike the hashtag contests, fully implementing points-based contests can require more information technology resources to ensure that the users are taking the actions you desire. On the other hand, if you want to stick to time-tested points for action tropes like confirmation codes, ShortStack is more than equipped to handle your needs right out of the box.
White Label Contests
If your brand wants to white label a contest template which has been proven to be successful in your industry, ShortStack has a service for that. Using the white label contest functionality, you can remove all ShortStack branding from customizable contest campaigns that you make.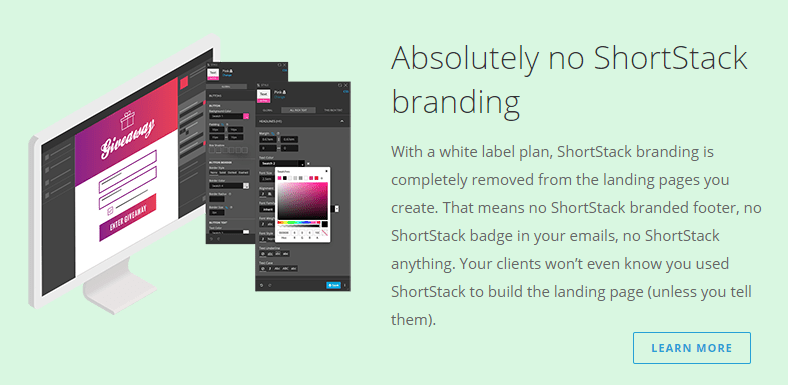 For brand-conscious consumers or for brand implementations that require highly intricate aesthetics, the white label contest functionality is a surefire way to execute your vision without any outside visual interference.
When you make a white label contest with ShortStack, you'll have access to all of the same templates, analytics tools, and integrations as you normally would.
This means that for some marketing campaigns, the majority of your contests could be made using the white label contest tool without any additional friction passed on to your marketing team.
Analytics
ShortStack has an excellent analytics suite that includes data from tracking pixels, landing pages, emails, Google Analytics, Google Adwords, Facebook, and other data sources.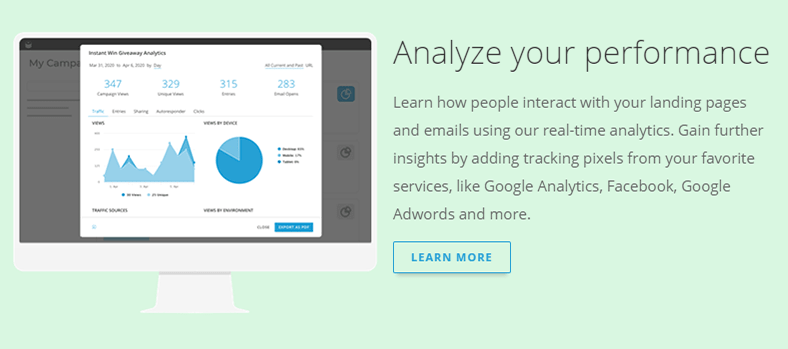 Then, you can add the data to whichever other analytical workflows your company has in its marketing stack. Using ShortStack's form integrations, it's easy to export data out of the platform regardless of where it was initially gathered.
You can also create custom metrics for your ShortStack analytics dashboard. However, you should be aware that these custom metrics may not cleanly import into any third-party analytics dashboards, which you also use in your marketing funnel.
Stability
One of ShortStack's best features is the stability of its platform. Boasting more than 99.99% uptime, ShortStack will be there when you need it the most at no additional cost to you. There's no additional risk of running into problems when you use a custom domain to run your contests.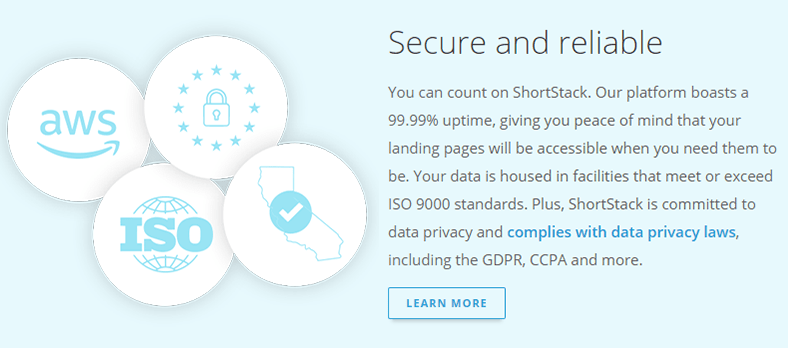 When paired with ShortStack's great customer service representatives and no-hassle implementation, ShortStack is also very easy to use and troubleshoot as necessary.
ShortStack Customer Support
ShortStack's customer service team is great at providing your company with the resources it needs to use its platform. If you're having trouble executing the workflows and advisories which the ShortStack customer service team provided, they will do it for you.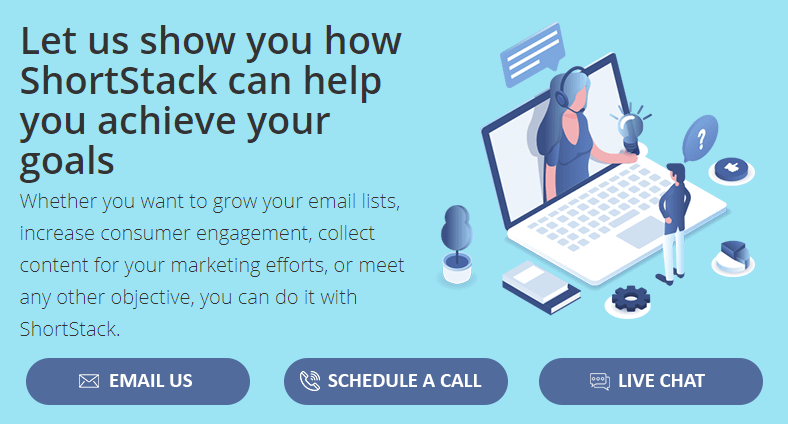 Just reach out to the team's online chat interface or give them a call. They're also responsive to email if you prefer, so everyone on your team can communicate with their customer service resources in the way that they prefer.
ShortStack's customer service team can also help you set up your free trial.
The Downsides of ShortStack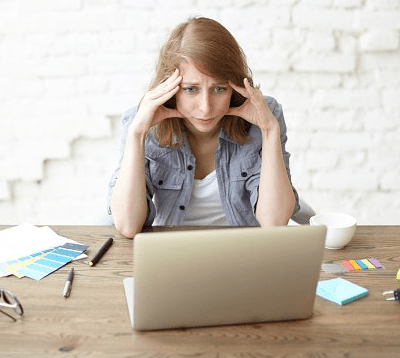 Unlike many other marketing tools, ShortStack's resources section is more minimal than some of its competitors. In other words, while ShortStack does provide a comprehensive guide to using its service, you're unlikely to find resources for designing your landing pages or contests.
This means that if your company needs help with the barebones basics of how to set up web contests or how to make your contests tailored to your platform, you won't find it on ShortStack.
Instead, you should think of ShortStack as a way to empower your marketing team's efforts once they're situated with your product and your company's marketing funnel.
The only other downside of ShortStack is that their pricing model is not very transparent. You'll need to talk to their sales team if you want to get more specific pricing, so you should set time aside and plan accordingly.
Final Thoughts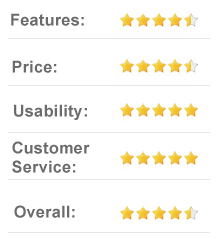 While ShortStack's focus is narrow, and its niche is highly specialized, it does a great job at the tasks it sets out to do. When you use ShortStack to manage your company's contest-based outreach efforts, you'll be able to operate significantly more efficiently than you might otherwise.
This means that if your company has hit its branding stride, ShortStack could provide you the boost that you need to massively increase your engagement and conversion rates.
For contests, there's no greater force multiplier than ShortStack. ShortStack isn't the only solution that every company will need to make their contest-based marketing efforts successful, but it has the potential to be the single largest part of the answer.