Site123 is an easy-to-use website builder for novice users to professionals. The goal is to build any website within minutes. You can't go wrong with simple, up-to-date functions.
The truth is website building can be overwhelming and a hassle. However, with Site123, you can count on fast results.
Anyone can use the platform. There's no need to worry, as you don't need prior experience with coding. With curated templates, you can achieve professionalism without a web designer.
Site123 is the efficient way to design your website, set up your online store, and reap additional benefits. Step by step guides and tutorials will hold your hand during the process.
About Site123
Site123 is a reasonably new website platform. The site was founded in 2016 by the owner Noam Alloush. Site123's headquarters is in Israel and is a successful global company.
Noam wanted to enhance the website building process. His vision came to life by mixing user-friendly capabilities with professionalism.
He has over fifteen years of experience in website building. As the founder, he understands what the consumer wants and needs. Therefore, the company's foundation always keeps the consumer in mind first.
The market for Site123 includes smaller to medium-sized companies. So let your business boom while implementing the benefits of the site.
Benefits of Using Site123
There are several benefits to using Site123. One of the significant benefits includes ready-to-go styles and modules.
Site123 understands that the average person may not understand designing a website from scratch. Many people also do not have efficient time.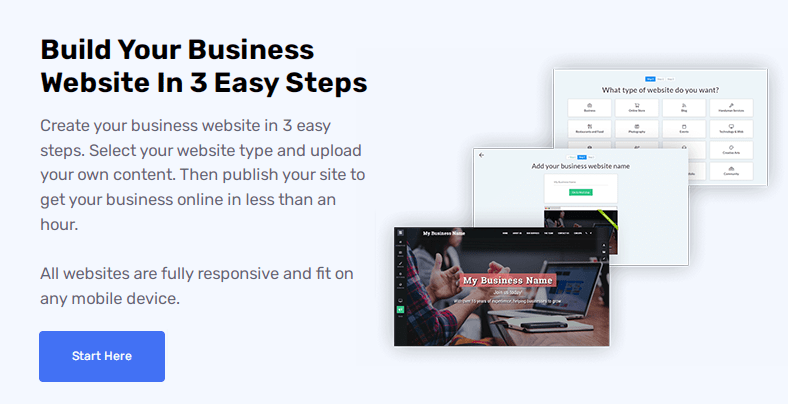 The company took the experts from the field while listening to their customers.
The Site123 features allow for a professional-looking website within minutes at your fingertips. The company's standard is high, as the company promises quality features.
Here are additional benefits of using Site123:
Having a built-in website editor
Being mobile-friendly
Enjoying free hosting
Staying secure, safe
Providing SEO tools
Ability to sell products online and various e-commerce tools
Booking capability and scheduling
Reservation tools for your restaurant
Tools for musicians
Blogging capabilities and tools
Email Marketing
Customize domains
Integrating social media platforms
You can check various analytics as well as traffic and visitor information.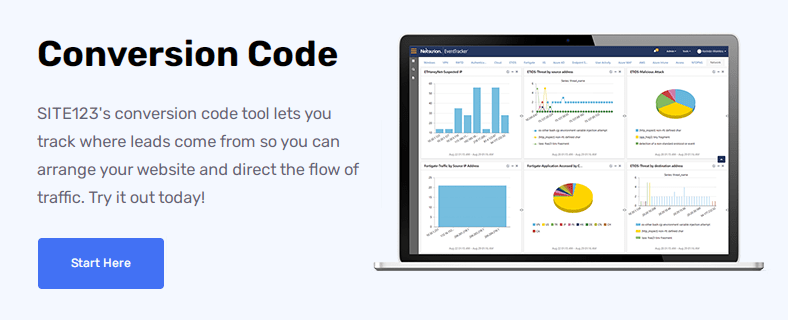 The advanced wizard is also a perk and a great tool to utilize. The wizard gives you a quick rundown of the website and its features. Learn to customize your website one step at a time.
Choose from a gallery of hundreds of professional photos, icons, and videos. These features are free to use while editing your site. Overall, the wizard makes the process easy.
Lastly, the learning center is an excellent tool on their website. A whole page is dedicated to free content and lessons.
There's a lot to uncover, from choosing color schemes to business strategies. So get ready as a wealth of knowledge is available to you.
How Much Does Site123 Cost?
Site123 provides different plans to choose from, depending on your needs.
Free websites are available, but you can also choose to upgrade at any time. The free option includes storage up to 250 MB and bandwidth. A subdomain is given to you as well.
The premium plans provide added features that are attractive to customers, especially business owners. As a result, site123 can be an excellent investment in your website and business.
The premium plans include: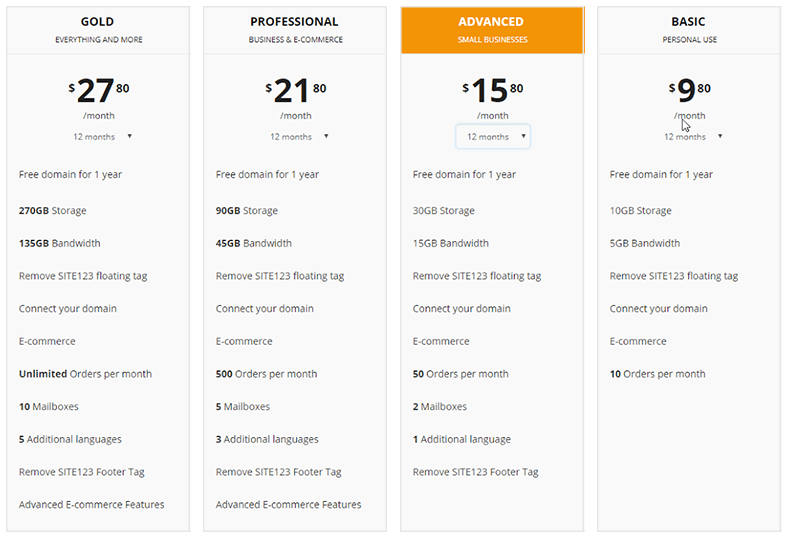 You can connect your domain to your Site123 website when you choose these plans. In addition, advertising turns off your site with a premium plan.
With the basic plan, the floating tag disappears. Likewise, the "Powered by Site123" tagline disappears for the rest of the premium options.
Basic
$9.80
/ month
The basic plan is for smaller businesses or anyone looking for an affordable, quick website option.

At $12.80 a month, this plan provides 10GB of storage with a bandwidth of 5 GB.
Advanced
$15.80
/ month
The advanced plan is for established companies with a smaller scale on a budget. At $16.80 per month, additional advanced tools provide vital features. For example, you can expect features such as the ability to sell products online. Also, you will gain access to professional email accounts. Advanced will provide you with 30GB of storage and 15 GB of bandwidth. In addition, you will get two mailboxes and 50 products if you choose to include e-commerce.
Professional
$21.80
/ month
The professional plan focuses heavily on e-commerce. For example, you can receive 500 orders in your online store by choosing the professional option. At $22.80 per month, this premium option is great for expanding companies. In addition, five mailboxes come with this plan. Professional will provide storage with 90GB and bandwidth of 45 GB.
Gold
$27.80
/ month
The gold plan provides e-commerce orders in your growing online store. The number of orders is unlimited, with ten mailboxes total.
At $28.80 per month, storage capabilities include 270 GB and a bandwidth of 135 GB.
No matter what premium plan you choose, you can switch. Payment durations include three months, one year, 24 months, or 36 months.
You can choose a one, two, or three-year payment plan when upgrading. With upgrades, an additional free domain is available for each premium option.
The longer the payment plan, the higher the reward.
The one year plan will get you 30% off
Two yeards will get you 40% off
Three years will get you 50% off
If you are unhappy with the service by chance, you can get your money back. Get a complete refund when canceling within 14 days. It's that easy.
Overall, there are various payment plans and durations to select. Next, we will talk about how you can save money and earn.
Join the Expert Program
Site123 has an expert program where you can earn commissions while building websites for your clients.
Upon building websites for others, clients can gain access quickly. Websites can then transfer smoothly, which makes everyone happy.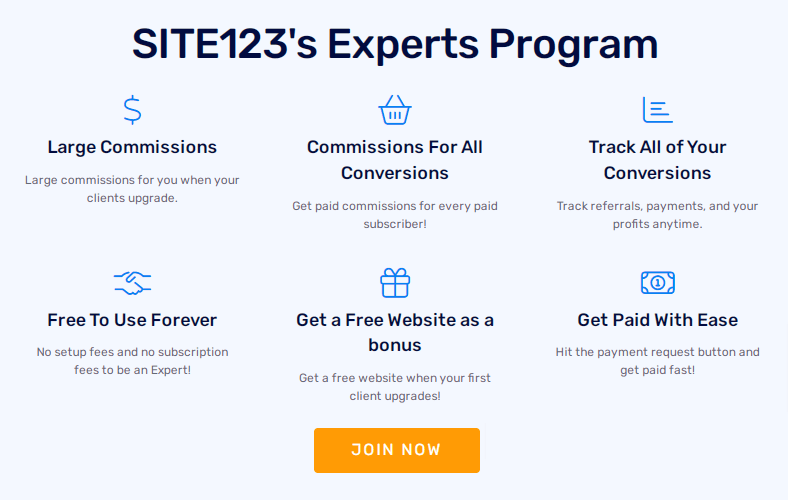 The expert program feature is especially beneficial for freelance builders. Plus, as customers upgrade, commissions increase.
The expert program includes:
Large commissions
Conversation tracker
Tracker for payments, profits, and referrals
Unlimited use
No additional setup fees
Access to a free website
Anyone can join, and signing up is free. You can join straight from the Site123 website and fill out a form.
You can start creating websites right away for your clients. Then, quickly reap the many benefits while earning promptly.
Earnings vary depending on the premium package and time frame. However, you can earn up to $241 per website.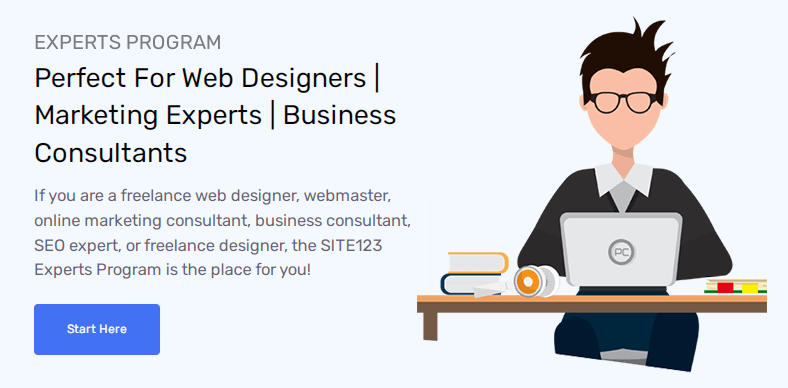 To claim, all you have to do is submit a payment request. Best of all, there are no third parties involved. So you can rely on receiving the full commission each time.
For help along the way, every member has a designated account manager. For questions or issues that may arise, Site123 has you covered.
Site123 Customer Support
Site123 will not leave you hanging. The company's mission is to be available with website support at any time of day.
There's online chat support, which is the most popular option. The online chat tool is for simple questions. However, you can also learn more about advanced features.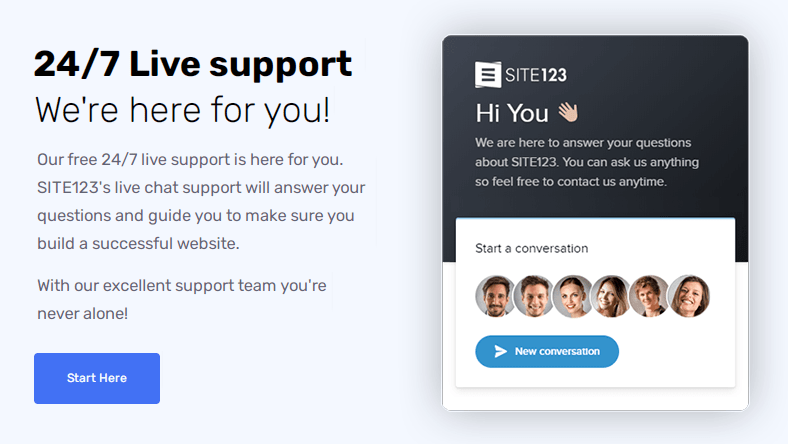 If you don't want to use the online chat capability, you can send questions through email. Some people prefer this more accessible method of communication.
There are many Site123 features found in the support center. For immediate help, this can be a lifesaver.
Another advantage to Site123 includes multi-language support, with 24 different languages. Diminish language barriers and prepare to feel supported well.
A helpful guide to using Site123 includes access to YouTube tutorials. You can find these videos on the company's YouTube channel. In addition, the online support center can also be a video source.
For any questions or concerns, the quick videos provide easy instruction.
Final Thoughts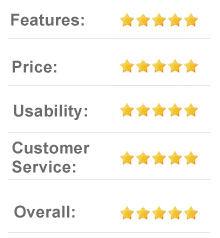 Site123 is a beautiful way to start your website and kick off your business. It is a reputable website for the people, which anyone can maneuver.
Say goodbye to traditional drag and drop features and hello to efficiency. It's an all-around unique, user-friendly experience.
The website contains many benefits for beginners to advanced users. In addition, the different packages make Site123 affordable and customizable.
Depending on your budget, there's something for everyone. With various online support and tools, you will never feel astray.
Entrepreneurs, restaurant owners, and musicians are a few who can significantly benefit. Now, having an online storefront has never been easier. Start selling globally today.
Site123 has many features that can help optimize your business and earning potential.