SEO is becoming one of the most important aspects of online marketing in the business world. Google receives 1.2 trillion searches worldwide each year, making SEO a viable marketing strategy for attracting new customers.
There are dozens of platforms out there geared towards improving your company's SEO. This article focuses on the SpyFu, and what you can expect if you choose to use it.
About SpyFu.com
SpyFu.com provides an all-in-one software service geared towards optimizing SEO keywords and AdWords. SpyFu's search engine optimization platform includes tools like Ad History and Keyword SmartSearch make it easy to build on your market findings.
Previously GoogSpy, SpyFu helps you find keywords many websites purchase through Google Adwords. Their platform is packed with features geared towards digital advertising, online marketing, and sales.
SpyFu to helps customers "spy on" competitor keywords to improve their SEO and SEM strategies.
During the 2008 presidential election, the Washington Post relied on SpyFu's data to show the public which keywords candidates were used for advertisements.
Top Features of SpyFu
SpyFu isn't just a keyword optimization tool. This all-in-one platform comes with a host of SEO and SEM geared features. Here's a quick overview of them.
Ad History
This feature makes it possible for you to find everyone had any domain has run over the past nine years. You'll be able to spot their successful ad copy and identify which keywords they trust.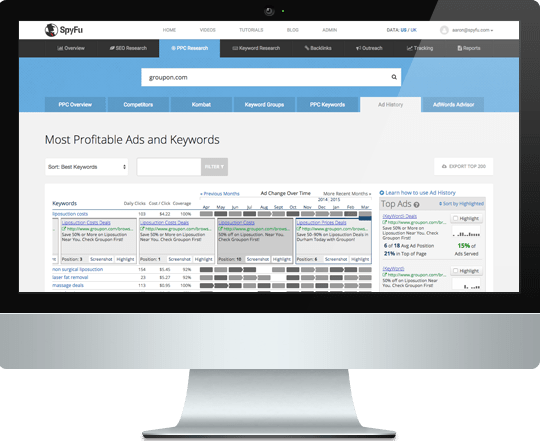 Identifying potential ad variations helps you find your competitors best-converting web copy. Ad history's filter immediately brings up top ads for specific keywords, as well as which ones perform best.
This feature is also a great way to vet each of your potential keywords. When you can see which ones perform best, you can stay away from those that will only lead to a dead-end.
AdWords Advisor
AdWords Advisor compiles information about your competitors' successes to get keyword recommendations. These suggestions are specifically made to boost your business' ROI.
This advice is also tailored to your specific domain. By entering your domain and updating your report with current competitors, you'll get suggestions based on what's most likely to bring your company results.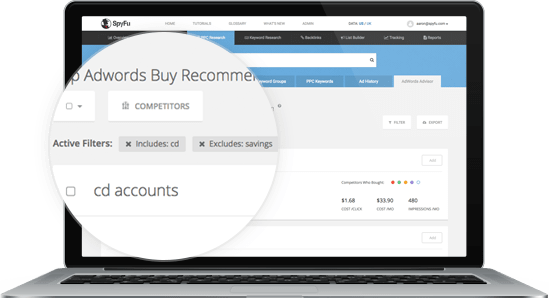 There's no limit to the number of competitor searches and market updates. If you decide to go in a new direction with your marketing, you will have to pay for additional searches.
AdWords Templates
You don't have to start your AdWords campaign completely from scratch with each new keyword. SpyFu templates are structured to help your company create ad groups to keep your keywords organized in a way that makes sense to the way you do business.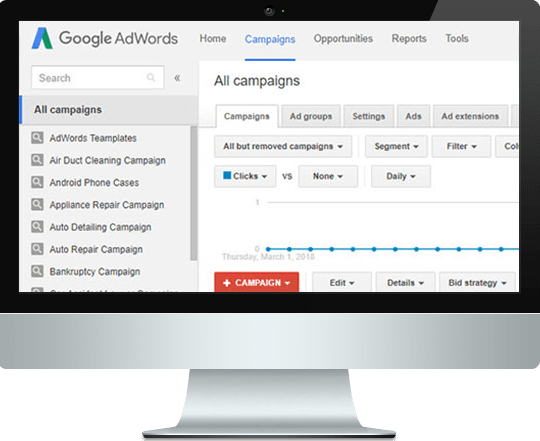 All you need to do is add your AdWords account, branded keywords, and product keywords, and you can start fine-tuning your campaign in minutes.
Competitors
Knowing what your competitors are up to can help you find marketing opportunities you wouldn't otherwise know about.
Finding out which domains are bidding on your keywords helps you head off bidding threats before they become a problem. The platform makes it easy to see which domains are bidding on your keywords.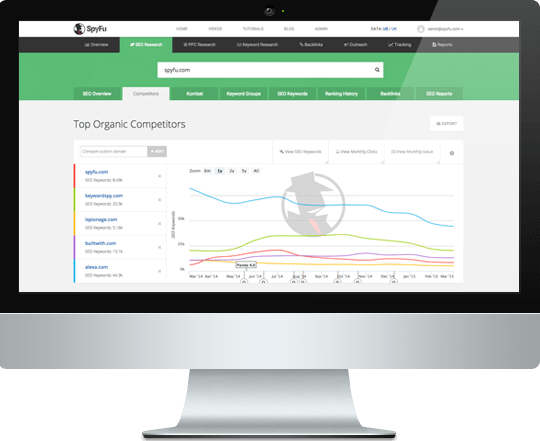 You can also identify when your competitors change the amount they are spending on their ads over time.
SpyFu makes it easy to find competitors simply by entering your domain. This makes it easy for you to guard against new companies that threaten to steal your most important keywords from you.

Keyword Groups
Trying to organize all of your ad groups manually can cause some problems. It takes time and can result in double bidding.
Creating keyword groups weeds out any overlapping keywords.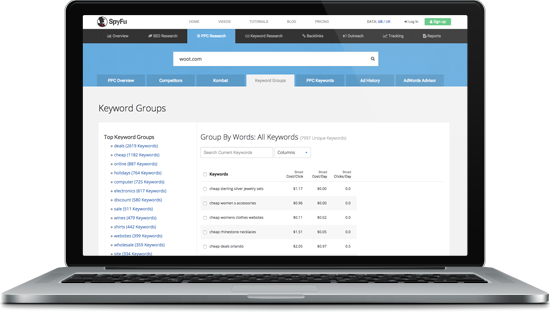 You can use all sorts of criteria to create your ad groups. Filtering by specific words will help you create tighter groups.
Grouping your domain with this feature will help you identify simpler phrase matches for your long-tail keywords.
SpyFu will also identify important market keywords your competitors use to promote their product.
Kombat
Kombat is specifically tailored to help your company identify which keywords your campaign is missing.
You'll also see which ones no one is buying, so you don't spend money on options that don't bring you results.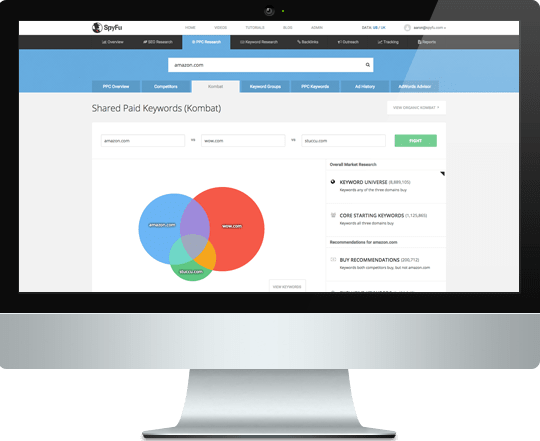 Comparing your domain with your competitors will reveal places where you need to take action.
Kombat market research highlights weaknesses where your competitor ads' show up, but yours don't. You'll also receive core niche keywords that all of your competitors buy.
Identifying keywords bought by more than two domains will help you see which terms your audience is using to search for the services and products you offer.
SpyFu Prices
SpyFu offers three plan packages. Each package is priced differently, depending on whether you pay per month or per year.
No matter which plans you choose, SpyFu offers a 30-day money back guarantee for any reason.
For a more detailed rundown of SpyFu's pricing, check out their pricing page.
Basic
$33 a month billed annually or $39 a month
The basic plan is great for small businesses that don't require a large number of competitor searches. You'll start off with 10,000 rows of search results, and can access six months of historical data on your competitor's websites.
You'll also have the option to run custom domain reports. These reports give you a monthly recap of your AdWords campaigns and how to improve them.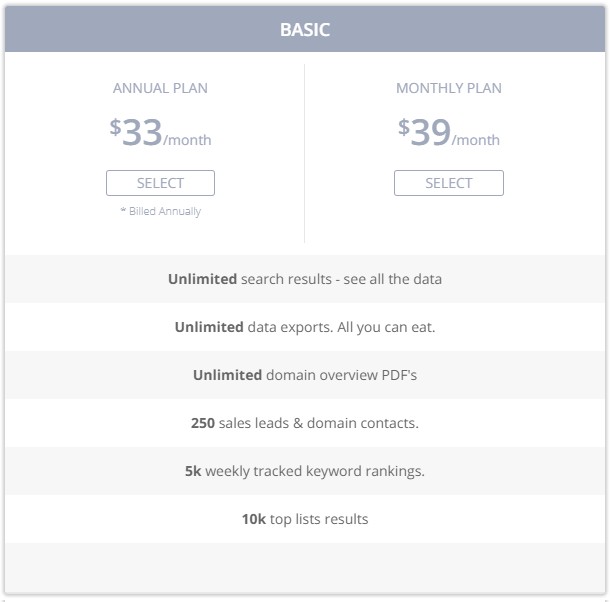 These reports based on the number of SEO keywords linked to each domain. The basic plan only comes with ten small domain SEO Performance Reports, which will allow you to search domains with less than 1000 linked keywords.
The basic plan also comes with some features designed to boost company sales. Domain searches create top lists of PPC spenders and other top competitors in your market.
You can easily filter sales leads to match your specific offerings. Once you've gathered enough data on your market, you can also export advanced sales lead information to your sales team.
If you don't see a keyword that you know brings you great results, you can also add your own. Once you've done so, you can track SEO rankings and ad placement to see how each keyword is performing over time.
Professional
$59 per month billed annually or $39 for the first month and $78 every month afterward
The professional plan comes with everything offered in the basic plan. However, you have unlimited data exports, search results, and domain overview PDFs. This plan allows you to white label these reports, so you can remove SpyFu's branding and replace it with the branding of your choice.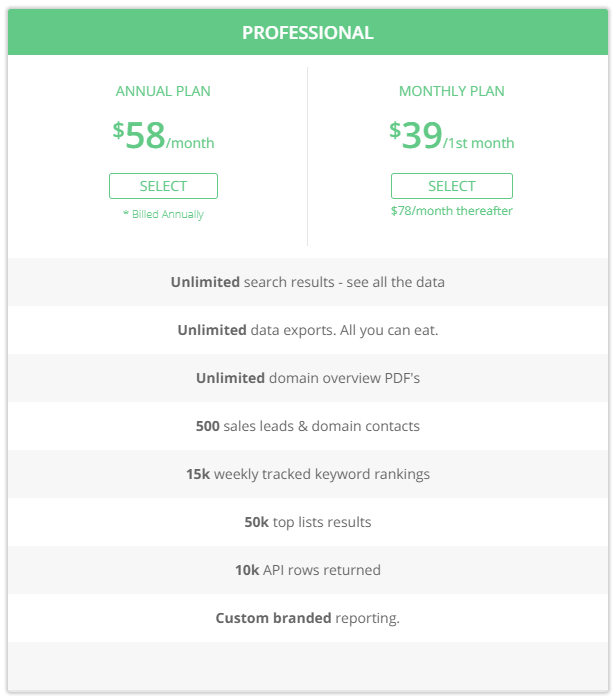 You also have access to more than ten years of historical data and can trace 15,000 keyword rankings per week.
This plan also comes with 30 small domain SEO reports, and ten medium domain SEO reports (which are between 1000-30,000 keywords).
Team
$199 per month billed annually or $299 a month
The team plan is like an expanded professional plan. Along with the unlimited searches, you can also track 40,000 keyword rankings each week.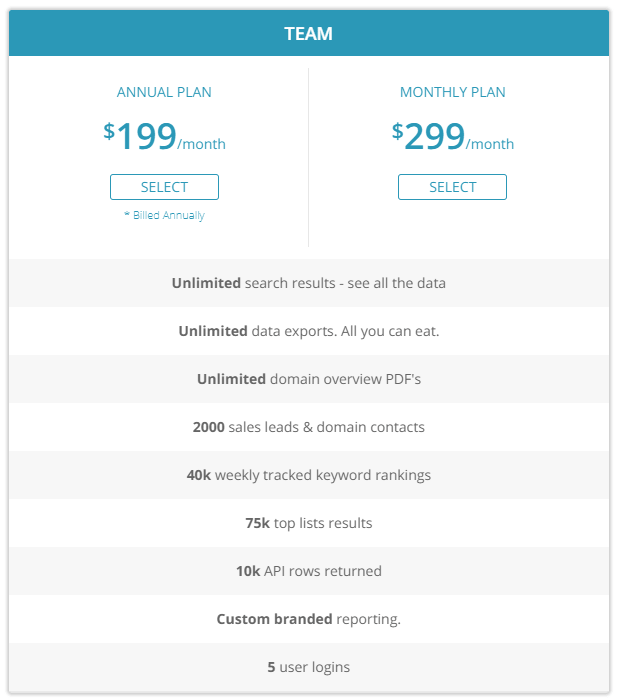 There's no limit to the amount of small domain SEO reports your team generates. You can also have 30 medium domain SEO reports, and ten large domain SEO reports (any domain that uses more than 30,000 keywords).
In addition to these expanded features, the team plan allows for up to five user accounts.
Criticism Of SpyFu.com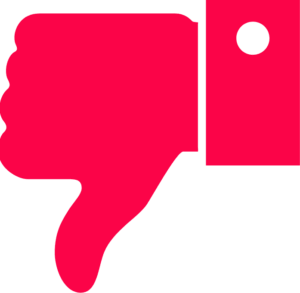 The biggest downside to SpyFu's product is that you are limited to searching one domain at a time. It doesn't come with any capability to search web-wide results.
Novice SEO users have also complained that the platform' s ad metrics are confusing and difficult to understand.
Accounts with less than three months of data don't show accurate projections, as there isn't enough information to form correct conclusions.
Determining accurate future ad budgets can be difficult because of the number of factors involved.
Customer Support
SpyFu has done a great job of providing the necessary resources and documentation on their website. If you are having any issues with your platform, chances are good you'll be able to find what you need on their resources page.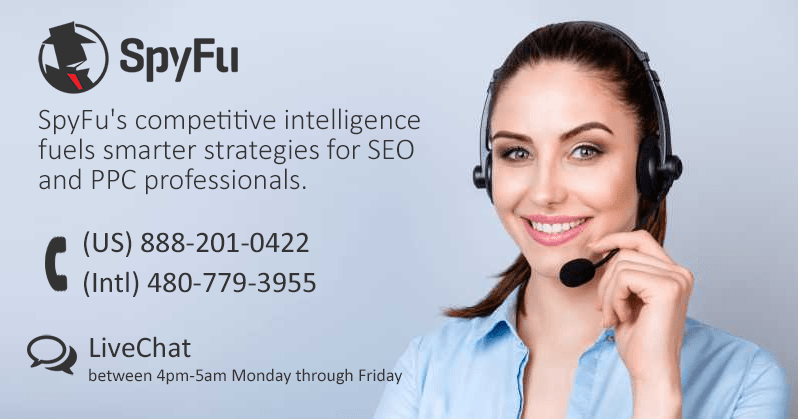 You can also access detailed step by step guides on every aspect of the platform, from researching your competitor's strategy to selling SEO to your clients. They've even got a full video walkthrough to make sure you can see how to set up your platform.
If you can't find what you need on SpyFu's website, you can contact their customer support team through chat or phone from 5am-6pm on weekdays.
Final Thoughts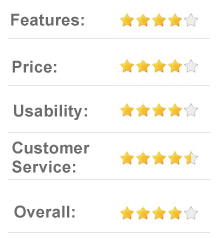 SpyFu.com's platform offers a user-friendly SEO marketing experience. More advanced SEO users will get the most bang for their buck with SpyFu. Designed with usability in mind, this platform is also more affordable than other similar tools.
If you are simply looking to find and sort the best keywords for your business, many of SpyFu's features could be overkill. However, as more businesses work to integrate SEO into their overall strategy, this suite of tools is well equipped to make that change a breeze.