StormGain is a crypto trading platform that allows users to trade crypto futures contracts and buy popular types of cryptocurrencies. Although there are several crypto trading platforms online today, StormGain has several features that can offer more leverage to ambitious traders.
This fully-integrated and leveraged platform offers more than simple trading. Several of the website's competitors are expensive and confusing, but StormGain combines advanced tools with usability to provide a superior user experience.
Keep reading to this StormGain review to learn more about the benefits of trading with this innovative crypto platform.
About StormGain
The StormGain crypto trading platform is an online resource for individuals interested in earning profits based on long-term crypto assets and cryptocurrency market growth. The company is a member of the Blockchain Association in recognition of its commitment to best business practices.
Traders can use Stormgain on any device to trade or purchase crypto. This all-in-one platform stands out for its zero-commission fee structure and integrated service that allows users to buy, store, exchange, trade, learn and earn on a single website based in the UK.
An available leverage of up to 200x maximizes earning potential and draws users to the platform. The founders created the company with a mission to improve the profitability of crypto trading for every individual.
There are opportunities for traders in a variety of crypto markets, whether growing or falling. Advanced trading tools are easy to use, and custom signals for buying and selling enhance the trading experience.
All of the services available from StormGain also come in a friendly interface backed by customer support 24 hours a day. Over 120,000 users in more than 100 countries use the platform today.
StormGain Features
StormGain's modern interface and advanced features make it a premium platform for trading cryptocurrency.
This website's top features include two-factor authentication for a secure wallet and trading signals. Plus, additional aspects of this website also contribute to a superior user experience.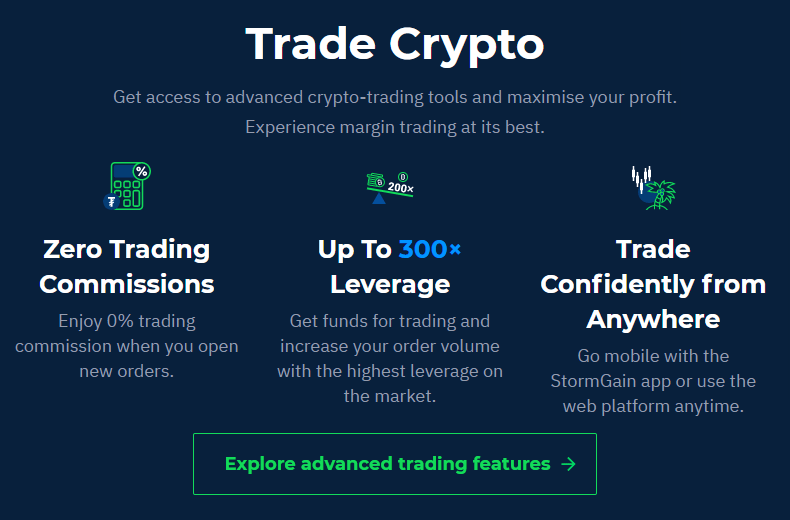 Unlike many trading platforms, StormGain does not require an ID verification or submission of identification documents. This approach is ideal for traders that want to stay anonymous. The website uses rapid verification without KYC. Traders only need to provide their name, email, and phone number to begin.
The advanced charting offered by StormGain also outperforms competitors. Traders can analyze price charts using either power or simple trading platforms that include indicators and trading tools. Despite the advanced capabilities, the charting system is still responsive and straightforward enough for beginners.
Very few trading platforms feature leveraged trading for crypto with a multiplier of up to 200x. Although this margin of leverage trading can be risky, experienced traders can take advantage of the opportunity to increase potential profits drastically. However, the company advises against beginners participating in high-margin trading.
But, Stormgain also has features to protect traders from the volatility of digital currency markets. The platform uses a stable coin Tether, or USDT, that tethers value to USD. This feature enables trading with limited risks of sudden price movements.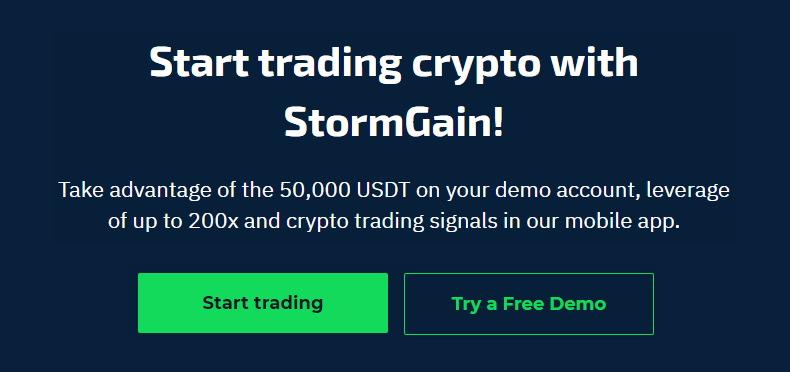 It is relatively easy to get started with an account on StormGain. StormGain allows you to practice with virtual funds in a demo account if you have limited experience with cryptocurrency trading. This feature lets users become accustomed to the platform risk-free.
Once you are ready to purchase crypto, StormGain accepts payments with a credit card. This option lets users avoid transferring funds into a crypto exchange. There is a flat 5% fee associated with using a credit card, but this cost is reasonable compared to competitors.
Trading with StormGain
Registering and verifying a trading account involves a straightforward process that does not require ID verification. Users will need a valid email address, and new members can complete the registration process within a few minutes.
While most traditional online crypto exchanges use third-party interfaces to provide visual charts, StormGain has a built-in interface that offers a custom experience. The minimal but comprehensive set-up allows traders to track live price charts, trading pairs, and their wallet balance in one window.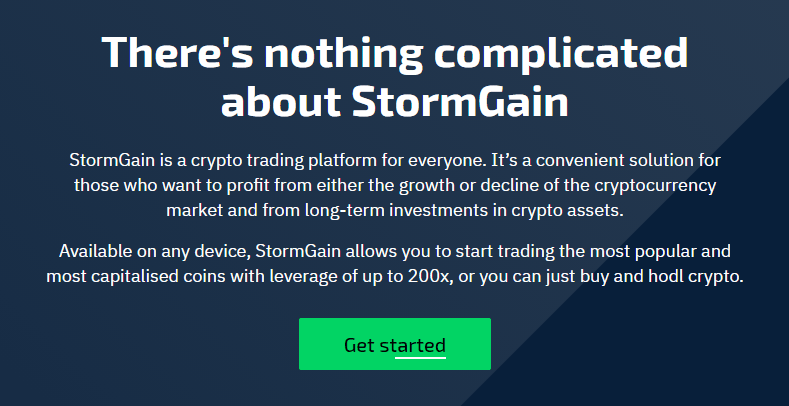 The StormGain interface includes a coin selection bar that represents extreme market moves. Top losers and gainers may offer unique opportunities for specific traders. But, users have the option of adding coins from a list customized to their favorite coins.
A full-screen interface mode illustrates the entire charting window and allows users to add any trends or patterns they may spot. Most members find the technical tools for drawing responsive and intuitive to use.
Making a trade, buying, or selling is possible with the touch of a button. A green 'open trade' link leads to the window for crypto orders, which opens adjacent to relevant trading charts. This setup allows traders to compare the analysis while entering a desired order.
Members can customize the window's time frames to suit their criteria. Order details include information about the type of order, position size, margin, and levels for taking profit and stopping loss. Any applicable commission fees are also readily available when making an order.
This unique trading experience allows users to exchange different cryptocurrencies instantly without using third-party instant swap platforms. StormGain has an instant exchange rate available that traders can find under the bottom fees section.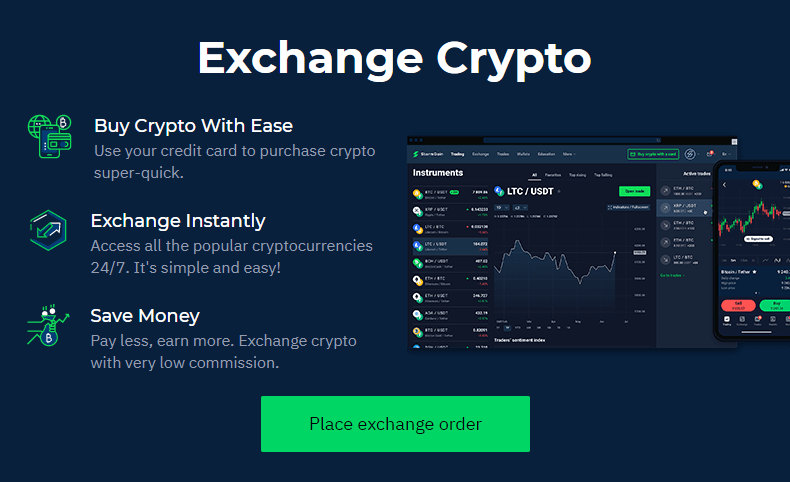 Traders can store multiple currencies in the platform's crypto wallet while swapping assets or trading margins. The StormGain wallet can hold up to 6 different cryptocurrencies, such as bitcoin, litecoin, ethereum, and more.
To encourage traders to hold funds on the platform, StormGain also introduced the ability to earn interest on assets held in their wallets. Traders can earn up to 12% APR on their funds. This feature allows members to make a profit with their portfolio when they aren't trading.
StormGain Fees
The fees, margin, and limits of a cryptocurrency exchange are critical considerations when selecting a crypto trading platform. These costs are especially significant for day traders performing several high leverage trades every day.
Compared to other popular crypto exchanges, Stormgain's trading fees are relatively competitive. Max leverage on different currencies ranges from 50-100, while commission fees vary between -0.06% to -1%.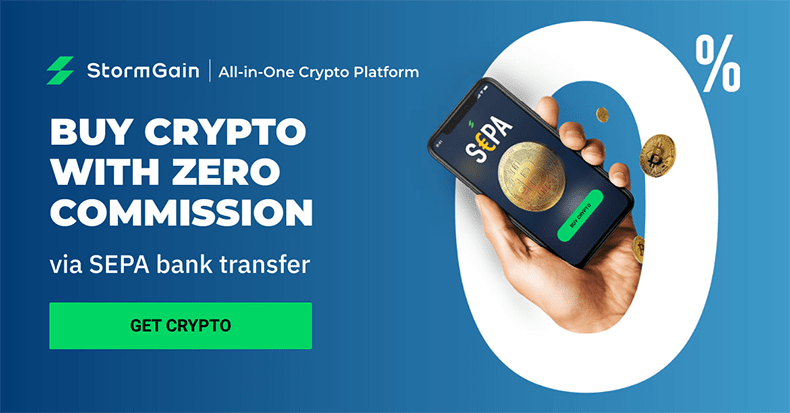 StormGain's daily swap buy fee is -0.021%, and its daily swap sell fee is 0.002%. Although StormGain's instant exchange feature is convenient, the company also charges a commission on every crypto exchange. StormGain's exchange fees range from 0.095% to 0.25%.
Users are not subject to a deposit fee associated with depositing or transferring crypto onto the website platform. However, a 0.1% withdrawal fee impacts any transfer of crypto to a different platform or wallet. This withdrawal fee is one drawback of the StormGain platform, as most exchanges use standard mini fees determined by the blockchain network.
Different daily maximum and minimum limits affect exchanges and withdrawals depending on the trader's cryptocurrency asset.
Customer Support
High-quality customer support is essential for any service that involves significant monetary risks. For trading platforms, the customer service can make or break the service. Trading cryptocurrencies can be complicated, and StormGain's team aims to help all users understand and use their platform effectively.
StormGain offers a live chatbot that is available 24 hours every day to answer questions from users. Most traders find that an operator generally responds within 5 minutes of an inquiry. This response time is far better than most similar services offered by other competitors.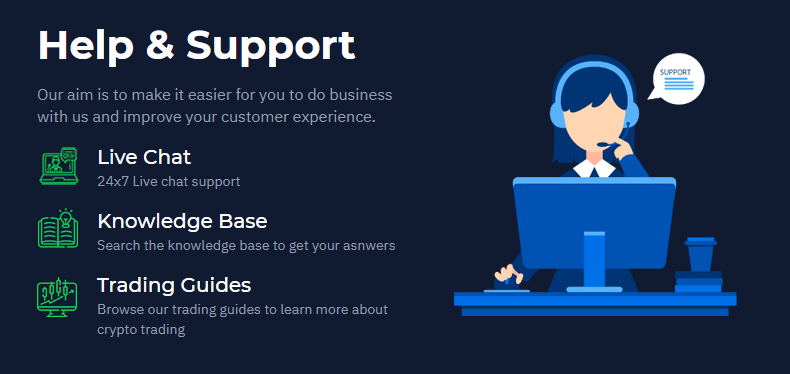 Another helpful feature on the StormGain website is their knowledge base resource. This area of the website includes practical guides and troubleshooting advice that applies to solving frequently asked questions.
The StormGain resources are simple to navigate with sections that divide topics into different categories, allowing users to find information about related problems quickly. Unfortunately, this help section is not entirely comprehensive. StormGain is a relatively young company with a limited history to act as a foundation for their troubleshooting advice.
Many members highly recommend the video tutorials available from the website for detailed explanations of potential problems. If users can't find the information they need from videos or written guides, they can contact the StormGain team by email or phone.
Most StormGain traders share positive experiences with the customer support team at StormGain. Members report that the company's team is knowledgeable and helpful for users with any level of experience.
Final Thoughts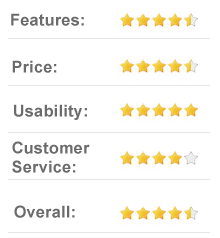 This Storm Gain review demonstrates that this cryptocurrency trading platform is an ideal website for crypto traders interested in maximizing their potential profits. This company stands out from its competitors with a comprehensive exchange that is intuitive and user-friendly.
Advanced tools allow members to quickly analyze the crypto market to make the best trading decisions. StormGain trading charts offer better information with a straightforward layout that is easily accessible to beginners.
Experienced traders can take advantage of the high leverage margins that set StormGain apart. Plus, their reasonable fees, instant exchange, and the ability to purchase crypto with a credit card improve the user experience for traders at any level.
If you are seeking a new platform for trading cryptocurrency, consider StormGain.com. This website allows new users to learn about their platform risk-free with a demo account, and signing up for a new membership is simple with rapid verification.