Swyftx is one of the best Australian cryptocurrency exchanges around. This exchange allows users to sell and purchase over 270 cryptocurrencies using AUD.
Since their opening in 2017, they've experienced much growth and are now one of Australia's most used exchanges. Swyftx has a user-friendly app for their customers along with a desktop platform for them to trade assets.
Furthermore, they are renowned for their spreads and low trading fees. Allow us to analyze Swyftx in more detail to determine whether or not it will be the best option for your financial goals.
History of Swyftx
Founded by Alex Harper and Angus Goldman, Swyftx was engineered to meet the high demand for a liquid cryptocurrency exchange. To do this, the company had to fall in line with the Australian tax system and cryptocurrency regulations.
Moreover, Swyftx is versatile enough to accommodate new traders just getting started and expert traders looking to use a crypto exchange specifically uniquely designed for that region.
Swyftx provides a cryptocurrency super fund that is self-managed. It offers investors the opportunity to leverage the cryptocurrency market on a bigger scale while providing tax benefits at the same time.
Top Features of Swyftx
Swyftx possesses many features that make them more appealing than most of the competition. Below you'll find all of the reasons to create a Swyftx account today:
Asset Trading
With over 270 coins, Swyftx is easily one of the largest exchanges in all of Australia. All of the major coins are indeed available, just as they are on most crypto exchanges. However, Swyftx does boast a litany of altcoins which is noteworthy.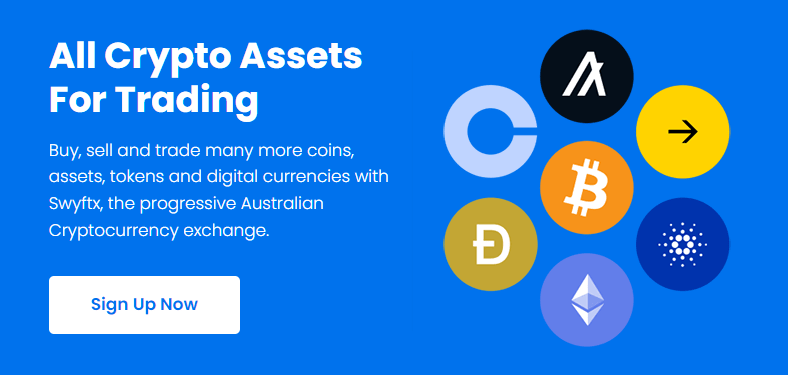 Typically new investors aren't into the small coins in the beginning. Their interests are generally reserved for the major currencies. However, as you become more versed, you are likely to dabble in small coins.
It's good practice to begin your learning on an exchange that has a considerable selection of cryptocurrencies; doing so makes it easier for you if you choose to invest in any upcoming coins because you won't have to look for a new platform.
Here are some noteworthy coins within its lineup: APHA, AMB, APPC, ANT, ELF, ALGO, DLT, ACM, AAVE, ZRX, 1INCH, ADX, AERGO, AE, AKRO, TLM, and more.
Swyftx is not only one of the largest exchanges, but it's also completely regulated.
Charting
Swyftx indeed boasts a user-friendly interface; however, there are major charts available that have a wide array of features that would likely require third-party software for access on other exchanges.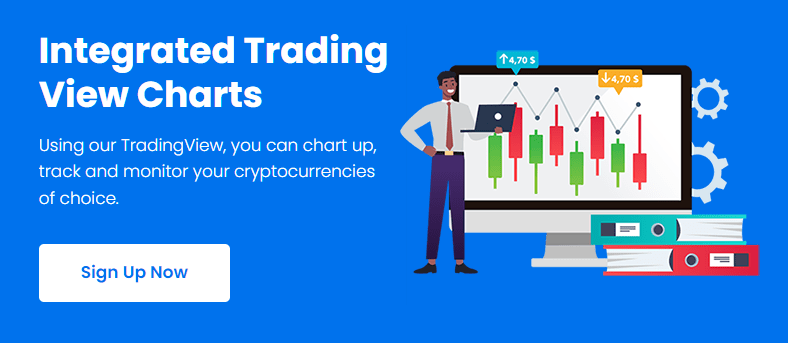 The dashboard is customizable, which allows you to set up and view all of your favorite technical indicators. Furthermore, it's fully backed up.
Another helpful feature is automatically generating a downloadable tax report. This feature is particularly useful for all investors from Australia.
Customer Support Live Chat Options
Swyftx offers Live Chat Support, which is a feature that most crypto exchanges do not provide. Although the feature is often overlooked, it is an incredibly useful tool.
This is especially true for beginners in the crypto market. You don't have to wait for hours or days to get your question answered.
Instantly Buy Crypto With AUD
Swyftx offers a decisive advantage over most of the competition by allowing you to purchase crypto instantly through the use of Australian Dollars.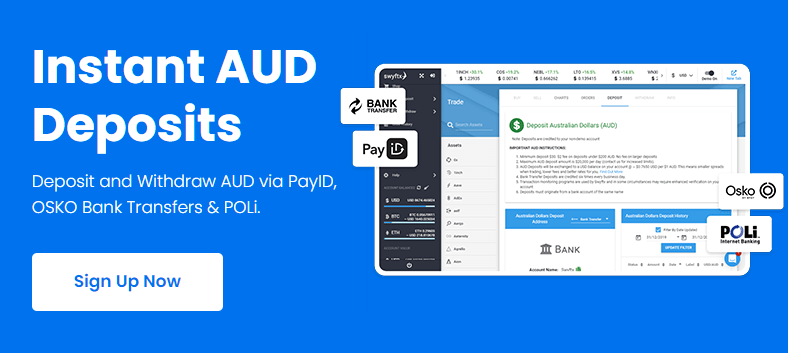 This option gives an advantage over exchanges based in Asia or America because you don't have to convert your AUD into USD, causing you to lose money through conversion rates. What's more, there are no fees for withdrawing and depositing AUD on Swyftx.
Easy-to-use Interface
Swyftx is very easy to use. The interface is modern, fresh, and easy to navigate your way around the mobile app and the website.
Swyftx is great for first-time crypto traders; not only this, it is a very popular exchange among intermediate and experienced crypto investors. There's also the useful option to customize your dashboard to display the information you find pertinent and valuable—giving you the dashboard that's perfect for your needs.
Advanced Trading Options
If you're an advanced trader, you could benefit from trading tools such as Bundles and Recurring Orders.
The Recurring Orders function enables you to program a schedule that automatically deposits money into your Swyftx account and purchases your favorite crypto coins in an instant.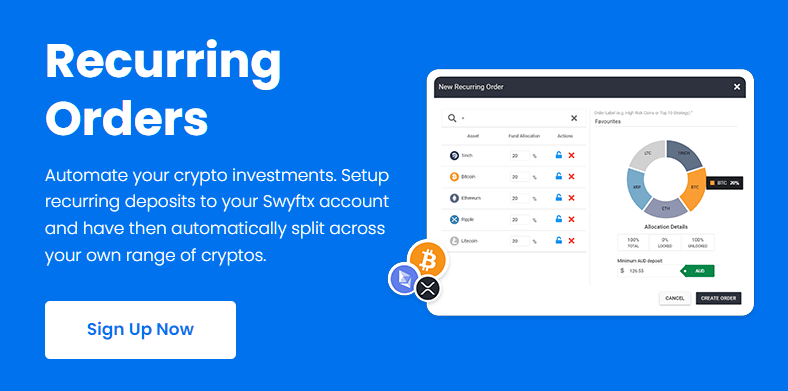 This is a safer alternative in the sense that you slowly add value to your portfolio over time instead of risking huge losses. Since the cryptocurrency exchange market is volatile, it's often best to increase your share over a period instead of a lump sum that you could lose quickly.
Bundles help you to diversify your assets. Swyftx now offers seven various bundles, all of which contain coin collections that get purchased in a group so that you can invest in them simultaneously. One of the best bundles they offer is the Swyftx Top 10 by Market Cap.
This bundle takes your investment and divides it amongst the ten biggest crypto coins on the platform. That strategy is the perfect opportunity for long-term wealth and growth.
Compatibility
You can download the Swyftx app on both your iPhone and Android devices. The app is essential for traders that want to stay ahead and receive real-time tips and updates on the market status. You can trade any place and any time while being able to monitor your investments.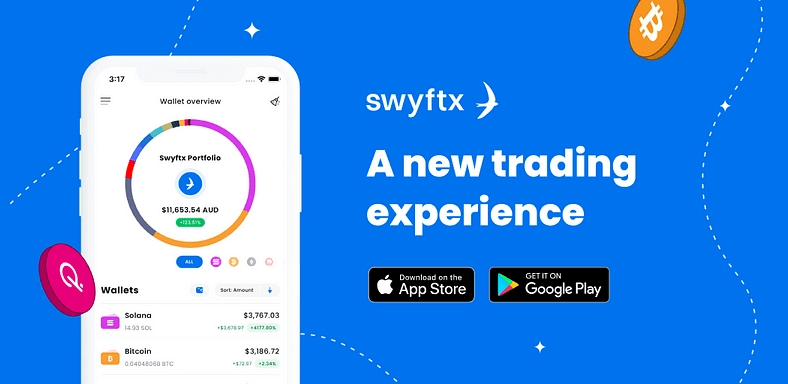 Security Features
It's crucial that traders feel as though they can trust that their funds and holdings are safe with their selected cryptocurrency exchange.
Swyftx offers a diverse set of security features to keep you protected; some of which include:
Encouraging users to partake in the 2FA account protection
KYC verification
Detection of breached passwords
Biometric authentication
Third-Party security auditing consultation
External penetration tests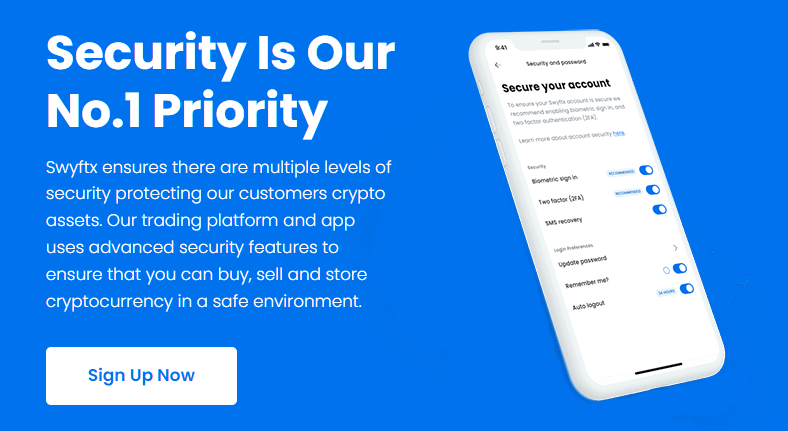 To learn more about Swyftx's security protocols and see a more exhaustive list of features, click here.
Additional Pros:
Swyftx has low fees compared to other exchanges
You will receive $10 in free BTC by signing up to create an account
Debit and credit cards are acceptable payment methods for deposits
They have a quick and easy sign-up process
The verification process does not require selfie or document uploads
Swyftx Commission/Fees
You get to keep more of your money when you choose Swyftx. This exchange has low spreads and fees, making it easier for you to build your portfolio.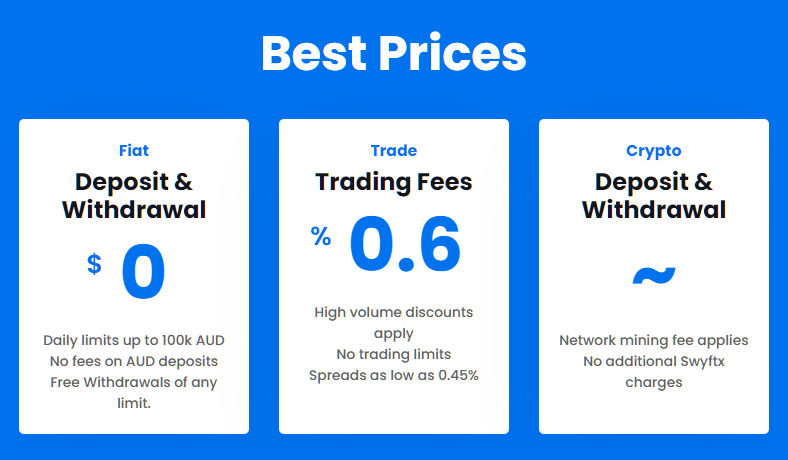 Deposit Fees
Currently, there aren't any fees when you make AUD deposits. Previously, the fee was $2 for all deposits under $200, but that policy has since then been removed.
Withdrawal Fees
There are also no fees on any of your withdrawals if you use AUD. Users should expect mining fees on the standard network for all cryptocurrency withdrawals. Swyftx, however, will not charge any more fees other than what is listed.
Trading Fees
You receive discounts for trading high volume, but typically the fee for trading is 0.6 percent.
Spreads
A spread refers to the price difference between buying and selling cryptocurrencies. If the trader doesn't consider the spreads, they can lose profit by not factoring in the fees.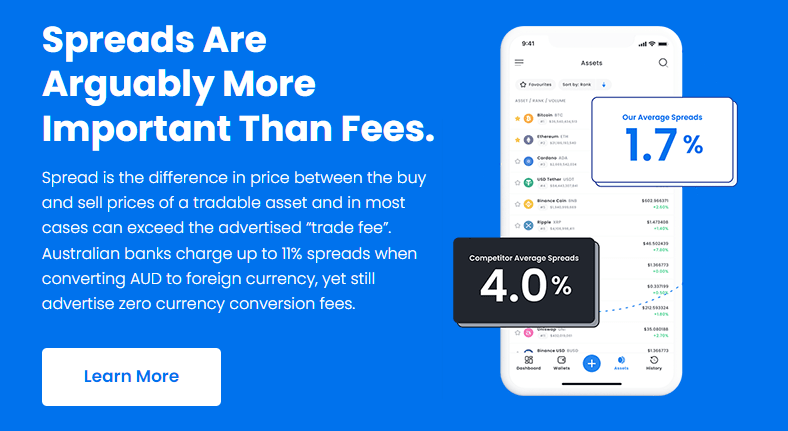 The Swyftx platform has the lowest spreads on average for any of the Australian exchanges. An example is their Bitcoin spread, which can be as low as 0.45 percent, though it's 1.7 percent on average. For competitors, the average for a Bitcoin spread can be as high as 4 percent.
Customer Support
One beneficial aspect of Swyftx's customer support is that they have taken the time to write various articles on topics that receive the most questions. This makes the platform and the app easier to use and understand.
Below are the topics that the company has written articles about.

Accounts
Users can read critical information about SMSF, company, and trust accounts. These articles also cover how to create these accounts.


General Information
How to navigate and use the Swyftx platform.


Tutorials
Detailed instructions regarding the use of multiple features on Swyftx.


Security
Users can learn more about the security practices that keep their funds and assets safe.


Deposits
Understand how you can deposit cryptocurrency or AUD into a Swyftx account.


Withdrawals
These articles contain all the information you need to understand about his to withdraw coins or money from your account.


Trading
Tutorials about using Swyftx trading features for beginners and advanced users.


Affiliate Program
If you're interested in making extra money, you can join Swyftx's affiliate program.


Verification
Provides clarification on Know Your Customer requirements as well as any other verification processes.

Additionally, Swyftx also offers live chats with real people 24/7. Someone usually responds within 20 minutes of a customer inquiry.
Swyftx Licensing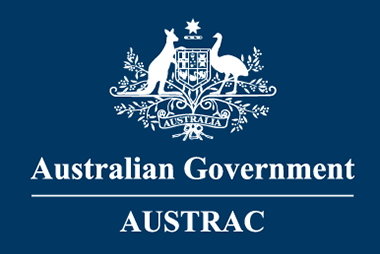 From December 21, 2017, Swyftx became regulated and fully licensed by the Australian Transaction Reports and Analysis Centre (AUSTRAC).
This entity is responsible for disrupting, deterring, and detecting any criminal abuse of the country's financial system.
Final Thoughts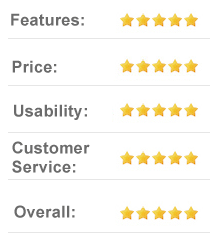 By boasting low fees and spreads, Swyftx has risen above the competition in the Australian cryptocurrency exchange market.
They've also continually added new features to build a better experience for users. The security features are more robust, the verification process is more straightforward, the trading transactions are smoother, and they offer top-tier customer service.
Overall, this platform is reliable, safe, and suitable for beginners and advanced traders alike.