Tastyworks believes that traders have the right to make their own trading decisions without the need for expensive middle people. For this reason, they've created a low-cost online brokerage company ideal for those with some trading experience.
We'll help you understand the ins and outs of Tastyworks.com so that you can determine whether they're the right trading platform for you.
About Tastyworks.com
Tastyworks is a brokerage platform that prides itself in letting its customers run their investments. The Financial Industry Regulatory Authority and National Futures Association approved Tastyworks as a legitimate broker-dealer in 2016.
Since Tastyworks doesn't use robot advisors and money managers, nor do they have a brick-and-mortar company, they're able to keep their costs low.
The founders of Tastyworks formerly worked at the Chicago Board Options Exchange (CBOE), where they learned the pain points of physical floor trading. They then developed the self-guided trading software they wished they could have had.
Tim Sosnoff, the co-CEO of Tastyworks, was a senior vice president for TD Ameritrade, where he was in charge of trading and strategic initiatives. Together with former COBE floor trader Scott Sheridan and the guidance of Kristi Ross and Linwood Ma, they run a powerful online platform that encourages their customers to take control of their investments.
Top Features of Tastyworks.com
Below are some of the most notable features of Tastyworks that can help you decide whether they're the best-fit online broker for your trading needs.
No Account Minimum
Tastyworks is all about eliminating unnecessary fees so that its customers have more money for trading. Therefore, they won't hit you with fees if you fall below a certain amount in your account. They also don't charge for inactivity or account closures.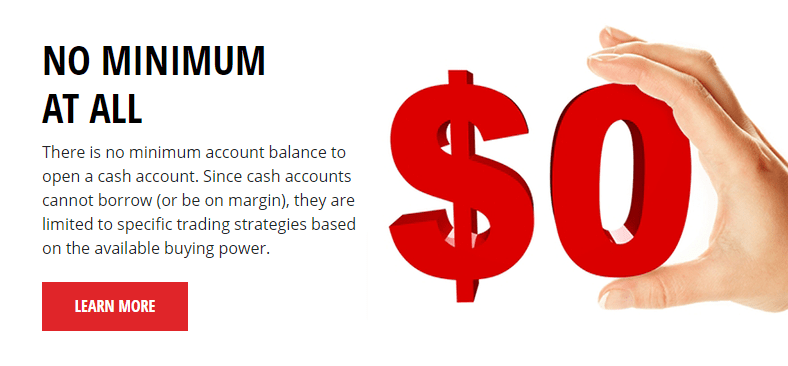 No account minimums also make Tastyworks an excellent choice for people starting their trading journey with a low bankroll.
Low or No Fees
That's right—by trading at Tastyworks, you'll benefit from as little as $0 in fees. They offer $0 stock trades and $0 fees for closing options trades. If you want to open an options trade, the cost is a mere $1.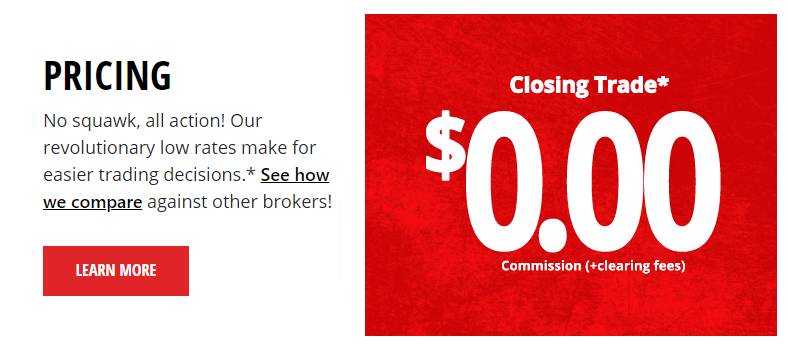 That's to say that Tastyworks.com doesn't charge higher fees for some of its other trading services. We'll talk more about that shortly. But for now, know that if your goal is to trade stocks or options, they're an excellent low-cost choice.
Follow Traders
Whether you're new to trading or seeking new inspiration, Tastyworks allows you to follow the trades that some of its other customers make. Simply head to the "Follow" page on your account and browse through top Tastyworks traders.
You can then add or remove traders from your portfolio, learning from and mimicking any trades you wish. Tastyworks offers this follow feature on both their desktop and app platforms, making it easy to keep up with your favorite traders' latest moves when you're on the go.
Video Feed
Tastyworks kicks their "follow traders" feature up a notch by allowing you to live stream videos of traders making minute-by-minute trades. You'll have the opportunity to hear them talk through their moves, giving you real-life lessons on developing trading strategies according to the market's ever-moving conditions.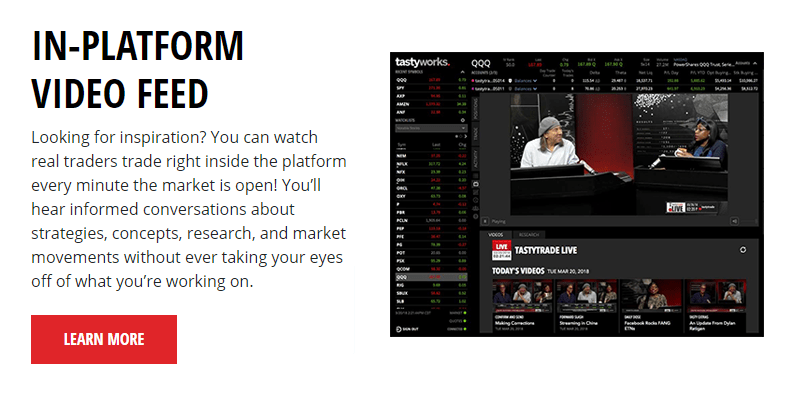 Keep in mind that the video feed feature is only available during the market's opening hours, so plan accordingly.
Excellent Platform Tools
Whether you're an advanced trader or a newbie, you'll encounter plenty of free trading tools to help you map out your next moves. Tastyworks makes it easy to map out your next move with drawing tools and chart indicators.
You can also quickly see the risk profiles of your open positions. Tastyworks even allows you to set up watchlists and trade page details for your potential future trades.
Several Account Choices
The individual brokerage account is the most popular type of account that customers open at Tastyworks. However, they offer several other choices, according to your investment goals.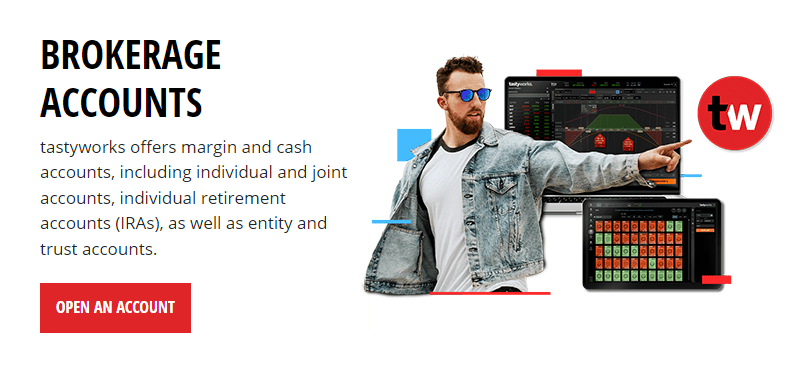 Joint trading accounts, trust accounts, and corporate trading accounts are examples of the other choices you have at Tastyworks. You can also work on building your retirement account by setting up a traditional or Roth IRA or a simplified employee pension (SEP) IRA.
Outstanding Security
Security is a top priority for Tastyworks. Although they can't prevent you from losing money from a trade you make, they take responsibility for giving you the tools to protect the money you keep on their platform from hackers.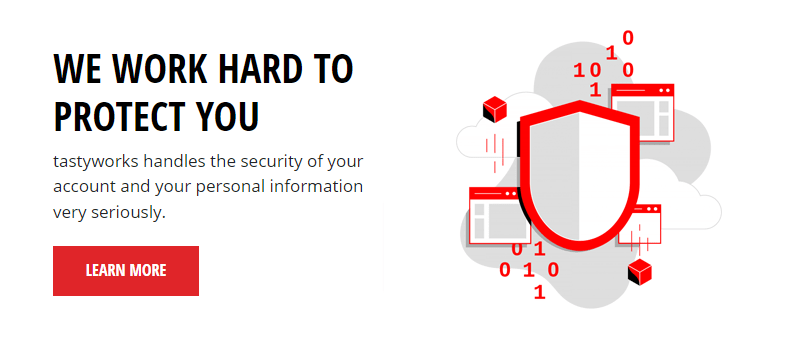 Tastyworks offers several ways to keep customer information safe, including real-time privacy monitoring technology, encrypted data, and running background checks on all employees.
Tastyworks.com Commission
Tastyworks has some of the lowest commissions on the market, especially compared to its larger competitors. Some of their commission highlights include:
$1 to open options trades
They also offer commission-free ETFs, and you don't have to hold a minimum balance in your account to remain current.
Although Tastyworks.com's specialty is in trading derivatives, you'll still have choices for certain other investment selections, and you can expect relatively low costs for them too.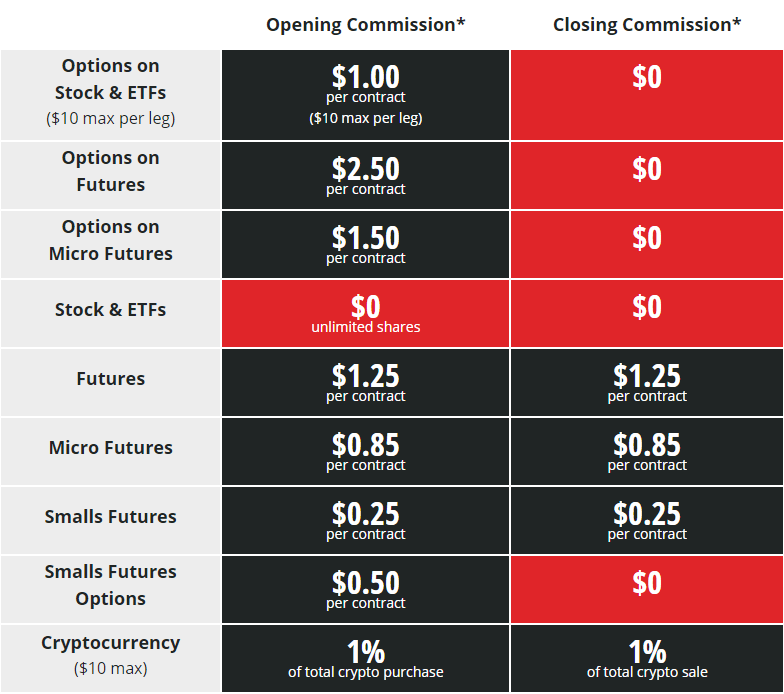 For example, there's a $2.50 fee for a contract to open an options futures trade and a $0 commission to close. You'll need to calculate a small clearing fee of $0.30 per contract on top of that. If you want to trade small futures, Tastyworks charges $0.25 per opening and closing of each contract, plus a $0.05 per contract clearing fee.
Tastyworks also offers cryptocurrency trading. Admittedly, its crypto commissions are steep if you're trading with a small sum of money, as there's a 1% of total crypto purchase to open and another 1% of the total crypto sale to close.
The good news is that Tastyworks caps that crypto commission at $10 per order ticket. So, it's a viable option for people trading large sums of money in crypto.
Banking Fees
All ACH deposits and withdrawals are free with Tastyworks. That can save active traders lots of money, so we encourage you to use this banking method when possible.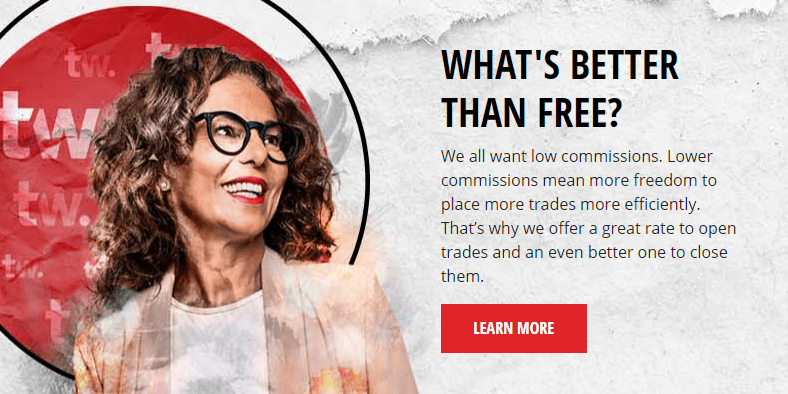 All other deposit and withdrawal fees come with a fee you'll need to pay per transaction. The good news is that Tastyworks doesn't charge an annual IRA maintenance fee, should you manage your IRA through them.
Since there are so many banking methods available at Tastyworks, and each has its respective fees, we encourage you to check out their commissions and fees page to understand the costs involved with trading there.
Customer Support
Tastyworks offers the following two options for getting in touch with their customer service team:
They operate Monday to Friday from 7:00 am to 5:00 pm CST. So, you'll have to wait on a response if you contact them outside these hours.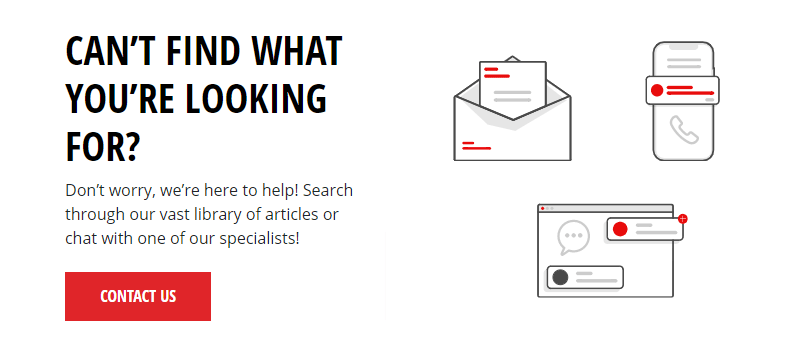 Tastyworks offers two phone numbers you can contact them at. Their toll-free number is (888) 247-1963, and their local number, which is also best for international clients, is (312) 724-7075.
The good news is that you have basic questions, and it's outside of Tastyworks' hours of operation, you might be able to find your answers on their website. They offer a comprehensive help center where you can search for articles that may address the answer to your question.
Tastyworks also offers an extensive selection of categories that make it easy to become oriented with their services, nipping any questions in the bud before they even form. We recommend their platform quick guides if you're just setting up your account.
Tastyworks.com Regulation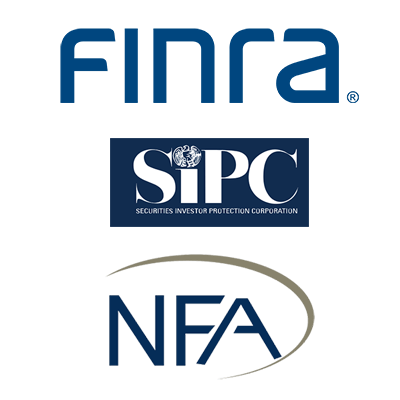 Tastyworks is a fully licensed company and a member of the following organizations:
Financial Industry Regulatory Authority (FINRA)
Securities Investor Protection Corporation (SIPC)
National Futures Association (NFA)
That said, as is typical for futures accounts, the SIPC doesn't protect any investments you put into futures on Tastyworks.
Furthermore, while Tastyworks is a regulated company, it can't guarantee profits. Therefore, it's vital to practice risk management when working with them and follow the cliche but wise advice of never investing more than you can afford to lose.
Final Thoughts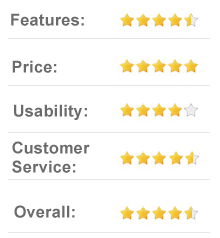 Tastyworks.com offers a streamlined, user-friendly platform allowing traders full control over their investments. They have many tools and resources to help traders design trades with the potential for high profits, although beginner traders will undergo a bigger learning curve to learn the trading lingo.
You can feel peace of mind knowing that Tastyworks is a regulated company with a license to operate in the United States.
We encourage you to do your due diligence, as many online brokerage companies exist. But if you decide that Tastyworks' low fees and excellent resources make them the best fit for you, opening an account with them is easy.