TaxDome is a project management system that offers many beneficial features to tax professionals. The software is user-friendly and eases communication between clients.
The goal for the company is to reach business needs while improving work-related relationships.
This tool can significantly help tax professionals and accountants, freelancers, and bookkeepers during the day-to-day hustle.
Along with effective communication, security is another measure that TaxDome takes seriously. From large to small, businesses of all sizes can significantly benefit. It's also important to know that all tax software can connect with TaxDome.
About TaxDome
TaxDome launched in 2017. However, marketing began in 2020. It's a relatively new software company but is gaining popularity. With TaxDome, necessities can finally be in one place.
TaxDome is known for being the all-in-one platform for CPAs and bookkeepers. The software helps manage clients, documents, and jobs.
With TaxDome, you can:
Sign legally binding documents electronically
Sign contracts and invoices
Complete organizers without the hassle of visiting several websites
Conveniently, you can access the software through your phone or computer. In addition, TaxDome has unlimited file storage and is available in several languages.
Some key features include:

Client portal
Firm-side portal with CRM system
Automation, workflow
System for billing, payments
Customization of website
Support that continues long-term
Client Portal
First, the client portal is great for quick communication and bookkeeping. You can also access the to-do list feature here. Upload files and secure payments correctly. Using the client portal is easy to use and convenient.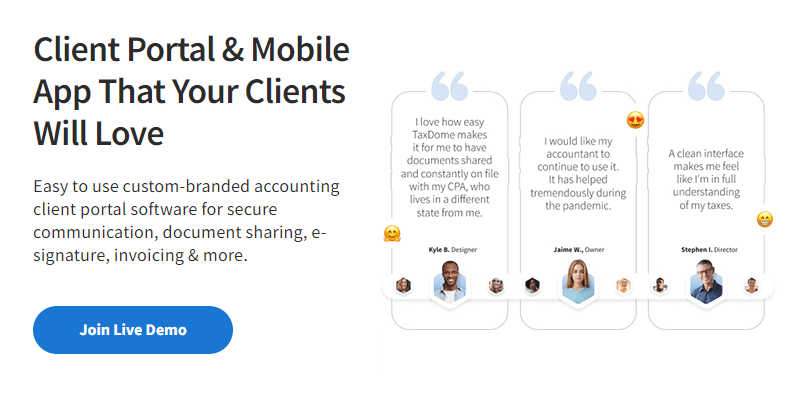 You can also have multiple accounts and logins so that coworkers can view the same profile.
Firm-Side Portal
The firm-side portal allows for better team communication, client billing, and analytics to view.
System for Billing
Billing and payments track balances and timestamps and create invoices. Sending bills and reminders is more accessible, and so is collecting fees.
Automation and Workflow
The automation and workflow feature can track progress, automate tasks, remind clients, and set up emails. With easy and effective technology, like implementing automatic reminders, your time management skills will improve.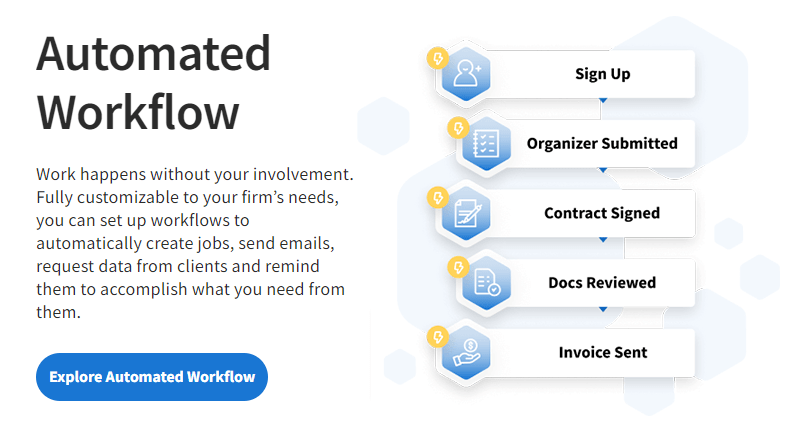 Website Customization
TaxDome has a website builder with professional templates your company can use. A website builder is an excellent tool for revamping your website. Paying fewer fees is a great bonus.
Full Support
As a successful company, TaxDome takes great pride in client support. Therefore, enhancements, fixes, and updates are frequently updated to ensure peak-level software.
Benefits of Using TaxDome
There are many benefits to choosing TaxDome, including utilizing the cloud. Saving extra space on your hard drive is always a win. Also, the management system provides a virtual drive, so there isn't a need for additional services like Google Drive or Dropbox. It's functional and accessible.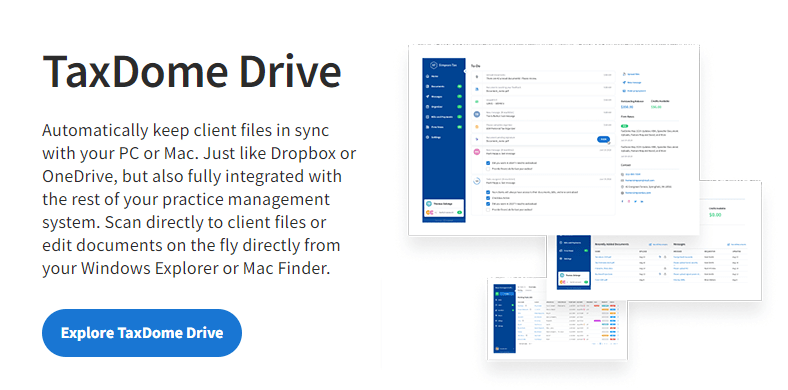 You can streamline documents, and uploaded files can save on the client's account. In addition, locking documents and requesting signatures can be done quickly. For instance, payments and invoices can directly sync to Quickbooks. This integration can make your job convenient.
Another perk is that emails can sync. This feature avoids clutter and allows for proper communication streamlining with staff and clients. With TaxDome, you can save emails to a client's profile and stay organized on top of your game.
You can also send emails in bulk and customize templates.
Reducing administrative tasks has never been easier. Learn to delegate more and stress less. Gain focus and momentum where you need it most. With TaxDome, you can manage, scan, import, edit, sync, or send files.
Is TaxDome Secure?
The management software provides excellent security at a bank level.
Examples of security measures taken include:
All interactions are encrypted using a Secured Socket Layer or SSL. According to the SSL Labs, this protects data and has a rating of A-.
Data is stored and backed up every day.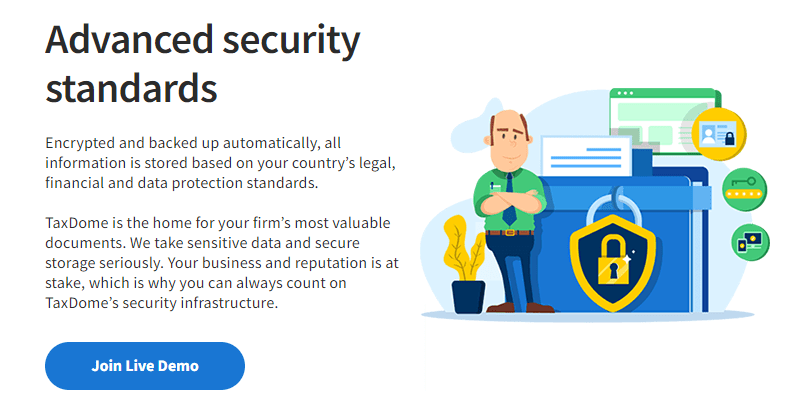 Credit card information is stored and protected through SSL connections.
Payments are all processed through service providers.
The production system runs on Amazon AWS, the world's leading computing platform via the cloud.
Client data protection through the Gramm LEach Bliley Act (GLBA)
TaxDome's Two-Factor Authentication
TaxDome contains two-factor authentication for extra security measures. The extra step provides comfort, knowing it's harder for others to access sensitive data.
TaxDome recommends this feature, so you don't have to compromise safety.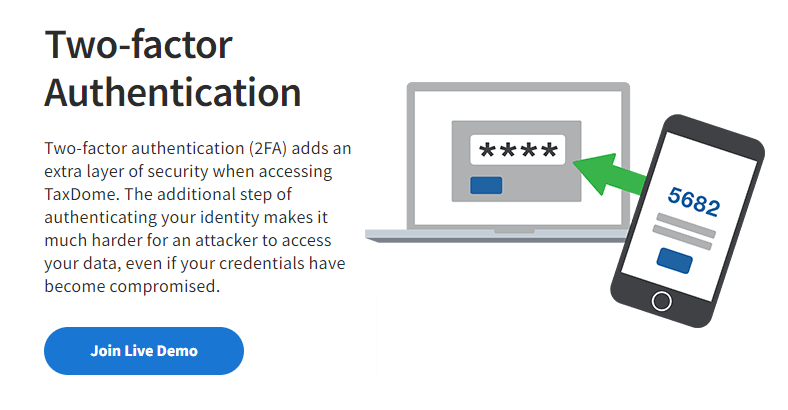 To enable this safety feature, you can turn two-factor authentication through your app via cell phone. Once you confirm your identity, you will receive a code. Then, you can enable backup authentication through text messaging.
After the two-factor authentication is on, you will receive a code upon signing in to your TaxDome account.
If, for some reason, you no longer want this option when signing in, you can disable this function at any time.
How Much Does TaxDome Cost?
TaxDome does vary in cost, but I will carefully explain the breakdown. There are two packages available to purchase through TaxDome: TaxDome Lite and TaxDome Pro.
TaxDome Lite is only for single practitioners and includes:
Unlimited sharing, storage, e-signatures, clients
One user for individuals
CRM, custom fields
Client portal with app
Access to print tax software to TaxDome
Free onboarding
The lite version is $25 per month, and you can start a free trial to preview.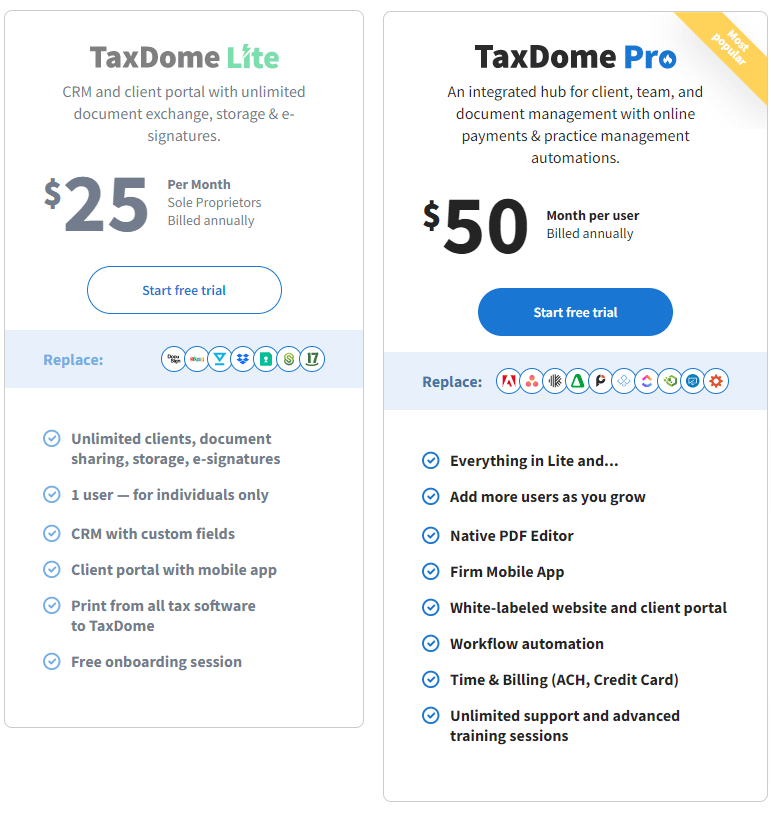 TaxDome Pro is for one or multiple employees that need management tools and utilize additional features.
TaxDome Pro includes everything mentioned above along with the following:
Capability to add multiple users
Native PDF Editor
Firm Mobile App
Automated workflow
White-labeled website and portal
Time and billing
Advanced training with unlimited support
TaxDome Pro is $50 a month and is billed yearly for $600, which is double what the lite costs but with valuable, added features. A free trial is available as well.
TaxDome Customer Support
There are many features when it comes to customer support in TaxDome. Below are ways support is found through the TaxDome Help Center.
Seek Individualized Help
You can chat with a tech support team member from your computer desk. Click the button and type a question in the box for questions or concerns.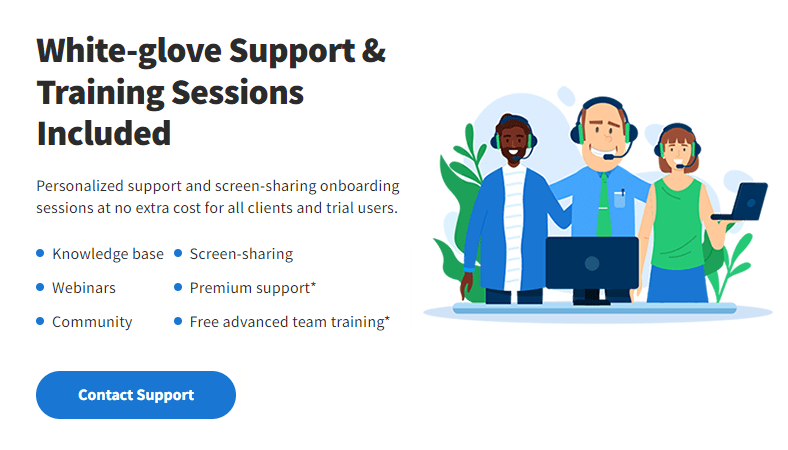 If you want to talk directly through screen-share, there's a one-on-one training option. You can choose the length of time depending on your needs. The screen-share essentially works like a Zoom meeting.
A quick 15-minute assist is excellent for a simple question, and you can use this feature even if you have the lite version. However, if you have TaxDome Pro, you can access a 45-minute option if that works best. This choice is best for an overview of features and in-depth breakdowns.
Then, you can set the date and time of the call when it's most convenient.
Visit the TaxDome Academy
The TaxDome Academy provides a detailed one-hour course and explains all the features TaxDome offers. In addition, there are three lessons and quizzes at the end of each session.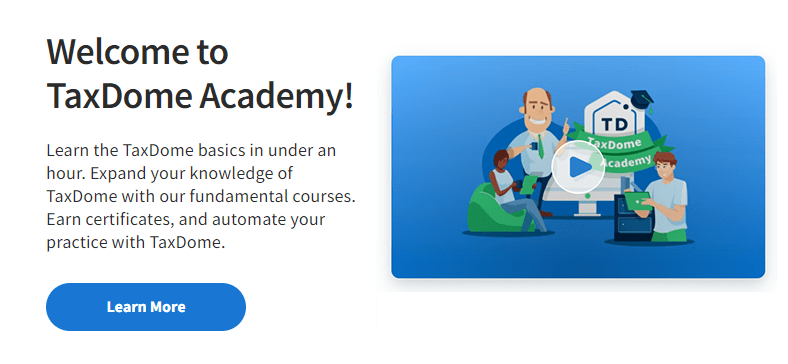 Learn at your place, and customize what you need help with most. The goal of the TaxDome Academy is to provide knowledge for the best work experience. So let the academy help you get up to speed with the software.
Access the YouTube Channel
Aside from videos directly from the webinar recording page, YouTube tutorials are linked directly to the help center. These are different videos than the webinars but can be beneficial.
You can subscribe and enjoy short videos about all of the TaxDome features.
TaxDome Webinars
TaxDome also provides in-depth webinars. The demo covers the basics, and below are other topics, including:
Data import, accounts, and contacts
Tools for client communication
Enhancing client documents
Customizing tax process, bookkeeping, automation
Invoicing, Quickbooks, CPA integrations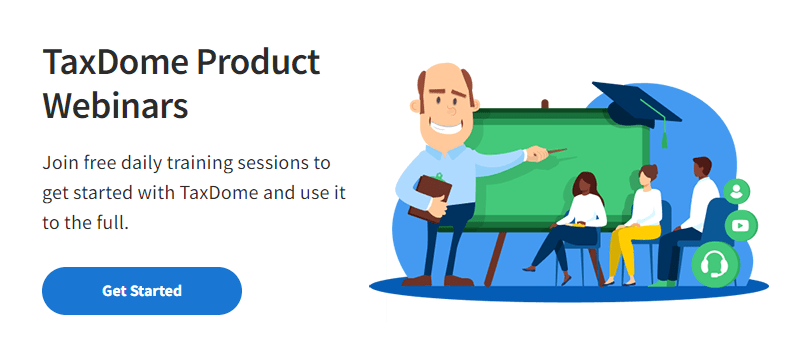 Report Bugs
If you encounter a glitch, you can report bugs easily under tech support. Filling out a simple form will notify the company right away. Afterward, you will receive an email summary. While you are waiting, you will receive an ID to keep track of your progress.
With TaxDome, you can look forward to securing messaging, virtual meetings, video tutorials, and tools for extra support.
Final Thoughts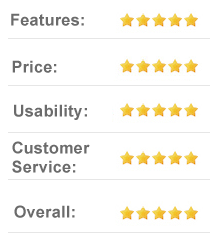 TaxDome provides many valuable tools, features, and options to suit your needs. TaxDome can provide the help you need to succeed for large or small businesses.
Instead of paying for several services, you can save time, money, and stress by choosing a one-stop shop such as TaxDome.
With several troubleshooting options and hands-on support, you will feel knowledgeable and confident as you learn the ropes.
Hacking and confidentiality breaches are a top concern in today's world. With TaxDome, you can feel secure, knowing that top-notch safety measures exist for you and your clients.