The financial market has gone global and has become readily available to all through Trading212.com. With over 6500 global stocks and ETFs available, anybody can take advantage of the accessibility and affordability to trade on Trading212.com.
Users of Trading212.com gain access to resources, advice and can even take advantage of educational videos and tutorials to help them breach the market. For individuals who are more seasoned in trading, trading212.com is user friendly with customizable options to help users build a strong portfolio.
Access the platform via Trading 212's web-based trading service, or an app is available for download, and with so many resources available to users, could trading212.com be the best way to dive into trading?
History of Trading212.com
It turns out that Trading212.com is more than merely good at pulling high customer ratings and gaining user satisfaction; Trading212.com is excellent at it. The app has been awarded a 4.7-star rating on the Apple App Store and a 4.5-star rating via Google Play, making Trading212.com one of the most highly rated trading and investing apps available.

Trading 212 is a London based company which makes trading stocks and the financial market available to the masses. The mobile app has more than 15 million downloads worldwide, making it one of the most popular trading apps. In 2016 the app became the #1 app in the UK. Also grabbing the #1 spot in Germany the following year.
Trading 212 is authorized and regulated by the UK Financial Conduct Authority (FCA) and the Bulgarian Financial Supervision Commission (FSC).
Top Features of Trading212.com
There are some significant advantages to utilizing Trading212.com, such as the commission-free stock and no fees for deposits, withdrawals, inactivity, or foreign transactions. The company also allows low fractional shares to fit every budget and goal, offering unlimited opportunities for instant trades.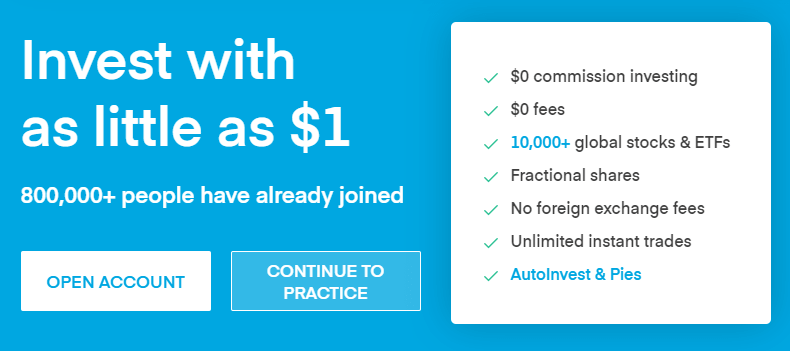 Trading 212 helps lead their clients to more significant and more accessible investments, allowing users the capabilities to invest and reinvest to reach their goals. The easy to use platform offers a variety of tools to help investors understand where their money is.
Users can trade:
Equities
Commodities
Stocks
The website helps users build a diverse portfolio and create a personalized investing plan. Users can also contribute financially to their portfolio at any time and without negatively impacting a user's investing strategy.
Easy to Use
Trading212.com is user friendly with an easy to use search system. Consumers can find what they would like to trade in seconds. Accounts are easy to customize for individual use, and all reports are accessible online.
Within the Trading212.com platform, users can click on a 'LEARN' tab to further understand investing and trading. Trading 212 customers can enjoy a thorough crash course on the web platform about where and how to utilize all the information provided.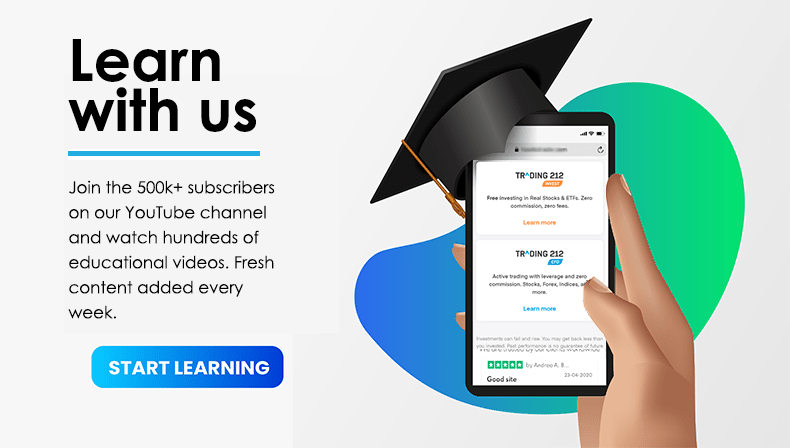 Additionally, users are offered a trading mode option to learn about hedging and aggregating. Trading212.com is excellent at defining concepts and terminology and educating its consumers on how to learn to read trends and understand economic indicators in order to make the best and smartest trades for them.
Trading 212 utilizes a very user-friendly means of analyzing a portfolio: pie charts. In their programming, trading212 uses these charts to help their users see and understand their trades and reach goals in an understandable way.
Everything You Need to Make Smart Trades
A great feature that Trading212.com provides is the 'Economic Calendar,' which is a breakdown of the events taking place in the financial world and the time at which this information was provided.
Users can utilize information on each event's index and the country in which a company is based. The web service provides users with an 'actual' index, forecast, and the previous index for each company. Additionally, when users click the information tab, they can find more information on a particular index.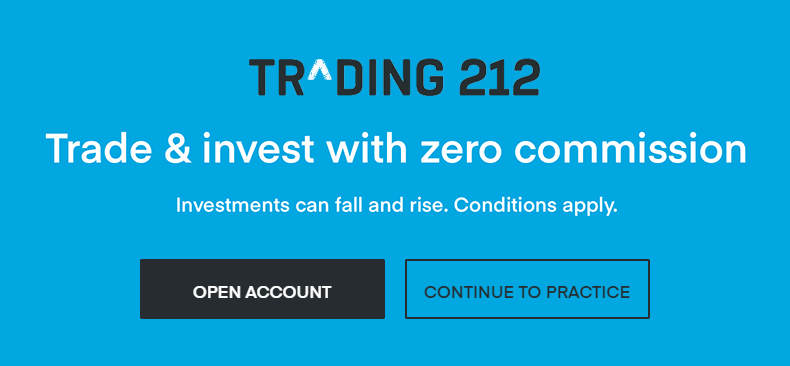 Trading 212 provides a daily analysis within the market, analyzing things such as the DAX, Silver, and Crude Oil. The investment advice provided can assist users in making the best choices for themselves. However, these analyses are simply a recommendation and are not required to take advantage of trading212.com properly.
The 'ANALYSIS' tab provides customers with a daily analysis of the changing value of the trades and stocks available. Individuals looking to make investments and changes to their portfolio are provided the date and time of the value changes for gold, silver, and exchange rates between foreign currencies, and more.
Getting Started with Trading 212
Trading212.com is praised as an excellent option for trading beginners. It proves to be true with featured video tutorials and a demo offering users well-rounded and complete information on Trading212's trading platforms 212.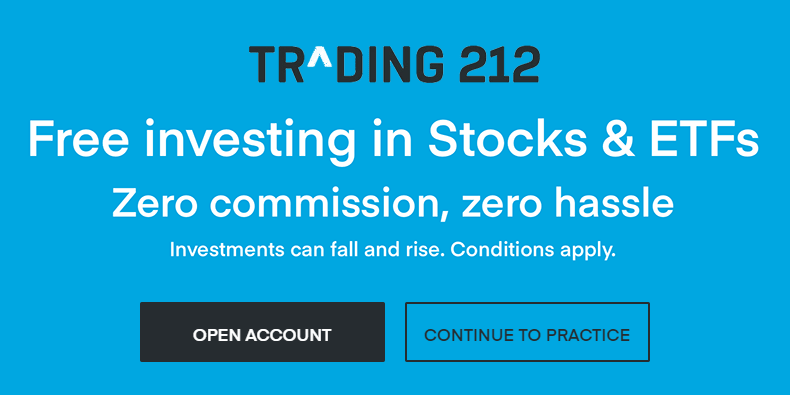 For those who are still unsure about the platform or how to best utilize it, before signing up, Trading212.com offers a 'practice' option. This option allows potential customers the opportunity to learn the platform before investing their time and money. Through this service, consumers can learn via the tutorial on how to best trade and invest. Users are given options to create a 'watchlist' for particular shares they are interested in.
Users are provided with 'top winners' and 'top losers' categories to see what shares are jumping to the forefront and what is on the rise, as well as what may be dropping in value and losing its edge in the competitive market.
Products
Trading 212 offers two products through their website: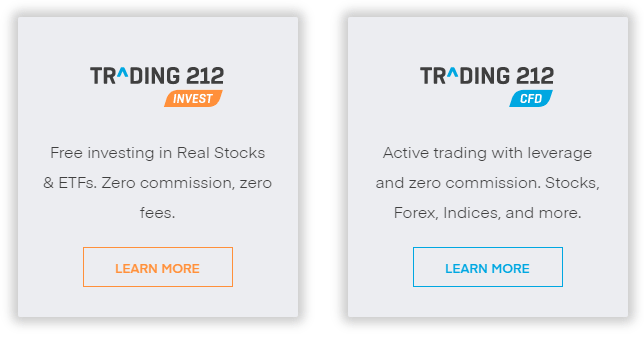 Trading 212 Invest
This service offers free investing in real stocks and ETFs. This option provides zero commission and zero fees.
Trading 212 CFD
The second option offers active trading with leverage and also offers zero commission.
Trading212 Commission/Costs
Personal information and trades are always just a finger tap away. Moreover, there are no minimum deposits necessary to open an account, with credit and debit card options available.
The website also provides low CFD fees and commission-free ETFs. There are additional fees for EURUSD trading, but with the overall trading fees remaining low.
Customer Support
Customer support is available to Trading212.com users via phone support, which is available 24/7. Questions are responded to within 24 hours by the customer support team. Commonly asked questions have relevant and appropriate answers provided through the Trading212.com website.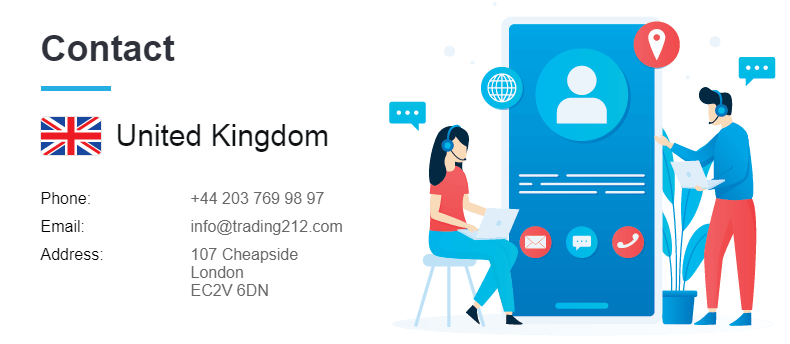 Through the Help Center on Trading212.com, articles are provided to users on the most recent activity and updates on stocks and the market.
Security
Users' money remains protected through regulations by the UK Financial Conduct Authority. Additionally, funds are protected and kept safe in segregated accounts covered by the FSCS for up to 85k GBP.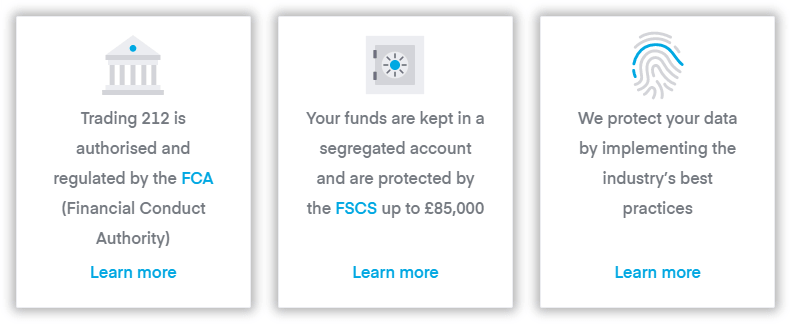 Regular tests are performed on all applications and Trading 212 infrastructure by the US-based company: Security Metrics. This company ensures that money is safe and secure, and as an added security measure, Security Operations Center monitors 24/7, providing real-time alerts to customers.
Trading212 Licenses/Regulation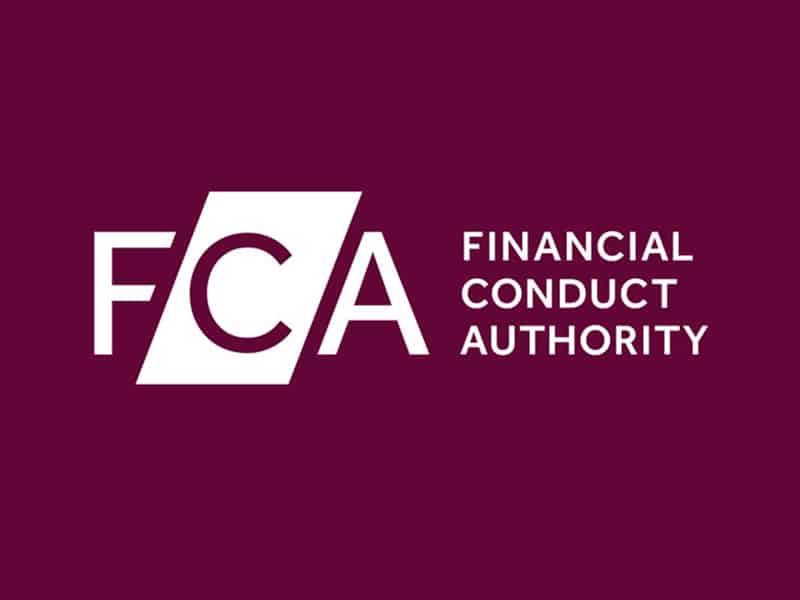 Trading 212 is authorized and regulated by the Financial Conduct Authority and registered in England and Wales. Consumers can call the FCA Customer Help Line to check the company's registration.
Additionally, in compliance with the company's regulations, client funds are kept separately and in segregated bank accounts.
Conclusion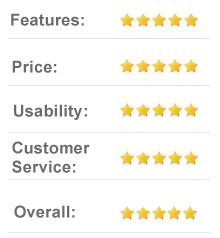 Ultimately, Trading212.com proves to be an obvious choice for those looking to enter into the financial market, whether as a beginner or a seasoned expert in trading.
Safety and security are made a top priority by Trading 212 to keep client money safe, and users have ample opportunity to grow their portfolios and educate themselves through Trading212.com.
Trading212.com comes out on top as an easy to use service, with easily customizable plans for every budget or experience level. Guided brokerage advice on where and how to best invest and buy stocks provided by Trading212.com comes as a bonus to this already fantastic platform. One can't deny the considerable advantages to the significant number of stocks ETFs to trade.