TradingView.com is a cutting-edge platform that allows traders to improve their technical analysis and trades. They work with many markets, from stocks to cryptocurrency and Forex.
Whether you're interested in becoming a full-time day trader or simply making the occasional but well-planned trade, TradingView is an excellent choice.
In this guide, we'll give you the low-down on how TradingView works and their best plan for your trading goals.
About TradingView.com
TradingView.com is an online platform that helps investors monitor stock and cryptocurrency charts, allowing them to plan their next trade. It's a popular name in the investment world, as they rank number one in the investment website category.
They pride themselves on offering free and low monthly subscriptions that are flexible to meet different users' experiences. Depending on your background in trading, you can choose from plans that offer basic to advanced features and analysis tools.
Some of the most popular uses for TradingView include:

Analyze price action

Check trading volume

Verify price history

Read company fundamental data
Furthermore, by joining TradingView, you'll have access to their social network, where you can communicate with other members on trading opportunities and strategies. Just do your research, as TradingView can't always keep up with all the trolls that join.
If you enjoy making custom scripts and reading others' scripts, this is an excellent place to share them with members and customize your charts further.
Top Features of TradingView.com
Now that you have a background on TradingView, below are the most popular features that inspire 30 million traders to use it each month.
Tools to Help With Technical Analysis
By signing up for TradingView.com, you'll have access to over 100,000 technical analysis indicators and tools. These include over 100 of TradingView's indicators. Some of them are user favorites, and community members built thousands of other indicators.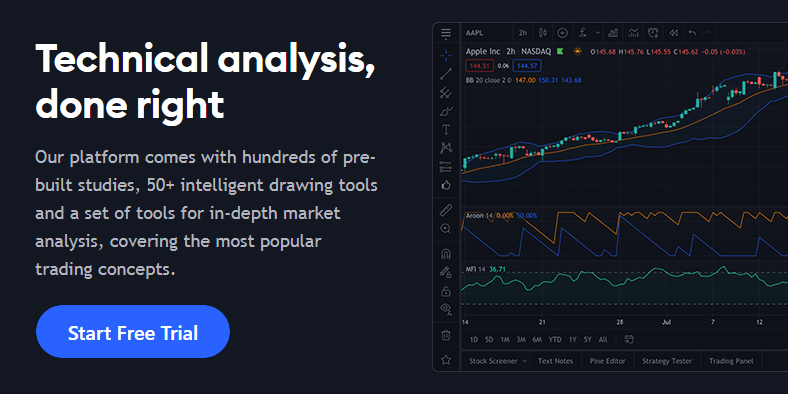 You can also use over 50 smart drawing tools, and TradingView's software can recognize and alert you of candlestick patterns.
Pine Script Programming
If you're a programmer that wants to write your indicators, you'll love that TradingView has a programming language called Pine Script.
Whereas some programing languages would take hundreds of lines to achieve specific indicators, you can do them in as little as two lines using Pine Script on TradingView. Best of all, Pine Script is lightweight and cloud-based.
Extensive Charts
Working with charts is the primary purpose of TradingView. While their charts can feel overwhelming to a newbie, intermediate and experienced traders will appreciate that they offer 12 chart types ranging from Renko to Point & Figure.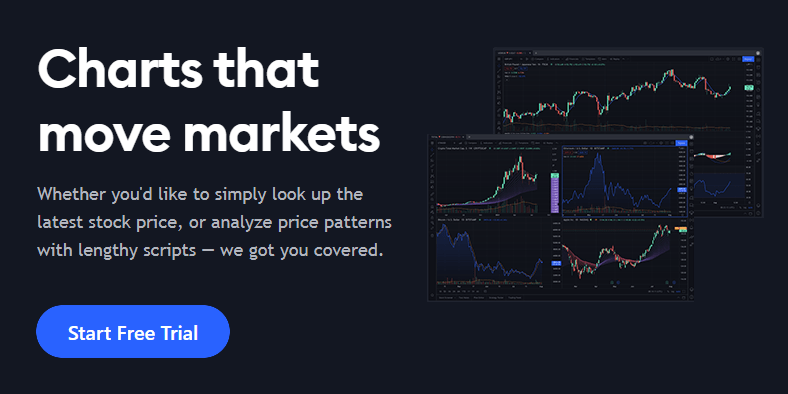 Furthermore, you can replay charts to watch how the market moved, which can help in planning future trades. You'll also be able to set up custom time intervals from seconds to range bars.
Accurate Alerts
Never again will you have to miss a trade while sleeping. At TradingView, you can set up and receive alerts on any of your devices. Examples of the most popular signals people set include strategies, price, and indicators.
You can also set up Pine Script alerts and 12 different alert conditions. As if it couldn't get better, TradingView will give you notifications for push and webhook.
Simulated Testing
It can feel scary trading your own money if you're new to the markets or testing a new strategy. So, TradingView alleviates this by offering simulated testing. You can choose to simulate either a self-written or template strategy.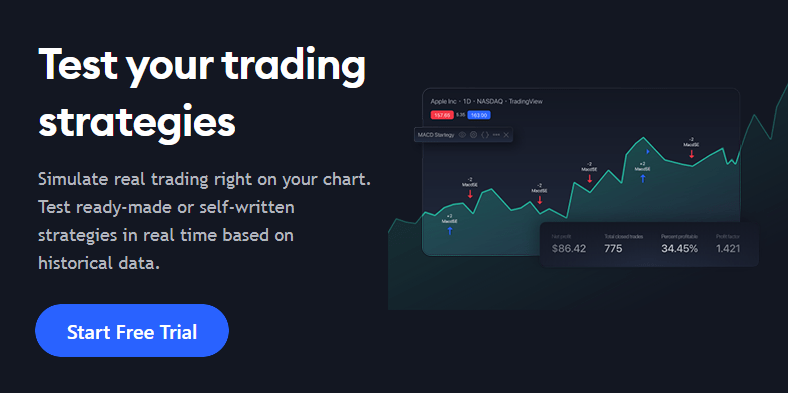 Once you run a simulated test, you'll receive a detailed report of its performance, view the executed order tracking on the chart, and share your findings with others.
Networking Opportunities
Knowledge is power, so TradingView offers a social network to encourage users to interact and share trading ideas and strategies.
You can even do a live broadcast of your trading activity or upload a video with your analysis. You can also chat in real-time.
Paper Trade
Another option for new users or those wanting to test out a strategy is to use TradingView's paper trading feature. Doing so will let you use fake money to trade the current stock or crypto market.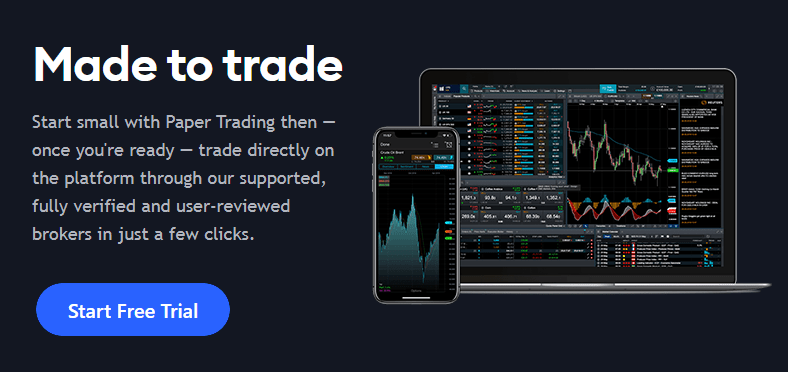 You'll even get to paper trade with top brokers and use TradingView's charts to initiate the trade.
Data From Across the World
Traditionally, traders received most of their trading information from a single source—usually their broker. But TradingView is unique because it compiles hundreds of data feeds from many sources.
That way, you'll get a more in-depth understanding of market movements. Examples of data feeds that TradingView monitors include CFDs, all major indices, Bitcoin, stocks, and futures.
Heatmaps
Heatmaps are an excellent opportunity for traders to quickly see how a group of assets move. You can compare the price movement of different companies, with stocks and cryptocurrency markets being the most popular.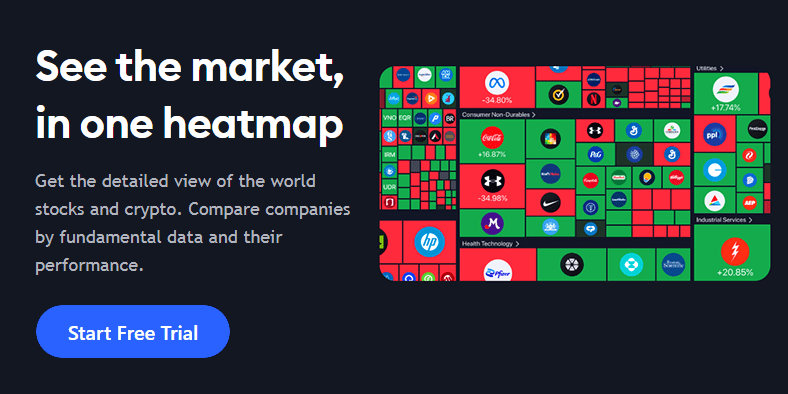 You can also filter your heatmaps to show price action according to different sectors, helping you see what's trending to make a quick and profitable day trade.
User Friendly
TradingView.com may be overwhelming to a beginner, but people keep coming back to it because it's easy to navigate once you get the hang of it. One of its stand-out features is its scanability, where you can track down high or low-performing assets.
TradingView offers over 100 filter fields. You can also set up an alert when a symbol you searched for falls within a range that matches your criteria.
TradingView Costs
TradingView offers four plan levels, with the first being free. For the other three paid plans, you can opt to pay monthly or annually. If you purchase an annual package, you'll receive a 16% discount, which is like getting two free months of TradingView.
Note that all the plans we outline below have monthly pricing so that you're seeing the maximum amount you'd have to pay. Furthermore, you can opt to try any plan free for 30 days.
Basic
The Basic plan is TradingView's free plan. We'll be honest—you'll receive few benefits with this plan, so it's often a better choice to do a 30-day free trial with a higher plan.
However, you'll be able to open one chart per tab and save one chart layout with your Basic subscription. You'll also have access to 12 customizable chart types and can see historical financial data on seven annual years and eight quarterly years.
Pro
The Pro plan is TradingView's most economical paid service, and it comes with ad-free charts and social networks. You'll get to open two charts per tab and save as many as five layouts.
You'll also have access to custom time intervals and range bars, five indicators per chart, and an infinite number of custom indicator templates. The Pro plan is $14.95 per month.
Pro+
If you're a casual day trader or make frequent trades involving technical analysis, the $29.95 per month for TradingView's Pro+ plan is worth it. You'll receive double the charts and indicators per chart and 100 server-side alerts.
If you're interested in intraday exotic charts or those with custom formulas, you'll appreciate that the Pro+ plan offers access to these valuable tools.
Premium
TradingView's Premium plan is ideal for people who make a living from trading because it'll help you maximize your precision. You'll also have access to innumerable data, with four times the amount of data available on charts.
For the $59.95 monthly Premium cost, you'll also get 400 server-side alerts and invite-only indicators. Remember, if you're unsure about the best plan for your needs, you can give them a free 30-day trial.
Customer Support
Admittedly, TradingView's customer support has room for improvement. They operate on a support ticket system, which you'll need to log into your account to access.
The good news is that TradingView offers an extensive help section organized by category on their support page. So, you can often get your questions answered by reading through their articles.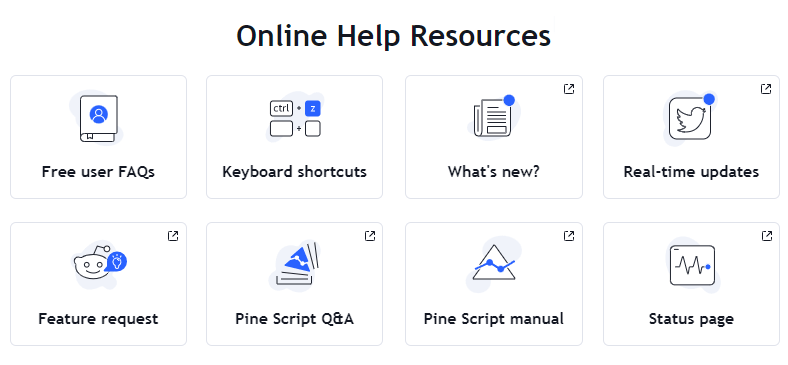 Another benefit of TradingView.com's online help center is that they encourage users to share ideas for new features on their Reddit page. You can also stay up-to-date on any company-wide glitches by following TradingView's Twitter account.
Final Thoughts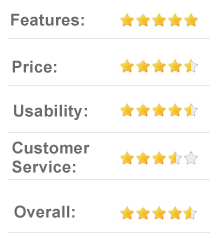 Given that TradingView has 30 million users, many people feel they make up for its fee by making more profitable trades.
TradingView.com is compatible with all devices, and they offer both a web and desktop app. Although the chart and tool options can feel overwhelming to a beginner, it's worth going through the learning curve if you're serious about making money by trading.