Typeform is one of the leading programs for surveys and getting people to respond when asking questions online. Its goal is to make surveys engaging through ease of use and pretty graphics that blend seamlessly with your site or wherever you want to place your surveys.
Typeform is both easy to use and sophisticated with its data collection and has plenty of question options to choose from, background colors, pictures, and video to choose from.
History of Typeform
Typeform doesn't have a page on their website that tells us their founding story. Or if they do, it's not displayed anywhere on their homepage, including all the links at the bottom.
In fact, the only place I found anything about Typeform's culture is through their careers page. It's a quick blurb about empathy and the customer coming first is all I managed to find, and even that was after doing a bit of scrolling.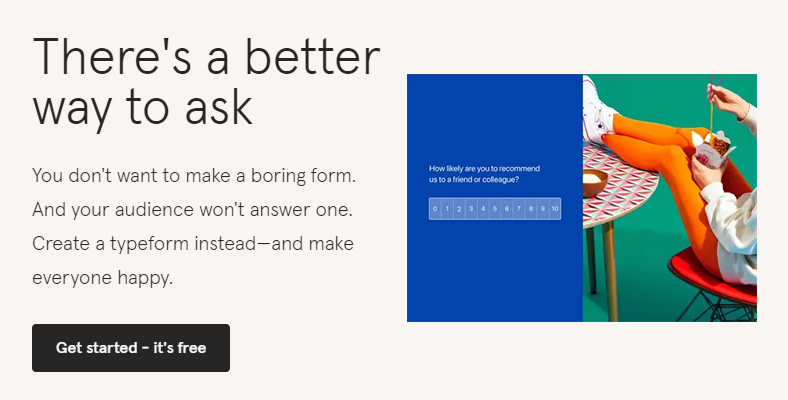 Founding stories, knowing the how and the why a company started, their ideals, their mission statement, or even their head employees is such crucial information for any company. It's something that every company should have, even if they are completely online.
However, I did find that Typeform came into existence in 2012 with Robert Muñoz and David Okuniev as its' founders with their invitation-only Alpha testing phase. In 2013 it was released for Beta testing and became open to the public in early 2014.
By late 2014 Typeform had over 100,000 users and just over a year later raised $15 million in their first Series A funding. This funding included some big names like the CEO of Squarespace and Javier Olivan, the Vice President of Growth at Facebook.
How Typeform Works
Turn a stuffy form, quiz, survey, or poll into something that sounds like a real person and has the feel of a one on one conversation. You can create all different forms and use them to engage your audience, increase conversions, and get their opinions on all manner of topics.
Typeform is intuitive, and it doesn't take long at all to create the form you want. It takes even less time with their templates. If you can think of something to do with a question and answer format, Typeform has a template.
Once your form is set, you'll embed it by grabbing an embed code and pasting it into your website. Then boom, your Typeform is up and running. Of course, you can also change and tweak your form without needing to re-embed it.
When it comes down to it, Typeform is a tool to get you closer to your audience by using conversational language that you use naturally, just in written form.
What You Can Do With Typeform:

Surveys/questionnaires

Quizzes

Lead Generation

Online orders

Reference requests

Employee engagement surveys

Online contact

Polls

Market research

Employee evaluation

Customer satisfaction

Product orders

Support tickets

Exam registration

Online event registration

Chatbots

Videoasks

And so much more!
Features of Typeform
The big thing about Typeform is its versatility. No matter what industry you're in, there's a form that Typeform can help you create. It also doesn't matter how technical it is because Typeform surveys can get into the nitty-gritty of the people you're talking to.
Logic Jumps
A Logic Jump, as Typeform calls them, are ways to create multiple forms in one. It's one of the most versatile things about Typeform.
For example, say you have a survey that targets the customer experience. Your customers love you, and you get primarily five-star reviews through your Typeform customer satisfaction survey.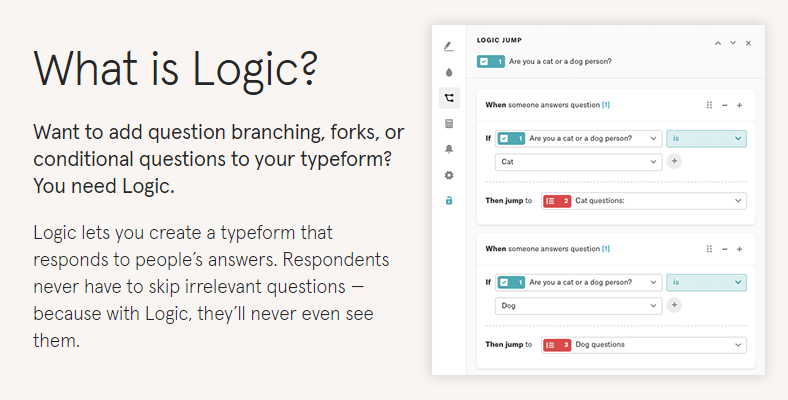 Once they hit five stars, instead of going to the next question about what you can do to make the experience better, it uses logic and jumps to a thank you note where they can exit out. You can do similar things for different star reviews and have an all-in-one form instead of multiple forms.
There is a bit of a learning curve, but it helps you have a more complete and natural-sounding form at the end of the day.
Design
A pretty survey makes people want to fill it out, and that's what Typeform helps with. You can pull from their templates and drag and drop what you like to create something personal.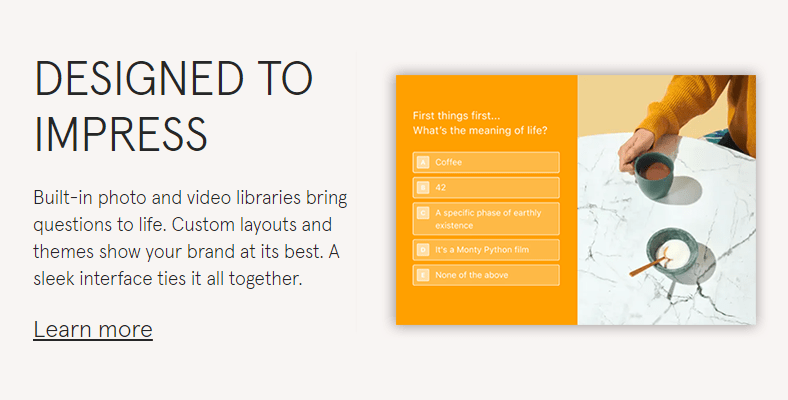 Typeform also has fun colors and small videos that you can use to brighten up your survey and make it stand out from the crowd. Also, since Typeform only does one question at a time, it lets the person filling out the form focus on that one question.
Extensions
Also known as integration, extensions help with the design process by allowing two independent apps to work together. This allows greater design flexibility and deep data dives by hooking up one or more extensions.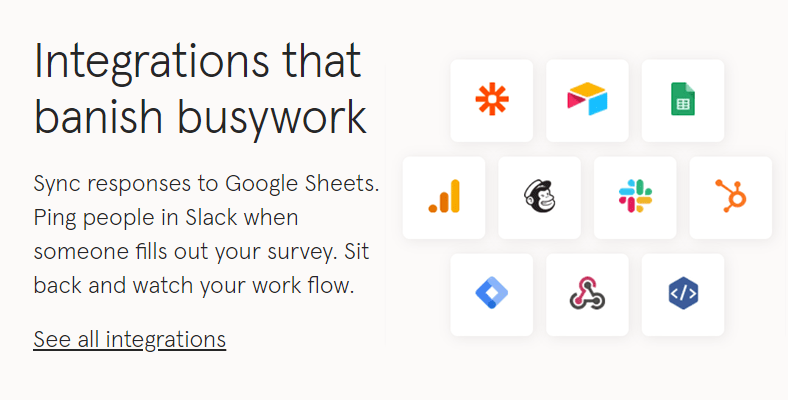 These extensions include Google Sheets, Canva, Hubspot, Slack, Google Drive, Microsoft Teams, and Monday.com. That's just a tiny sample of what Typeform can connect with to make a truly seamless experience across all of your online applications.
Embedding
Embed your Typeform into your website, product page, or wherever else you can think of. Play around with the transparency of the background or get rid of the background entirely. There's also a progress bar you can remove as well. You have six different options for embedding your Typeform.

Standard
Place this form anywhere on your website and customize the height and width so it blends seamlessly into your site.

Full Page
This takes up a full page on your website. Perfect for contact forms or event registration.

Popup
Pick a button text, popup size, and have it show up when someone visits your website.

Slider
Instead of having it appear like a traditional popup have it slide in from the right or the left.

Popover
Have your popup come up when they hit a button embedded into your site instead. Perfect for chatboxes.

Side Tab
Have your form follow your readers on their perusal of your website in the sidebar.
Reporting Results
Recording the result of your Typeform is amazingly simple. First, hook it up to your Google Sheets or Word Excel and set up a dedicated sheet that records everything a person types. Then, get messages when someone has completed your Typeform and view it almost in real-time.
Unlimited Polls and Surveys
No matter which pricing option you choose, including the free one, you can create an unlimited number of Typeforms, making engagement easy and fun.
Typeform Pricing
There are four plans that you can choose from. Find one that suits your business style and needs and allow it to grow with you as your business grows.
Free
The free plan is free, but there are a lot of restrictions on it. Here's some of what you get for free with Typeform.
Unlimited Typeforms
Ten questions per form
Ten responses per month
Templates
Logic Jumps
Multiple ending screens
Embedding options
Calculator
Basic
Their basic plan starts at $29 per month when paid monthly and $25 per month when paid annually. You get everything above plus:
Unlimited questions
100 responses per month
Integration with some of the top used apps
Email notification
Custom meta description
Accept payments
Receive file uploads
Plus
The Plus plan is $59 per month when paid monthly and $50 per month when paid annually. It includes everything that the other two plans have, plus:
1,000 responses per month
Three users
Custom link
Remove Typeform branding
Custom subdomain
Redirect options
Business
The Business plan is $99 a month paid monthly and $83 per month when paid annually. It has everything the other plan has, plus:
Five users
10,000 responses per month
Facebook pixel
Google Analytics integration
Custom close screen
Priority support
Live chat
Customer Support
When it comes to customer support, if you don't have a Business plan, you can contact them through their help Typeform which is a bit of a pain to go through but shouldn't take you too much time to do.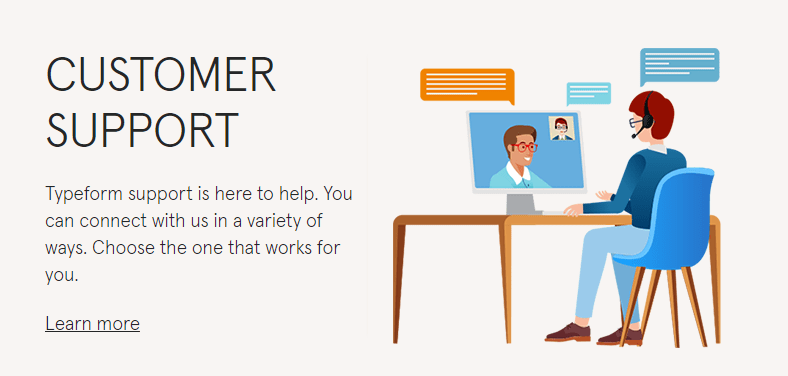 If you have a Business Plan, you get priority support, including a live chat option, so things get fixed quickly.
Final Thoughts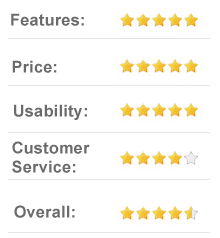 Typeform is a great way to engage your audience through forms, chatbots, and video responses. I wish it was a little easier to learn more about the history of the company, but with what you get, it's not hard to see why they're one of the best form software companies out there.