If you run a business and need a better way to keep track of management tasks, client engagement, scheduling, billing, and marketing, vCita may be a platform worth looking into.
The founders of vCita initially designed their business management and client engagement application for small to medium-sized businesses. With so many new startups out there, we wanted to take a closer look at this company and the service they offer to small businesses.
What is vCita?
The company's primary goal is to help small to midsize businesses increase their opportunities to interact with clients via the web, mobile devices, social media, as well as "empowering clients to self-serve."
Initially, vCita began as an online scheduling platform and started in 2010 by Itzik Levy and Eran Utmazgin. The company runs from both Tel-Aviv, Israel, and Seattle, Washington.
Over the past decade, vCita morphed from a straightforward scheduling tool into an all-in-one platform that allows businesses to manage several applications.
Some of the applications small businesses can now use with vCita are a customer relationship management (CRM) platform, as well as online scheduling, SMS campaigns, payments, lead-generating widgets for websites, and mass emailing.
In short, vCita can handle a lot of tasks that you'd otherwise need to hire a team for. If you can't afford a freelancer or virtual assistant to handle all these types of scheduling and technical tasks, a service that can do it for a fraction of the cost is a smart investment.
Services Through vCita
For many small businesses, it seems as if most applications can be completed through vCita's platform. While their applications won't cover every base for each startup, they do offer a lot with their service. If your online business management needs are relatively straightforward, you might get everything you need out of vCita.
Scheduling and Calendars
Their original service began as scheduling software, and this is still a significant part of what vCita does. If you run a business that often deals with no-shows for appointments, the scheduling platform can go a long way to help.
The company's scheduling options include allowing you to book appointments or add to your calendar on-the-go. Though both the website and their app, you can add in meetings or client appointments quickly and easily.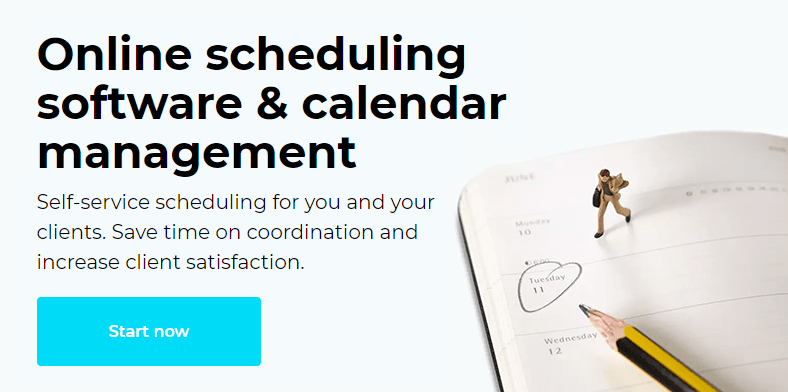 The service also allows clients to schedule with you online and even conduct services using Zoom, so they don't have to call you to make appointments.
One thing we like for tiny businesses is that vCita allows clients to book with you through your company's Facebook page if you don't have a dedicated website. This is especially helpful for smaller companies that don't have an online presence apart from social media.
You don't have to do any coding to use the calendar or set up your scheduling platform, and the software is business-friendly not just for mid-size companies but also for solo operations. If you're a one-person company, the platform can still work for you.
One of the best parts of the scheduling service is automated confirmation with clients. You don't have to stress about confirming or delegate the task to anyone else, and your clients get reminded and can confirm appointments. We like this for reducing no-shows and saving you time.
CRM Platform
If your business is just large enough to need a CRM platform, or even if you're a solo operation but need help to remember specifics on clients, the CRM service is excellent. With vCita's CRM software, you can keep all the information you need on clients in one spot, even on your phone through the app.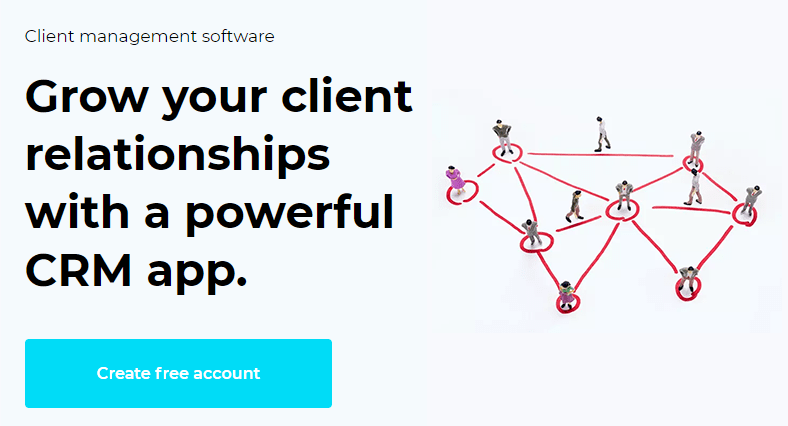 You can keep an overhead view of payments, previous appointments, vital information to remember, and prior conversations with clients in one spot. If you have several people working in your company, you can also collaborate with your team through this portion of the website or app.
Clients can pay, share documents with you, and get customized follow-ups with the CRM platform. Overall, for small businesses, we like this aspect of vCita's service.
Client Portal
Any way you can make your company's services or operations smoother and easier for your clients will go a long way in their overall satisfaction with you, and help you retain their business. This option also allows your customers to complete tasks like payments 24-hours a day.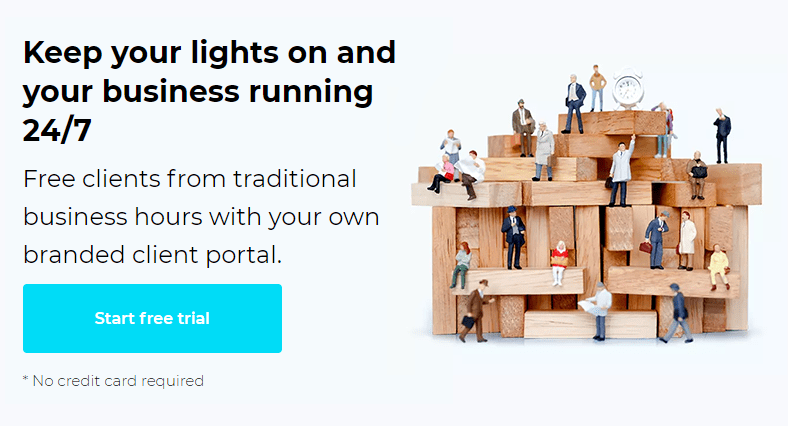 That's why we love the client portal option vCita offers. If you run a business that requires your clients to upload any type of documents, they can do so safely through the portal. Customers can also make payments, schedule with you online, directly message you, register for events, and get client confirmations.
Billing Services
Getting payments from clients is so simplified with vCita and takes some of the pain out of asking your customers for money, which is uncomfortable for some business owners.
You can send both estimates and invoices, process credit card and PayPal payments at any time (even remotely), send automated payment reminders, and manage payments along with your calendar in one.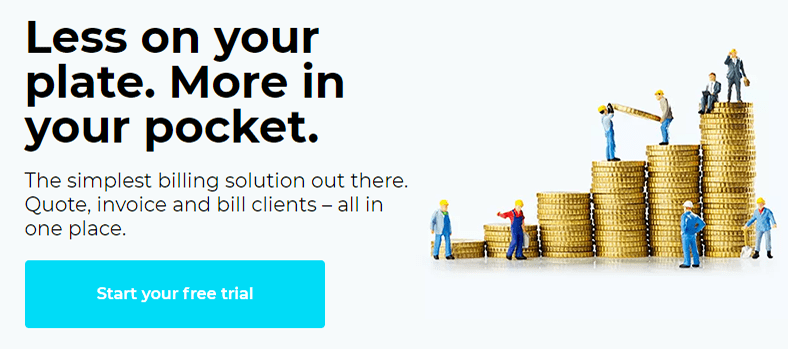 With vCita, you get a secure platform to accept any type of currency or credit card, making life easier for your customers. There are no extra fees for taking payments through vCita's software, which is a plus. Overall, for businesses that deal with international customers or clients, we found this to be a fantastic feature of their platform.
Marketing
Especially for small or solo-operation businesses, marketing can sometimes be one of the more daunting tasks to deal with—particularly to keep up with all the time.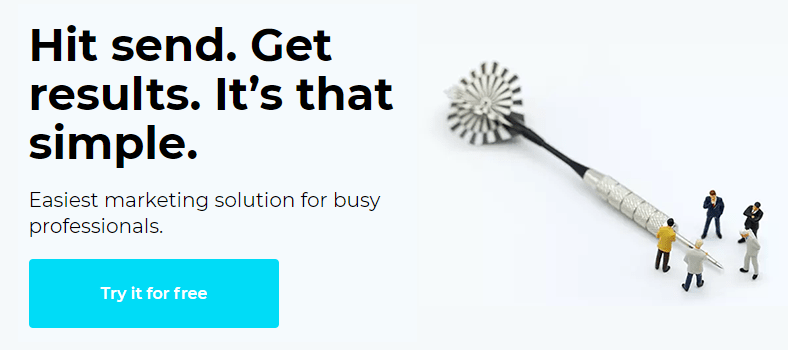 With vCita, you can take some of the pain out of that with more simplified email marketing, SMS marketing, client segmentation, and personalization for all of the above. You can do last-minute promotions or automated campaigns to keep clients thinking about your business.
The Cost
So, what's the catch? Naturally, vCita charges for all of these services and offers varying tiers for their platform.
You can try out vCita for 14 days with no credit card on file, which is a fantastic way to get a feel for the services and whether it's worth it for your business.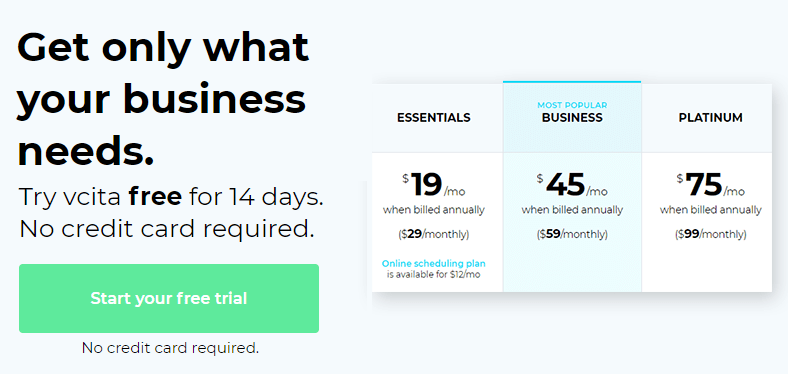 After that, vCita has an "essentials" plan, a "business" plan, and a "platinum" level. The essentials plan costs $29 monthly, or $19 a month if you pay for a full year upfront. The essentials plan includes:
Client management
Billing and invoicing
Client portal
Online scheduling and payments
Facebook integration

Online lead generation widgets
Calendar features
Automated reminders
Email support
With the business plan option, it's $59 monthly, or $45 a month if you pay for the full year upfront. You get everything with the essentials plan, plus automated campaigns, up to 5,000 campaign recipients, online coupons, email and SMS campaigns, automatic reminders, SMS notifications, email and phone support, as well as HIPAA compliant + BAA.

You also get one set-up and installation session and can also remove the "Powered by vCita" icon.
With platinum, the cost is $99 monthly, or $75 a month when you pay annually. You get everything in the business plan, plus customized campaigns, 10,000 recipients, a custom client portal domain, priority support. You also get two sessions of set-up and installation.
Competition
Some of vCita's competitors include CoachLogix, FoxOMS, Qwoach, LeaderAmp, Healthie, TimeZync, Zscheduling, and uSked. Some of these lack a few capabilities that vCita offers, but some cater more specifically to industries such as life coaching.
The Negatives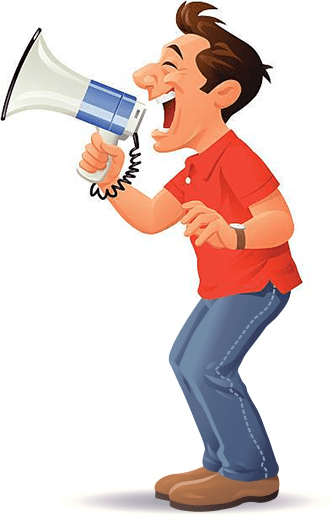 Overall, the ratings for vCita are positive. However, there are always some drawbacks to anything, and vCita has a few shortcomings.
At times, the chat and support can be slow or unavailable. If you have a business where this will not be an immediate issue most of the time, this problem might not be a significant concern.
For the cost, we would like to see this aspect improve, though. If you have an issue with the portal or website, and it affects your business for a full day, that can be a significant problem.
The value is also iffy unless you're going to utilize all or most of the features regularly. Most especially small businesses would not make enough use out of the platinum plan for the $75 to $99 a month cost. If you can get away with the standard or even essentials tier, the value could make more sense.
For companies in sectors like healthcare, we recommend something a bit more secure and specified to the industry. If you're dealing with extremely sensitive client information, we'd like to see more on the security side of vCita's software.
Our Takeaway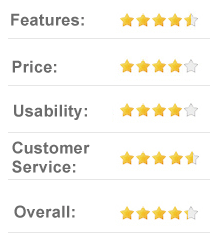 Overall, for small businesses that need a lot of online applications and would work with automated scheduling all the time, vCita seems worth a shot. If you're in a field that requires strict security with client documents, you might want to search out some of the competition.
However, if you run a more straightforward business like a spa, landscaping firm, design studio, or anything else that requires appointments but does not store highly sensitive info, we think vCita is worth checking out.