Looking for a hassle-free way to create an impressive website without mastering intricate coding skills? Don't overlook Webflow.com, a cloud-based design tool that transforms your web development process.
In this article, we'll unpack how you can leverage Webflow's distinctive features – from its no-code building setup to its customizable page structure and advanced animations – assisting you in producing professional-looking websites seamlessly.
Ready to explore? Dive right in!
History of Webflow.com
Webflow's rise is a story of remarkable growth and strategic expansion. In 2021, the company began to target larger enterprise customers, moving beyond its traditional prosumer user base.
This move played a significant role in diversifying their revenue streams.
Substantial financial milestones also mark Webflow's journey. The company raised $140 million in Series B funding in January 2021, skyrocketing its valuation to over $2.1 billion.
With this increased capital injection, Webflow saw exponential increase in its enterprise revenue – soaring from just $1 million to an impressive $8 million within a year! These significant strides underscore not only the tremendous growth potential for Webflow but also the immense possibilities inherent within this industry at large.
Top Features
Webflow.com offers a range of impressive features that make it a top choice for website creation. With its no-code approach, you can build websites without any coding skills required.
The platform provides a fully customizable page structure, allowing you to create unique designs tailored to your needs. Advanced animations and interactions bring your website to life, creating an engaging user experience.
Webflow.com also offers collaboration and localization options, making it easy for teams to work together on projects and cater to different markets.
No-code Website Building
Webflow breaks the coding barrier with its no-code website building feature. Even if you've never written a line of code, now you can design and build professional-looking websites.
It brings a visual touch to web development, transforming complex coding into an intuitive, user-friendly interface.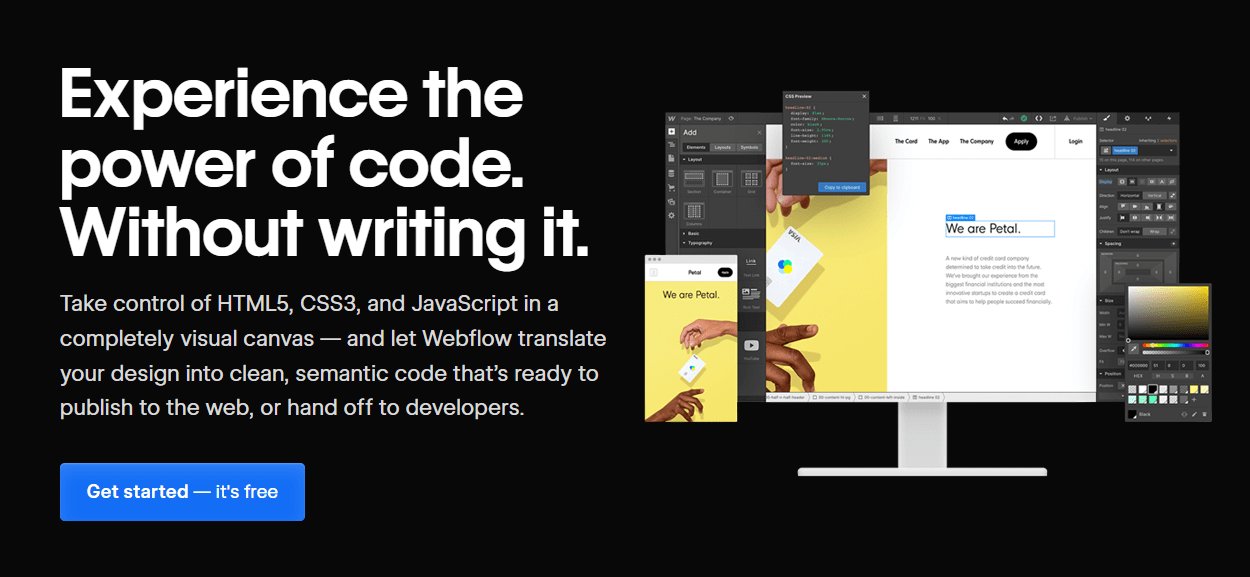 The focus on visual web development allows designers to work directly with page elements instead of juggling lines of code. No technical skills required here! The magic of no-code makes Webflow a handy tool for experienced and novice designers alike, all while maintaining the flexibility and customizability we crave in our site designs.
So yes, creating innovative websites just got easier with this nifty tool!
Fully Customizable Page Structure
Take control with Webflow's fully customizable page structure feature. With this powerful tool, you're not confined to pre-made templates or limited design options. Using the visual website building tool, craft your webpage layout any way you want! You can organize content based on your preferences while ensuring a consistent design workflow.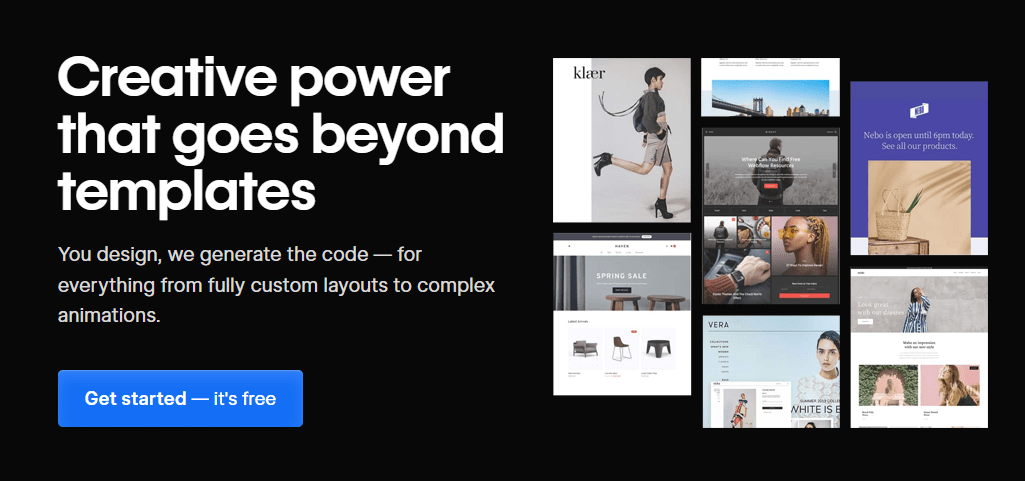 Whether it's adding an exciting interaction or scaling design elements, customization is in your hands. Want specific child elements? No worries! Create unique blocks from these components and more with Webflow's professional website creation platform.
This personalized site structure gives you unparalleled flexibility for your web development needs.
Advanced Animations and Interactions
Webflow.com offers advanced animations and interactions to take your website design to the next level. With Webflow, you can add eye-catching animation triggers like clicking on an element or scrolling down the page.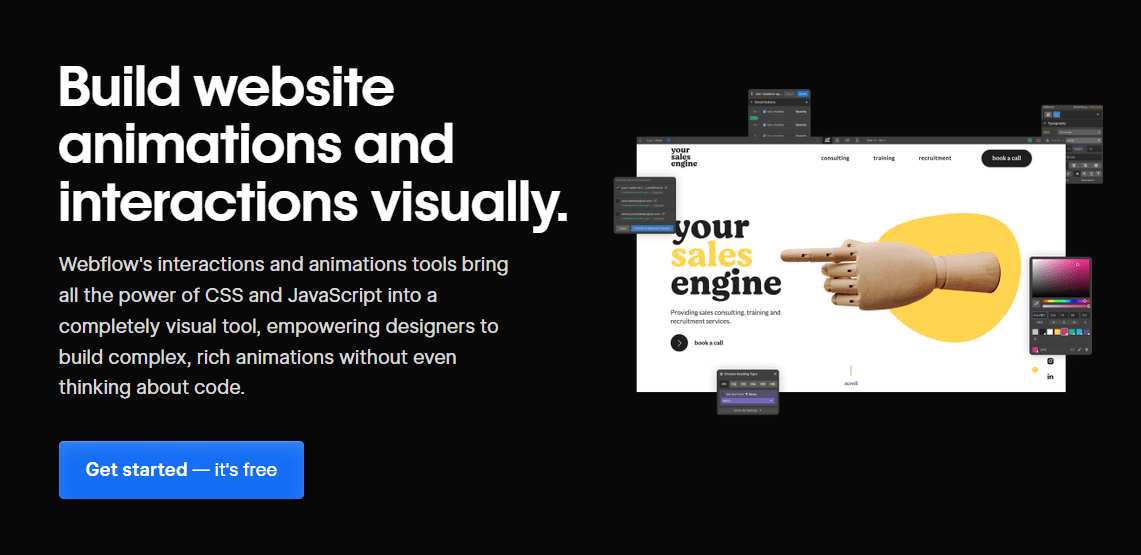 You don't need coding skills to create these animations – everything can be done visually. And it's not just simple motion effects – Webflow allows you to incorporate parallax scrolling, mouse-based motion, and even multi-step animations into your websites.
If you want to learn how to bring your designs to life with rich, sequenced interactions, Webflow also offers a course specifically teaching you these skills.
Collaboration and Localization Options
Webflow.com understands the importance of teamwork and cooperation, offering collaboration features for teams to work seamlessly in the Webflow Designer. An easy handover process allows you to transition projects between team members smoothly.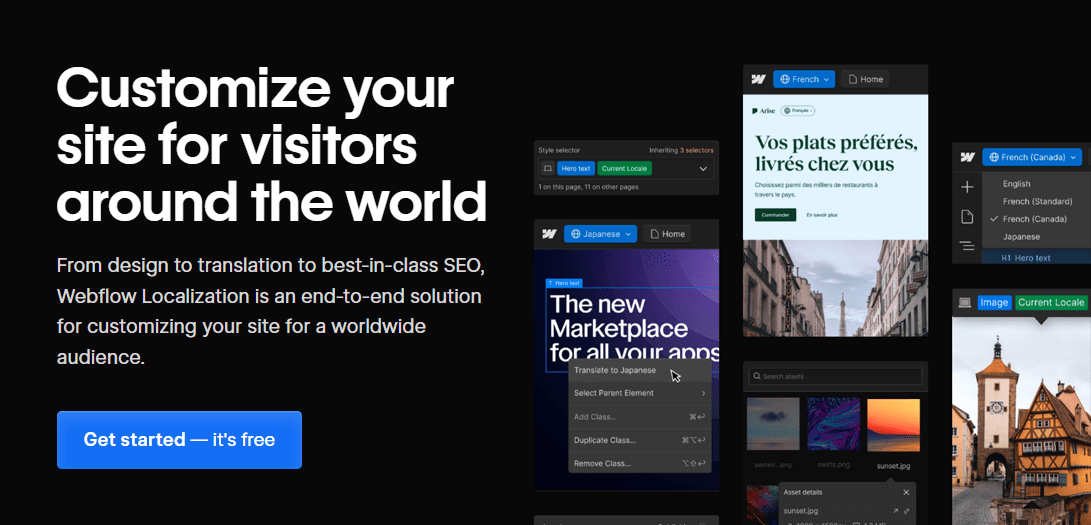 But it continues beyond there – Webflow also recognizes the need for localization. They are developing tools to help you localize your websites for different languages and regions, making it easier than ever to reach a global audience.
Plus, with the Editor in Webflow, updating and adding content is a breeze for clients or teammates who don't need the complexity of the Designer. So whether it's working together or reaching new markets, Webflow has you covered.
Pricing
Regarding pricing, Webflow.com offers flexible plans to suit different needs and budgets. They have a free plan for beginners or those with simple website requirements. The paid plans start at $14 monthly for basic features and go up to $39 for advanced options such as Ecommerce integration and team collaboration.
Their customer support is dedicated and tailored, assisting with live chat, email, and extensive documentation on their website. You can also join the vibrant Webflow community forum where users share tips, tricks, and solutions to common challenges.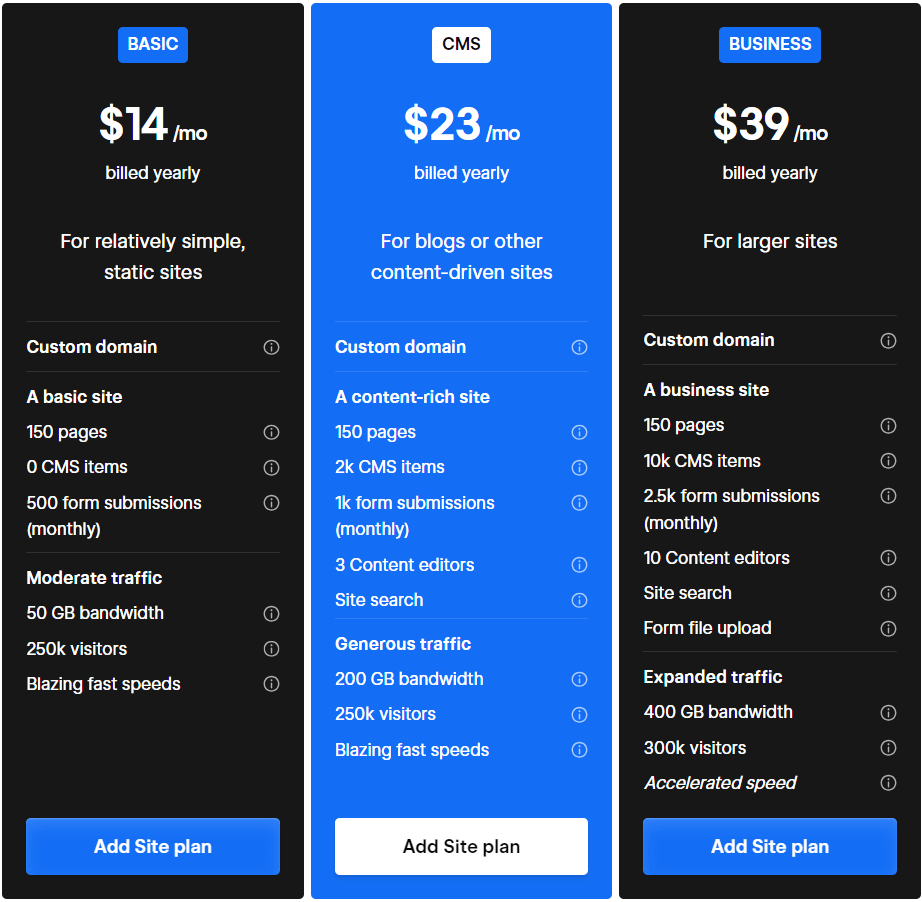 Flexible Pricing Plans
Webflow.com offers flexible pricing plans to suit every need and budget. Starting with the free Starter plan, perfect for hobby and staging sites, you can explore the platform's capabilities without cost.
For those looking for more features, there's the Basic plan at just $14 per month billed yearly or $18 monthly. Freelancers and in-house teams can use the Freelancer plan, starting at $16 monthly for freelancers and $19 for teams.
And if you're running an online store, Webflow also offers an Ecommerce option with pricing starting at just $39 per month. With customizable pricing options and affordable plans, Webflow.com ensures everyone can access their powerful website building tools.
Dedicated and Tailored Customer Support
Webflow.com takes pride in its dedicated and tailored customer support. With an expert team available globally, you can be assured that assistance is just a click away. Whether you need technical support, help troubleshoot an issue, or have questions about using the platform, the customer support team is ready and excited to help you.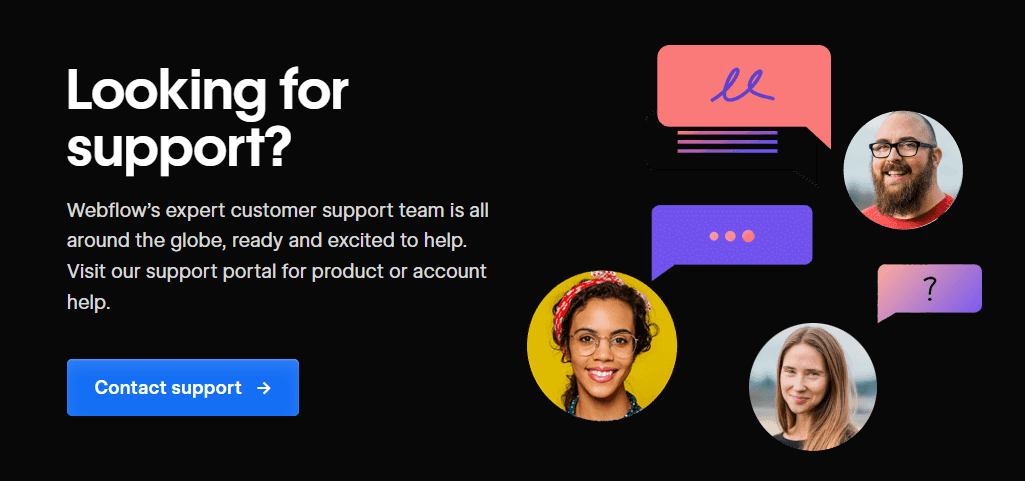 In addition to personalized help from the support team, Webflow also provides a dedicated Customer Support Portal where you can find quick answers and solutions to common problems.
While phone or chat support may have some restrictions, Webflow offers top-notch online support through their user-friendly help center.
More About Webflow.com
In addition to its top features, Webflow.com offers a range of benefits for web development teams. With its no-code website building capabilities and fully customizable page structure, teams can create visually stunning websites without coding skills.
The advanced animations and interactions feature allows designers to bring their designs to life with seamless transitions and engaging user experiences. Additionally, the collaboration and localization options enable teams to work together efficiently on projects, regardless of geographical location.
Pros and Cons
Webflow.com has its fair share of pros and cons. On the positive side, Webflow offers a wide range of design features and advanced animation effects that can make your website stand out.
The user interface is intuitive and beginner-friendly when it comes to basic interactions. Furthermore, Webflow adheres to industry standards, so you can expect your website to be compatible with different devices and browsers.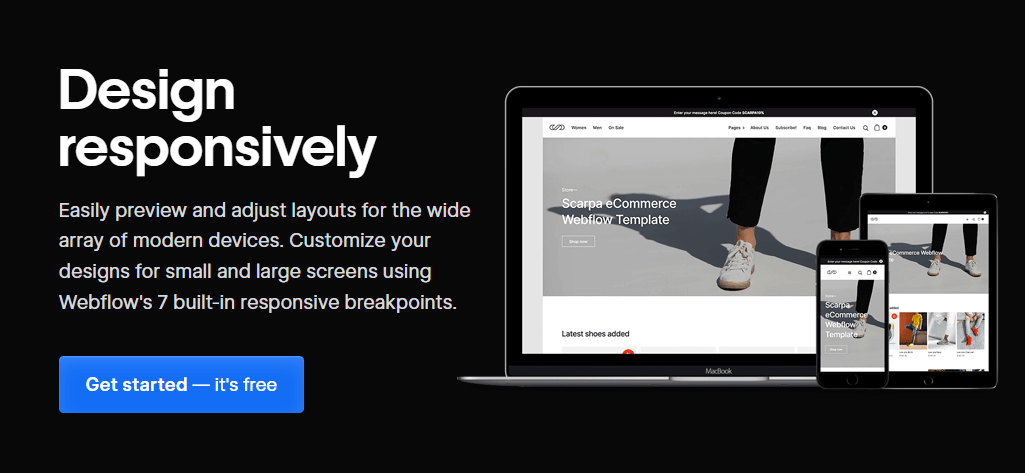 However, one downside of using Webflow is its complexity. It may not be suitable for beginners who have no prior experience in web development or design. Additionally, compared to open-source platforms like WordPress and WooCommerce, Webflow can be relatively more expensive.
If budget is a concern for you, it's worth considering other cost-effective options available.
Benefits for Web Development Teams
Webflow.com offers several benefits for web development teams. Firstly, it takes the painful parts out of web development, allowing frontend developers to focus on bringing designs to production.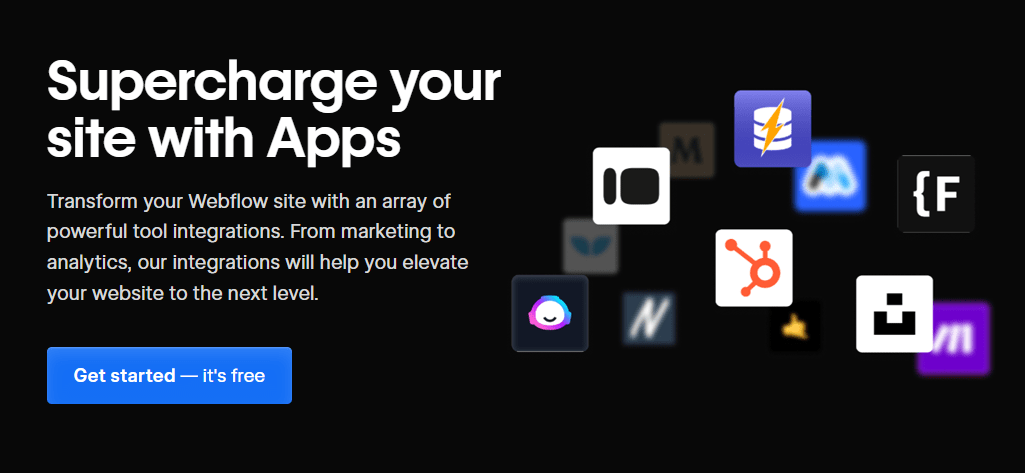 With Webflow, designers can easily bridge the gap between visual design mocks and the final website, making it simpler for digital agencies to deliver high-quality websites. Additionally, collaborative web development using Webflow helps teams build websites more efficiently by creating a shared language and enabling better communication.
This means web development projects can be completed faster and with fewer errors. Overall, Webflow is a valuable tool that streamlines the web development process and enhances teamwork within development teams.
Success Stories and Notable Customers
Webflow.com has garnered success stories from many customers, including big-name businesses. Dropbox, Grubhub, Ramp, and AngelList are just a few of the notable companies that rely on Webflow to power their websites.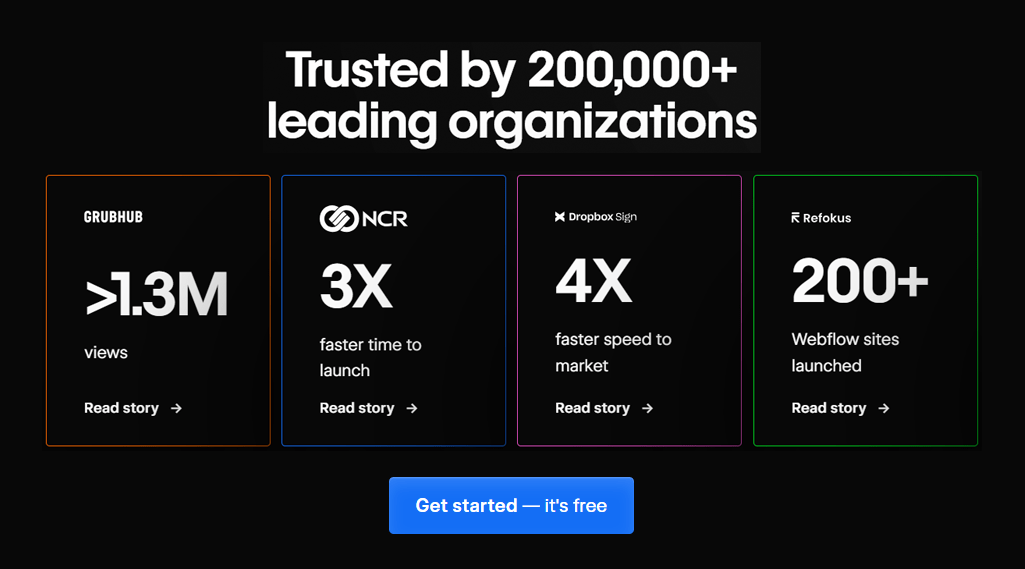 But it's not only large organizations benefiting from this platform. Companies like Lattice have successfully transitioned to Webflow for all their design needs. Take Kasturi Roy, a content designer who built her portfolio using Webflow – as a result, she received 36 interviews!
Virta is another success story; by switching to Webflow, they were able to improve their design and take on more projects with better and faster results.
With over 200,000 websites powered by Webflow for businesses of all sizes, it's clear that this platform delivers impressive results for its customers.
Final Thoughts
Webflow stands out as a comprehensive, user-friendly platform in the evolving digital web design and development narrative. With its intuitive design tools, flexible pricing, and responsive customer support, users from various backgrounds can easily create professional, SEO-friendly websites.
Its feature-rich environment, marked by adaptability and innovation, makes it a compelling choice for individuals and businesses. In the crowded space of web design tools, Webflow emerges as a beacon of user-centric design, offering a harmonious blend of creativity, efficiency, and value.