I was a little mad that I only recently learned about Writesonic. Writing original content and simultaneously optimizing that content for SEO can be quite a chore. Thanks to this tool, generating content became a breeze.
About Writesonic
WriteSonic claims to be able to use artificial intelligence and human creativity to optimize writing for individuals and companies alike. That is a bold claim to fame that many companies boast about, but they have managed to streamline the process of content writing for blog posts and articles. I was wildly skeptical, so I had to try Writesonic and see how it stands up to its claims.
I was prompted upon signup with the reasons I wanted to use the product. Their options include writing for:
Articles and blogs
Ads and marketing tools
General writing
Ecommerce
Social media
Website copy
WriteSonic.com Top Features
I was most interested in articles and blogs and how they can help me with social media. After selecting those two out of the seven options, another window popped up, encouraging me to attempt the use of three particular features. There are a total of 22 features available for use.
Even if you choose only a few features, you can find them all later from the main page after signing in.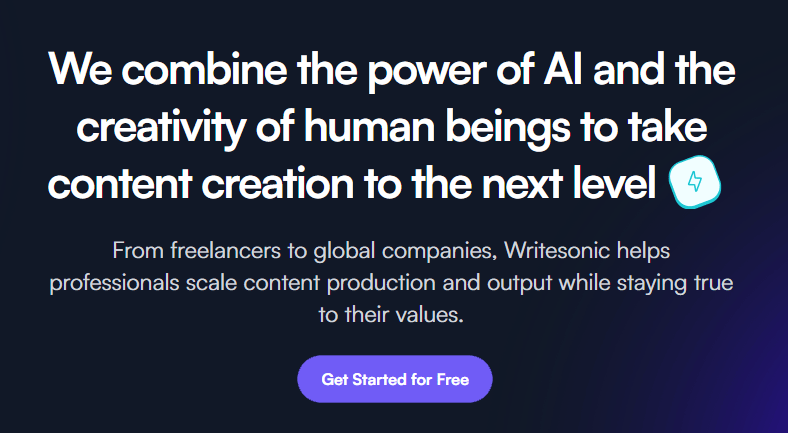 They have designed the AI to help you in your particular niche, whether you are writing to inform an audience, sell a product, create engaging hooks, or gain popularity on many social media sites. Of course, the popular social media sites were included in the features that you could select, but it goes a bit deeper than that.
If you are interested in writing content for use in the space of YouTube, they have features to develop Youtube titles, outlines, intros, ideas, descriptions, and hooks. For Linkedin, Twitter, and Instagram users, Writesonic has features to generate posts, tweets, and captions.
I was surprised to find that Writesonic even has tools for TikTok, and I imagine that as new content-sharing methods arise, they will be on top of integrating their content writing tools for those new platforms as well.
WriteSonic.com AI Article Writers
My favorite features are the article writers, and there are currently two main article ones: the Instant Article Writer and the AI Article Writer 3.0. The instant article writer is just that, an instant article writer.
This easiness doesn't come for free, though, as it is a feature of the more premium version in Wordsonic. I think it's well worth the money if you put out content in high volumes and don't have much time.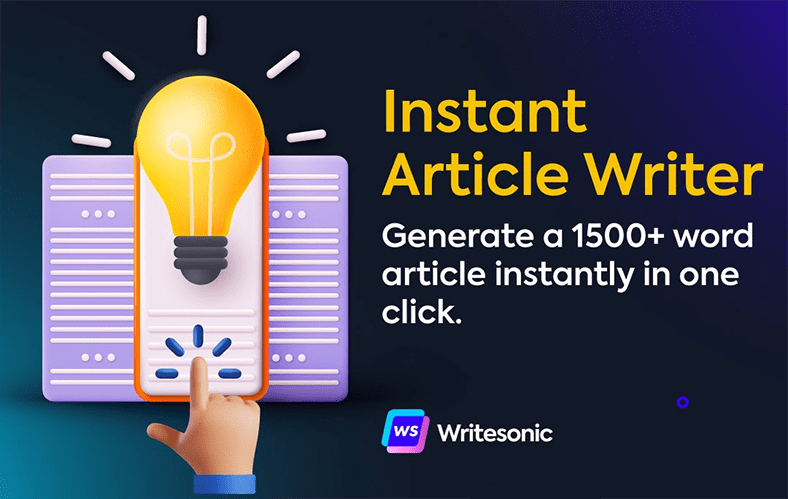 The Instant Article Writer will prompt you to input a topic and be as detailed as possible since you are training the AI in what it's about to write. The perceived quality of your content depends on how descriptive you are with the initial prompt. From there, you are given two gradient scales of length and creativity.
The voice and style can change quite a bit, but the AI generates a unique article that stands up to Grammarly's scoring at above 80, and a plagiarism score checks out with no issues.
The Instant Article Writer and the AI Article Writer 3.0 have a 1500 word count limit, but upon signing up under the "get started for free" tab, the AI Article Writer 3.0 is accessible.
This version takes a bit more work, but you don't have to invest in the premium version just yet. It's a great way to take their software for a spin before you commit, but I have to warn you, it's so good that you're going to be motivated to give them your credit card.
The AI article writer 3.0 prompts you to create a title, and after generating the title, it may suggest a rewording or more clarity of information. This extra check seems to be the AI's clever way of ensuring that it fetches relevant information and creates a desirable article.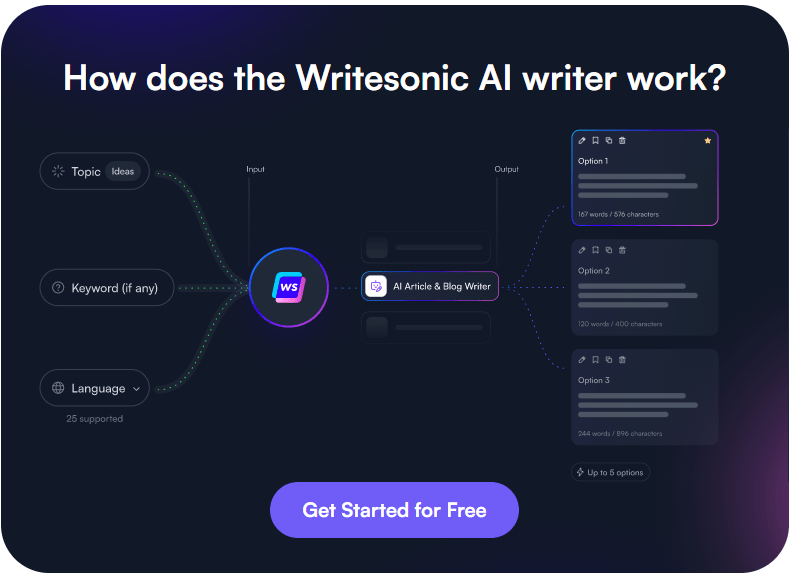 After selecting the most relevant title out of 3 options, you can generate the introduction. Again, based on the title prompt, it will give you three options for introductions that take you in the direction you desire for your article. The introductions it produces are of sufficient quality for a couple of posts or tweets.
After selecting the most appropriate introduction, you are then prompted to generate a 5-point outline which is based on the main topic and the direction of the selected introduction. You will again be given three outlines to choose from.
From my perception, one of your three outline options will be market-driven, another will come from what appears to be a self-help ideology, and the third will seem a bit vague and free to generate an article that would be seemingly repetitious.
The results of the finished articles are shockingly good, and I think Writesonic does a great job in compiling such a variety of information. That being said, some of the information seems a bit repetitious since it is SEO driven. Long story short, you won't get a Shakespearean play out of their software, but you will be able to drum out a massive amount of content in a short amount of time.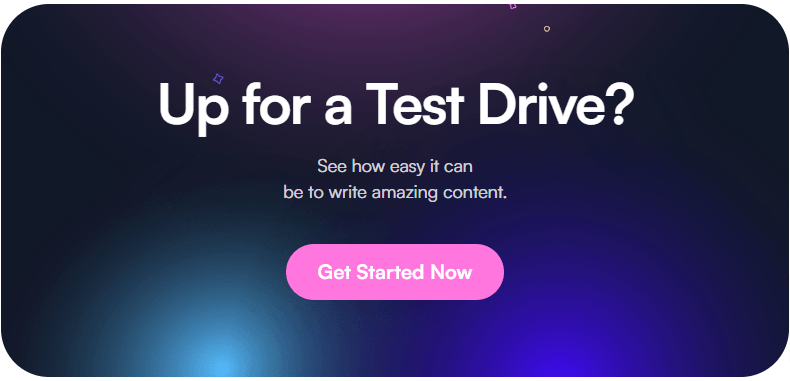 One of the articles I generated was entitled "Why the Importance of Purpose Driven Expression is Critical to Your Success." The word count indicates a limit of 1500 words, but the word count doesn't seem to be the target since the article I made came out with 846 words.
In some ways, I like this because the AI seems to be directed in such a way that it is genuinely driving towards the main topic that you are giving it and fetching relevant information thereto.
WriteSonic.com Pricing Model
As powerful as this platform is, my concern becomes the financials. Writesonic's product works well for both individuals and companies, but the price point can change drastically. The pricing structure is in 3 tiers, including the Free Trial, Short-Form, and Long-Form versions.
The Free-Trial has a 2500-word cap but has access to the plethora of AI features that I mentioned before. Those features can also function in over 25 Languages. They even have a landing page generator, a fast WordPress export, Zapier integration, some browser extensions, the AI Article Writer I just discussed, and what they call a "Sonic Editor," which seems similar to Google's editing features.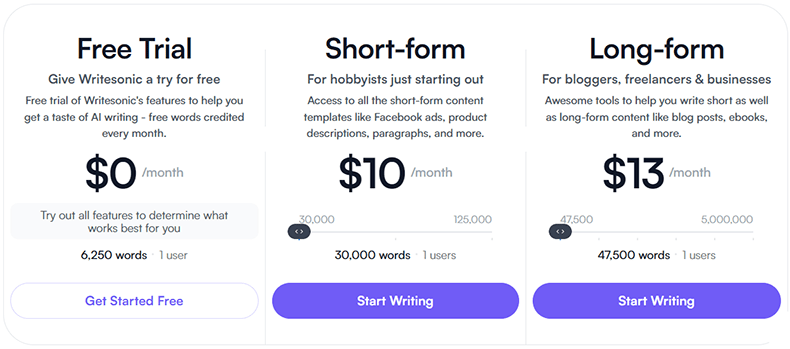 Since there is a 2500-word cap, you are going to outgrow the free version like I did. For this reason, you would have to upgrade to the "Short-Form" package, which has all of the same features except for the AI article writer and the Sonic editor.
If you are just going to use the software for posts, social media, and the like, this could be a good investment. The Short-Form package starts at $10 per month for 12,000 words for a single user but can go as high as $27 per month for 50,000 words with four users.
The Long-Form package has everything that the Short-Form package has, plus an article rewriter, bulk processing, priority access to new features, Priority support, and the AI Article Writer as well as the Sonic Editor that you got a taste for in the free version.
This premium version starts at about $13 per month for 19,000 words and a single user but can be ramped up to a demonic figure of $666 per month for 2 million words and 10 users.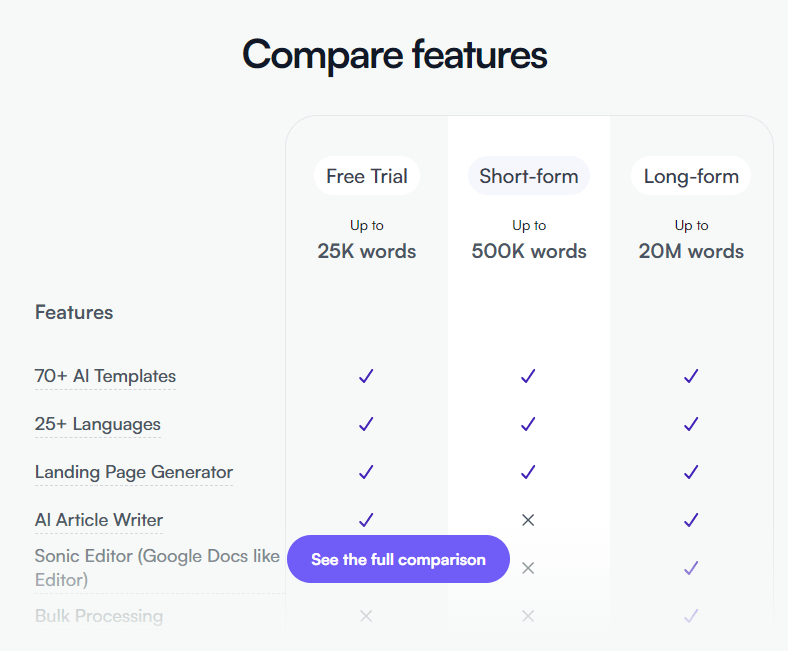 While the pricing model could seem a bit confusing initially, I think it's good that they've made their product sufficiently diverse to be accessible to suit any person or company's particular needs.
Of course, you may have to be a bit more diligent in figuring out the volume you are producing and how many users will need access, but I think this is preferable when compared to one size fits all product packages that don't fit.
Writesonic Customer Support
Writesonic provides a section on their website called Resources. Here, you'll find plenty of helpful guides, including the company's blog, guides and tutorials, API documents, and even a community forum where users can converse and help each other work through problems with the AI.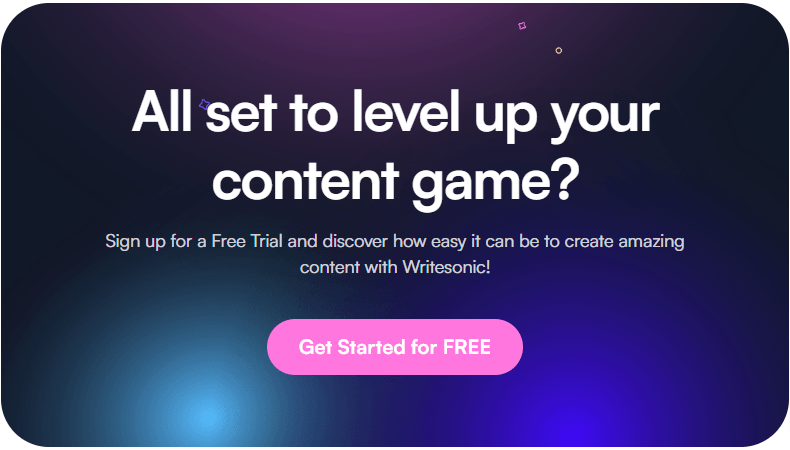 Final Thoughts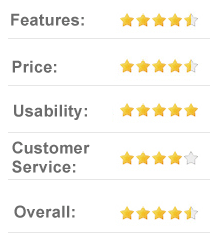 Writesonic's software is diverse and incredibly impressive. The AI is effective in generating plagiarism-free content that is SEO compatible and engaging.
If you are a freelancer who is just trying to be more consistent with blogs, generate ideas, and be fairly regular with posts, this software could prove very beneficial. Alternatively, you might have a media marketing team that represents multiple clients and publishes content at an overwhelming volume.
Whether your operation is massive or minuscule, Writesonic.com has options that will help in the creation of content.
The tool is not a substitute for highly creative and nuanced material, but Writesonic has done a phenomenal job in leveraging the software to be powerful in SEO optimization, which will move traffic to a website and generate effective hooks that promote audience engagement. Overall, I think it's a tool that is worth the investment.