Barefoot or minimalist shoes can strengthen your feet and improve ankle stability. Getting ground feedback can help with your running posture, and many runners and hikers prefer the natural feel of these minimalist shoes.
XeroShoes.com is a brand of barefoot shoes that stands out thanks to its quality and diverse product selection.
About Xero Shoes
Too many shoes feel restrictive and force your feet and ankles to adopt a posture that isn't natural. This issue often causes pain, swelling, and discomfort. The pain can sometimes spread and cause chronic back problems.
Formerly known as Invisible Shoes, Xero Shoes offers an alternative with a collection of minimalist and barefoot shoes. The brand rose to popularity in 2013 after appearing on the show Shark Tank, where the founders presented their unique products to a panel of investors.
Since then, the company has become a successful retailer of barefoot shoes. One of the things that set Xero Shoes apart is the unique backgrounds of its two founders, Steven Sashen and Lena Phoenix.
Steven and Lena are a husband and wife team. Steven is the CEO, but he's also a sprinter and has a background as a gymnast. He understands better than anyone how footwear can impact balance and performance.
Lena is the President of Xero Shoes. She has an extensive background in managing various backend processes for different companies, but she also enjoys hiking in her free time. This activity allows her to understand how important it is to wear the right shoes.
Top Features of Xero Shoes
How are Xero Shoes different from other barefoot shoe brands? This company uses innovative materials, high-quality construction, and stands behind its products.
A Large Product Selection
While some brands of barefoot shoes focus on running shoes, XeroShoes.com offers a diverse product selection. You can shop for men's, women's, and kids' shoes in different categories, including running shoes, hiking boots, flats, sandals, and more.

The shoes are stylish overall, and you'll find a good color selection for each model. The brand releases new styles regularly. One of the great things about Xero Shoes is that you don't have to sacrifice fashion over function.
Plus, a majority of the products are 100% vegan. Xero Shoes is an excellent option for those who are worried about barefoot shoes containing leather and other animal products.
Barefoot Feel
Xero Shoes uses a range of innovative materials to deliver a barefoot feel and to create shoes that give you plenty of ground feedback. The barefoot feel can vary from one shoe to another since some models have thicker outer soles than others.

You can find shoes like the Z-Trek Sandal or the popular Prio Running and Fitness Shoe that use a 3.5mm rubber layer. Some products like the HFS running shoes use a sole inspired by tire treads for a more flexible feel.
The Xero Shoes product line also includes some hiking boots, which isn't something a lot of barefoot shoe brands offer. The boots still deliver a barefoot feel but have additional features like lugs for traction and a foam layer for cushioning.
Snug Fit
Another characteristic you would expect from barefoot shoes is a snug fit. Getting a snug fit is essential because it allows your foot to move naturally, making the shoes more supportive.
Xero Shoes uses tension straps to deliver a snug fit. You can typically find tension straps around the instep and the midfoot area.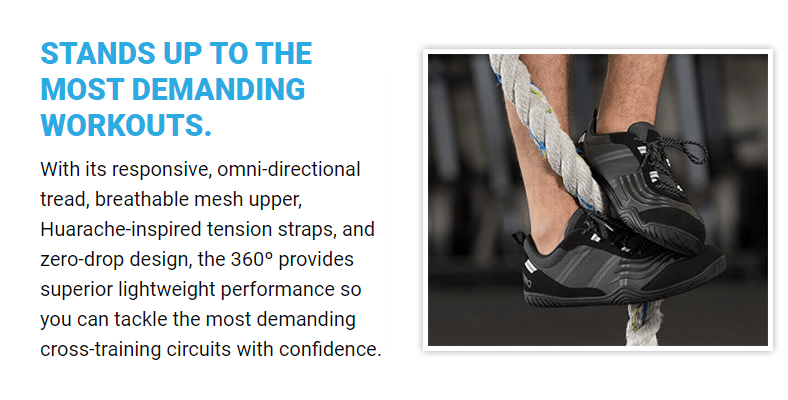 Using tension straps creates a unique look for the shoes, and it allows Xero Shoes to use lightweight materials like mesh fabric for the rest of the upper. This design results in shoes that are extremely breathable and lightweight. For instance, the Mesa Trail women's shoes in size 7 only weigh 6.4 oz per shoe.
Safety
Safety matters when choosing shoes you'll wear for hiking. Wearing barefoot shoes doesn't mean you have to sacrifice safety.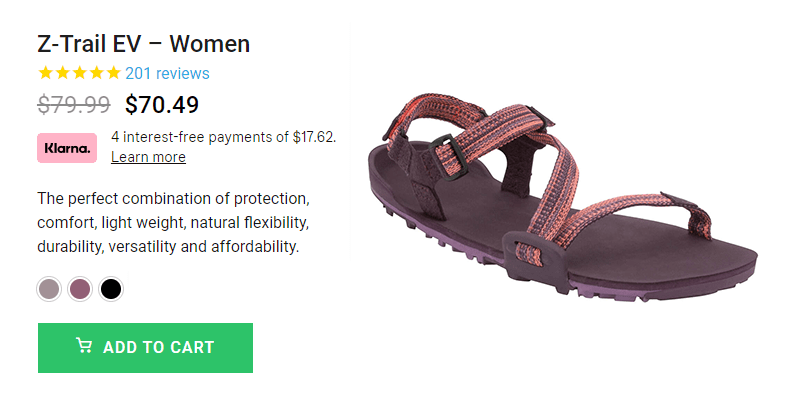 Xero Shoes offers several features that will protect your feet from injuries on the trails. Some of the brand's sandals, like the Z-Trail EV, have a protective layer of foam and some durable grip pods to give you plenty of traction.
Some models like the Alpine snow boot have a 200g layer of insulation to protect you from humidity and cold temperatures.
Xero Shoe Kits
The Xero Shoe kits are a unique product offering that sets the brand apart. These kits come with a FeelTrue rubber sole that is similar to what you'll find on the running shoes offered by the brand.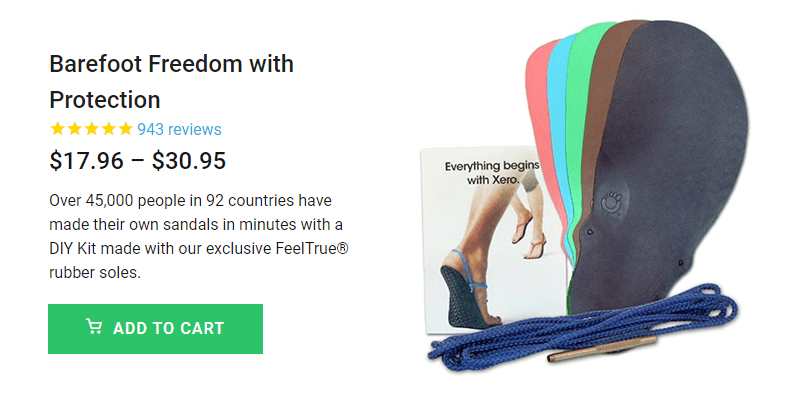 You'll also get a hole punch and a lace. All you have to do is measure your foot, punch a hole in the sole, and make your own DIY sandals with the included lace.
We like this unique product idea, and the design is ideal for getting a sandal that fits perfectly.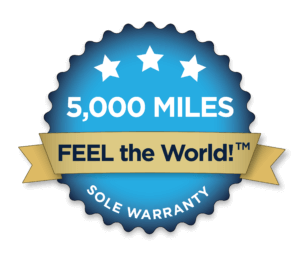 Warranty
Xero Shoes offers a 5,000 miles warranty on most of its products. If the outsole is less than 1mm thick after putting 5,000 miles on the shoes, you can send your old shoes back, and this company will give you 60% off your next pair if you purchase the same model.
Shoe Finder Tool
If you're new to wearing barefoot shoes, finding the right design can be challenging. Xero Shoes has an online tool you can use to get personalized recommendations.
You'll have to share your email address to see your recommendations, but you can learn more about which shoes would be a good fit for the level of ground feedback you'd like and for the purpose you'll use the shoes for.
Buy Online or In Person
You can use the Xero Shoes store locator tool to find a nearby store that carries these shoes. Chains like REI and JAX Outdoor Gear usually have these shoes in stock, and you can also purchase them at many smaller outdoor gear stores that don't belong to chains.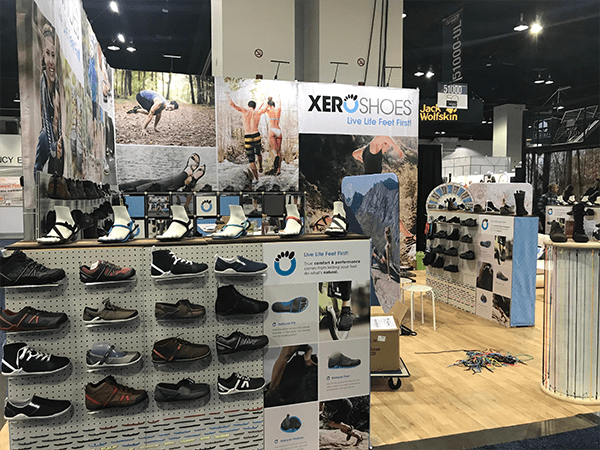 If you would rather shop online, you can order shoes directly from XeroShoes.com or find these shoes on Amazon.
Tarahumara Children's Hospital Fund
If you buy one of these DIY sandal kits, Xero Shoes will give 5% of the sale to the Tarahumara Children's Hospital Fund, a non-profit that supports the Tarahumara community in Mexico.
It's too bad that Xero Shoes isn't making donations for a broader range of products, but it's still a great way to make a difference and allow consumers to make a more meaningful choice when they purchase something.
Cost
The price will vary depending on the type of barefoot shoes you're shopping for. Running shoes start at $90 with the Prio model, one of the brand's most popular products. Running and fitness shoes go all the way up to $120.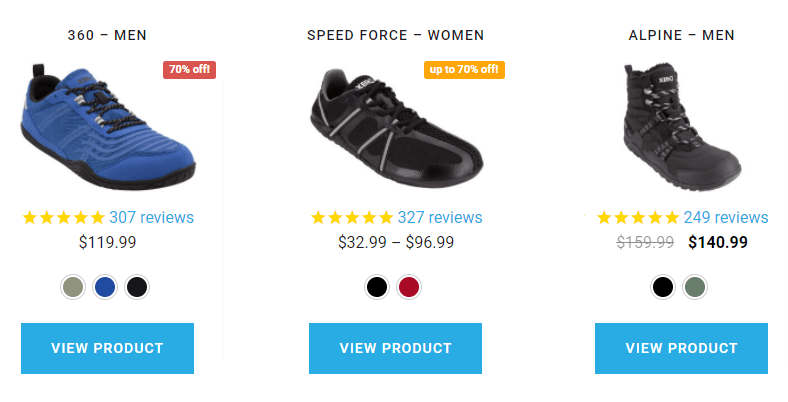 If you're shopping for barefoot hiking boots, you'll have to spend $120 to $150, and sandals start at $40. The DIY sandal kit is available as low as $20 if you choose the small size.
There are no differences in pricing between men's and women's shoes, and the smaller selection of kids' shoes ranges from $60 to $70.
Note that you can save by taking a look at the clearance section and that Xero Shoes has a partnership with Klarna, so you can pay for your purchase in a series of monthly installments with no interest.
Customer Support
Xero Shoes has a corporate office in Broomfield, CO. There is a phone number you can call and an email address. You can also fill out a form online.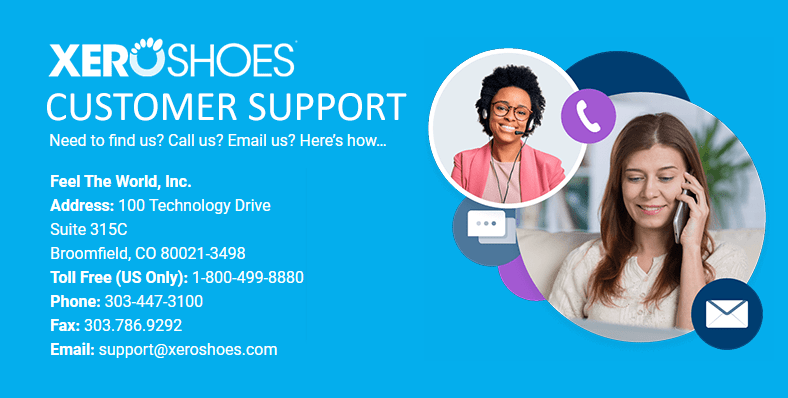 The Xero Shoes website doesn't say how long it typically takes to hear back from customer service, but the brand has multiple positive reviews, including from customers who had to contact customer service. We're confident that you'll have a positive experience if you ever need to reach out to the Xero Shoes customer support department.
The brand has a presence on Facebook, Twitter, and Instagram, but it only shares fun content about its shoes instead of using these platforms to offer customer support.
Final Thoughts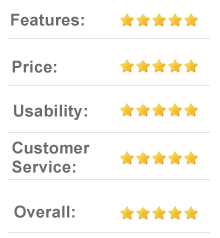 Xero Shoes stands out by offering a varied product selection that goes beyond running shoes. This brand is an excellent option for those looking for minimalist or barefoot shoes because of the quality of its products.
We like that this brand uses innovative materials and designs shoes that deliver a barefoot feel and a comfortable and supportive fit. We also like the values of this company and the fact that it supports a non-profit.
There are more affordable barefoot shoes on the market, but it's difficult to find another brand that offers the same level of quality in this price range. Overall, we highly recommend Xero Shoes.