What's the most important lesson adults told you you first booted up a computer as a kid? "Stay safe on the internet," you say? Well, it's true. No matter what age you are, the internet is dangerous. You don't know if that user is who they say they are, and you don't know if you're truly as alone with your information as you think you are.
With internet attacks and hackings becoming ever more prevalent, consumers are looking for ways to stay safe on the internet without entirely chucking their computer out the window. Luckily, VPN services provide one of the fastest, safest, and easiest ways to stay protected while enjoying the internet to its full capacity.
What is a VPN and Why Should I Get One?
VPN stands for Virtual Private Network, which is a group of computers or discrete networks that provide a public network, so they're essentially the internet. Connecting to a VPN means launching a VPN client on your computer, logging in with the credentials you established upon signing up for the VPN, and you have access to that trusted server.
You can use the internet as you normally would, but you don't have to worry about prying eyes snooping on you. The VPN essentially encrypts all the files you send and receive, making them all secure.
Because of their encryption, you are no longer subject to local restrictions. For example, if you want to watch a Netflix television show that's only available in another country, most VPNs have the option to switch up your IP address so you can watch foreign shows. If a website is banned in your country, a VPN will allow you to access it for the same reason.
Also, if you're a fan of legally torrenting files but fear that you could still get slapped with a lawsuit or heavy fine, VPNs can hide your identity or location so that you can either torrent files from a country where it's legal or make yourself invisible to watchful companies altogether. VPNs are one of the best ways to download files off the internet without getting caught.

Most people won't feel the need for a VPN if they casually surf the internet or use it for standard work purposes. But those who want more security, are often traveling to areas with unsecured networks, or want peace of mind when downloading off the internet will want to use a VPN.
But the standard question when using the internet must be asked again — Is it sketchy? We don't think so. We think ZenMate is a powerful yet cheap VPN service to accomplish what most users want: use the internet freely, without constantly having to worry about eavesdropping.
About ZenMate
While co-founder of ZenMate Simon Specka was traveling abroad during his student days, he struggled to use non-local websites. He needed to access content for his studies in the UK, but his free, unsecured public wifi wasn't doing him any good.
And then he had another thought — about 40% of the world's population has internet access, but they're stuck with crap like this. Worse, some of them might not be able to use the internet to the fullest simply because of their location.
Specka decided to change that.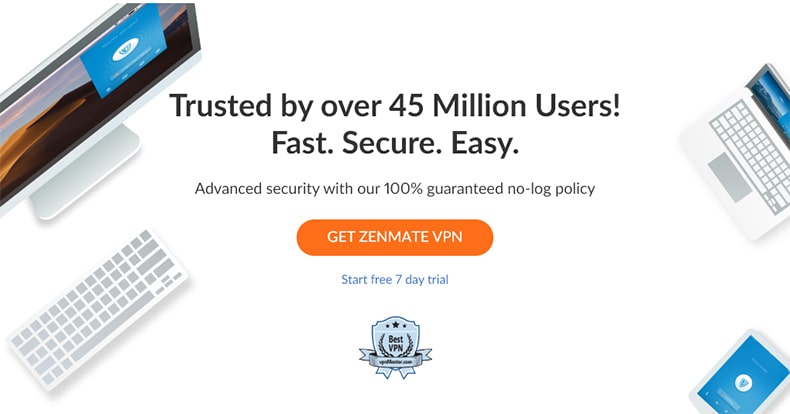 He enlisted the help of his pal Markus Hanel, and they got to work creating the VPN that offered privacy, security, and unrestricted access all at the push of a button. Now anyone can use the ZenMate VPN service, whether it's tech-savvy teenagers or your grandparents worried about the government spying on them.
With cyber-crimes and attacks growing every day, more and more people are worried about their online safety. ZenMate makes privacy and safety affordable and easy, and they even have a no log-in policy. The company boasts over 45 million users, so surely they have to be doing something right.
Top Features of ZenMate
A ZenMate description affords users protection on up to five devices. They also promise apps that you can use on all your devices as well, so to access the internet, you would use ZenMate instead of Google or Safari.
While most VPNs typically have a log to track what their customers are doing, ZenMate stresses that they will have no such nonsense. You will never encounter a log on the protected web, though you'll still have to log in to access your ZenMate account.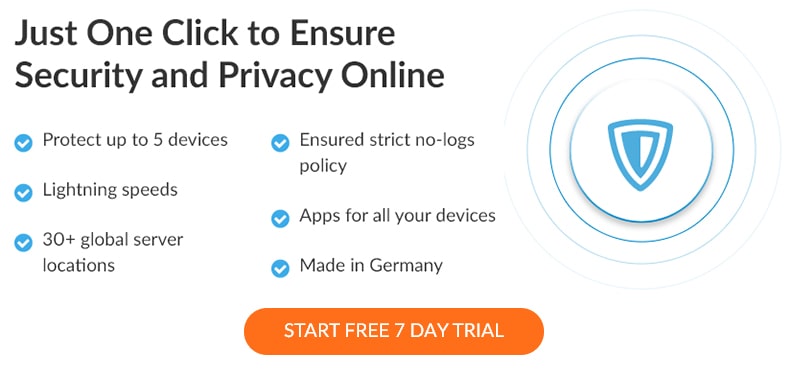 News junkie but tired of the noise? ZenMate provides you neutral, unbiased news sites and other informational content online when you switch on the "safe search" function. No more websites using your data to target you for increasingly extreme political media.
And if you hate seeing ads and other bits of malware clutter up your screen, you can turn on the ZenMate Web Firewall to clear up websites for a quick, enjoyable reading experience. And if you want to know the second some suspicious person uses your information without consent, the Identity Shield messages you whenever your identity is at risk.
That sounds like a lot of nice features, which should be pretty costly, right? Thankfully, ZenMate keeps their incredible services at an even better price.
ZenMate Pricing
First and foremost, ZenMate offers a free version with limited features. You'll still stay safe and secure when using the web, but you won't have as many platforms, location, or speed options as with the full versions.
If you want to try out ZenMate's services for a single month, it's going to cost you $9.99, with a renewal 30 days after your first purchase.
The next option up is a yearly subscription costing $3.99 a month. You'll get billed $47.88 every year, saving you $72.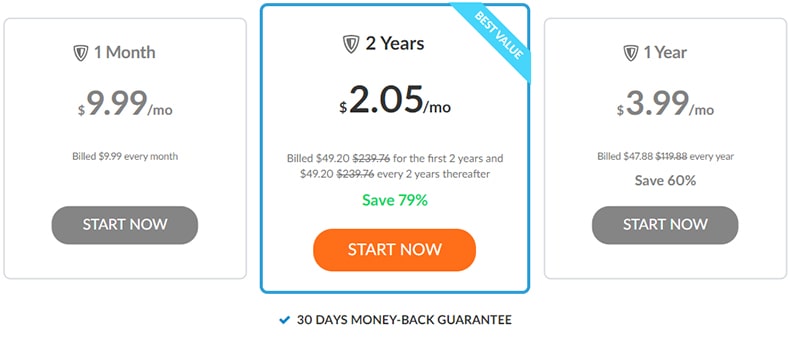 The best value ZenMate offers is a two-year subscription service costing $2.05 a month. You'll get billed $49.20 immediately, but you won't get charged again for another two years. This option saves you $190.56 as opposed to paying for a monthly subscription and $46.56 over buying a yearly subscription.
There is a 30-day money-back guarantee if, for some reason, you don't like their services. However, buying a ZenMate package costs less than how much coffee you probably buy in a week.
Any of the services gives you full access to ZenMate's arsenal of web safety tools, so you don't have to worry about paying extra for hidden features. The pricing range is all about practicality and getting the most bang for your buck.

And if you think about it, these little monthly payments could save you big time. If you're worried about identity theft cleaning out your bank account or getting hit with a legal fee for your internet activities, you could save your head and your wallet the ache with a simple, cheap VPN. ZenMate is the perfect example of "an ounce of prevention is worth a pound of cure."
Bad Parts of ZenMate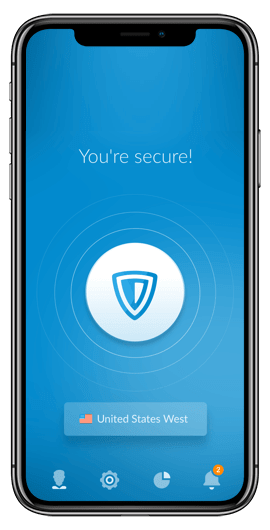 Despite being a superior VPN service, ZenMate isn't perfect. If you're looking to stream media that's unavailable in your country, ZenMate, even with its military-level features, might not be able to give you exactly what you want depending on where you are. One user from the UK could unlock American Netflix, HBO GO, and Amazon Prime Video but not Hulu.
That's not necessarily a dealbreaker, but it shows that certain roadblocks stump the service touting to unlock any show, anywhere, any time. ZenMate is also not available in China, Iran, or Saudi Arabia, so people in those countries have to look elsewhere.
The second is that ZenMate has servers in 30 countries. This means that you could travel somewhere and face slow connections due to your distances from a server. ZenMate is a Germany-based country, so they have numerous servers around Europe.
However, if you travel to Canada, Central America, pretty much anywhere in Africa other than Cape Town, and for large portions of Asia, you could be stuck without any luck.
Otherwise, ZenMate offers excellent VPN services.
What Customers Say About ZenMate
ZenMate rates highly on customer review websites like Trustpilot, where the company touts a 4 out of 5 "Great" rating. 71% of customers report an excellent experience with the VPN. While there are the few disgruntled customers sharing their negative experience here and there, overall the company's reviews skew positive.

Final Thoughts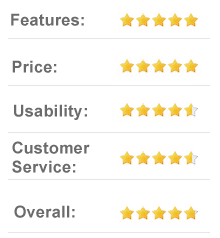 ZenMate is as good of a VPN as you'll find on the internet to protect you on the internet. You'll get an advanced encryption service that's never logged, ensuring you're utterly safe from the ne'er-do-wells looking to harm you. With cheap services and powerful performance, we're impressed with what ZenMate offers.
You can't go wrong with the two-year subscription that costs next to nothing considering the benefits you'll get. And if you want to test the waters before committing to ZenMate, you can always use the free version before upgrading. This company offers a low-stakes way to stay protected on the internet.
VPNs mean you never have to worry about who's monitoring your internet activity. To surf the web without restriction, we recommend using ZenMate for ultimate protection online.